In an industry filled with pullovers, cargo pants and polo shirts SHAVONE. — the first Black woman in many of her roles in tech — has made a name for herself sporting double Nike socks, bamboo earrings and a daring hand of acrylic nails. Her unconventional style has already branded her as one of the most memorable women in tech, holding positions at Google, Twitter, Facebook, and most recently as the Head of Global Music & Youth Culture communications at Instagram.

On the heels of being honored as a leading innovator by the Ebony Power 100 alongside the likes of Virgil Abloh, SHAVONE. has taken 2019 by storm with her music prominently at the forefront. Through poetry, songwriting and instrumentation on flute, music has been the underlying force that continues to power SHAVONE.'s life journey. In a fresh new freestyle over Kanye and Pusha T's "Number On The Board," SHAVONE. raps her new track "SITH." Paired with a head-turning visual, the depth and breadth of Blackness and royalty are highlighted in the lyrics, wardrobe, and set design.
Shortly after being honored in the Forbes 30 Under 30, the renaissance woman has decided to part ways from her position at Instagram to embark completely on her artistry. SHAVONE. shares with us her newest venture, Magic In Her Melanin, next steps, and how she plans to provide opportunities for underrepresented creatives.
How did you end up in the tech industry, having first and foremost a music background?
Music has always been this anchor to my journey. It's been kind of like my North star throughout my life. I got my first official job at Twitter overseeing music and culture PR, working on music partnerships and talent relations. That came by way of me being super knowledgeable when it came to the music industry. In college I did a bunch of internships, including one at BET in LA. That was my first intro to an industry position. I got to work the BET Awards, Black Girls Rock, the Hip Hop Awards and I got my foot in the door.
When I interned at Twitter, I saw a niche that I could fill. I realized there was an opportunity for me to step into what I do best and what I know about. I interned on the consumer PR team just covering fashion, music, sports and so on. Immediately noticed that Black Twitter was huge and people who looked like me and you dominated the internet. I was a big data junkie as well, so I looked at a lot of analytics. On top of that, musical artists were the biggest voices on the platform. So there were a lot of things that connected for me around how I could add value to the business.
"I was Black in tech before it was cool to be Black in tech."
When it came to finding my space at a company, I always knew for sure that I still wanted to do my music and I still wanted to create on my own outside of work. However, I also knew that by going to a place like Twitter, there would be things that I would learn that would be priceless. I knew technology was going to end up being the epicenter of all verticals and industries but definitely for music. While I was Twitter, the Apple Music deal happened. Beats blew up. I got to see a very transformative wave on Spotify and a lot of things transitioned to purely tech. Now, music and tech are totally inseparable.
What was it like being a Black woman in tech and being unapologetic about your fashion choices at work?

It was hard. In all of my roles, I've officially been the first Black person and the first Black woman to be hired. Which is crazy! It's important that I'm not the last. I've been an underrepresented person my whole life. I'm from San Diego, so I've always been the only Black girl in the room. My parents equipped me with the tools to navigate through that and with the self-confidence to understand my worth in spaces where everyone else might not understand. I tell a lot of my mentees, I was Black in tech before it was cool to be Black in tech. Now, you're seeing more voices emerge and more stories being told.
When I was an intern working at Twitter, it was hard to be heard. It was hard to be taken seriously. I've always been the youngest person on all of my teams. There's just ageism period. Sometimes it's not even intentional by people, but there's this bias there. If you add on the layer of being Black and of the culture, they look for you to tell them what's going on in the world. You become a spokesperson for a entire group of people. In some instances that's great, because you can lean into your strengths. In a lot of other instances you have to watch not being exploited and really figure out how to add value to a space without compromising yourself.
"Understand that you taking up the space is paving the way for other people to know it's okay."
Being at Twitter and heading music comms and culture comms in the sense of how communities mobilized online inspired me because it allowed me to see how much power people of color had online and how active and savvy we are. That was comforting for me to see. My job was to tell those stories about the power of Black Twitter and the power of Latina feminists. That kept me inspired on days when things were hard or days when I felt like I wasn't getting the credit I deserve because of the color of my skin. I also had a couple of mentors at Twitter and Google who really helped me navigate and stay strong. You have to be the change you want to see and stand proud and be color brave. Understand that you taking up the space is paving the way for other people to know it's okay.
So you're leaving your position at Instagram/Facebook. What encouraged that decision to part ways with the company?
A lot of different things. I've been there for a long time in 'tech years,' and I am always thinking about how to be better, how to grow, and how I can impact the most change with the work that I'm doing. Working in tech, you get to see the gaps. You get to see what you can do to support underrepresented voices and what you can be doing to make that better. At Twitter, I help found Black Bird, which was Twitter's first employee resource group for Black employees. I got to serve as the president of that group for two years. While at Twitter I got to see a lot of great things that were being done, but also a lot more things that needed to be done in correlation with people on the outside. Also, to make sure people of color at work feel healthy.
I've always worked on passion projects outside of work. Magic In Her Melanin, which is my newest venture and creative collective, has really been keeping me inspired. I've been able to do a lot of amazing work throughout my tenure in tech helping to bridge the gap and make the environments more inclusive, but there is a lot more work to be done. I know for a fact I will be able to do that outside of the wall while still working with my friends, partners, and peers who work at these companies. A huge inspiration for me has been getting from behind my desk, and into real life to work with these communities who truly need help and support. Also, getting out to see all of the young voices who are entrepreneurs who are so inspiring. They let go of fear and they are changing the world with their ideas. They are thinking big and they are thinking about Black capital and how to build for the next generation. I think a great plus about working at these companies is the exposure.
"Music and tech are totally inseparable."
When and how did you become a classically trained musician?
Music and writing have always been the center point of my expression and creativity. I actually started with the flute and piano and started playing the flute in the 3rd grade. My uncle Terry is a classically trained multi-instrumentalist. He can pretty much pick up any woodwind instrument and play it. I first saw him playing the sax and flute when I was super young and that was a big inspiration for me to dive into music. After I picked up the flute and became serious about it, I joined the band in elementary school throughout high school. Luckily I had parents who were supportive and could help fund my interests. We were sort of a middle class family. Both of my parents were entrepreneurs but I was raised in southeast San Diego, which is what outside folks would consider the "ghetto" of San Diego. I grew up in the community and my family has always been a huge component within it. Music and rapping has always been second nature. Most of my brothers also rapped as well.
I'd say my vocal and lyrical work blossomed from being a poet and writing poetry. I meshed the two together towards the end of middle school/early high school, when I recorded my first record with my brother. It was to the instrumental of "Canon." I'll have to play it for you when we're drinking tequila or something. Let's just say my voice was a lot different in high school. It all clicked from there. I've always kept my classically trained musicianship on flute and my rap separate. Now I'm combining them which is exciting for me.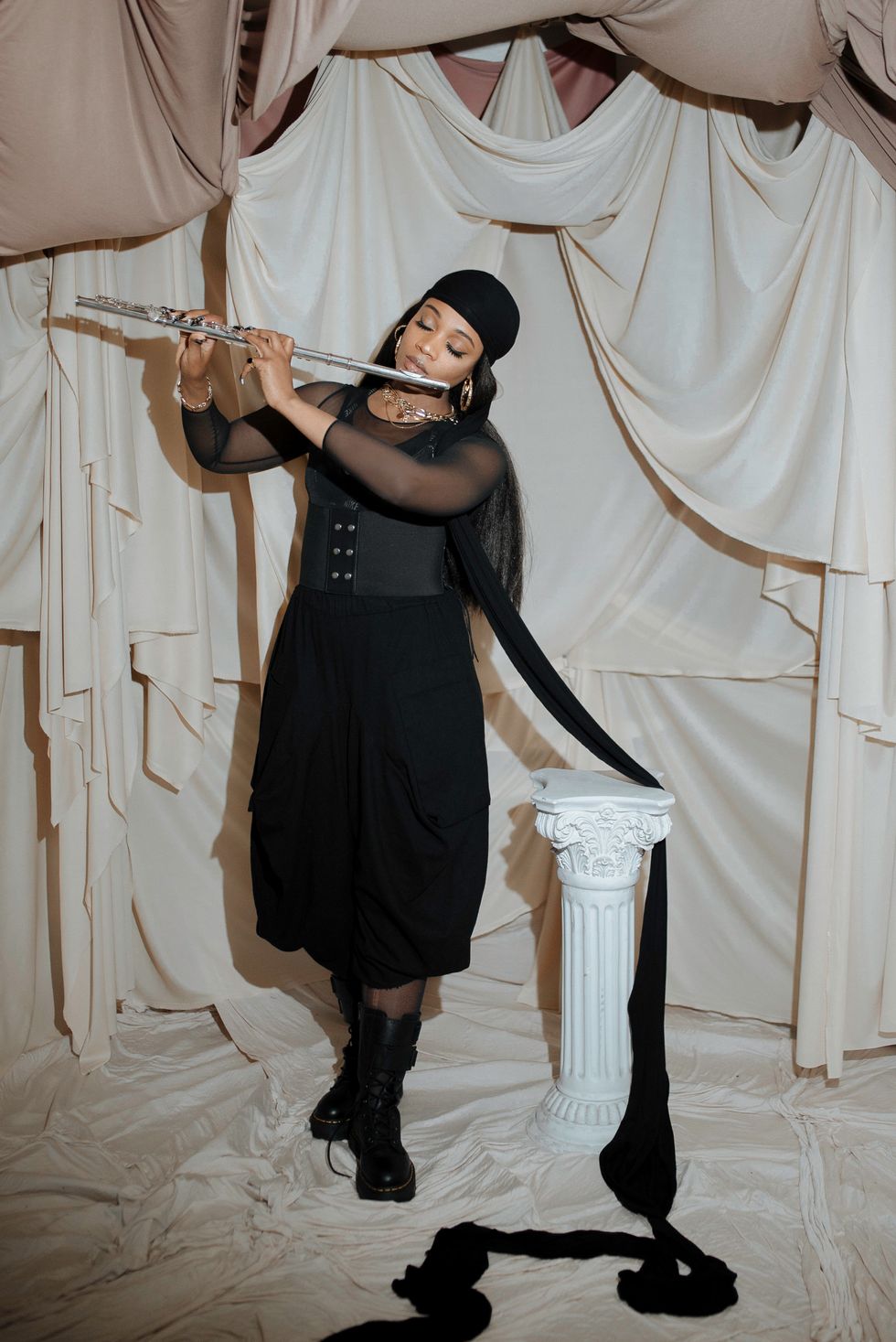 Who were some of the artists you listened to growing up and do you find them as inspiration for your sound now?
Definitely! I am huge hip-hop head. When people would meet me they'd think I was from New York. Nah, I'm not from New York, I'm just heavily influenced sonically by the culture. I great up on a lot of Eric B. & Rakim, Tribe Called Quest, Roxanne Shanté, Queen Latifah, Slick Rick. My mom, Bonnie, is a huge hip-hop head too, and it's crazy because looking at her you would probably get the aesthetic a bit. She has the Black mom aesthetic at large, but in the 80s and 90s her whole swag was box braids or basket braids. My dad and brother Darryl are very into G funk on a level of just gangster blood music but also just music from the west coast. My own sprinkling of jazz and classical made me a bit of weirdo in my family. I would be listening Coltrane and Bach and stuff like that because when I played in an ensemble symphony, I got introduced to a lot of that music in school and performing with peers.
Tell me a bit about what we can expect from the Magic in Her Melanin collective.
I've been working on this concept for three years. Magic has come to fruition as a result of assessing the gaps and needs that I witnessed in my positions. It made me realize that I wish I would've had support as an artist and a woman trying to be a musician back when I was in college. I wish I would've had representation, or someone would've come to talk to me about financial literacy, resume building, getting a job, managing my own money and credit. There are these foundational skill sets that underrepresented people aren't exposed to and we have to learn the hard way. Often times, it's at the expense of something in our lives. With Magic, our mission is to focus on elevating the stories of people of color, women of color. Also to bridge the gap between creatives of color in the tech industry. Magic is about supporting the ecosystem of the next generation. Breaking down the doors for underrepresented creatives to have a place on the corporate side or to have value in the set up. Whether you're Virgil Abloh or whether you're my friend who works for Google, you need to be valued. You need access.
"There are these foundational skill sets that underrepresented people aren't exposed to and we have to learn the hard way."
It's also really where I want to incubate my creative vision for my artistry. If you look at what Saint Heron is to Solange, or what Parkwood is to Beyoncé, or what Donda is to Kanye, I want Magic to be this nucleus for what you see that I'm creating on the music front. My creative director Curtis Taylor, Jr. and I are locked in. We are a dynamic duo really wanting to deliver consistent creative across the board for music. It's really visualizing these moments that your soundtracking. Working at a place like Instagram, you get to see how important visuals are. Visual communication is how we communicate now. That is how we will continue communicating in the future. Magic in a sense is where I want to place my creative direction for my career and artistry.
Tell me about the song and video for "SITH."

"SITH" is special because I am a huge Star Wars fan. The freestyle is definitely gritty. It's almost dark and I wanted to jump into my inner Pusha T vibe on the record. I really wanted to show my lyrical capability and have some fun. For me, "SITH" and Star Wars are just a fun thing. When you think about online fandom or comicon and me being from San Diego, it's right up my alley.
As far as the fashion and wardrobe, that is the combination of a couple of different brains. I think it's important right now for people of color in music to show that we have depth and duality, and that's why my flute is front and center. Even naming this freestyle "SITH" shows the spectrum of what Black women can be. I can listen to Kendrick, SZA, City Girls, and Solange all in one. I'm definitely channeling ghetto goth and paying homage to a lot of fundamental things that I love. My gold bamboo earrings, my Doc Marten boots, my 20 foot durag that was custom made are all very symbolic to the class and duality that exists with me. You have a classical instrument, which is definitely not considered an accessible thing for kids in the ghetto, and then the durag, which is the epitome of ghetto royalty.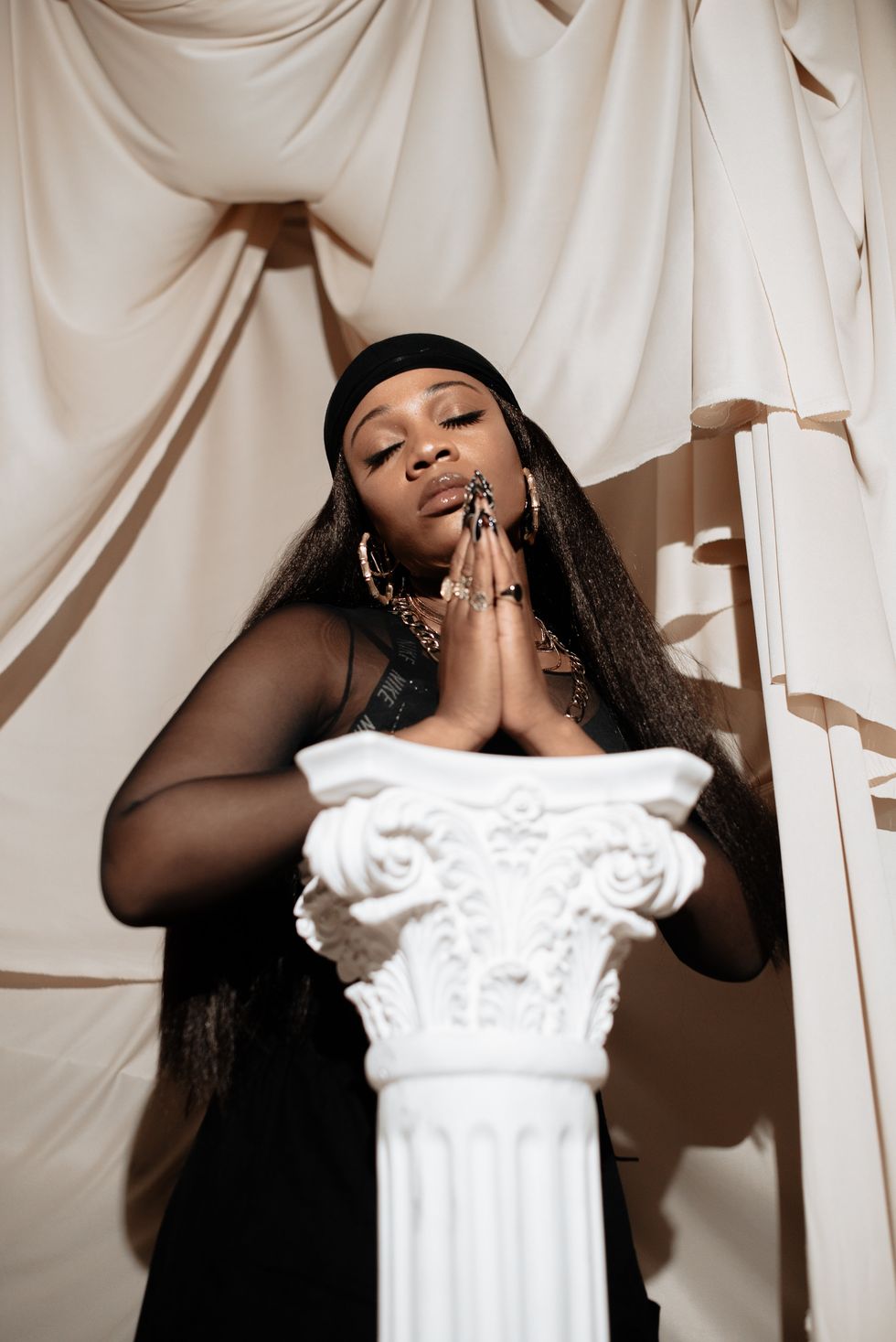 I also want to give a shout out to Bukunmi Grace, who I've been working with for creative direction for styling and wardrobe. The set was built by Curtis Taylor, Jr. inside of cottage in Inglewood, in Safe Space Studios, which was transformed into a place for underrepresented creatives to work. "SITH" was an exciting project. We really wanted to communicate the culture and lean on avant-garde imagery in a way that's still true to who I am, my brand, and true to how Blackness can and should be seen in an elevated light.
The underlying theme of all of my projects with Magic are to be touched by hands of color, for us by us. Also, for it to be inclusive from start to finish. Even down to my nail artist who is a woman of color, Kandiyamz, she's a huge celebrity nail tech in Los Angeles. She took the time with me to do my nails and she really executed. I think acrylic nails are another staple when you think about this culture and where I'm from.
What can we expect from SHAVONE. the solo artist in 2019?
I'm working on a couple of collaborations. I just had my first show at Soho House in LA and the energy was insane. It kicked off Grammy week and I played with Grammy-nominated 1500 or Nothin and my guy Mars. They worked on Nipsey Hussle's project. They are just incredible people when it comes down to actual musicianship and instrumentation. They are definitely people I will be collaborating with this year. As far as my own music, I'm definitely going to keep bringing the heat after this freestyle and I have a couple of songs planned for release over the next few months. I plan on working on an EP to release later this year so stay tuned for more details about that. Words are important to me, what I'm saying is important, thinking is important, consciousness is important, and having fun is important. Creativity is important and intentionality around what you are creating.