Sasha Velour, the performance art superstar from Brooklyn who became a household name as a contestant and ultimate winner of season nine of RuPaul's Drag Race, is back with a new look — or rather, an extension of the self-made, intelligent, and high-concept artistry she's now become revered for. Since winning season 9, Velour has kept busy producing shows with her House of Velour collective for Nightgowns, a monthly rotating ensemble drag performance series, which has been a critical fixture of the DIY New York performance art scene since its debut in the summer of 2015.
But the new look — a foray into film — is a natural evolution for talent of Velour's caliber. She and the House of Velour have created an anthology series called One Dollar Drags, and in six short installments covering varying historical references and film genres, hopes to expand the conversation of what drag can achieve.
Though the overall look and feel of One Dollar Drags is polished, make no mistake: Velour still makes it all happen with her merry band of queer family, while paying homage to the Brooklyn community that made her. "I wanted to come from a place of banding together," Velour says. "That's where we are the most powerful. And drag can be glittery and expensive, but my point with One Dollar Drags is to show that though we're portraying fantasy, drag is accessible to anyone who wants or needs it."
Related | The World According to RuPaul
The music and themes of often-revived, Threepenny Opera, the famed 1928 musical play by Berlin cabaret-theater legends Bertolt Brecht and Kurt Weill influenced the backbone of One Dollar Drags' kickoff film "Pirate Jenny." It is something she grew up listening to with her mother. This first film is a tale about the power of the meek and the oppressed when they come together with supportive and loving community. It's rendered all the more fabulous with Velour's iconic pop-vintage glam. Velour teases other upcoming shorts in the series by saying things like "What if Bob Fosse choreographed the Stonewall Riots?" and "I don't think I've fully shown people the importance of Star Trek."
We called Velour while she hung out in Bushwick to talk about glamorous but accessible drag, community as a form of revolution, and what it means for a drag icon to have a million followers. Below, the exclusive premiere of Velour's "Pirate Jenny" for PAPER and our interview with the drag superstar.
How did the idea for One Dollar Drags come about?

Very simply, it came from wanting to try to create a film. My fabulous drag family with House of Velour, we've been doing magazines and a live show long before any of the Drag Race stuff happened. We had an opportunity and some resources to produce the film, and there's so much power in creating stories and visuals that people can access all over the world. And so we started asking ourselves what kind of film we'd want to create. So we created something that spoke to young people in the community and the wide world of drag, encouraging them all to rise up and join forces with the community around them. That's been part of my success, enjoyment, and survival in this world, is my community. So I wanted to share that.
Just reading the name "One Dollar Drags" seems to reference the idea that drag doesn't have to be expensive to be successful. Is that where you're coming from?
Absolutely! I feel like we're in a moment where drag is so glittery and expensive, and that's awesome, and I'm definitely part of that myself.
"I think drag comes from a spirit, drive, and determination, not from having tons of glamour at your fingertips."
We love glamour.
How can you resist it? Queer glamour, queer success, and queer royalty is absolutely fabulous and necessary, but drag doesn't have to be. When I was on the show, everything that I wore on the show was from Goodwill. I think drag comes from a spirit, drive, and determination, not from having tons of glamour at your fingertips. Even though making the film glamorous and beautiful was a goal, the goal of One Dollar Drags as a whole, specifically "Pirate Jenny," we were concerned about speaking to the world of drag that surrounds us here in Brooklyn. A world I've known for years that has sustained and supported so many different types of drag.
The scene is super DYI. People are going at it and making what they want regardless of if they get the support that they need. So many girls I know in the community are like going to Spandex House and having a field day on tips from waitressing gigs.
I love that. You developed tricks and signatures from things you pick out, too, that way. My signature crown came from this place of like, "Oh my god, I don't have money for wigs, so this beautiful piece of paper will have to do." I think that is drag, that is the power of the community that supports each other and doesn't tear each other down, regardless of how someone presents. Being open to differences in presentation allows for drag to even be a legitimate way of making yourself beautiful.
Related | Meet the Queens of 'RuPaul's Drag Race' Season 10
I also think that can be a message that can translate, on some level, to people who are queer, people who are trans, or poor. This idea that you don't have to be presented a certain way to be taken seriously tears down notions of class, too.
I think we do have to be vigilant to make sure those mindsets don't totally infiltrate our beloved world of drag because as the audience does become broader, I do see an increase in a certain kind of gatekeeping, in terms of what is "real drag," and isn't. A big message with "Pirate Jenny" is that drag is perhaps much broader than perhaps is conventionally shown. That's the truth. That's why we have to present that diversity and celebrate it.
From looking at the video to "Pirate Jenny," I can tell that you are aiming at presenting an intersectional experience. I can tell it's not about representing just one thing. You have [Drag Race competitor and friend] Peppermint in the video and so many other friends involved.
A huge message in "Pirate Jenny" is that you're not just making yourself part of intersectional community, but you're banding together and finding power and strength as a collective unit. That was the best part of making the film, too. Literally, nothing is possible without a team of queer people, black, trans, nonbinary folks, women. That's how you get stuff done, by working together.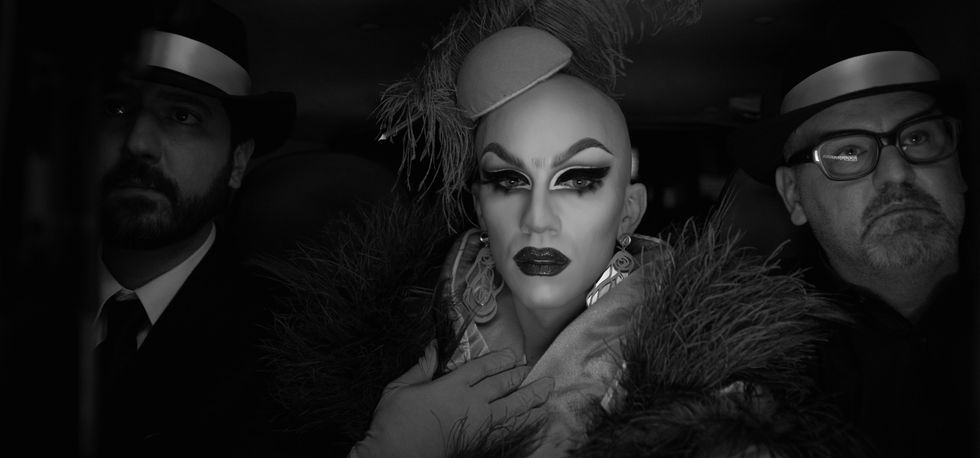 The original source material for this is The Threepenny Opera. There are numerous versions of "Pirate Jenny" from that show, from Nina Simone to the Dresden Dolls. They've all taken to the revenge or oppression narrative of the original song. What did you find especially significant about this piece and why did you want to to channel it through this project?

I've always loved The Threepenny Opera. My mom introduced it to me as a little kid was a superfan of German cabaret culture, and imparted that onto me. One of my favorite things about the song is just how many times it's been covered, revised, or had the lyrics slightly shifted. What we're talking about now is a cover of a cover of a cover. Everything is an adaptation. What can be draggier than that? Within Threepenny Opera itself, in the version I saw, that made the biggest impression on me -- the first time we're introduced to Pirate Jenny in my version, there's a drag performance of something that this character saw. Then later in the show, we see the original that she had seen. I love that it has storytelling and dragginess built into it already. And then I think it is just such an enduring idea, that someone who feels like the world around them doesn't have a place for them, or is disgusted by them or doesn't value their life or their work, the song tells a story about someone who is in that position but secretly has an entire community of people who have her back who are coming to save her from her situation. That's a fantasy that so many people, in my mind, especially queer and trans people know very intimately. I've found that especially in cities like Brooklyn, you can find some truth to that fantasy. But you have to actively make it and seek it out yourself. I wanted to show not just the pirate coming to save the day, but actually really getting to see the "pirates" she's thinking about forming on the streets, including the protagonist herself who wants to be part of the community. In our version, she doesn't just get to sit there waiting to be saved. She's actually been on the street the whole time as well. And then, of course at the end of the day, this is still a fantasy story because real uprisings and revolutions are nowhere near that simple. So we have explosions of makeup and glitter instead of violence. And that feels kind of draggy too. If we can't have a bit of tongue-in-cheek about something as serious as a revolution, I'd be doing bad drag.
"Literally, nothing is possible without a team of queer people, black, trans, nonbinary folks, women. That's how you get stuff done, by working together."
Tiny revolutions happen all the time in queer, trans, drag, and nonbinary communities, where people do what's needed to lift each other up.
That's very much at the heart of what I'm trying to do with "Pirate Jenny." Those flawed parts of us are where you can see the most change and the most action. We filmed it in the bar where I started my drag career [with my drag performance act, Nightgowns the first bar that ever offered me a night to host drag. They totally let us trash their bar one morning. And that's very special: queer people coming together, person to person, or in small systems of community. That's the very first step in seeing wide change. Nightgowns has been that for us: an opportunity to get queer people together, put beauty into the world, and inspire. A lot of young people create platforms for artists in the community who have a hard time getting book. Now that we've moved locations it's about being able to present drag in a bigger space, that means a lot to me.
Speaking of bigger space, you've just reached over 1 million followers on Instagram. Some would say that doesn't matter, but when you think of platforms for social change, or art serving that purpose, 1 million eyeballs on anything you're doing is important.What does that do for your overall intention with your platform?
It is significant for me because any kind of visibility for queer people is major. It is what a lot of drag stars are now experiencing, in terms of visibility, interest, and engagement. That wasn't happening 10 years ago. I take none of it for granted. Every time I'm given a spotlight, I want to extend my focus to world of drag that extends beyond me personally. My drag is nothing without context, and that's not just my community at hand, in Brooklyn, that nourishes and inspires the kind of drag that I do, but also considering history. That historical bit of where we come from is a big project of Velour magazine, and Nightgowns. Speaking of which, I'm taking the act on tour, to London and a few days after that, to LA. That is the first time it's gone outside of New York.
Congratulations!
Thanks! These things are made possible by the bizarre power of social media that I barely understand, but totally respect. I'm going to keep using it to create things I find beautiful and true, and hopefully the number of people who get to do the same thing will continue expanding.
Photos Courtesy of Sasha Velour