Though we live in a world where everyone has seemingly latched onto the tenets of diversity and inclusivity, true intersectional representation in media is, unfortunately, something that's much rarer than you'd expect. Thankfully, Salty — and its subscription list of 41,000 "Salty Babes" and almost 100,000 Instagram followers — is here to challenge this.
Operating outside of the scope of legacy media, Salty is an independent newsletter centering women, trans, and non-binary folks published via email newsletter two to three times a month. Comprised of all original content as well as bigger features such as a monthly cover star, Salty focuses on stories about dating and relationships from the people actually living these experiences.
Founded on International Women's Day 2018 by NYC media veteran Claire Fitzsimmons, Salty was created in response to the publishing industry's tumultuous shift toward digital. For the past decade, Fitzsimmons observed numerous legacy publications fold, downsize, or become shells of their former selves — their content hindered by enigmatic algorithms and increasingly dictated by dwindling ad dollars — and eventually realized that a new kind of platform was needed.
Coupled with the rise of the sort of diversity and inclusivity rhetoric that dominates media today, Fitzsimmons also realizes that a people-first platform — unimpeded by traditional media's institutionalized gatekeeping and centering of the white, straight, and cis male — was desperately needed. What resulted was a "nimble," intersectional feminist newsletter that could function without the massive overhead required for a legacy publication.
The biggest difference between Salty and other "inclusive" women's media though? Salty actually does the work, in the sense that they refuse to speak on behalf of others.
"A lot of women's media is owned by white men and staffed by people that don't look like the real world, which ends up creating a media platform that only represents the perspectives of a few people," Fitzsimmons explains, pointing toward the platform's core tenet of authenticity. "I wanted Salty to be something created by the community to actually reflect the community."
This means that if an article is about sex work, it's written by a sex worker, and if it's about trans dating, it's written by a trans person. And unlike traditional media's cumbersome, back-and-forth email pitching process, Salty allows anyone — seasoned writer or not — to submit pitches via an automated process on their website. Salty asks in the submission form how the writer identifies, so that they can ensure the piece is edited by someone of the same lived experienced.
And while they're currently working on proprietary technology that would make the submission process even smoother and eliminate editorial bias on the backend, that hasn't stopped enthusiast contributors from submitting — something that Fitzimmons says has led to Salty being "backed out six months with content."
Added to the fact that Salty is completely powered by volunteers at this point, and Fitzimmons points out that the newsletter's success "speaks to the need and desire for a platform like this."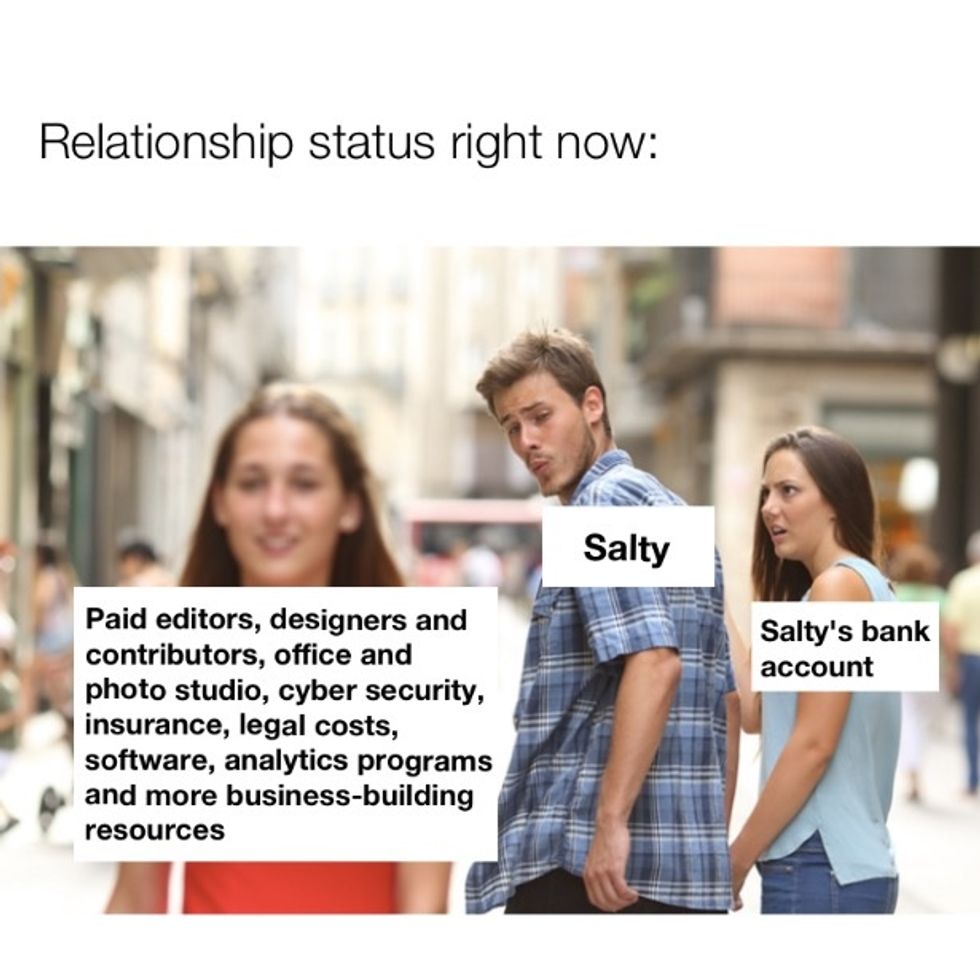 But as utopian as Salty's aims may be, given the nature of the internet, things obviously haven't been easy for them.
From the get-go, Salty has had to contend with the near-constant threat of deplatforming, which Fitzsimmons says has come in a number of ways. For one, aggressive online attacks have been a consistent problem, as exemplified by an incident last year in which both Salty's website and Instagram were targeted by a musician named William Control following their publication of his alleged sexual abuse within the BDSM scene.
More recently though, earlier this month, Salty was taken down for a significant amount of time thanks to an anonymous "backscatter" attack, which Fitzsimmons explains led to a spoof email sending out thousands of spam emails, which led to their IP getting blacklisted.
"There are men online who want to silence women, trans, and non-binary people," she adds. "But that's why we have to keep showing up. We're ruffling feathers and we're pissing people off... because we're an overtly sex and body positive platform."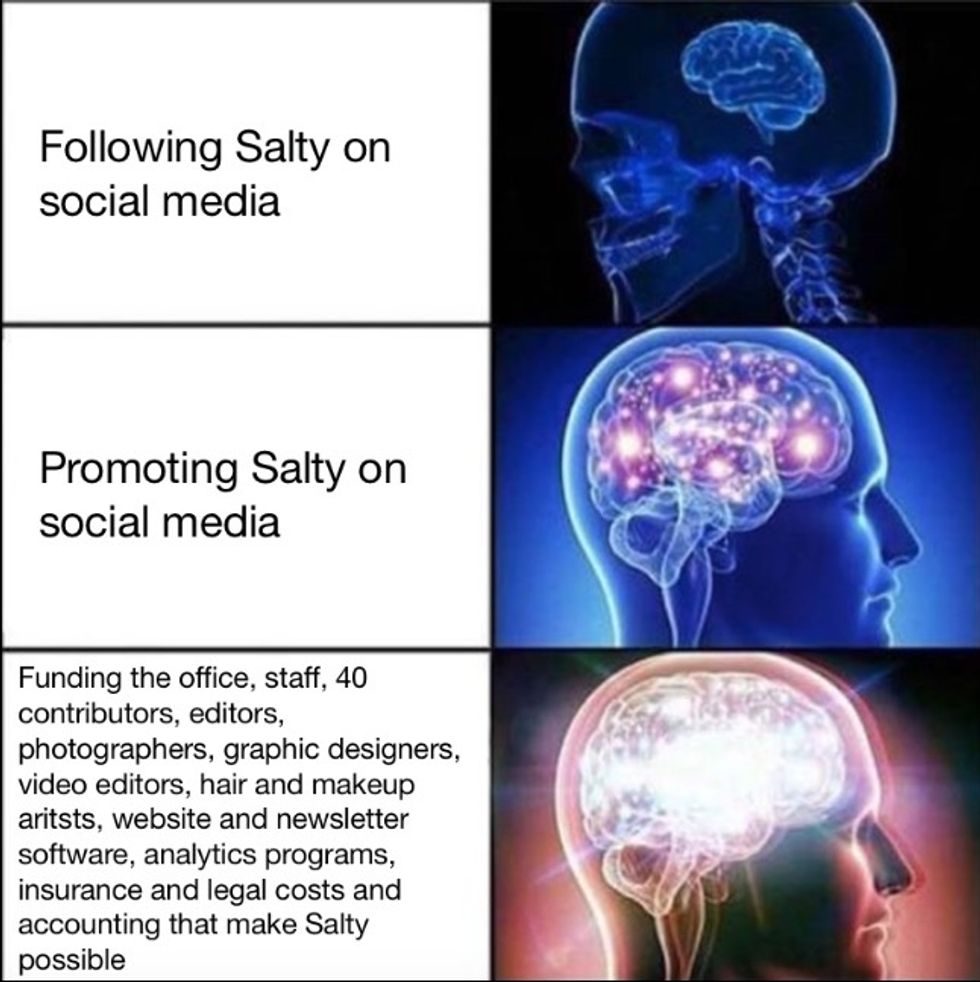 That said, other threats to Salty's platform are less overt and more rooted in the tech industry's inherent bias. After all, as Fitzsimmons laments, "the patriarchy is in the algorithms."
"When these [kinds of attacks] happen, the tech world is not designed to keep us safe, because it's been built by white men to protect their interests, and they have these glaring biases," she explains. "They don't input safety into their tech programs, and they don't consider our safety. So when these things happen, we have very little recourse."
That isn't the tech industry's only shortcoming when it comes to dealing with these sorts of platforms, especially seeing as how Salty's also had to contend with companies who openly want nothing to do with their content. As Fitzsimmons points out, Salty runs off an open-source email service provider, which is due to the fact that they've previously been denied service from companies like Constant Contact and Mailchimp (who, notably, shut Salty down mere hours after its 2018 launch). And, according to her, this refusal of service stems from the belief that Salty is distributing pornography — even though a lot of their content wouldn't be out of place in another dating and relationships-centric publication like Cosmopolitan.
And perhaps that's because Salty is something so outside of what we typically recognize as media. But that's also precisely why it's needed, especially within our current media landscape, which is something Fitzsimmons is acutely aware of. Explaining that they're being "subversively left out of the tech infrastructure and systems that would let us spread the message and content," she argues that this is why they need funding — something they're attempting to do now via a brand new membership program.
In order to pay those creating content for the platform and continue keeping the site itself afloat from a cybersecurity perspective, Salty is introducing a tiered membership program that will allow people to access a members-only newsletter where they can promote their own projects, events, and connect with each other.
"We have certain goals to hit but, ultimately, the community has shown up and created Salty so far, so we want them to help us build the platform that passes the mic," Fitzsimmons says, explaining that potential members can choose to give $4.99, $9.99, or $19.99 a month. And with a clear set of tangible goals, once they take care of their overhead costs, Fitzsimmons says they plan on letting the community "determine what's next," whether it be "a podcast network, a one-day Salty Con festival, or a new platform" entirely.
Because as she continually emphasizes, the entire point of Salty is to serve the community that created it and ensure that every single Salty Babe is heard. After all, "Salty isn't a platform for my voice; this is not my perspective that's coming through," Fitzsimmons says. "I'm merely helping facilitate the building of this platform that passes the mic to other people."
Welcome to "Internet Explorer," a column by Sandra Song about everything Internet. From meme histories to joke format explainers to collections of some of Twitter's finest roasts, "Internet Explorer" is here to keep you up-to-date with the web's current obsessions — no matter how nonsensical or nihilistic.