With the recent success of films like Get Out, Moonlight and Black Panther, coupled with the palpable uprising of women, now could not be a more poignant time to spotlight Black female excellence on-screen, and Netflix knows it.
Their latest project is a biopic called Roxanne Roxanne, whichchronicles the life of '80s rap sensation Lolita "Roxanne Shanté" Gooden — the Queenbridge-raised artist who pioneered a place for women in hip-hop. Oh, and it's produced by Pharrell. And Pharrell's creative director, Mimi Valdes. And Forrest Whittaker. And Forest Whitaker's producing partner, Nina Yang Bongiovi.
As an industry legend for more than three decades, a recap of Shanté's exciting and varied existence is exactly what she deserves, and so do we. Debuting at Sundance to rave reviews, the film stars veteran Nina Long, Oscar winner Mahershala Ali, and introduces new talent: recent Carnegie Mellon-graduate Chanté Adams.
It's serendipitous that Chanté Adams and Roxanne Shanté share similar names, because the two couldn't be better suited. With just days to prepare for the role after she was cast, Adams threw herself into research, studying YouTube videos of Shanté's old battles and diving deep into past diss tracks.
Roxanne Roxanne follows a 14-year-old Shanté's journey over a 10-year period, from puberty to pregnancy, effortlessly embodied by Adams, to address the impact of poor parenting, poverty and domestic abuse.
PAPER sat down with Roxanne Roxanne 's Shanté and Chanté to discuss the female rap landscape, life as a Black woman, and co-star Mahershala Ali.
How was the preparation for you, Chanté?
Adams: I only had eight days [to prepare] when I was cast. We only got the chance to meet one time before we shot, which was just at my costume fitting. I was in the room with the director, and I was so nervous. You have to meet the person that you're actually playing.
Yeah, and still alive, which is crazy.
Adams: Yeah, thank God.
Shanté: Thank God for that.
So often biopics don't happen until the subject is dead. That's a huge compliment to you, Roxanne.
Adams: I'm really happy. I got to give her flowers, while she was still living.
Shanté: And they smell great. I just need to tell everyone that — that they smell great.
Related | I Went Shopping at TJ Maxx with Remy Ma
Do you feel like you've also been given the nod from today's generation of New York rappers?
Shanté: Absolutely. I've never had an issue as far as whether or not I feel I've been respected, or whether they give me what is due... they do. I recently just performed with The Roots a week ago and I shared the stage with Remy [Ma]. And for Remy to say, "I can't wait to finish up my show because I want to see Roxanne Shanté perform." For them to see me as that happy aunt, to see me as that older figure is great for me.
A mentor.
Shanté: Well, they can teach me a few things, too.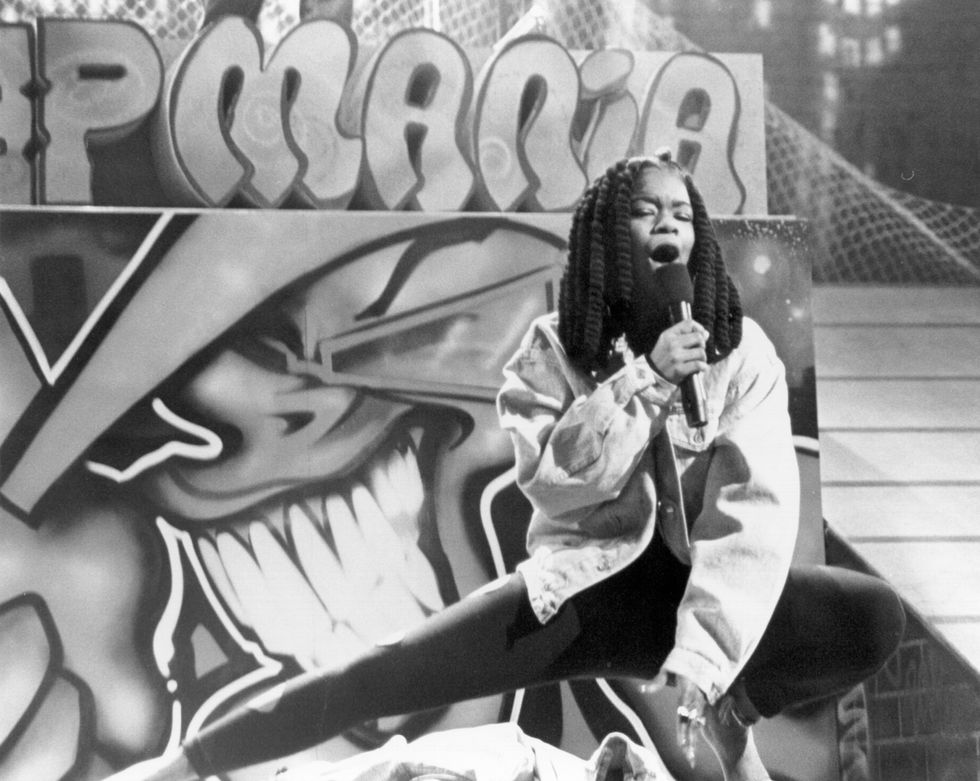 This is your first role Chanté, which is wild. Were you familiar with Roxanne?

Adams: No. I knew who she was, but I wasn't familiar with her story and everything she's been through. I have older siblings who were hardcore hip-hop fans from that area. I knew of her, and as soon as I got the audition, I went deep [into] researching her life and everything. It was kind of meant to be. As soon as I saw her, and I saw her at 14 and I watched the "Roxanne's Revenge" video, I was like, "I look like her." And her name is Chanté, so I was like, okay.
That's the crazy part of it.
Adams: I know, it's not even a common name. But, the fact that we share it... I'm so honored, too. I had just moved to New York two weeks before I had auditioned for it. I had my first audition and I was like, "I just did my first movie audition out of school. I'm feeling really good about myself." And then I got a callback, and I was like, "Oh my God, my first callback out of school. I'm feeling really good about myself." And then I got the final callback, and I was like, "Wait a second, this is real."
How was Mahershala Ali?
Adams: Yeah, I wasn't mad with the casting. It was like getting paid to do a master class instead of paying for one. I feel like being able to watch Mahershala and Nia [Long], who I have literally watched since I can remember watching TV. I have learned so much from them just by being their scene partners that I'll keep with me when I go to other projects. That movie was very beneficial.
What were some of the main takeaways?
Adams: For example, I shot my end of the phone call two weeks before Mahershala shot his end of the phone call. It was the same phone call, but I didn't shoot it with Mahershala because he was off shooting. I just had somebody read his part. But when he had to do his, he called me in from my trailer while I was getting ready for the next scene and said, "No, I need Chante's voice." He called me in and I hid behind the wall, and did the scene with him. And I was like, "Wow this really does make a difference."
It's valuable to learn that you can make demands to do things the right way. As women, we often prefer to just make it work, rather than step on any toes by asking questions.
Shanté: But as a woman, you are to ask those questions [and] say those things. If anything, if something feels uncomfortable, it's not right. That's just my nature. So, if you go into a position and you're like, this is what I'm going to do, this is the new project that I'm working on, but for some reason I don't necessarily feel comfortable with it, be social, find out. And that can go along with anything. So, when the movie came into play, everything felt so right. Everything. You could not ask for a better crew.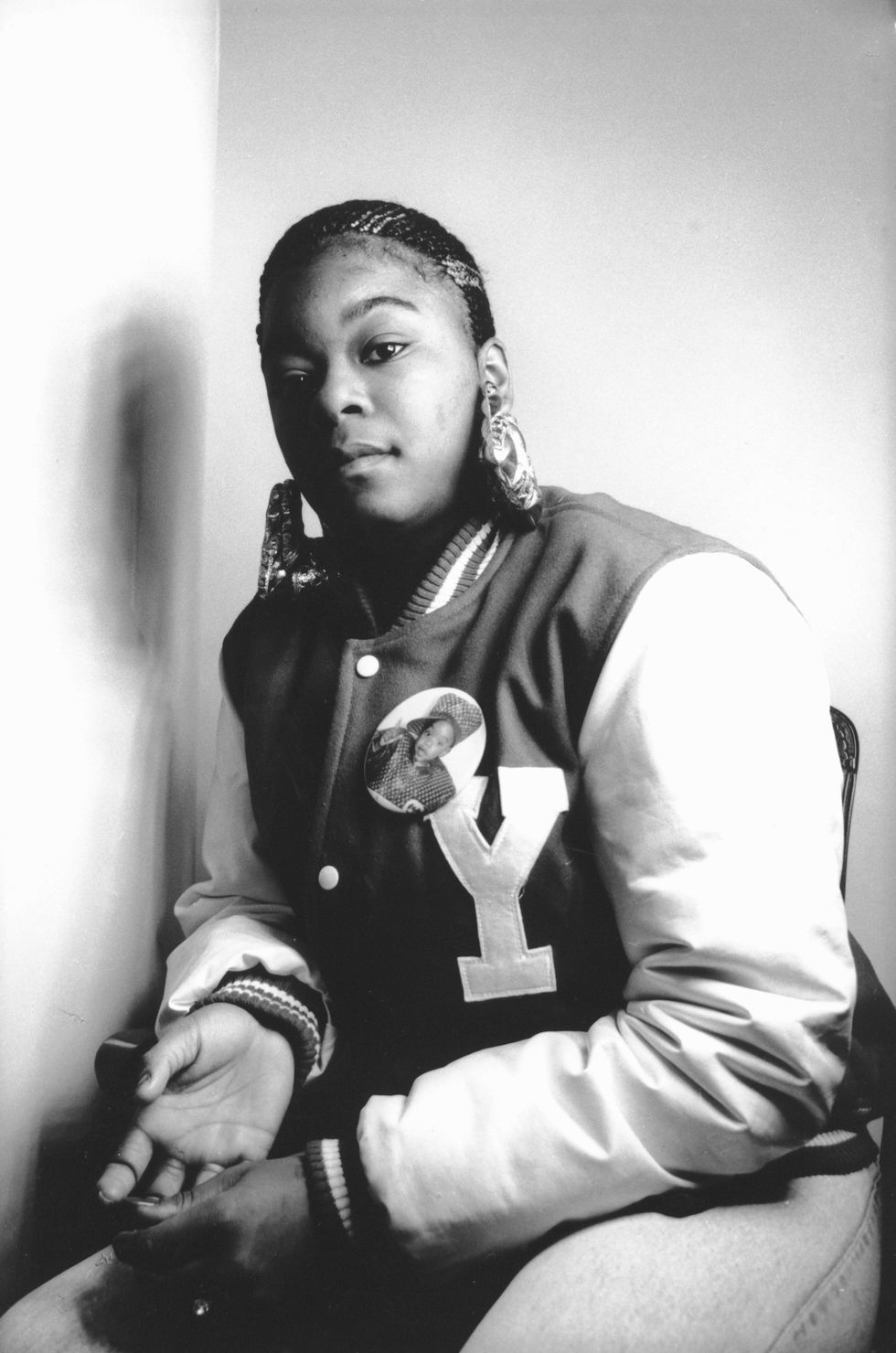 How did they approach you?

Shanté: So I'm hosting this event, and I see two women standing on the second level, who happen to be Nina Yang Bongiovi and Mimi [Valdes]. They meet me after and say, "We've been looking for you. We want to do a movie." I ask, "About what?" And they were like, "About you." Literally within two weeks tops we were already talking about what we were putting in the script. And the backend was incredible, because we had Forest Whitaker and Pharrell Williams, and then you have a driving force of Nina Yang Bongiovi and Mimi Valdes. And then you have the cast, of Mahershala and Nia and Chanté.
What was your reaction to seeing your life play out?

Shanté: Some scenes were very hard, where she did an incredible job that literally I felt like I was a person who stepped back into time and was watching my life play before my eyes. And in some scenes, she does this incredible scream and I could feel it. I just wanted to jump in and say, "Get off of her!" And where I wish someone would've been there for me at that moment.
It's kind of like therapy, almost.

Shanté: It took me into a whole different transition in life. Because a lot of things that I had literally suppressed and had forgot about were brought back up. You chalked it up as being from the hood, that you just chalked it up as being from a group home, that you chalked it up as being abused as a child. You didn't realize how much it truly affected how you were with people. To stand and say, "Wow, this is the damage." It's not a case of, "Oh this is just another '80s hip-hop movie." It's so much more than that, because it's not even based on the music, it's based on the life of so many women. And so many women today who are still going through certain abuses and several things.
This seems to affect the Black community, in particular — shouldering everything you've been through and carrying on. Do you think things are getting better, though?
Shanté: I think it is. I'm blessed to have married a wonderful man who is not lacking in any masculinity whatsoever, but is so in touch with his emotions. You know, my son, and with everything I have been through, I cannot let him use that as a crutch for, "Okay, this happened to my mom so I'm going to be mean with the world." I'm telling my story, so that it can be in the open for everyone — so that some other little girl can look at this story and say, "You know what? That's me, and I can be alright. If I go through this, I will be alright."
That they can make it through to become whoever they want to be. It's such a credit to you.
Shanté: Thank you, I really appreciate that. That's a credit to both of us, because it would not have came across on the screen, regardless of how well it looked on paper. It could not have come across the screen any better had she not did it.
The Netflix cosign is so significant now. They're creating studio-worthy content, and people want to be a part of it. The Sundance response was amazing.
Shanté: It was incredible. My heart dropped when we were actually riding up to going to the premiere and there was a couple outside with signs that said, "Tickets for Roxanne, Roxanne, please. We only need two tickets." And to watch it and to hear my mom enjoying the movie with all that she experienced and all that she had been through, was so relieving for me. I was like, "I just need her to be okay with it." Because I know what we went through, so for me to tell the Roxanne Shanté story, meant that I had to tell a little bit of her story. As Black women, we hold in so much.
Wealth of wisdom right there. You need to write a book.
Shanté: Yeah, that's what everyone says.
Adams: Everything she says I make sure to note in my head. It's like, "Alright, take that with you in life."
And it's such an important time for women too, right now, which this movie reflects.

Shanté: Everything happens just when it's supposed to.
Photos via Getty

Music
Story by George M. Johnson / Photography by Mason Poole / Styling by Shiona Turini / Hair by Nakia Rachon / Make-up by Rokael Lizama / Creative direction by Andrew Makadsi