"Don't you want to give this girl her stuff?" Remy Ma's photographer asks, as I exit her SUV. By "stuff," he's referring to the dozens of homeware items in the trunk that Remy bought me during our trip to TJ Maxx 30 minutes prior. Among her purchases is a millennial pink bunny-shaped money box and a plate for my "lollipops." The rap royal replies incredulously, as if the answer was obvious: No, because she plans to decorate my office desk herself.
Remy, née Reminisce Mackie, née Reminisce Smith, is on the cusp of a revival — "Rem-aissance," if you will. The title of her new offering, Seven Winters & Six Summers, refers to her six years behind bars, which she measured by watching the seasons change the trees. Convicted of illegal weapon possession after a woman was shot in an alleged altercation, Remy was imprisoned at the height of her career.
A prominent member of Terror Squad and Fat Joe's protegée, the Bronx MC had made a household name for herself from her feature on smash-hit "Lean Back," which she followed with a stellar debut via There's Something About Remy. Few might realize that Seven Winters & Six Summers, in fact, is only Remy's sophomore album — it's certainly difficult to fathom an artist might achieve such success (and 16 year-strong career) off the back of just one full-length project.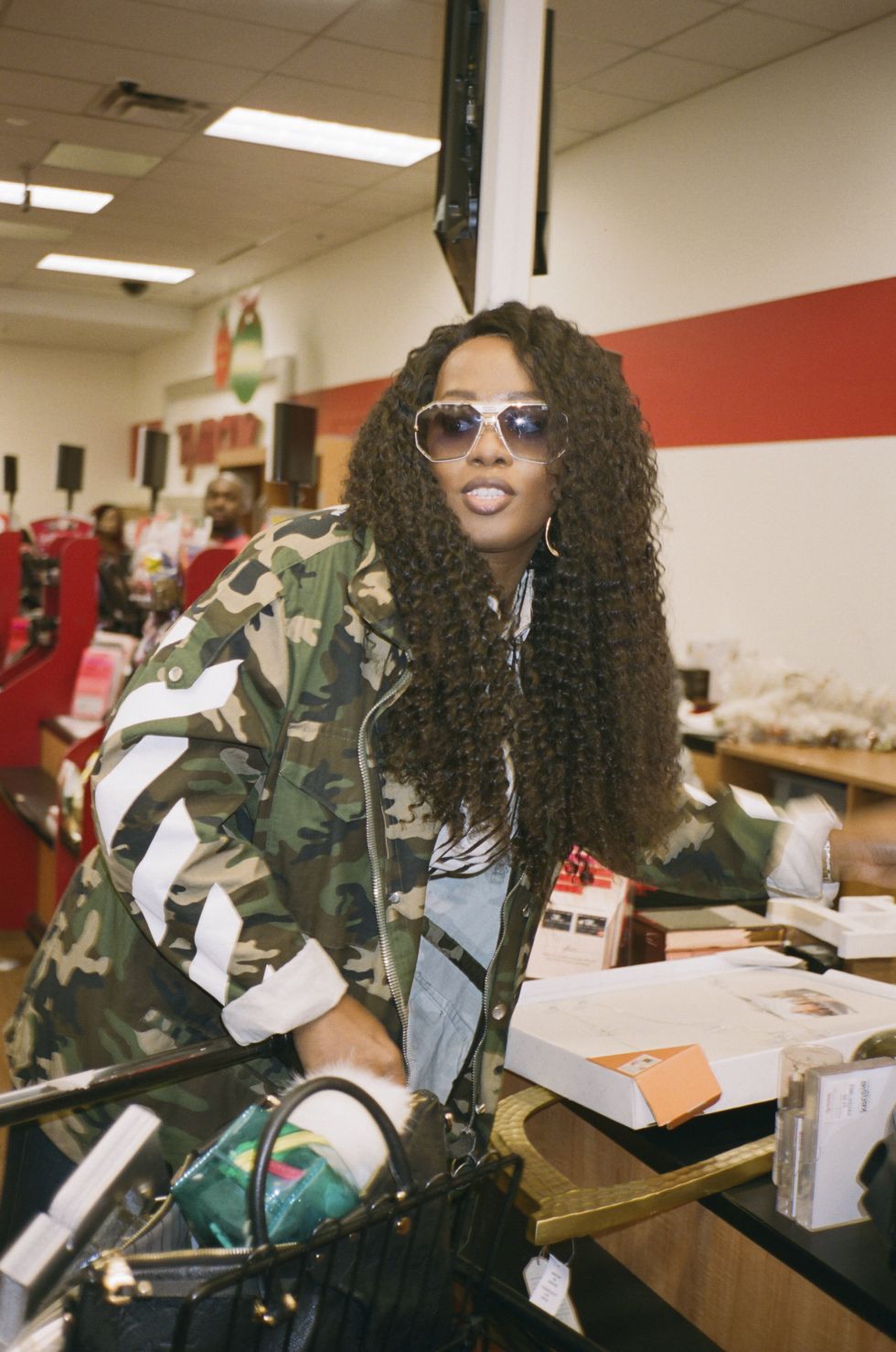 Employees at TJ Maxx film Remy as she walks by, and one young cashier starts crying. It's impressive, but, after meeting the rapper, also unsurprising. Remy struts around in Off-White boots unfazed, inquiring as to my personal aesthetic, before loading her cart with wooden versions of my initials, and an "R" and "M" of her own.

Remy is a powerhouse — and was so even in the big house. Coping inside prison, she claims, was not for the faint-hearted, telling us that more than 70 percent of inmates were on medication. "You can tell them anything: 'I'm depressed, I'm stressed out, I want to kill myself.' You can tell them anything and they'll just give it to you," she says. "I don't feel like anybody else would be able to do it and then come out with their brain still working."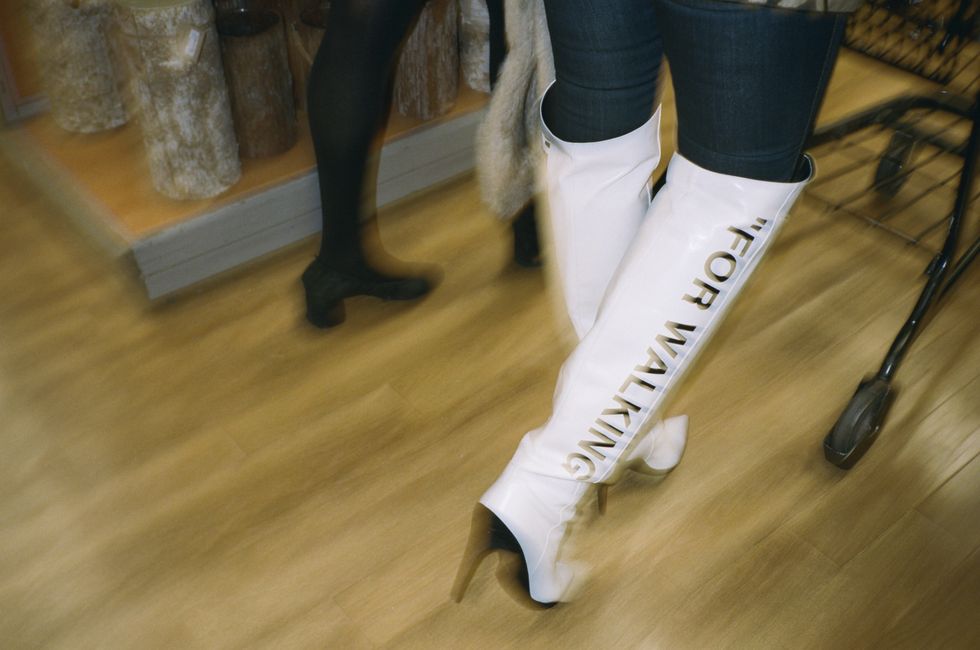 Not only did Remy leave prison with her mental health in tact, but she hit the ground running. After her release, the Bronx-native was inundated with requests — Love & Hip Hop, a joint-album with Fat Joe. Her single with French Montana, "All the Way Up," propelled the latter's career beyond estimation, and eventually settled in the Billboard Hot 100's top 10. It was her stint on Empire, the critically-acclaimed drama centered on a family record label, on which she replaced an unnamed female rapper, when she was reminded how much things had changed since she went away. For her role, Remy was handed a verse to perform on screen, pre-written for the original artist. This was not something she was about to take lying down; instead, she insisted on writing her own.

"I started going back and thinking of all the people who did the show and I'm like, they let you write their rhymes? It doesn't feel the same. With an R&B song or a singer, they show their talent through their vocals and melody. A rapper is a little bit different. What did you do that anybody who could learn the words to the song didn't do? I just don't get it."
Upon release, the MC also immediately tried to reconnect with fellow New York rapper Nicki Minaj, who had risen to superstardom with Remy out of the picture. Prior to her incarceration in 2007, Remy had reached out to Nicki and invited her to a pool party after the Queens rapper freestyled over Remy's beat "talking mad shit" in a song titled "Dirty Money." When Nicki arrived, Remy pulled her aside and rapped the entire verse back to her. As she peruses TJ Maxx's stationary options, Remy reveals she told Nicki her sparking confrontation with other female rappers was not the way to make it in music. Safari (Nicki's ex-boyfriend) knows this happened, Remy assures. Fendi (Nicki's ex-manager) was also around. Nicki allegedly thanked Remy for the advice, saying that she "fucked with" and "appreciated" the Bronx native.
Related | Nicki Minaj Breaks The Internet
Remy's conflict with Nicki has since been well-documented by mainstream and hip-hop outlets alike, rehashing the beef every time one of the two takes a stab at the other. It seemingly reached boiling point in 2017, when Remy took aim at Nicki in the acerbic diss track "ShETHER." "I'm not fucking stupid and Google is my friend," Remy says, referring to the various timelines of the two rappers' beef. The song lead to Nicki lashing out at long-time collaborator Trey Songz, after he responded publicly to Remy's line: "Only time you touch a trigga is when you fucked Trey Songz."

"lol. Wut u SHOULD be saying is that it's not true, seeing as it's not," Nicki wrote on Twitter in a since-deleted tweet. "Real niggaz do real things [...] I done gotchu 6 million plaques." Remy laughs when I remind her of the incident: "She's a fucking psychopath."
"She feels like she made everything," Remy says. "...Every song this entire year or last year has been some type of sub towards me or Cardi since Cardi has been doing her thing. Nobody's trying to take anything from you. Nobody wants what's yours."
Gingerly placing a giant pair of metallic-gold spray-painted sunglasses into her cart, Remy continues: "It's not even about her. I don't want to talk about her in my interviews, I don't want her name in my interviews. It's not even just about females in the music industry. As women, I feel like we all need help sometimes. We all need to help each other. We all shouldn't be at each other's throats. At the same time I'm never going to let someone disrespect me. What happens a lot of times in this industry is people do a lot of shit. They throw stones, then hide their hands."
Minaj later responded to "ShETHER" on "No Frauds," for which she recruited Drake and Lil Wayne. It's one of her only releases from the year, and referenced Remy's son. "What type of bum bitch shoot a friend over a rack? / What type of mother leave her one son over a stack?" Nicki spit. On a verse for 2 Chainz's Pretty Girl Like Trap Music, Nicki later accused Remy's husband, Brooklyn rapper/songwriter Papoose, of ghostwriting "ShETHER" for her.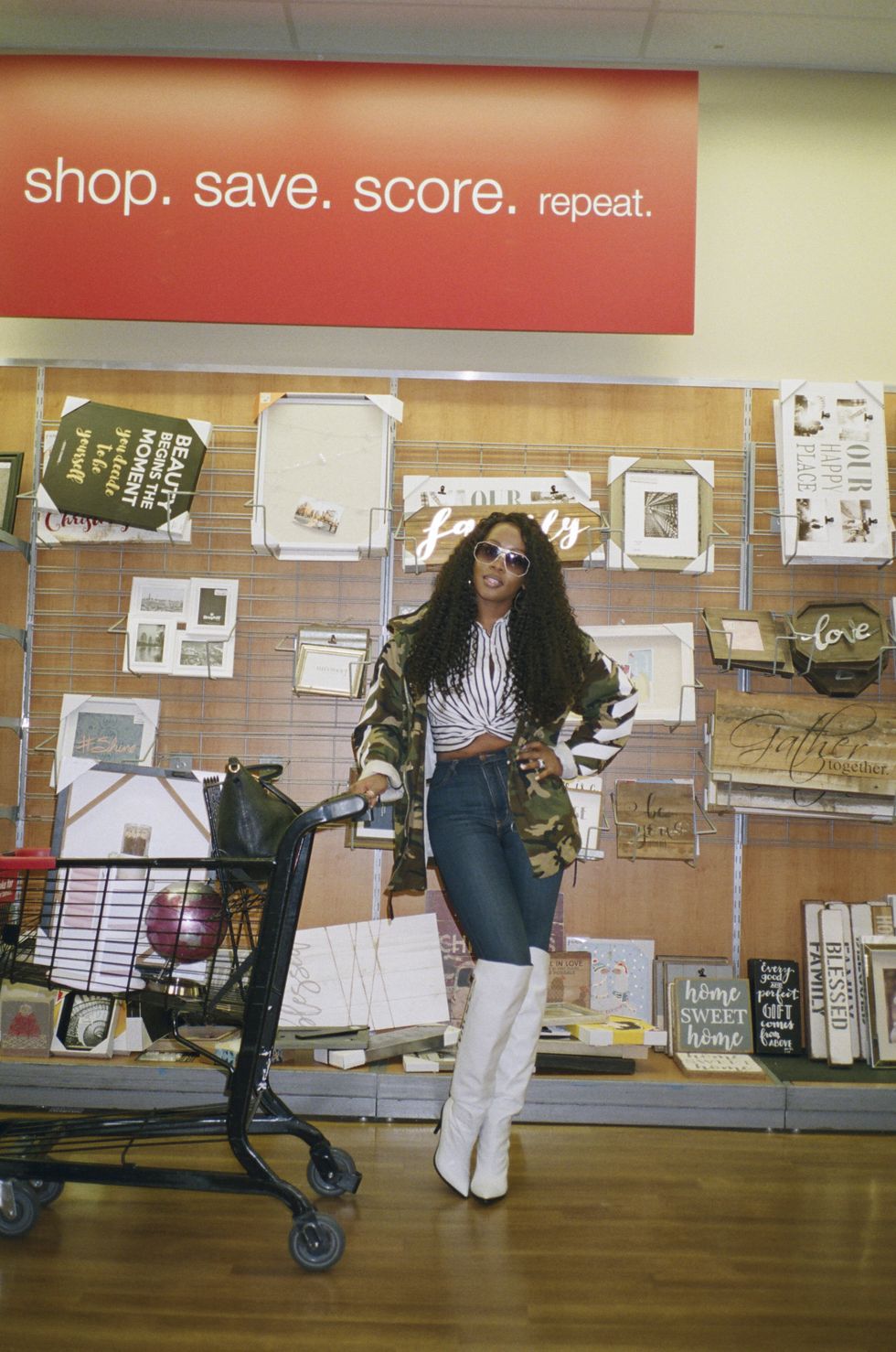 "That's the funniest joke," Remy says, throwing her head back with a cackle. "We be dying laughing about that shit. Did Pap write my rhymes when I knew Big Pun; did he write my raps when I did 'Lean Back' or my whole first album? I was known for writing like I did. I had a whole entire career before I knew my husband existed on this planet earth."

Papoose and Remy have also weathered much worse than ghostwriting allegations. The two married while Remy was in prison (he reportedly attempted to smuggle a key into the jail and was later banned from visitation for six months), and since have been a steadfast team. The secret to a successful partnership, the rapper explains, is a strong foundation. "A lot of times people get with people for the wrong reasons," Remy says. "People get with people because they have money, but when the money's gone, what happens? When the cameras are away, what happens? You're going to leave and because you were there for a reason." Their relationship has survived because Remy refuses to let anyone come between her and her man, especially not the three F's (fans, friends and family members).
While, of course, it goes without saying Remy's relevance does not stem from her feud with Nicki, it has certainly fueled what have become several of the most memorable moments in her career. While some might remember her 2017 Summer Jam performance for the various memes Remy projected of Nicki (she concluded with an "In Memoriam" picture of "Onika Tanja Maraj" — as far as drags go, it was one of the greatest), just as iconic was Remy's reunion of legendary female rappers, including Queen Latifah, Cardi B, Lil Kim, Young M.A, MC Lyte, Rah Digga and Lady of Rage, to perform "U.N.I.T.Y." It was further proof that Remy's arms are wide open for young women hoping to make it in hip hop.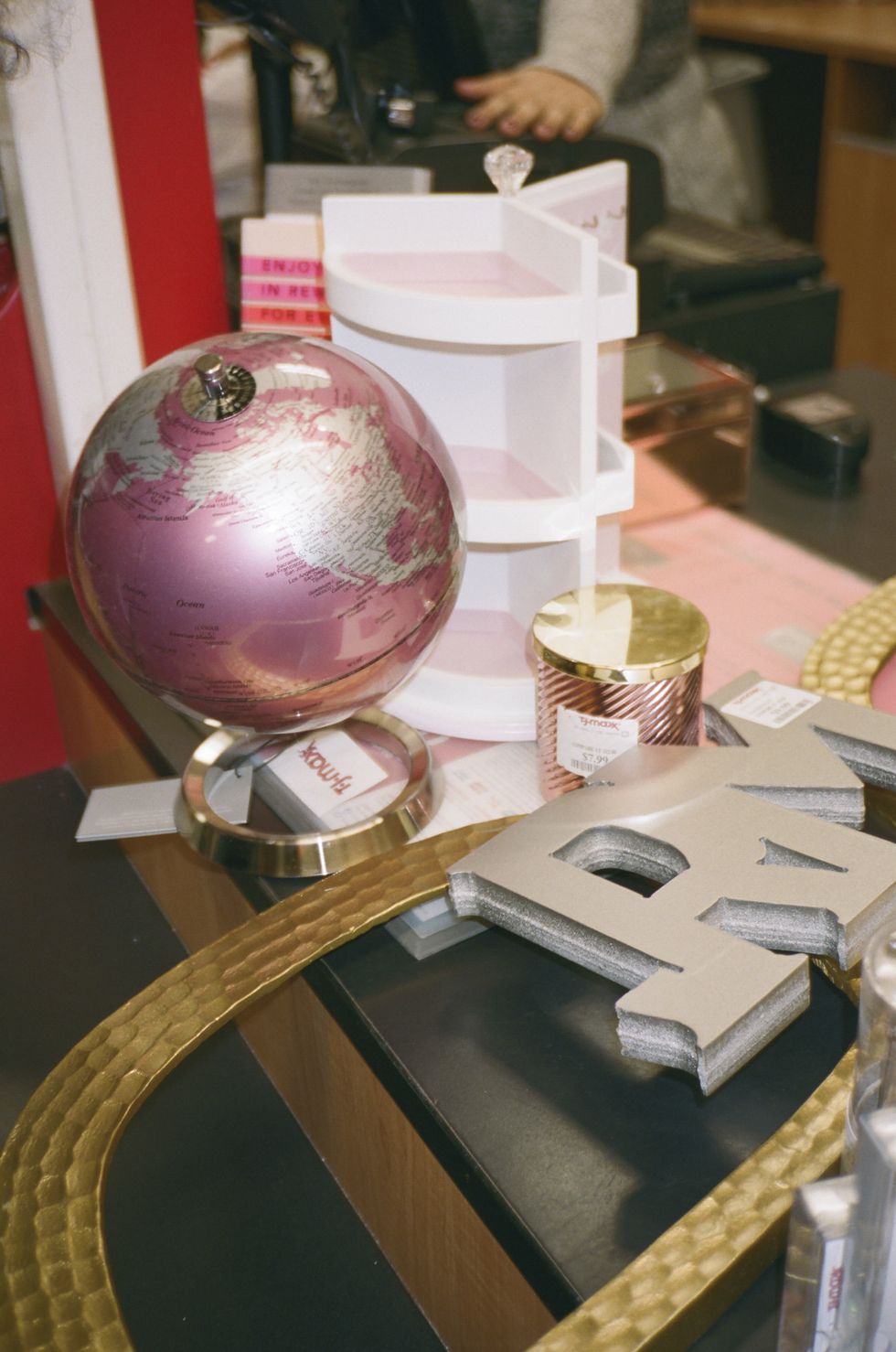 Remy's presence is reminiscent of that aunty you actually look forward to visiting on Christmas because she's always laden with big city wisdom and ready to defend you against your parents. The MC is fiercely protective of her mentées, particularly Bronx stripper-turned-reality staple-turned-rap superstar, Cardi B. She speaks of Cardi with affection and pride, affirming fan theories that Nicki is jealous of Cardi's stratospheric rise and was not aware the two would be collaborating on Migos' "Motorsport" ("trust me, that is not [like] Nicki"). Cardi has turned to her rap mom multiple times in the face of backlash, the latter informing her that after success comes the hate. "She's like, 'I'm not used to this and people be saying whatever the fuck they want but I can't say anything to them,'" Remy says, "but if you listen to them it will drive you fucking crazy. They will have you chasing fucking waterfalls. So you can't jump to every tune."

Related | Beautiful People: Cardi B Is Still Real
Remy herself is no stranger to online critics. The rapper recently lost 30 pounds, and was infuriated the comment section was accusing her of liposuction (in reality, she drinks half her weight in ounces, every day), while she's "fucking starving." Others will say they prefer her "thicker." Papoose tells her to stop reading the comments, but the rapper enjoys the feedback. In fact, Remy recently discovered the worldwide phenomenon of "skin bleaching" after one critic wrote on one of her Instagram uploads: "I think she'd be pretty if she wasn't so dark-skinned." Her response? "Why the fuck would you make yourself grey?"
The "silent war between dark and light-skin girls," inspired her brand new track with Chris Brown, "Melanin Magic (Pretty Brown)." The single is both a self-love anthem and rally cry, and this week became the number one most-added song on Urban Radio. "We're competing with bitches who are spending thousands and sometimes hundreds of thousands of dollars on their bodies," she says, stopping to pose in one of the aisles. "I just want people to say that it's okay to come from where you are from."
As she walks through TJ Maxx wheeling two separate trolleys (one for her, one for me), it's clear where she came from is certainly not something Remy has lost sight off. Her seven-foot bodyguard, Max, follows up the rear with toting dog biscuits and towels of his own. With Max, it's difficult to maintain a low profile, but Remy seems to feel right at home. Renovation and decoration are two of her favorite activities — she's bought and renovated multiple houses, completely on her own, all while working on her new album. Now, Remy is gunning for her own home-makeover show. "It's just not music for me," Remy says. "I want to be able to one day not go to work, wake up, and get in my pickup truck to ride to Home Depot for supplies that I can build for my own land. That's one of my goals — to just go and do what the fuck I want to do."
While Remy certainly stays true the girl from Castle Hill, Seven Winters & Six Summers sees a more evolved, mature MC with her wicked wit and versatility still taking center stage. Many of the rappers who have spent a significant amount of time in the game would no doubt find it difficult to avoid following the well-beaten trap track to create an insta-hit, but Remy says hip-hop to her will always be synonymous with the greats: Tupac, Biggie, Jay and her late mentor, Big Pun. "People were really saying some shit," she says — shit that the new wave of "xanax" rappers apparently can't. The epidemic may be a response to Trump's America, I suggest; millennials and gen Z are turning to prescription pills to escape, but Remy disagrees: "you can't blame it on that."
She continues: "There's a certain responsibility that artists, especially bigger artists, have and they're not using their platform to do that. They're using their platform to talk about whatever the fuck they want to talk about and everybody's on the same wave. It's fucking up the community."
If there's something Remy feels strongly about, it's the responsibility to do the right thing. Approaching the kiosk, she unloads jewelry boxes, snow globes, an actual globe and my initials, all while stopping to pose with fans and divulging her unprecedented crush on Bruno Mars (he's only 5'5", I feel obligated to inform her). Max purchases his towels, and we exit in Remy's wake in full knowledge that this midtown TJ Maxx might never recover. Remy is almost entirely unaware of her effect, perhaps because after multiple hit records, many episodes of television, a decade of marriage, six years in jail, three renovated houses, two albums, one son and an ongoing war with one of the most powerful entertainers in music, who's thinking about themselves? Not Remy, it seems, who just bought $250 worth of goods to decorate my office desk.
Oh, and she installed it all herself.
Photography: Lauren Gesswein