UPDATE: 5.00pm EST: Just when you thought all might have simmered down, the tea is still brewing. Rob Kardashian's Instagram account has now been suspended, so he moved right on over the more laissez-faire, Wild West-esque social platform available: Twitter.
Rob began tweeting heavily, following up on much of what he posted earlier on Instagram. While his main grievance seems to be Chyna sleeping with other men in the bed the two shared, he appeared to also now believe that Chyna's relationship with him was out of revenge over her ex Tyga pursuing a relationship with Rob's younger sister, Kylie.
No one has won in this entire scenario, except maybe Ferraritru3, who has gained almost 100k followers since Rob mentioned him on his first Instagram post.
Go off, Ferraritru3.
---
UPDATE 2.30pm EST: Chyna has responded to Rob's accusations of cheating with domestic abuse allegations. In a now-deleted Snapstory the model wrote that Rob had beaten her up but she is "supposed to be quiet" because of his family.
T.I. has also weighed in on the drama, why? No one knows.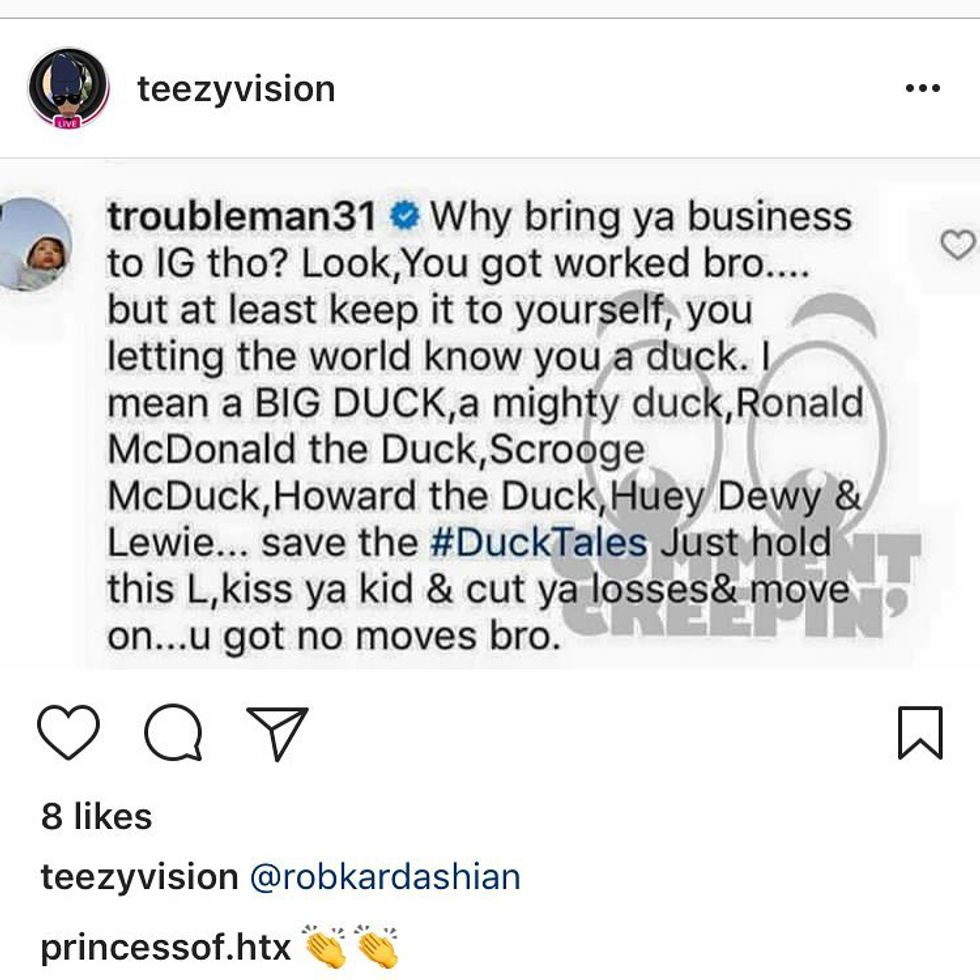 ---

If you've been on struggle street settling back into work post the holiday weekend, here's a whole lot of tea that's so piping hot you'll feel like you are still outside basking in the July heat.
Robert Kardashian, famous for his Twitter fingers, has clearly reached peak frustration with on-and-off girlfriend and baby mama Chyna. In what has been a roller coaster of emotions, Rob went from sharing pictures of him and his daughter Dream on Fourth of July to posting Chyna's nudes, accusing her of cheating, drug and alcohol abuse.
He also claims Chyna sent her this video, that features her in bed with a man identified on Instagram as Ferraritru3 as well as screenshots of alleged conversations between himself and Chyna's lover.
Rob has also aired out just how much he has spent on surgical procedures for Chyna, along with her rent, cars and jewelry.
While some are capitalizing on the drama in the comments (French Montana posted his album link on one of the now-deleted nudes) many are calling for an end to the chaos.
Welcome back, kids.
Image via Getty.