We are deeply saddened to learn of the news of the death of designer and fashion icon Isabel Toledo. She was 58.
Toledo was a Cuban immigrant, who grew up in the New York area and attended FIT and Parsons. In 1984 she married Ruben Toledo, her high school sweetheart, and embarked on a collaboration in which the personal overlapped into the professional. Their partnership was celebrated in the museum show Ruben and Isabel Toledo: A Marriage of Art and Fashion at Kent State University.
She was known for her brilliant draping and putting a surreal twist on her designs. Her most high-profile moment was dressing Michelle Obama for her husband's inauguration in 2009. Michelle was styled, at the time, by Ikram Goldman, of the Chicago store Ikram, a long-time supporter of Toledo.
From a commercial perspective, her brief time as creative director at Anne Klein in 2007 was a high point.
Toledo's work was more likely to be featured in museums or to win design awards than to be seen in current fashion magazines or trendy boutiques. She and Ruben won the Cooper Hewitt National Design Award.
She preferred to not follow the biannual calendar of presenting collections, instead working with private clients and made-to-order retail. She always had a fiercely loyal following of editors including PAPER co-founder Kim Hastreiter, V Magazine's Stephen Gan and New York's Wendy Goodman.
Perhaps Designer Alber Elbaz said it best in a comment on Hastreiter's Instagram that announced Toledo's death: "Dear beautiful Isabel, a true, true, true designer and a beautiful person. I'm happy I always told you in person how much I respected you and loved you. What an inspiration you were and will be to all of us."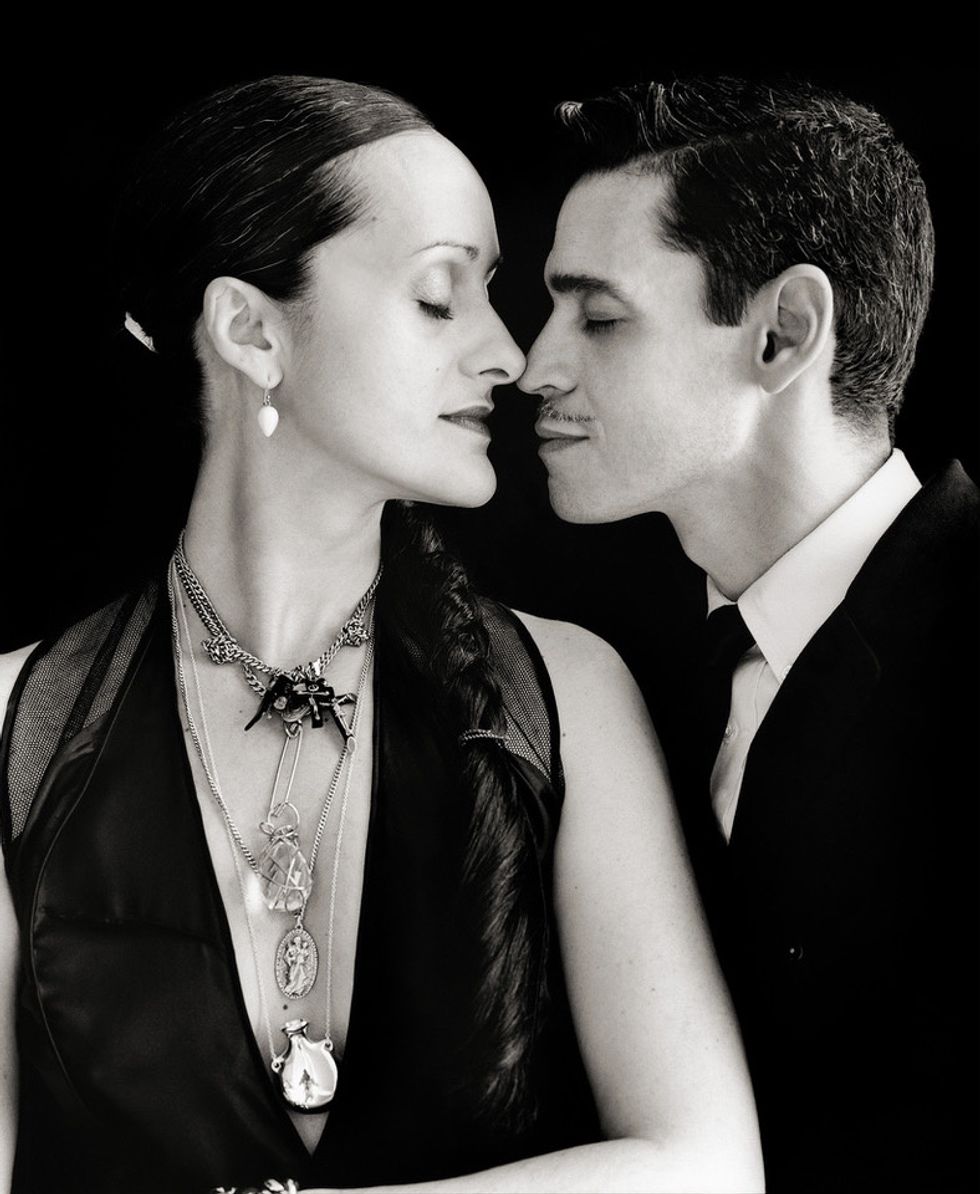 Isabel Toledo and Ruben Toledo (Photo courtesy of Richard Phibbs)
In 2009, PAPER Co-Founder Kim Hastreiter interviewed Toledo about designing Michelle Obama's inauguration ensemble.
Kim Hastreiter: How did you find out that Michelle Obama was going to wear your look?

Isabel Toledo: We found out the same way, along with everyone else in the world. I do think that I absorbed the wave of energy felt by everybody at the same time and that made the impact that much bigger — like an electric shock!
So tell me about the dress.
It is made of wool lace and lined in silk netting with little secret pashmina tulle layers for warmth and lightness — I call the color lemongrass, to express an emotion more than a color. The textile reminds me of floating islands connected by a common thread. The empty space gave me the ability to play with the illusion of light escaping from beneath. I love colors that are hard to describe because everyone can own it. To some it's sunflower, corn husk, gold, mustard or sunshine. It's a tone that depends on the observer and is affected by the light.
"It's not about the label — it's about ideas."
How would you describe Michelle Obama's natural style?
Michelle has the grace of Mother Nature. Her style is regal and down to earth. She inspires confidence. Her style is open and bold and brave — those are qualities that I like to cut in my clothes.
How did she learn about your designs?
She first learned about my clothes from Ikram, the woman who has become our fashion ambassador in Chicago, one of the best dressed cities in the world, due to a fantastically groovy-chic group of smart professional women who really know and wear clothes well.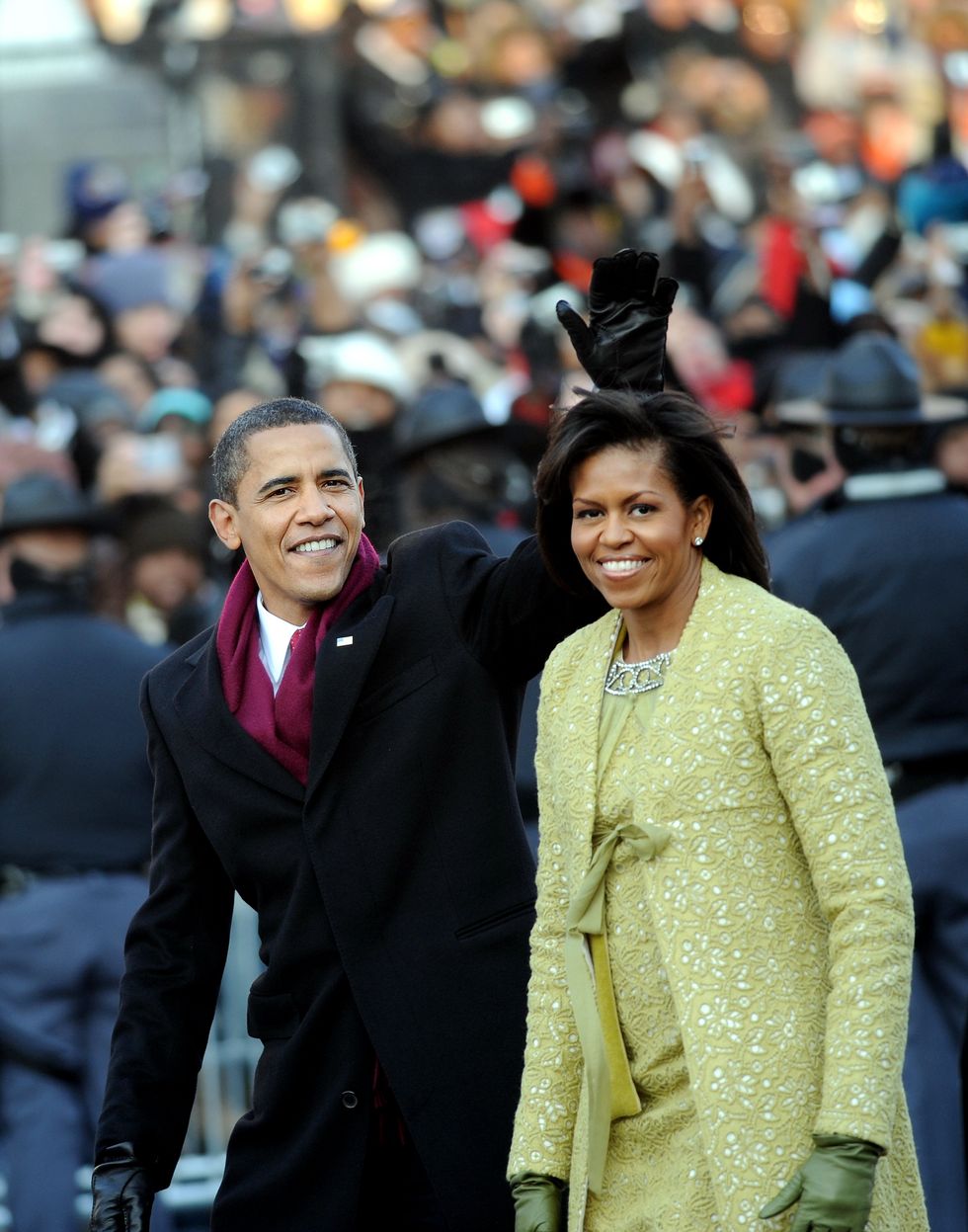 Barack and Michelle Obama, 2009 (Photo courtesy of Getty)
Why do you think Michelle relates to your work?
It's all about the realness, what it means to be a woman and wear fashion with a purpose. To wear innovation and inventions that can elevate your life, this is why fashion was invented in the first place. It's not about the label — it's about ideas.
How did you feel her look held up after all those hours wearing it? She went to Church, then to the inauguration, had a luncheon with Congress, then drove and walked to the White House and watched a two-hour-long parade. And it still looked flawless!
Michelle wore it well! With style, grace and ease. And the fact that it kept her warm enough not to shiver for 10 hours outdoors made us happy!
Isabel Toledo photos courtesy of Richard Phibbs / Obama photo courtesy of Getty
Sign Up For The Morning PAPER