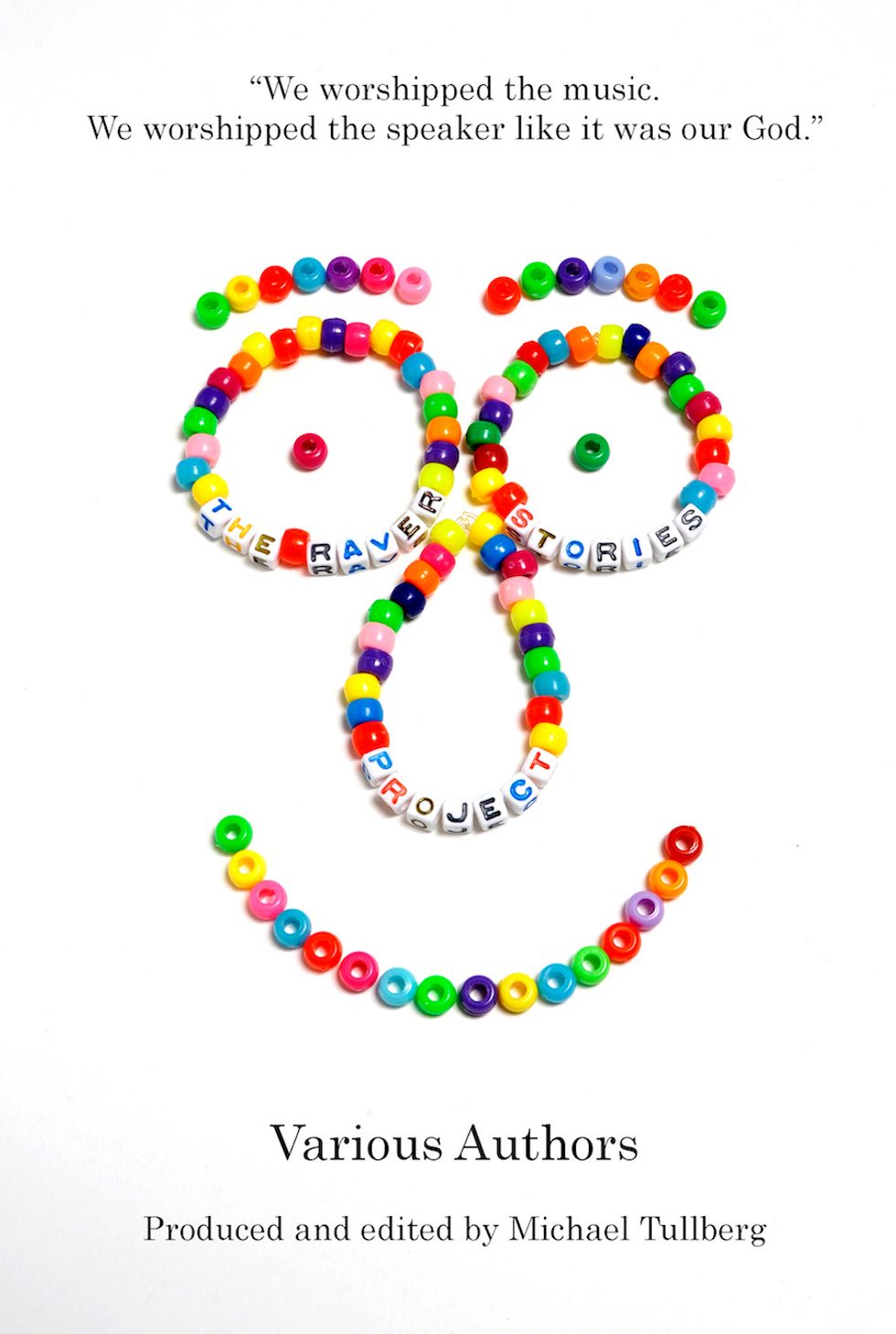 The Raver Stories Project is a new collection that has various authors remembering their glow-stick-filled days at trippy, embracing raves—the electronic-music based bashes that became extra popular in (but hardly exclusive to) the 1990s. The book is produced and edited by Michael Tullberg, who's photographed and written about ravea for music magazines and currently shoots for Getty and writes a column for DJ Mag. (His previous book was Dancefloor Thunderstorm: Land of the Free, Home of the Rave.) I asked Tullberg for the best and worst aspects of the rave scene and he responded thusly:

THE BEST ASPECTS
"For me, it was the all-embracing nature that drew me in," said Tullberg, "along with the enormously high quality of music, of course. I had been shooting in the Hollywood clubs before the rave scene, and I'd had my fill of the preening Hollywood VIP velvet rope mentality. I really liked that the '90's rave scene did away with that. At its best, it removed so many social barriers, like race, class, social status and sexuality. There was really only one criterion: did you like the music? If the answer was yes, then boom, you were in, and you were under no obligation to be a Kandi Raver, either. You could be whoever or whatever you wanted to be, without fear of ridicule or reprisal. Of course, most chose to be very silly in one way or another."
THE DOWN SIDE
"One of the down sides," said Tullberg, "was the lack of acceptance by the mainstream media and entertainment business. It was sometimes very demoralizing to us to be part of the most cutting-edge and progressive entertainment movement in pop culture and having that very same pop culture dismiss the rave scene. We were looked on by many in the mainstream as declasse, participating in a disreputable form of nightlife, and that really sucked. On one hand, we were fiercely proud of our underground status and the fact that we had basically built this scene by ourselves. On the other hand, we were also fiercely proud of our growth, and we wanted to be recognized for it. Sadly, that recognition wouldn't end up coming until well into the EDM generation, when the size of festivals like EDC made it impossible to dismiss or ignore them anymore. The '90s electronic music scene never got the support of the mainstream music industry in the way that hip hop, rock, pop and other genres did. As a result, a lot of people became very misinformed about the scene and what was happening in it. It was difficult to explain to people sometimes that raves weren't these awful Sodom and Gomorrah-like cesspools, like they were being told on the news. Plus, many great DJs and musicians' careers suffered as well, since the mainstream labels wouldn't touch most of them with a 10-foot pole--and this is when these guys were headlining 40,000-person events."
Let me now allow some other voices to chime in. Here are some of the book's highlights about raves and why everyone's still raving about them, as told by the various contributors.
THE LOCATIONS
Writes L.A. artist Arika "Koko" Santos, "The secret locations took us on crazy adventures through crazy parts of the city and even out of town…. One time, I even walked through a pasture with cows and horses, tripping balls, to get to a party!"
THE RAIDS
According to film/TV producer Rosa Costanza, a gigantic warehouse rave in Brooklyn was busted, and throngs were forced to pour onto the streets and into the subways. But it was never that easy to end a rave. Costanza relates that she and her friends made it over to the home of a crew called Half Baked, where the party kept going, fully baked.
THE MUSIC
Argentinian raver Fede Fleitas looks back on a 2014 rave called "A State of Trance," where DJs included Ruben De Ronde, Chris Schweizer, Orjan Nilsen, and Armin Van Buuren…and at one point, all of them took the stage to play together, as if in some madcap communal fantasy. Tullberg told me more: "The music was so much better than what was being played in the L.A. clubs at the time. The latter consisted mostly of totally unimpressive middle of the road, commercial house knockoffs mixed with '80s mashups. The audience thought it was perfectly normal to hear the same records three times a night in every club they went to. On the rave scene, you had so many fantastic artists hitting their peaks, like Carl Cox, Sasha & Digweed, Fatboy Slim, the Crystal Method, Sandra Collins, Paul Oakenfold, Aphex Twin, Louis Vega…it was incredible and thrilling at the same time. We knew that we were on the edge of the biggest musical era since the rise of hip hop, and if those pinheads in the clubs didn't get it, well then that was their problem."

THE DRUGS
Darcey Kearney, who was a rave DJ, says she vividly remembers the popularity of crystal meth, heroin, and GHB. Etched in her memory are "people passing out on the dance floor, one collapsing on one of my turntables while I was playing." Determined to be a positive role model, Kearney regularly put drug-awareness messages into her mixtapes.
THE SEXUALITY
Jivana (Raver J) recalls dancing at a rave held in an indoor arena in Las Vegas for a Spiritworld party "circa 2002 or 2003." The music, lights, and the mood led to her feeling as if she was coated with celestial pourings of honey. "Like mini-orgasms, every cell of my body became alive," she enthuses. "I felt like I was nearing a climactic orgasm…" You had to be there.
THE SPIRIT
Sabrina Dolling, a devoted raver, says that Cyberfest 2001, a massive event in San Francisco, was life-changing for her. With lots of capital letters, she writes, "For the FIRST TIME in my entire life, I felt ACCEPTANCE by my peers, by complete strangers….I felt love in my heart, a feeling I wasn't used to. I HAD FOUND MY PEOPLE." Dolling actually says that the euphoric feeling she was overcome by at that rave convinced her to GO ON LIVING.
BURNING MAN
Dancer/raver/writer Onnoleigh Sweetman calls the festival "utopia" and describes it as "a sort of magical place where the misfits and madmen go." And that's just the beginning.
Image via Getty