On the day of her album release, RAYE took to the streets of London to make a scene. Feet from Pancras Square, home of Universal Music UK and the British singer's former label, Polydor Records, she sat atop a pile of speakers, amps and musical instruments haphazardly thrown together and painted a blinding white.
The demonstration was a life-size reconstruction of the cover of her debut album, My 21st Century Blues, released independently on February 3. RAYE uploaded a video to TikTok with the caption, "maybe I was petty and built this installation infront [sic] of my old record label." It landed like a death knell, sounding the end of nine years of exploitation and anguish, of stifled creativity and empty promises — the beginning of a new chapter.
With her album in hand and a smile on her face, basking in the restorative glow of pettiness and conviction, RAYE let go of the past and reveled in the feeling of true freedom.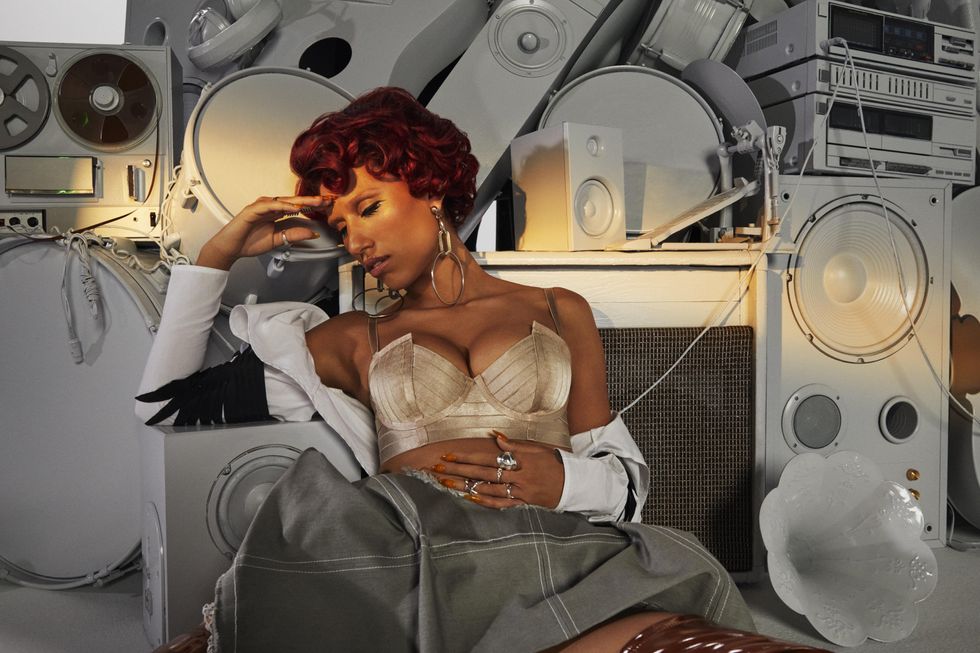 My 21st Century Blues is the kind of soul-baring album that can only exist if an artist has complete creative control. RAYE fought for that autonomy, going public with her label woes in 2021. The story goes like this: At 17, in 2014, she signed a four-album deal with Polydor Records. A few years later, she had two top 20 singles in the UK, and she began writing for other artists like Beyoncé, Little Mix and Charli XCX with the hope of eventually releasing her own album — but it never received the green light. Instead, she dropped her Euphoric Sad Songs EP in 2020, which spawned "Secrets," a moody dance hit that best illustrates her Scorpio flair for dramatics. Despite her success as a writer and singles artist, RAYE found herself fighting to feature on her own songs. By the summer of 2021, she was seven years into her career, and she still didn't have an album to show for it; she was stuck in artist-development purgatory feeling more like a puppet than an artist.
She unleashed her frustrations through a series of tweets, revealing that she felt used and unsupported by the label. She refused to be put in a box and labeled "the girl who sings on dance songs." Her posts garnered the support of her industry peers, and she and Polydor parted ways by the end of the year. RAYE then took her future into her own hands as an independent artist.
\u201cI have been on a 4 ALBUM RECORD DEAL since 2014 !!! And haven\u2019t been allowed to put out one album. ALL I CARE ABOUT is the music. Im sick of being slept on and I\u2019m sick of being in pain about it this is not business to me this so personal\u201d

— RAYE (@RAYE) 1624982923
"I will never take creative freedom for granted, ever, having been through what I have in my little career," she tells PAPER from her tour bus. Bathed in neon pink light and wearing a pensive smile, RAYE appears deep in thought. Reflecting on those years now, she takes her time to gather the right words. But how do you summarize so much hurt and resentment? You pour it into your music.
"One of the biggest things I took away [from that experience] was just how important it is to trust what you believe is best for yourself as an artist," she says over Zoom, gazing away from her phone camera. "It would be a sad world if every single artist was creating uniform art."
My 21st Century Blues, which is now very much in the running for the number-one spot on the UK's Billboard 200, is the culmination of RAYE dictating her own story on her own terms — every bruise and intrusive vulnerability spills out from the tip of her pen. ("My pen is a gun," she bites on "Hard Out Here," an electrifying single that takes aim at the "white men CEOs" who tried to snuff her dreams.) Never one to shy away from public displays of emotion, she rips open the seams of her heart for all to see. On "Black Mascara," she confronts a man who took advantage of her after spiking her drink. ("Look what you've done to me," she sings over a pulsating club beat, creating a sonic state of disorientation.)
"That record was definitely medicine at that time for me," RAYE says of the track.
The entire process was a bit like therapy; it afforded her the opportunity to work through her traumas and darkest thoughts, where nothing was deemed too ugly or personal to share. "Body Dysmorphia'' brings her physical insecurities to the surface through incisive lyricism and vocoded vocals; "Environmental Anxiety" exposes her climate crisis fears and the dangers of social media brain rot; "Mary Jane" details the extent of her addiction to marijuana and codeine over smoky vocals and blues guitar and runaway single "Escapism" recounts an evening of heartbreak-fueled self-destruction and debauchery.
When you're signed to a label, you're just a name on a roster. Decisions are made by corporate cabals with the goal of reaching the widest possible audience. As an independent artist, RAYE could prioritize herself. "[This album] was created to help me reflect and process or even just hear a situation back in my ears," she says. "Some of these songs I've been itching to share for years and others are scary to share."
​The emotionally searing ballad "Ice Cream Man" is both. Evocative and powerful, RAYE began writing the song after being sexually assaulted by a producer at 19. She reflects on other incidents of abuse as well: "And I was seven/ Was twenty one, was seventeen and was eleven/ It took a while to understand what my consent means." This is why she describes songwriting as "medicinal" to her: By expelling her pain onto paper and into music, she was able to empower herself to move forward. "I'm a woman," she sings in affirmation, "a very fucking brave strong woman."
"It's my purpose in life to create and share," she explains. It's a realization she came to after a bit of soul-searching. "I needed to take a bit of time to assess what my purpose is, what I want to say and why I even became a musician in the first place."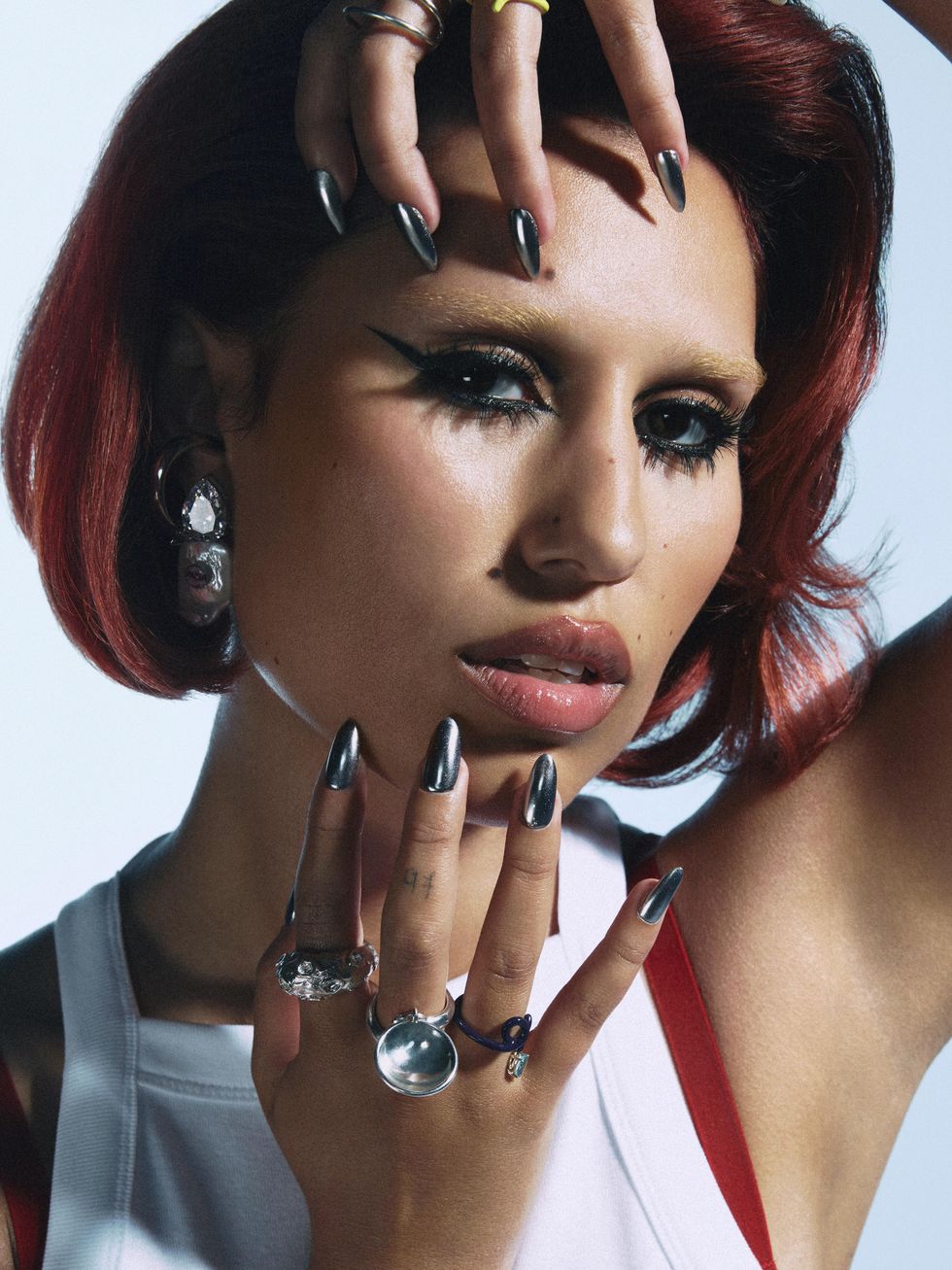 Truthfully, RAYE, born Rachel Agatha Keen in south London, always knew what she wanted to be. ("Since day one," she smiles.) She grew up in church. Her Ghanaian-Swiss mom sang in the choir, and her English father played the keys. "My parents weren't professional musicians, but always had a love and a passion for it," she says. "Same with my granddad, who used to write songs and send them to record labels." She describes her younger self as loud and chatty, one of three girls. "I was either a teacher's favorite or a teacher's least favorite depending on whether I liked the subject or not," she says.
Then she found an outlet for all of that restless energy. She wrote her first song when she was seven, following an afternoon walk with her dad. "I saw a homeless man, and I was so burdened and troubled by it," she recalls. "I got home, and I wrote something called 'Change My World,' which will never hear the light of day. But the intention was there from a very young age of how I wanted to write and make music about things I'd seen or things that were on my mind." She looked toward versatile neo-soul singer-songwriters like Alicia Keys and Jill Scott to show her the way. The Diary of Alicia Keys was the first physical CD she ever purchased; she felt moved by Keys' lyricism and musicality. From Scott's amorous debut album, Who Is Jill Scott?, she parsed the craft of storytelling.
"Since I was 10, I've never had another goal. It's just been like, get it or die trying," she muses. "I'm very intense. I'm very 'all or nothing.'"
At 14, RAYE enrolled at the BRIT School in Croydon, south London, a performing arts college that counts Adele and Amy Winehouse as alumni. She spent her weekends writing songs, and on Fridays she'd take the train to the studio for regular sessions. Around this time she met her then-manager through a guitar teacher at her former school. In 2014, at age 16, she dropped her first EP,
Welcome to the Winter
, on Soundcloud. She left the BRIT School shortly after and began pursuing music full-time, catching her first break when
Years & Years
frontman Olly Alexander came across her music on HypeMachine. He sent it to his label, Polydor Records, which landed her the record deal. At 17, it was all she had ever wanted. She thought a contract made her a real artist. Now, she knows that's not true.
"Artistry really stems from your identity," she says. "An artist is conviction and having a perspective that you identify with and you back and you love 100%. What's tricky is when you're in a space where other people's opinions and perspectives infiltrate your conviction and your perspective as an artist. If we trusted other people's convictions, would it be our true art?"
The reality of co-writing her entire album and making all of the creative decisions meant that she carried the full weight of those emotions. When she recorded "Ice Cream Man" with producer Mike Sabath, she had a panic attack. "I really want to go to those places of raw honesty," she says. "It's definitely been an emotional journey putting some of these songs together and the artwork and the visuals." She decided to direct the music video for "Ice Cream Man" with encouragement from her friend Michaela Coel. "She was like, 'RAYE, you need to direct this yourself. I believe that you're capable of directing it yourself.'" She wrote the treatment in her bed. On the day of filming, she was only able to do three takes. She says she spent most of the day in a dark storage cupboard, catching her breath and reconnecting with her body.
"I've never been so vulnerable," she recalls. "No makeup, no hair, no protective barrier." It was just RAYE sitting with her feelings. "I can't even watch the edit back. I need to approve it, and I'm not ready to watch it." Though she felt completely supported by her all-women crew, the experience has still been difficult to process emotionally. And that's exactly why she wanted to take her art into her own hands — to share her story and to forgive herself. Her art is absolute. It's as divine as her faith, which got her through her darkest moments.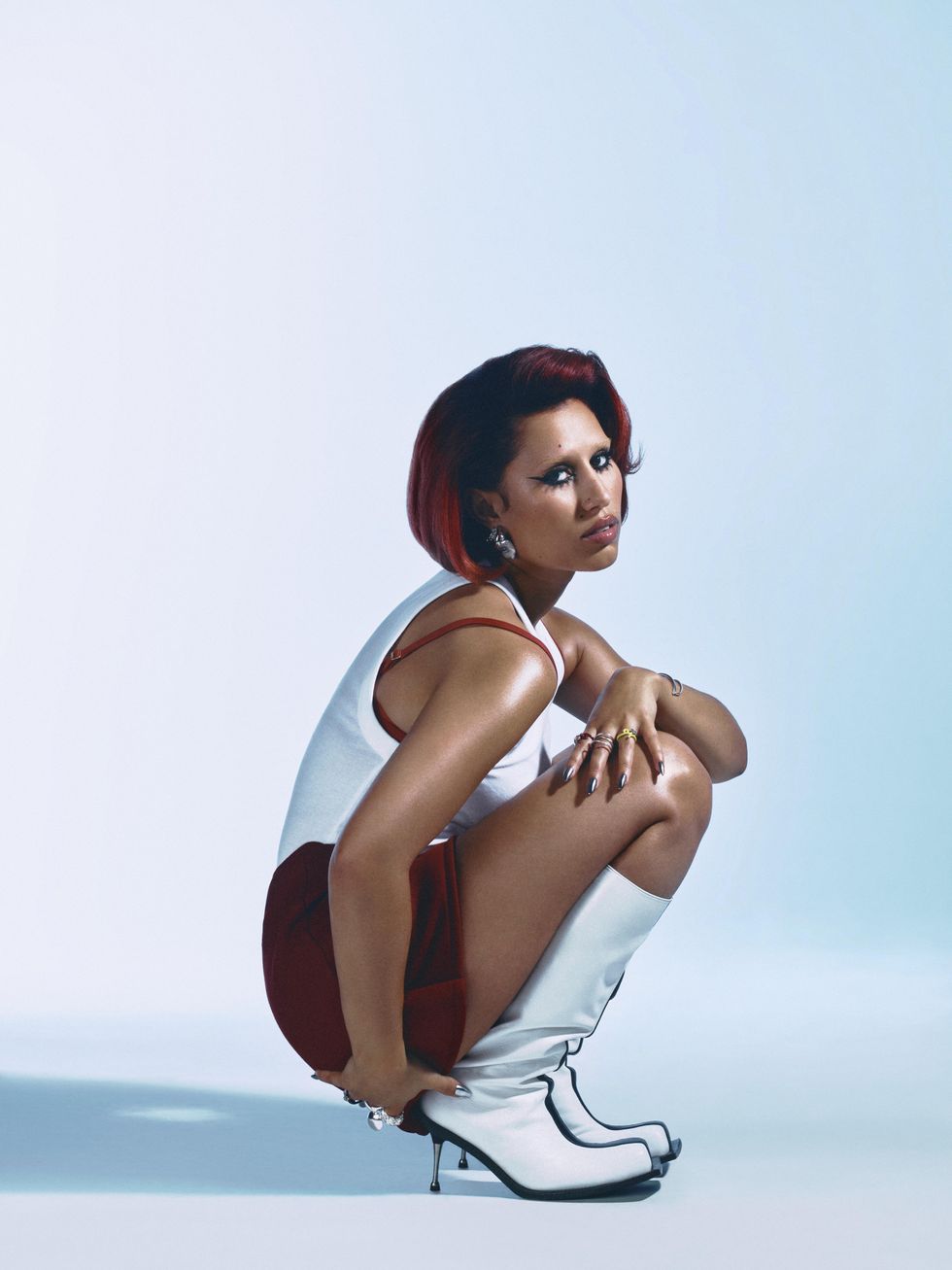 The final track on My 21st Century Blues is a joyful celebration of womanhood and sexuality. "Buss It Down" sounds like the gospel music she was raised on, warm and affirmative. It's hopeful, the brightest blue. She became her own choir, layering hundreds of vocal tracks to create the sound of ebullience.
"I think it's important to have hope and light, which is why I intended for it to be listened to in order," she says with clarity. "All the ugly parts and the hard parts and the sad parts are all just part of what now makes me me. There's so much to celebrate, and there's so much to process. There's so much to still heal from and to reflect on, strive towards. There's good days and bad days. There's great and horrible things, and it's part of life, right?"
Photography by Sebastian Kopfhammer
Creative direction by Mikey Robbins
From Your Site Articles
Related Articles Around the Web
Sign Up For The Morning PAPER