Waiting in line for the Puppets and Puppets show at Manhattan's gilded Prince George Ballroom on Monday night, I overheard someone with a nicely mussed Vacancy Project mullet eagerly whisper to a friend. "I'm really thirsty for something weird."
"Don't worry," the friend (glass skin, leather jacket) replied. "It will be."
They were right. The show was weird. Weird in a great way! A fun and lovely way! Fashion week always needs more weirdness. The schedule in New York is so bare and empty this year — we need weirdness to get through it. The weird stuff is the only thing that makes it fun to see a fashion show in real life (also brands with gobs and gobs of money who make objects of such breathtaking luxury that you're tempted to reach out and touch them, i.e. The Row and various shows in Milan and Paris. But they're rare in New York these days!). Without the odd and unexpected, you may as well stay home and just look at the photos online. So thank God for weirdos like Puppets and Puppets designers Carly Mark and Ayla Argentina, who really make leaving the house in rainy Joker weather worth it.
Mark and Argentina founded their brand — named for Mark's black chihuahua mix, Puppet — just last year, but it already has a clear identity, with references across three seasons: clowns, faeries, panniers, medieval garb, bits of food, Wooderson looks, abject royalty. For Fall 2020, they decided to pay tribute to the late Escher–esque French cartoonist and graphic novel illustrator Jean Giraud, aka Moebius, working in his preferred pastel color palette and creating a series of looks based on his illustrations and characters.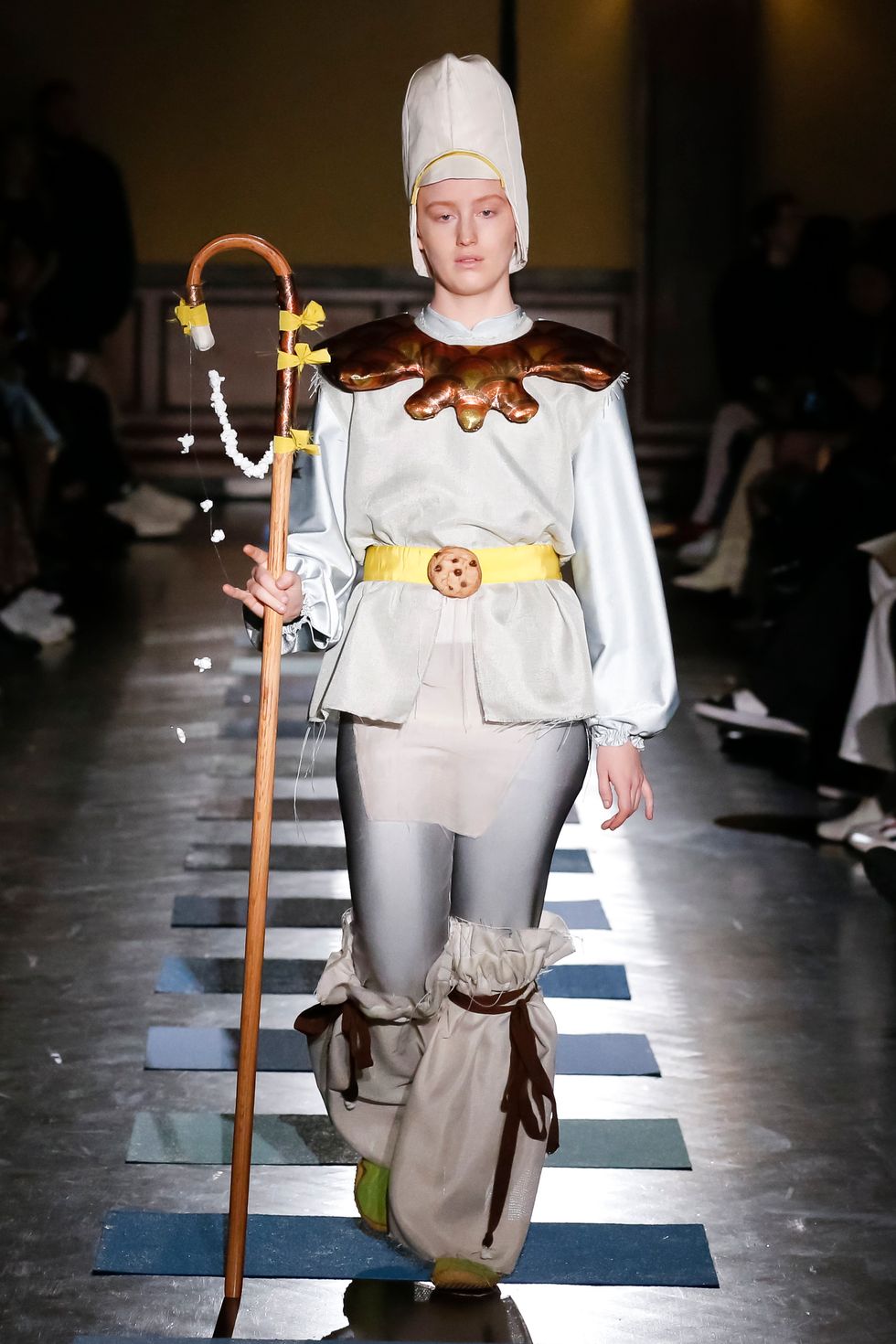 Moebius was known for his otherworldly Western-inspired comics and design work on sci-fi classics like Alien and The Fifth Element. Mark, an artist and science fiction fan, initially encountered his work while watching the famed documentary about Alejandro Jodorowsky's never-made version of Dune. "I thought it was so beautiful," she told me backstage after the show. "And I've always loved graphic novels."
And so Mark and Argentina set out to pay thorough homage to his work — Argentina sewed each piece by hand, working nonstop for weeks and sleeping on the couch in Mark's apartment-slash-studio. The models, a clubby cast of New York's Very Cool, also had a hand in creating their characters. Performer and artist Bobbi Menuez opened the show as an adorable troll doll prince in a spandex henley and leggings, accessories embellished with chocolate-chip cookies and strands of popcorn; Lou Dallas designer Rafaella Henley wore a stunning gold dress and cape with a silk-lamé corset; a pregnant Alexandra Marzella wore a sheer nude bodysuit with fairy wings; Richie Shazam was a showstopper in an intricately constructed Tiffany-blue corset with double-bustle pants; Mission Chinese chef and owner Danny Bowien was a shining knight in chainmail; and poet Precious Okoyomon wore a squishy pink breastplate referred to in the show notes as "pillow armor." Each model, styled by Stella Greenspan, also had an individual beauty look (this is rare), with makeup by Grace Ahn and hair by Blake Erik.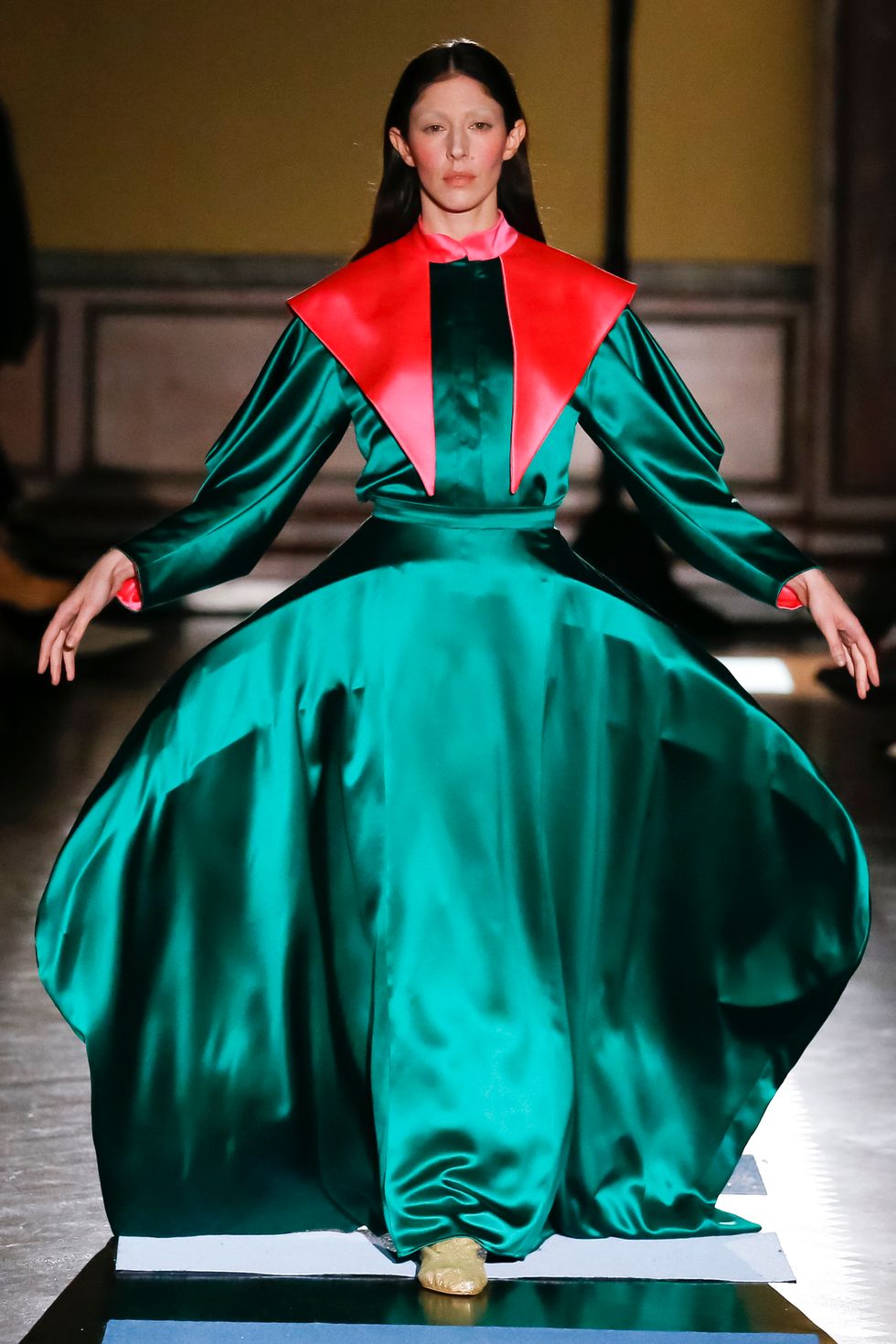 Both Mark and Argentina walked in the show, Mark in a chill t-shirt and jeans and Argentina in a bejeweled charmeuse dress with popcorn dangling from the sleeves (the food accents have quickly become a Puppets signature — Mark said that she's "snack-centric and I always have been, my brain is just like make that a chocolate chip cookie"). And the ethereal musician Caroline Polachek closed things out in a green pannier skirt and a matching batwing top with a pink collar named for Christian Lacroix, taking even courtly steps that made her look like she was floating. I recently ingested mushrooms and wept an Ocean of Tears at a Polachek show; as she walked out I let out a small yelp over the dramatic rendition of "Ave Maria" that served as the show's soundtrack. Apologies to Ms. Polachek and my seatmates.
While people were making their way out of the enormous ballroom (you open a door, to another door, etc.), attendees kept commenting on how fun the show was — the surreal clothes, the cookie accents, the glamorous venue. "We're serious about fashion, but we're also not serious about fashion," Mark said. It's a bit analogous to Moebius's outlook. "My creative world is pleasure above all," he once told Art Futura. "Pleasure is the spur to survival."
Photography courtesy of LECCA
Sign Up For The Morning PAPER