St. Barth has long been a haven for the rich and famous during the winter stretch. The past two months alone have seen everyone from Dua Lipa to Leonardo DiCaprio to Jeff Bezos flock to its exclusive and luxurious spots for a tropical getaway.
On the eastern end of the island, however, a merging of luxury hospitality and chic Parisian style is bringing a new kind of energy to the vacation hotspot. Rosewood Le Guanahani St. Barth, the resort that reopened last November following a four-year renovation, has welcomed one of France's most beloved designers into the fold.
Lola Rykiel, granddaughter of legendary designer Sonia Rykiel and founder of the Pompom Paris label, recently opened a waterfront pop-up inside the lush resort's La Boutique, which features pieces from her signature collection as well as limited-edition items like a T-shirt with "Miss St. Barth" displayed in the brand's iconic font in strass. It will stay open for three months.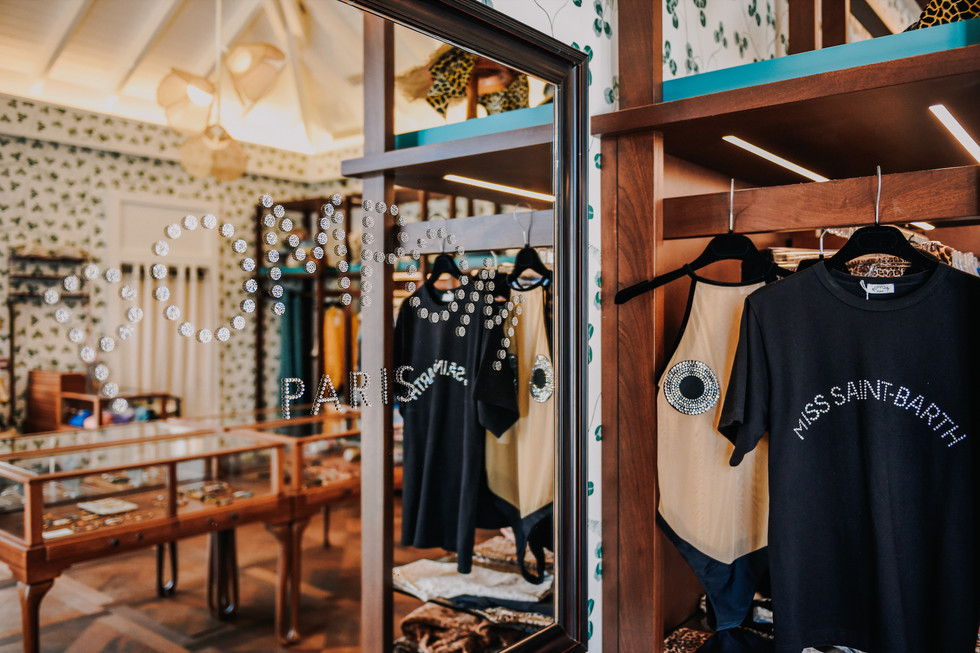 The Pompom Pop-Up (Courtesy)
"I am honored for Pompom Paris to be part of the legendary Rosewood Le Guanahani St. Barth experience and to be able to diffuse the collection's irreverent spirit with a selection of items specifically curated for the resort's glamorous, well-traveled, modern woman," said Rykiel.
Pompom, which launched in 2019 and currently operates a store in Paris' Saint-Germain-des-Prés neighborhood, is known for its strass crystal-embellished pullovers, luxe velour tracksuits and yoga-wear. The brand is inspired by Rykiel's formal dancing background and contains elements of what attire dancers would wear during rehearsal or backstage
Rykiel added: "I hope this collaboration will bring a touch of Parisian whimsy to such an iconic moment in the history of Rosewood Le Guanahani St. Barth and infuse the dynamic attitude of the Pompom woman into the most spectacular destination on the island."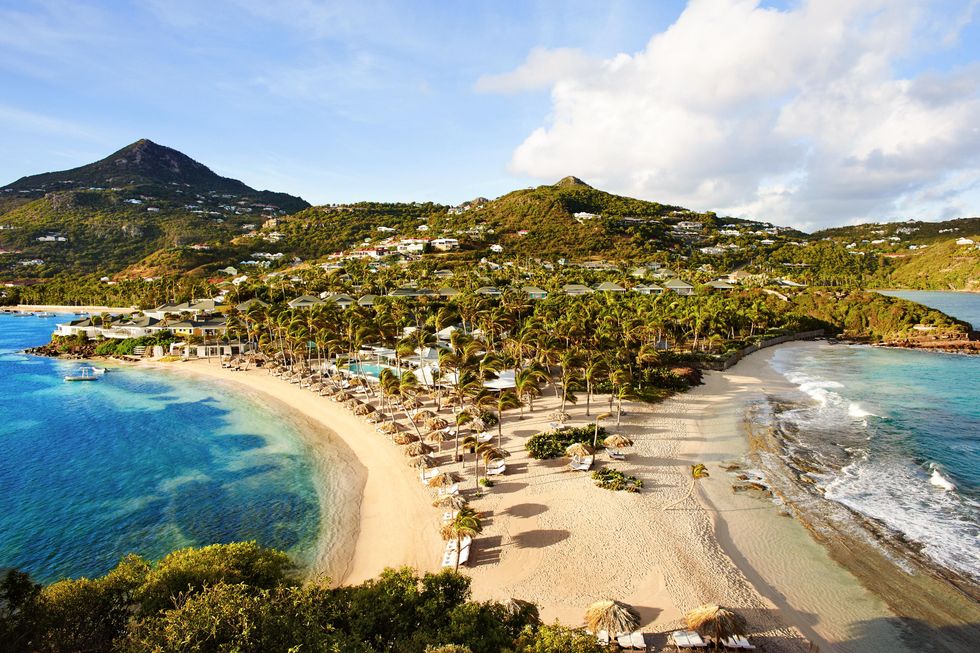 Aerial view of the resort. (Courtesy)
In St. Barth, where Rykiel would visit a few times growing up, the country's French roots and vibrant energy make the location of her first pop-up there a perfect match. The experience from beginning to end — arriving on Tradewind flights, relaxing by the resort's infinity pool and beach, hiking excursions and getting a massage (with Medicine Women CBD oil) in the Sense spa — fit in line with the designer and resort's shared joie de vivre philosophy.
"We couldn't imagine a more fitting partner for the Boutique at Rosewood Le Guanahani St. Barth than Pompom Paris," said Martein van Wagenberg, managing director of Rosewood Le Guanahani St. Barth. "Pompom Paris is elegant yet sensual, polished yet effortless, simple yet alluring. Lola Rykiel's vision for her brand falls perfectly in line with the ethos of our resort, and we are excited to showcase the very essence of St. Barth through her pieces."
Sign Up For The Morning PAPER