There were the early years she spent styling shoots for David LaChapelle ("He was outrageous"); that first Alexander McQueen show ("the moment I realized fashion could be half-dead, half-alive"); and styling stints for icons like Whitney Houston ("I introduced her to Dolce & Gabbana"). But if you were to trace where fashion and fantasy first collided for legendary stylist Patti Wilson, you'd arrive at a subject far more chaste: nuns. "Their look was to die for! All that black and white and the chains? Those beads and big crosses -- I loved it," exclaims the Queens-born creative who grew up attending Holy Cross Academy on West 42nd Street. "The whole idea of forbiddenness . . . oh, you were naughtier because of it!" On this Wednesday afternoon, however, the past can only momentarily occupy Wilson's attention, which remains transfixed on the future of each breathtakingly perverse shoot that lies ahead. "I have an idea," she suddenly declares. "Nettings, I need nettings for tomorrow," she mumbles, eyes beaming beneath a blunt line of bangs. "It's going to be fabulous," she says, letting the joie de vivre lift her into the imaginary for just a moment longer. "I'm sorry, what were we saying?"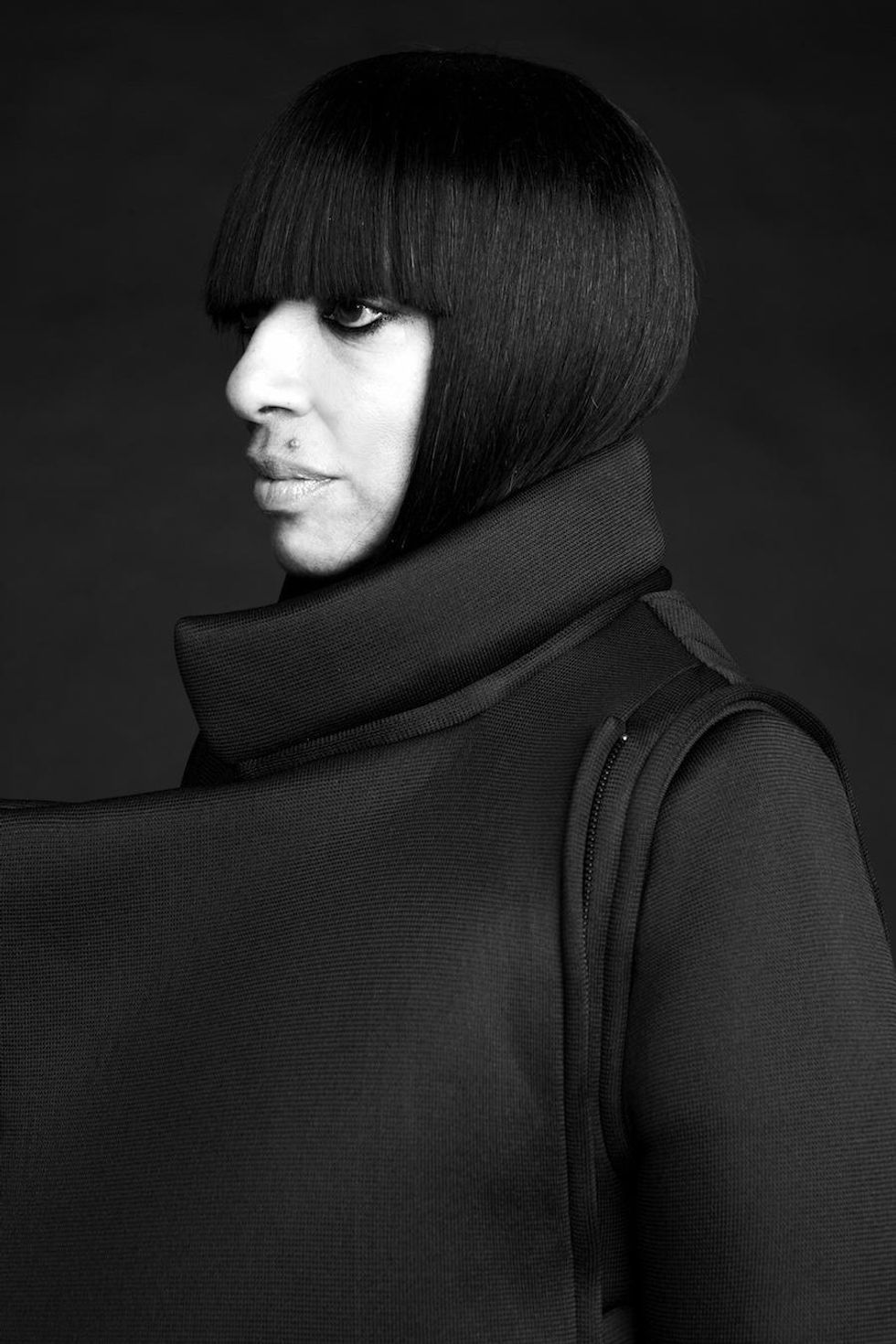 Coat by Rad Hourani
You waitressed before styling.
I was a waitress and hostess uptown, a jazz club. I liked it, it was a way to make money and have fun at the same time. This place had nothing but celebrities come through -- basketball players from the Knicks, Woody Allen came all the time because he's a jazz enthusiast and played the horn. It was like basically a black jazz club -- all the greats came in there, Muhammed Ali. I met a photographer there and she told me about styling. Up until meeting that stylist, I had never heard of styling. I knew about models. When I was in high school, there was a girl who was a model and I was so obsessed; I couldn't believe I knew a model, we used to stare at her. We thought it was the biggest deal she'd leave school early to do a shoot for Seventeen [laughs]. It was so unheard of. She would wear the most beautiful coats over her uniforms, she was absolutely exquisite.
What is the first fashion show you remember attending?
Well, the first fashion show I ever went to that excited me was Alexander McQueen. And that was the turning point for me. I had been seeing all the shows in New York but it was the McQueen show that changed things for me…I just thought, this guy is amazing. The clothes that season where everything was falling apart -- 'Birds of Paradise' was great but this was before that. It was unbelievable. And then Isabella Blow -- I had never seen anything like that in my life. That was when I said: oh wait, I want to show fashion this way. A little half dead, a little half alive. The masks, everything. He was twisted, really twisted but he was so incredible -- so fun, so dark -- such a good sense of humor.
You got your start working closely with David LaChapelle.
He was something else. The reason I ended up working with him was because I was with the same agent. Working with David was not totally my thing, not what I ever saw myself doing -- but he was so funny. He made me laugh -- I never laughed so hard on shoots. He would make fun of me: "Oh look, she's here with all of her drag clothes." He had so many incredible projects. We did Marilyn Manson together -- the pictures were outrageous. I couldn't believe I was doing it -- it was so not me, but it was so great.
But do you feel doing something so outside of yourself helped solidify your creative identity?
Oh totally. That was not my thing, but I started to make it into my thing. Italian Vogue called David and asked him to come do some stuff, and they said , "Ok here are some stylists." And he said "No, there's this one girl I work with." That's how I met Franca [Sozzani]. It was incredible that he did that. He's very fragile, he's a beautiful person -- a really good person.
You push things to the edge when styling, is there such a thing as too far?
Probably [laughs]. No, I'll probably go, "that's a bit much." I know the game, I know what the client wants and I know that I have to [deliver that]. But I always try to figure out a way to make it look like I didn't have to get a brand in there.
How do shoots begin for you? Where do you draw inspiration?
I do a lot of editorial and love it. What usually happens is you have to come up with an idea, so I'll usually collaborate with the photographers. I'll say "I'm really into capes this season" -- and from there we'll find a studio, a prop person, we'll cast the models.
In terms of the clothing though, are you personally going to showrooms to see samples?
Thank god for the Internet because if it wasn't for the Internet I'd be dead by now. It really helps with finding things. I was at a place called Tokyo 7 recently though, and across the street I saw this place called East Village Hatters. There are these two Englishwomen there who make hats, very old-style hats -- and in all the time I've been working, I'd never seen them before. I had them make me a few things for a shoot I have coming up tomorrow.
Who are some newer designers that you're into?
I styled a show in Milan for Marco de Vincenzo; I did his show last season and fell in love with him. He's fabulous, it all comes out of him, from his heart. He does a lot of the accessories for Fendi, so he's been there for years and years. That's why the accessories are so cool. His accessories are heaven -- the stockings the shoes, the bags -- they are frumpy, they are twisted, they are gorgeous. To do his show, I had no idea what I was walking into and we just got it together and it was so successful -- in three days. I also love Iris van Herpen, and styled her show. She's fantastic, she's got energy. These days I try to work with people who are really talented, so where I end up helping is with hair, makeup and casting. Marco di Vincenzo -- the talent is there. I just did the hair and makeup but he's already the genius.
Do you have any desire to do more red carpet styling?
Not really. I'll do it every so often. I don't like the babysitting aspect of waiting around, but I do like working with celebrities. Doing it editorially is great, but to make that my lifestyle? I don't know that I could do that.
I did it with Alicia Keys for a couple of years. I did it for Whitney [Houston] for years -- it was hard. You are on call all the time, coming up with looks. Kate Young is one of the ones that I think does it so well. She does a lot of girls, and it's amazing how she keeps it all together -- she has a great look and is really nice and she does a good job. Selena Gomez looks fabulous.
What was Whitney like?
Oh, I loved her. But she was different with me than she was with other people. I got fired a few times -- it was wild. But I liked her. What was great was she never questioned what I did. I got her in Alaïa. I introduced her to Dolce & Gabbana and had them do her entire tour. It was great. She was special, a special thing to have lived through. I did Diana Ross for certain things.
How do you get celebrities to wear things that are outside of their comfort zone?
For me, I just think: "This is what it has to be." I don't act like it's a big deal. Alicia Keys was walking around in Timberlands, I couldn't even pronounce them. I said "What are they?" They made fun of me. I was like, "You gotta get heels on!" She was great about it, she got into it -- it was that first album.
Do you live and work in the same space?
No, I used to do that for a long time but now I have my own apartment and a little office on Baxter street. There are children's schools on my floor and then there's us [laughs]. Steven Klein will have one of his mental shoots and I'm doing fittings and the kids are like "Oh my god, a big drag queen, what is this?" [laughs] The kids really freak out but they love it. It's kind of funny.
Photo by Rad Hourani