When I called LA-based makeup artist, vlogger, and beauty influencer Patrick Starrr to ostensibly discuss his new collection for M.A.C., the conversation wandered — as it usually does with the Internet famous — to Instagram. Starrr (who boasts 4.1 million followers on that app alone) has either worked with or befriended everyone from Kim Kardashian to Tyra Banks, but he recently posted about a special encounter with America's grandest matriarch: Kris Jenner. They talked about beauty and Kim's new show, Glam Masters, and the new M.A.C. collection. Starrr wanted to impress her. "There's this gay saying, 'level your pussy up,'" he said. "I was leveling my pussy up for Kris Jenner."
Starrr is surely leveling his pussy up in general. His second collection for M.A.C., "Floral Realness," drops on April 19th, and he says that it represents a sort of "graduation" from the last, "Winter Wonderland" (according to M.A.C., Starrr's collection is tied only with Rihanna for the largest ever, and it is the brand's largest ever male-fronted collection). "Floral Realness" consists of two kits, "Me So Fleek" (which is bright and flashy) and "Me So Chic" (more neutral), both of which include products that come together to create a full face, all for the price of $49.50.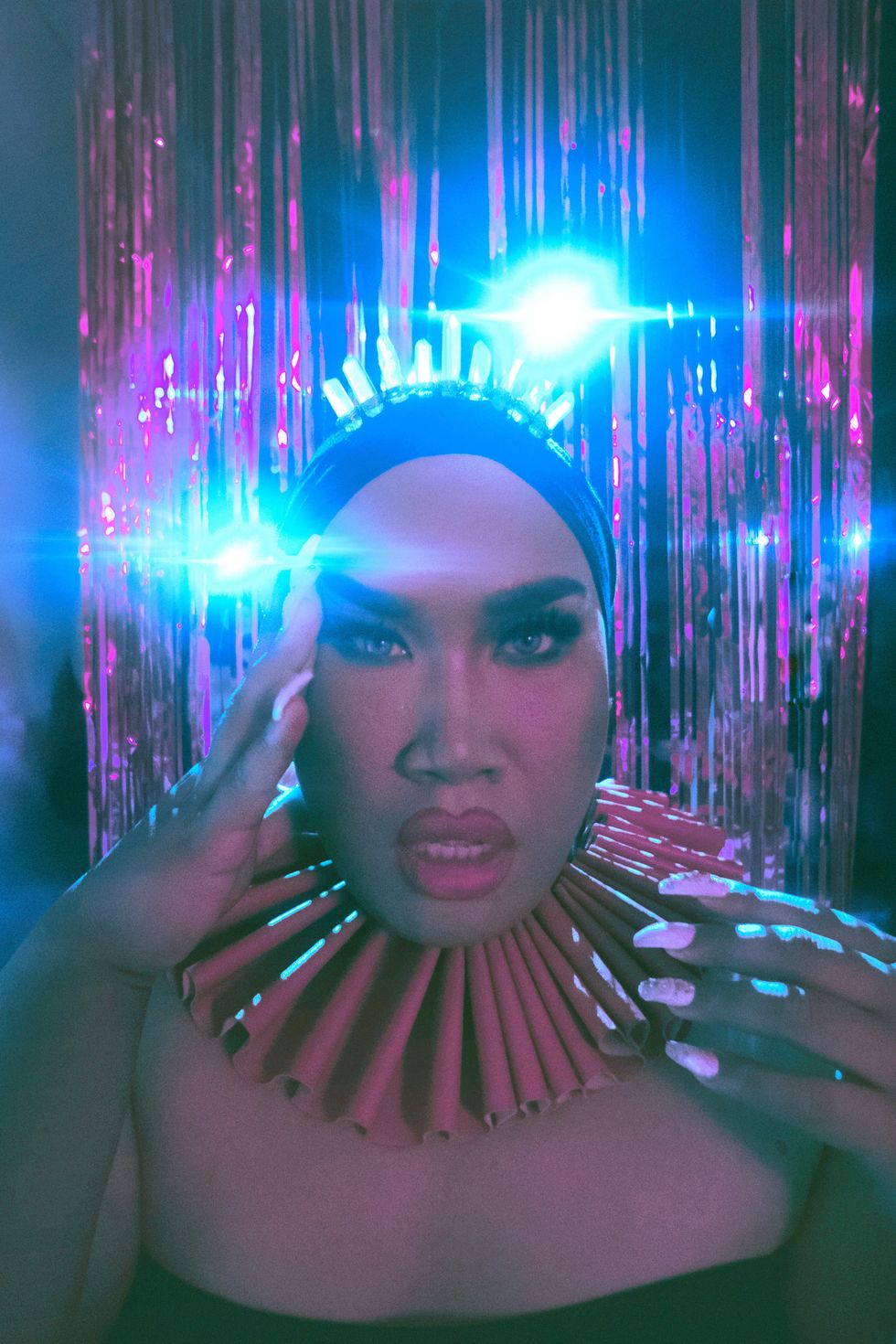 Considering the kits include lipstick, "lip glass," an eyeshadow palette, and an iteration of Starrr's famous powder, it's quite the deal. The packaging is kaleidoscopic and very pink, which is perfect for spring, and customers are sure to get their money's worth — Starrr lives for full coverage. "I'm excited to see the next generation of grandparents be full faced," he laughed. "You're going to see Patrick Starrr at 60 years old, full beat legend."
"You're going to see Patrick Starrr at 60 years old, full beat legend."
Growing up as the son of Filipino immigrants in Orlando, Florida, Starrr (born Patrick Simondac) initially wanted to become a cosmetic dentist. He began experimenting with foundation as a teenager — his first purchase was M.A.C.'s Studio Sculpt Gel — and started regularly wearing a full face at 21. "My gosh, I think it was still hard for me," he said of his early forays into cosmetics. "I think it was almost like a silent coming out. Because I think [my family] just knew that I was gay, but this was the stamp— the official seal of yeah, he's gay."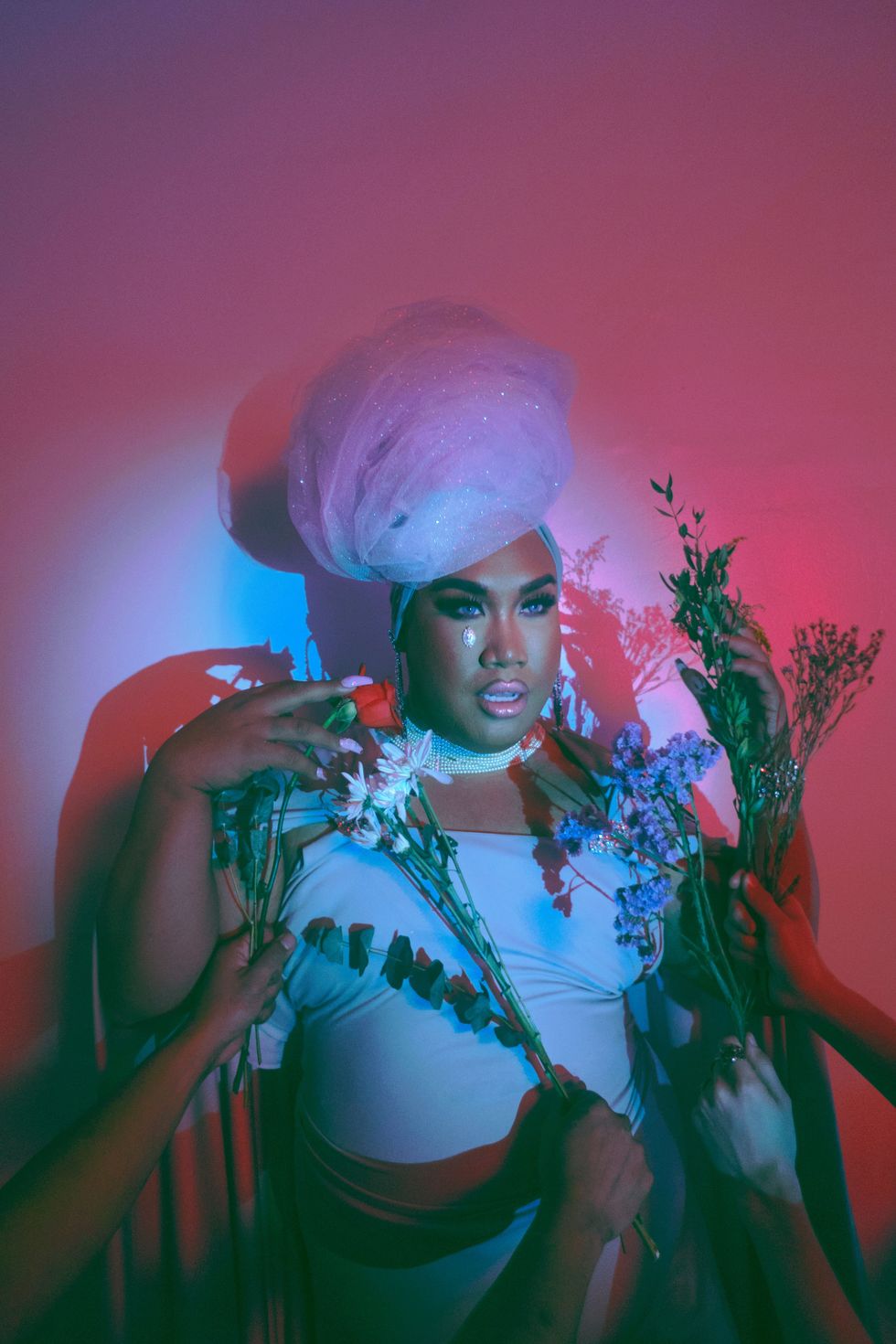 He described the first years wearing makeup as "almost like a battle," not only because it meant defying gender norms, but also because, like most of us, Starrr faced challenges matching his skin tone with foundation. "As gay as I appear online, and flamboyant and fabulous and queen-like that I am, I've never had a coming out with my family," Starrr continued. "I've never had a sit down, emotional, typical, Love, Simon, coming out, ever."
Still, Starrr remembers often thinking, "'My parents hate me, they don't love me.' Looking back, you've got your son walking around with an orange face, you're afraid of what other people are going to say. So looking back 10-plus years ago, they were more so concerned for what people were going to say, or the bullies out there."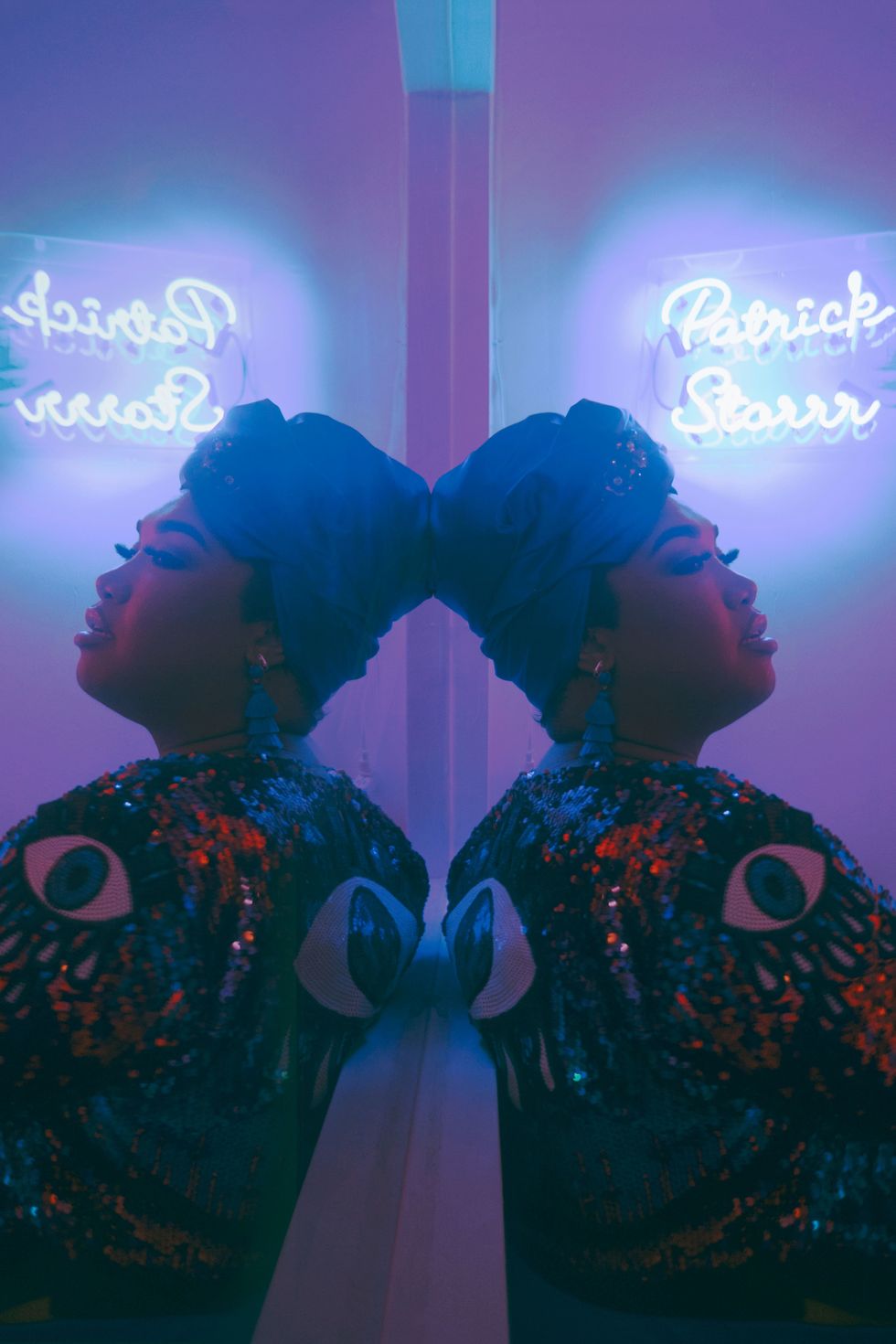 Starrr found "a real refuge" at the Orlando gay club Pulse, now tragically known as the site of one of the deadliest mass shootings in American history. He went every Wednesday for $2 Long Island iced teas and a drag show. "Pulse was the shit," he said. "It was so freaking fun. And if I can look back, it was nothing but positive, good memories in that club. The music, the high ceilings, the bars, the drinks, the plastic cups. You had a routine when you walked in there. And I just remember doing that routine allowed me to be a much happier person and to accept my makeup application."
Related | 16 Signs From New York's March For Our Lives Protest
I spoke with Starrr a few short days after the March for Our Lives, when mass protests for increased gun control were held all over the nation. "I am with the movement," he said. "And I think that's what my channel is all about, seeking refuge and productivity, being in a happy place. I wouldn't want anything more or want anything better than the real world to be a positive place to be. And that's why I think the power of digital media is so great, and why someone as unconventional as me is so popular."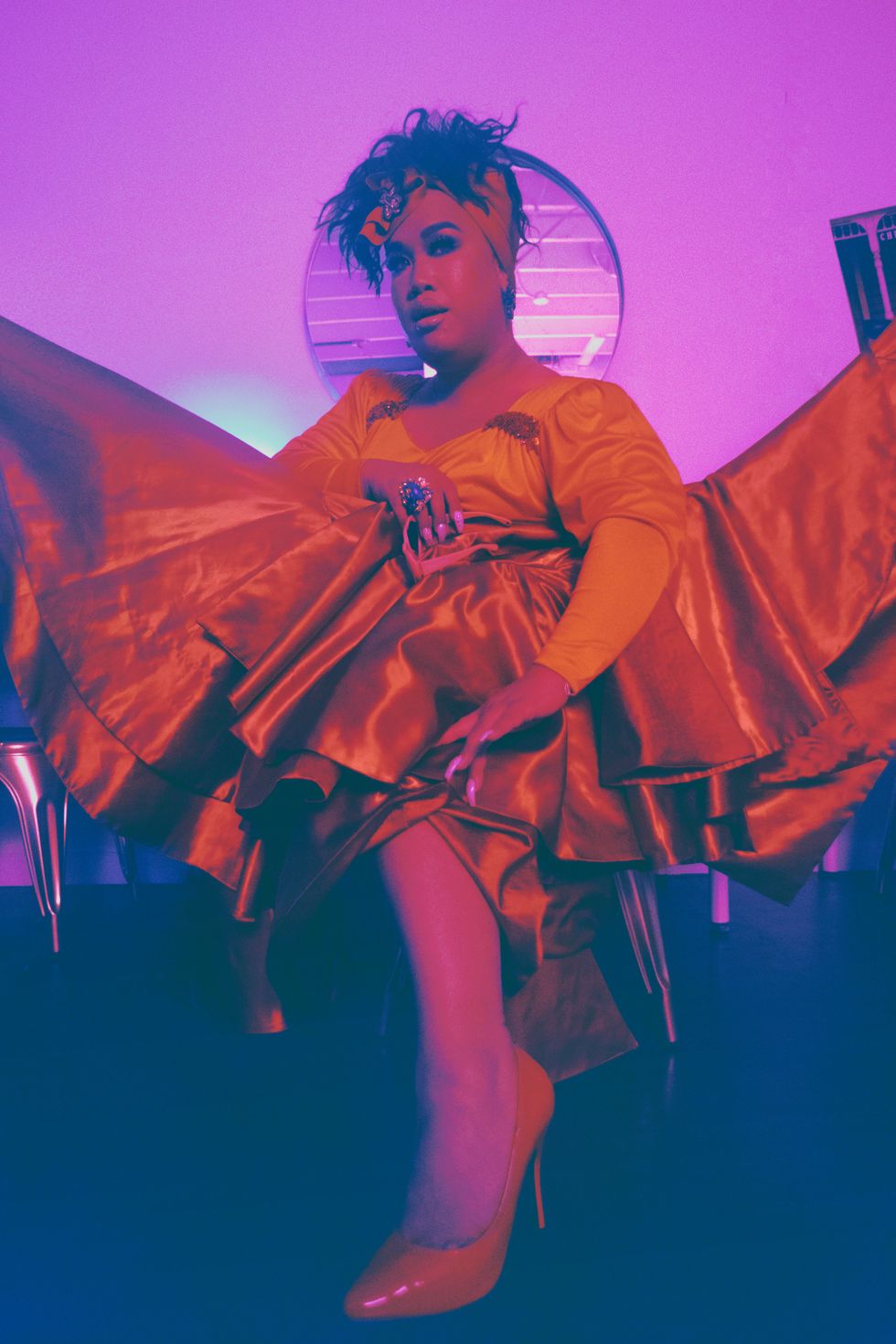 "Popular" is an understatement: in addition to his millions of Instagram followers, Starrr has nearly 3.6 million followers on YouTube and 500k on Twitter. Starrr once worked the counter at M.A.C. back in Florida, and he now represents one of the brand's biggest lines. It's a meteoric rise that positions him as one of the beauty world's foremost influencers, a word that, despite various unsavory connotations, doesn't bother him at all. "I love it, I love it," he laughed. "When I'm giving friends advice and I come up with a profound statement, I'll be like, 'I'm right, I'm an influencer, this is my job. You have to listen to me.'"
"That's what my channel is all about, seeking refuge and productivity, being in a happy place."
Established, trained makeup artists can be disparaging towards influencers who come up online, which doesn't bother Starrr. "There's not one specific way to do makeup according to your PhD in eyeliner, you know what I mean?" he said. "There's no specific way to put on foundation. There's just different techniques for different specifics and skin tones. I think the beauty community online is just a place for people to have fun." Starrr thinks influencers give customers an "at-home point of view," and he says they "bring these products, with brands, to life."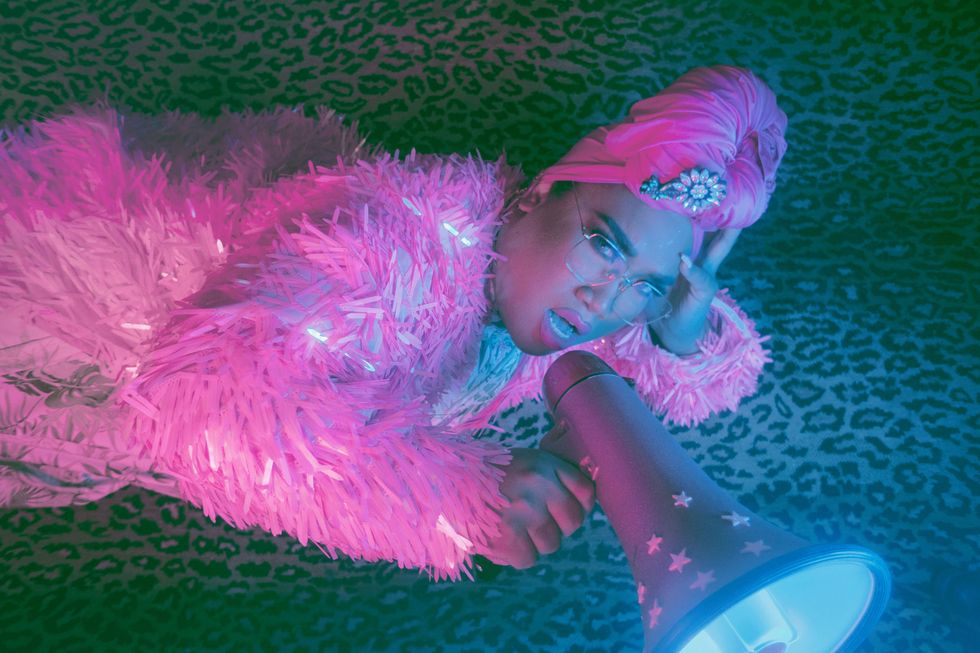 M.A.C. recently sent Starrr and his family to the Philippines to launch "Floral Realness" internationally. He hadn't been there in 18 years. "It was amazing for me to come back in such a way, with Patrick Starrr as a new person," he said. "Or not as a new person, but I guess as an extension of who I am, which is much more special."
He said the experience was overall quite sentimental. "I wanted my family to consider that all my hard work and success had paid off," Starr said. "It was such a full circle moment to be back home."
Starrr's M.A.C. collaboration will hit stores April 19.