PAPER has always been a place of opportunity, a place that spotlights new talent and people who are doing tremendous things. We've spent over 20 years bringing you the Beautiful People issue, which identified amazing people who were doing things differently and using their creativity, ideas and success to transform culture and create new opportunities for artists, audiences and fans. This year, we have decided to rename the portfolio and call it exactly what it is: PAPER People. — Drew Elliott, Editor-in-Chief
After four years as Pharrell's backup dancer, Mette Towley had her breakout moment as the star of N.E.R.D and Rihanna's 2017 "Lemon" music video, in which she memorably gets her head shaved by Rih. Since then, the 27-year-old has set her wide eyes on acting and modeling: She's already landed a Revlon campaign. Rather than limiting herself to labels like "dancer" or "model," she prefers to describe herself differently. "I have this whole thing about authoring your life," Towley explains. "That's the greatest role I want to play: the female protagonist. Someone who owns every day for herself."
Your Instagram bio says, "Female protagonist." Can you expand on what that means for you?
In the greater schema, it's like owning it for yourself because you know what you mean to other people and you know your opportunity and place in the world and how you can make an impact. In action films, I'm always looking for the female protagonist. She has to play so many different characters at once. She's gotta be relatable in some way. She's gotta kick ass. She has to be physically in a place where she's able to tackle obstacle courses and take down henchmen and what not. But that's what we do every day as women. We're occupying space where we have to use our tools and use what's given to us but also what we've worked hard for and obtained through life experience. For me the female protagonist is living in my own story.
Who do you think embodies that?
I see Atomic Blonde! I see Sofia Boutella! She's a dancer and I see her occupying space and being so brilliant. So I definitely think there are women out there. I want to be a peer in that world and see how I can contribute with my own personal story. I see it. I really always look for the silver lining. I look for the person smiling in a crowd of angry people. There's so much I don't even know that I don't even know. There are people occupying space out there in the world that they've defined, that really makes them thrive and that propagates an idea of community and what 2018 should be. I may not know those people but I light a candle for them.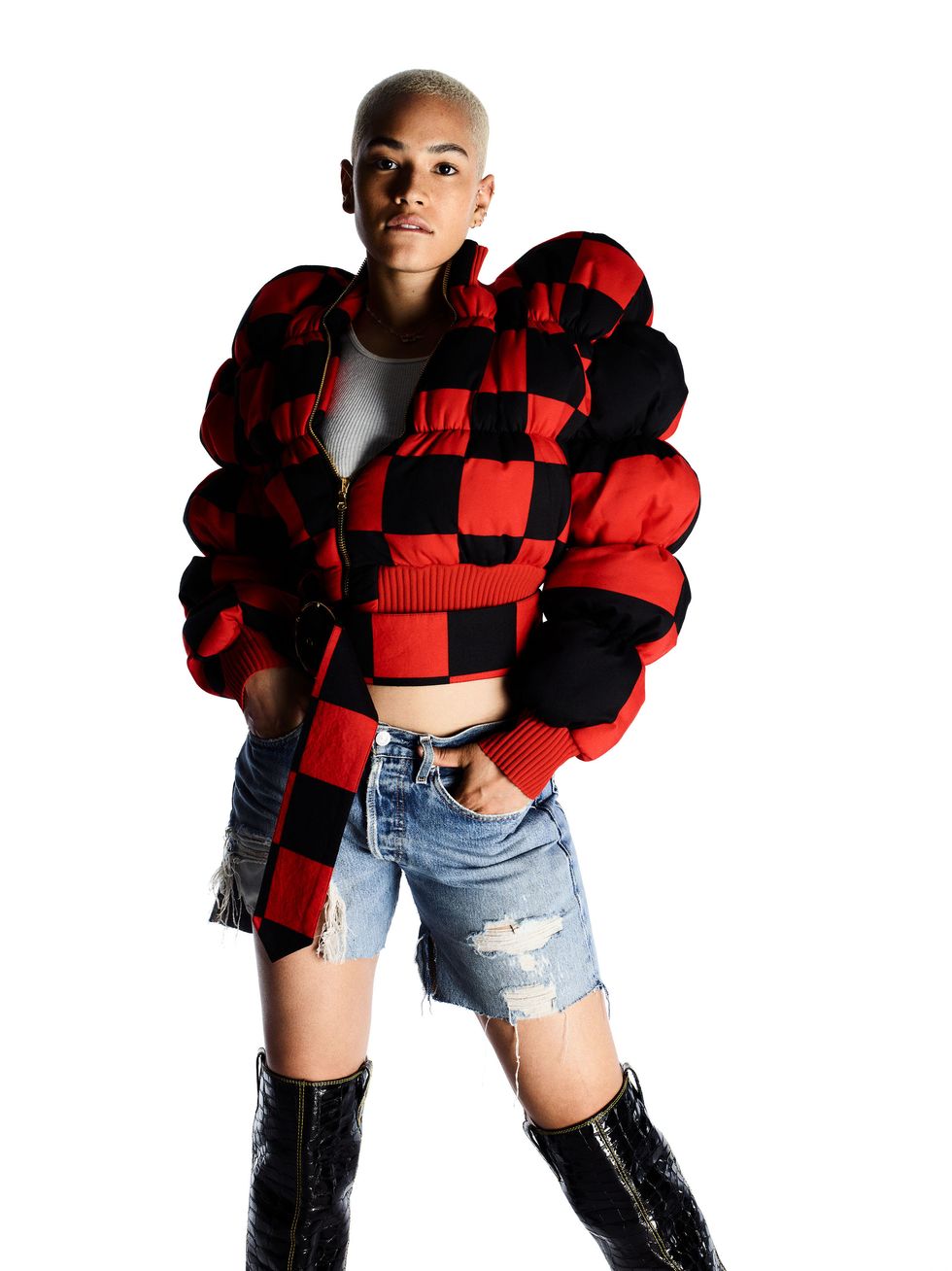 Jacket Christian Cowan
Shorts Levi's
Boots Ganni
Speaking of Atomic Blonde, as a fellow brown girl with blonde short hair, what do you think about the shifting beauty standard for women with short (and colorful!) hair?
There's a mega cultural shift going on for women and our beauty standards and it's really exciting. I think we're dismantling a lot of structures though our beauty routines as women. What I choose to do with my body and what I don't choose to do — and this may change day-to-day because I don't have to be finite — is my choice. Short hair for me was a total physical transformation. My whole body changed during the "Lemon" video, head-to-toe, muscular, everything. There's something about waking up and literally just not even having to worry about it. Hair is not a burden at all but when I was growing up my mother put relaxer in my hair because her mother put it in her hair. There's a whole lineage of managing hair. I don't want to be managed, I want to manage it. You can do it in all kinds of ways, but for me this is management and feels so beautiful.
Had you ever considered getting a short cut before the music video?
Oh yeah! There was a girl I followed on Instagram for a long time and she had the perfect short blonde hair and I thought I couldn't do it because my archetype on stage was like mixed-curly-hair girl blah blah blah. I thought I'd never do it! I thought I stood out because of my hair but no, I stand out because of me. It feels good to be me. I'm in a lazy chair, feet up. I am comfortable.
"Dance is incredible because it can spiritually and physically shift you."
That's such an empowering physical and mental place to be. To say so loudly, "This is my body and I'm owning it."

I choose where to put the energy in my look. Some days I'm not gonna shave. Other days I kind of want to. No one is asking me to [shave] or not [to shave]. I'm taking the social aspect out of it and listening to what I deem beautiful in each moment and honoring that for me.
Talk to me about your relationship with dance, your body and your practice.
Dance is incredible because it can spiritually and physically shift you. The work ethic, constant practice, honing your skill. It's an incredible space... This is probably interesting for a dancer to say, but I'm not always looking to serve my practice.
Expand on that.
I think for me training is important but what I'm out to do is perform... humanity in our experience. For me, being in a dance studio is just as important as going out and having experiences and living my life. It's not like those are completely opposite spaces, I think one informs the other but for me it's a huge part of my performance quality. I dance, I train but I really am out to not just perform beautiful things. I'm not out to get the choreography perfect. I want to look great if I'm in a group but for me, I always find myself wanting to work harder when it comes to understanding ideology behind the work or the cultural production.
Like the whole experience of being a human, not just a dancer.
Yes. That's what connects people to dance. You see us performing love.
What do you want to explore outside of dance and how has dance helped you explore other things?
EVERYTHING. I want to be a movie star. I want to be on Broadway. My ideal world is that one day I want to run a theater arts and dance department for a public university. I'm always thinking of partnerships I would love to have in the future.
So collaborations would be a big thing for you?
I want to be in a girl band. I want to write poetry. I want to write a book. I want to be a creative director and I can do all those things. I think that's the best thing about my entire 8-9 months. I have access to choice and that came to be because I believed in myself.
What did last year look like for you?
Last year this time was a very different story. It was "Man, who am I?" It can shift so quickly. When you give yourself purpose and you find purpose and work hard it changes everything. I've always had a wonderful time performing as a dancer but now I'm just more connected to what's possible. It's not just performing steps for me. I see dance as this beautiful expression of humanity.
Photography by Ben Hassett
Styling by Mia Solkin
Hair by Rudy Martins at The Wall Group
Makeup by Eric Polito at Art Department
Digital Tech: Carlo Barreto
1st Photo Assistant: Roeg Cohen
2nd Photo Assistants: Eric Hobbs and Chris Moore