You'll remember Jharrel Jerome as Kevin, the teen crush of protagonist Chiron, from that heart-stopping beach scene in Barry Jenkins' Best Picture winner Moonlight (2016). It was his first major role, but his portrayal was tender, authentic and set him up as casting darling for provocative dramas. At 21, the Bronx-born, Dominican-American actor just received his first Emmy nomination for his devastating portrayal of Korey Wise, one of the exonerated five, in Ava DuVernay's When They See Us (2019). Jerome played both the teenage and the adult Wise, transforming from a terrified adolescent into an adult witnessing the worst of America in the span of a few episodes. Next year, the actor will continue illuminating hidden parts of America's history alongside Idris Elba and Caleb McLaughlin in Concrete Cowboys, based on the true story of Black cowboys in Philadelphia. But more immediately, you can catch him in the third season of Mr. Mercedes, based on the Stephen King thriller of the same name, premiering September 10th. — Jael Goldfine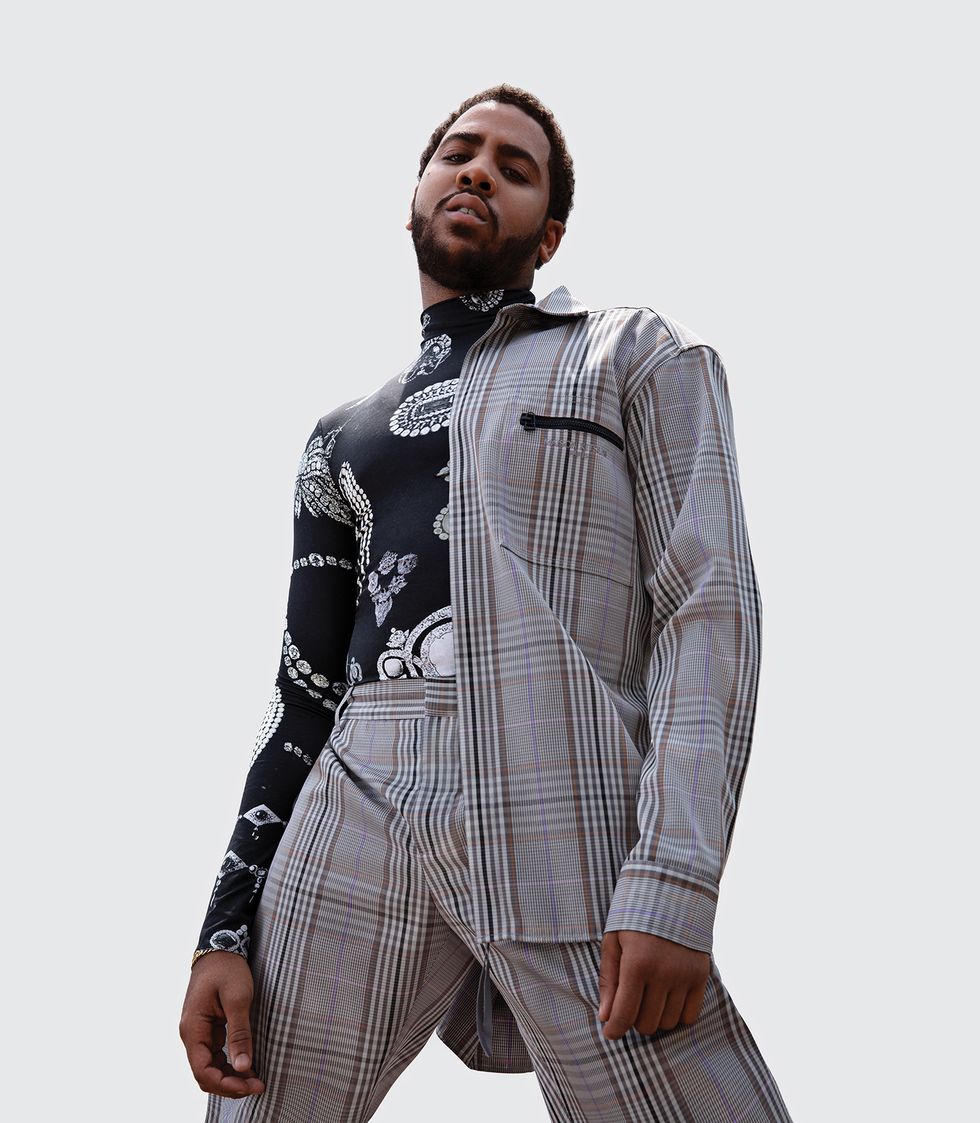 Top: Linder, Pants, Jacket & Sneaker: Maison Kitsuné
What was your best night out?

My best night out, so far, was at the Oscars in 2017. Especially the moment after the crazy mistake! I got to spend the entire night partying with my mom and meeting people who inspire me left and right. There's a picture of me and my mom holding the golden trophy together. We compared that picture to a picture of us back in 2011 where I am holding a fake golden trophy from the Madame Tussauds Wax Museum.
What was the last text you sent?

Last text I sent was "how's your weekend and next week look g?" to Caleb McLaughlin. We are trying to link up in ATL at some point lol.
What's the last song you listened to?
The last song I listened to is called "Deadass" by Kemba. It's my Bronx anthem now.
What would you be doing if you weren't doing this?
The world doesn't know yet. But I'm extremely passionate about music. I rap and write lyrics. I'll be releasing music soon and so if I wasn't an actor, I'd be a rapper. If I wasn't a rapper, I'd be an actor. And if I wasn't either, I'd be lost.
What's the craziest thing you did in 2019?
The craziest thing I've done in 2019 is call my mom to tell her I got nominated for an Emmy. Oh also, I had a dinner with Korey Wise, Oprah, Reese Witherspoon, and Colin Kaepernick... I didn't even eat. I just sat there and stared.
What's the most stressful thing about you?
The most stressful thing about being me is that I overwork myself and it leads to me causing distance between the people I love the most. I've hurt my loved ones by focusing too much time and energy on the work. I want to never forget that I am a family man. I've always been that way. The work is important, but family comes first.
What's your biggest irrational fear?
My biggest irrational fear... the airbags in a car. I drive every single day and don't even think about them but if God forbid an air bag popped out at my face I'd probably scream like a little girl before having a heart attack. I don't know where or how this fear started. But I just don't mess with airbags.
Do you ever Google yourself?
I Google myself all the time. Does that make me a bad person? Let me Google it.
Where do you want to be when the world ends?
Honestly if the world ends, I hope I'm not here for it. But if I was, I'd want to be in a recording studio with my family making a song. It could possibly be the most fire last song on earth.
What's the last show you binge watched?

The last show I binge watched was Stranger Things Season 3. CRAZINESS. It was my favorite season so far.