It's unlikely there's anyone left on Earth that hasn't heard of Instagram, or is unaware of its significant power. The app has made and propelled many careers, particularly those who're naturally beautiful, or those who have paid to appear as such. Leah Schrager, known simply to her fans as ONA, is the former — an objectively stunning woman who has worked her angles into hundreds of thousands of dollars, millions of followers, and a viable independent career.
While the paparazzi may not be camped outside her Brooklyn, New York apartment like a traditional celebrity, ONA is certainly famous by 2018 standards. By stripping down for a personal photographer, which in turn has enticed her fans to pay $500 dollars per hour for a one-on-one webcam session, ONA has built herself the platform to explore another creative field: music.
ONA's debut album is two years in the making (following two well-received EPs) and will see her embark on a North American tour which climaxes — no pun intended — backstage in a live masturbation session to seven of her songs for her subscribers' eyes only. She cums, naturally, on the last song.
Of course, this life does not come without sacrifice. Living publicly as a sex worker has seen everyone from family members to former classmates weigh in on her lifestyle, and she's aware an office job probably isn't in the cards any time soon. While it seems like movement to reclaim female sexuality is progressing in leaps and bounds, there's still a long way to go, ONA asserts, but she is more happy to be in the trenches.
PAPER caught up with the model to talk sex, more sex and rock 'n' roll.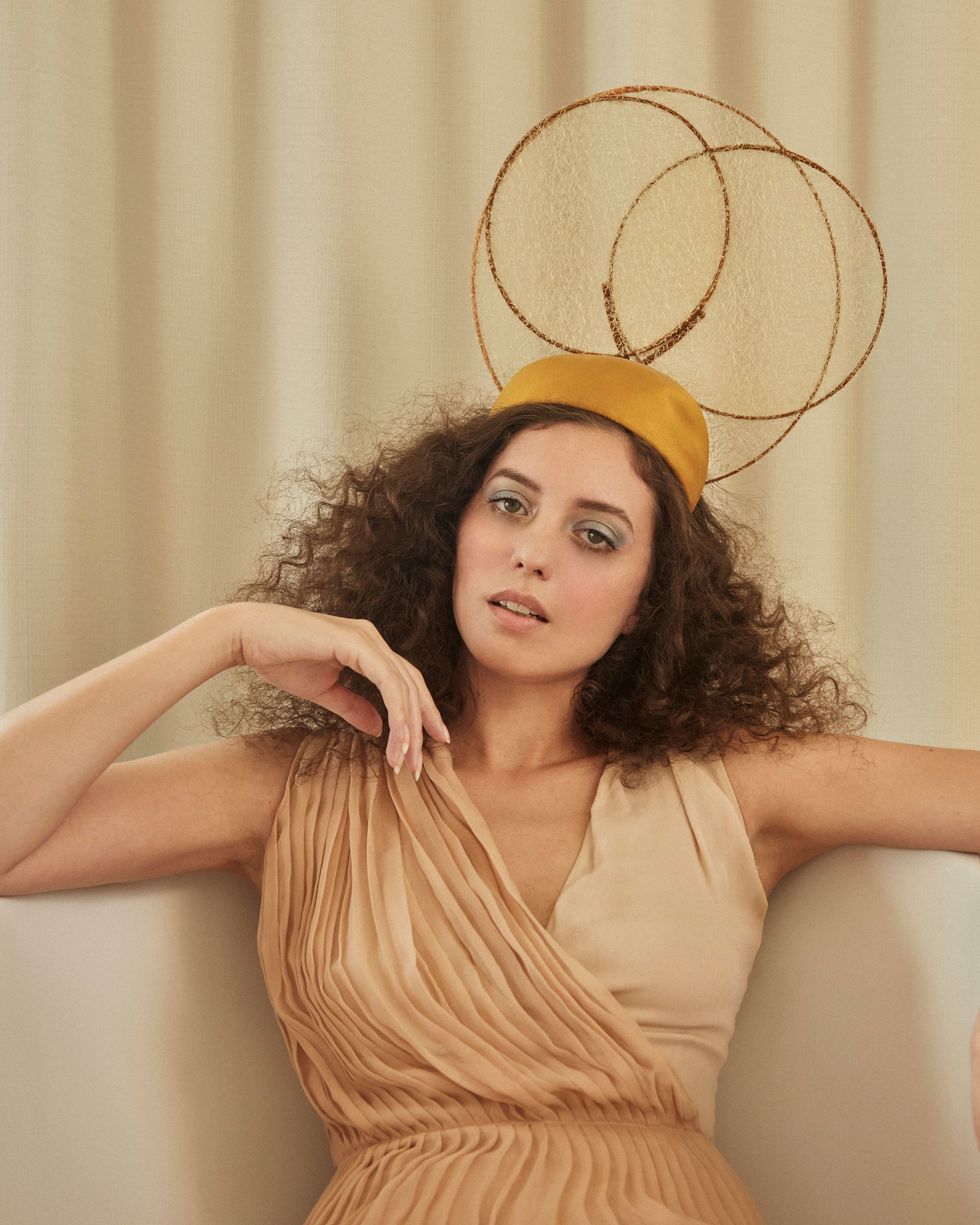 Headpiece by Ellen Christine Couture, Dress by Maison Margiela (Vintage)
You're releasing your debut independently. Did you ever consider signing to a label?
Actually, I was turned down from labels, they thought I was "too sexy." But the aesthetic was really into sex and into men, and that kind of thing. And actually one of the record label people I emailed was like, "Well what about the women?" I was like, "Well women should love it too," but you know, that's what record labels are worried about. I didn't start in the industry, so I don't really have any connections in the music industry. So, maybe if I did then it would be different.
Ah, like isolating the women for being too sexy for the men. How did you start?
Actually, I just started with my Instagram. This page called The Butt Blog posted me, and I got 5,000 followers immediately. And then I basically started to work through that experience. To grow, you gotta up your photos, and then more people started finding me because of that.
Do you get reported a lot?
You know, it's really weird. I don't know what happened, but a couple of years ago I had a couple of photos taken down and I got deleted. I can't tell you how many hours I spend talking about Instagram's reporting and rules. Is anyone actually watching it or are they just basing it off of reporting? So my account was deleted at 70K, and then it was reactivated just a day or two later. But I was completely devastated.
When did you find it really gaining traction?
When I started creating more content for it. Once I started being on it more and once I started looking at what other people were posting and then exploring more of my ideas. One of my early things, which I call a meta selfie because it's a photo of me taking a photo of myself, was really fun. When you come up with some cute ideas, which I call "Instagram classic," it's really fun but there's almost a joke within the photo. There's a quirk or symbol that's just attractive.
Are there girls reaching out to you saying that they want to do this too?
Yeah, and I try to email advice but it's hard. It's hard to say, it's actually a lot of work. You just have to be creative and have really good photos, and you have to identify what audience you're going for and just really go for it. Don't half-step it or you won't grow as much.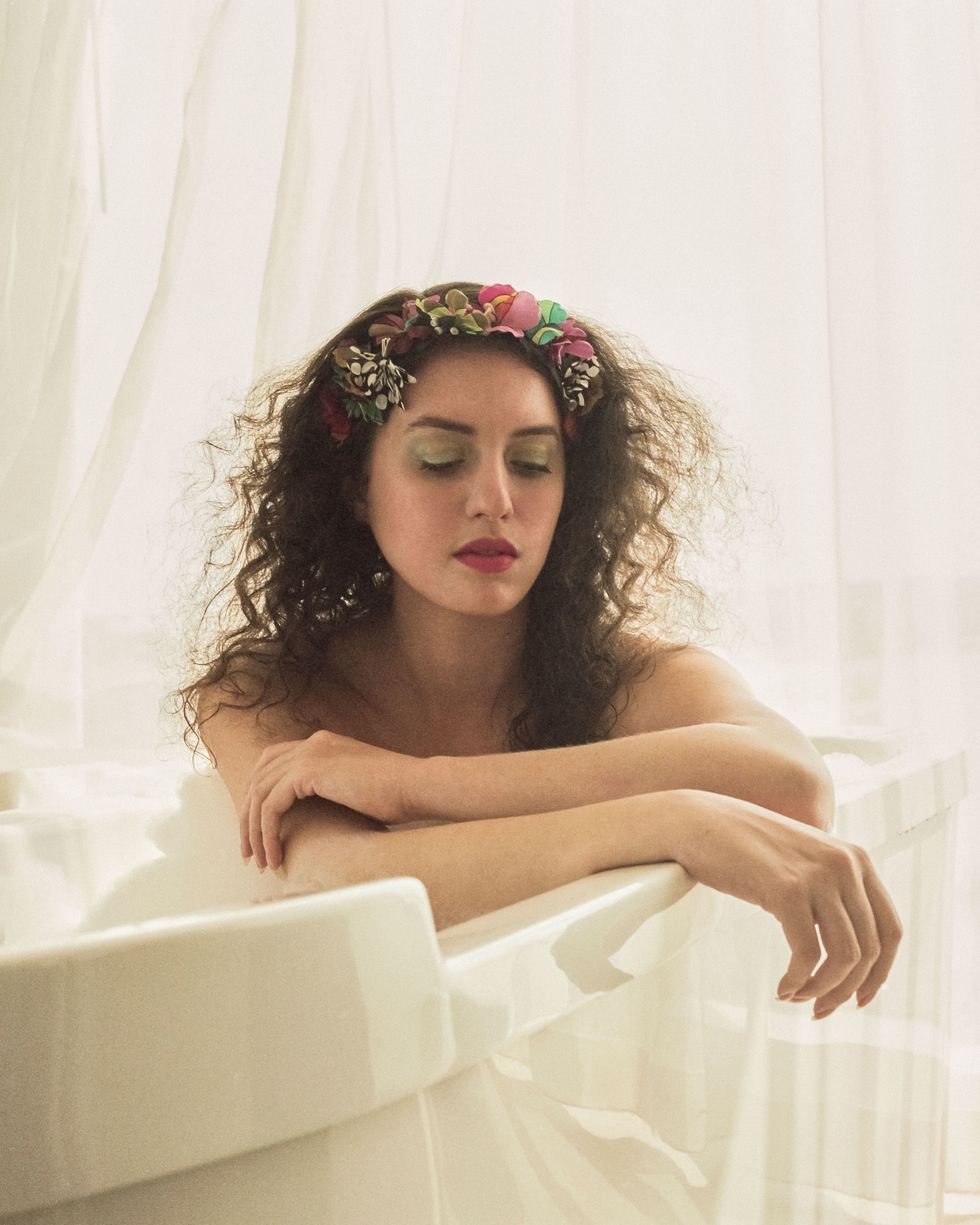 Headband by Ellen Christine Couture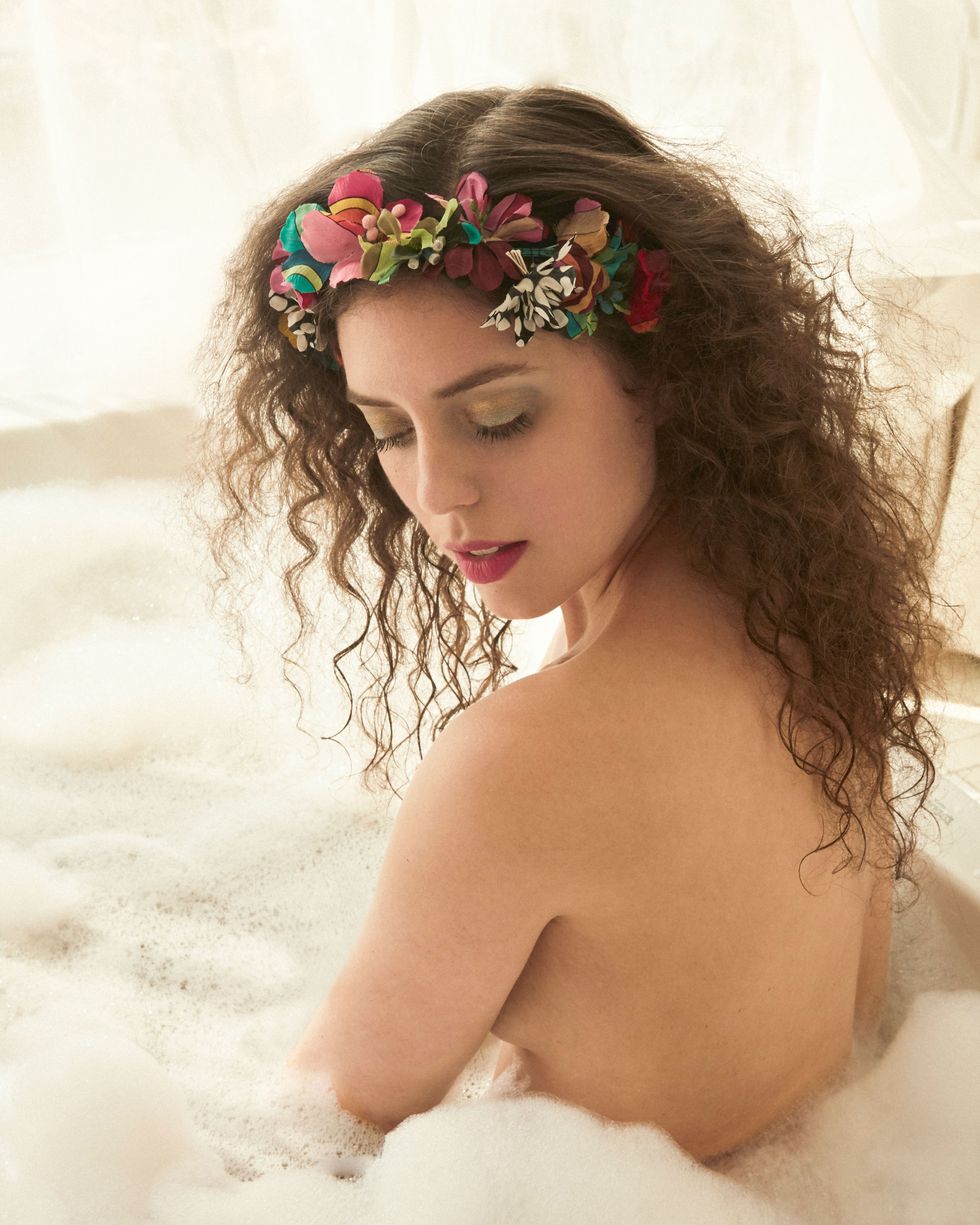 Headband by Ellen Christine Couture
How would you describe your audience?

My audience is 94 percent male, so it's pretty straightforward. It's kind of like, mostly men, and it's really playful with my captions and photos. I try to be playful and creative and get a lot of colors and poses to get different vibes in there. So I actually approach it as an art.
It's so aesthetically pleasing. What do you think of the cam model landscape at the moment?
I think cam models are the next big things. And also, lots of porn stars might as well have private Snapchats and cams too, so I think that cam is the way that the model themselves can own and get their money directly. So, it's very present.
You're $500 an hour, right?
Oh yeah, to cam privately.
Do they beat down your door? Can people afford it?
I also have my private website of just naked photos, access to my private SnapChat, and videos, which altogether is $29.99/month. It's more affordable than other people, so it's super cheap. And there are a lot of private chats, too.
Does that astound you?

Yeah, it does. I've had to increase the price because of demand, which is how it works. So, I was charging less, but then I was like, "Oh my god I'm not getting time to do anything, so then I increased the price. So I would have to keep increasing it if people want more, so I can level out how much time I can put into it.
So in between all of this, you're having to do private cams?
Yeah, the private cams I don't intend to do as much when I'm touring or doing intense photoshoots. I cut back quite a lot on private cams, but then when I'm in New York and I'm just doing my regular thing, I might do one or two a day.
Related | Riley Reid Is Pornhub's Most Searched Porn Star
That's nice, it's sort of like a relationship and a familiar face.
Yeah, a lot of people just want to talk.
Masculinity is so bizarre. The fact that they won't go to a shrink, but they'll go to a cam model just to talk and fork out $500.
I think it's really unfortunate. I actually did this thing called Naked Therapy. It was one of my first instances in camming, and that actually got really big on the internet. It was so powerful, and it was really great. So that's another reason why I'm apart of this and pro-expression in that sense. Freedom of expression for the female performer and for the male audience. There's so much there, and I think there's something so therapeutic about it. But unfortunately we're talking about a world with issues. But I think that's actually one of the most therapeutically fortunate spaces.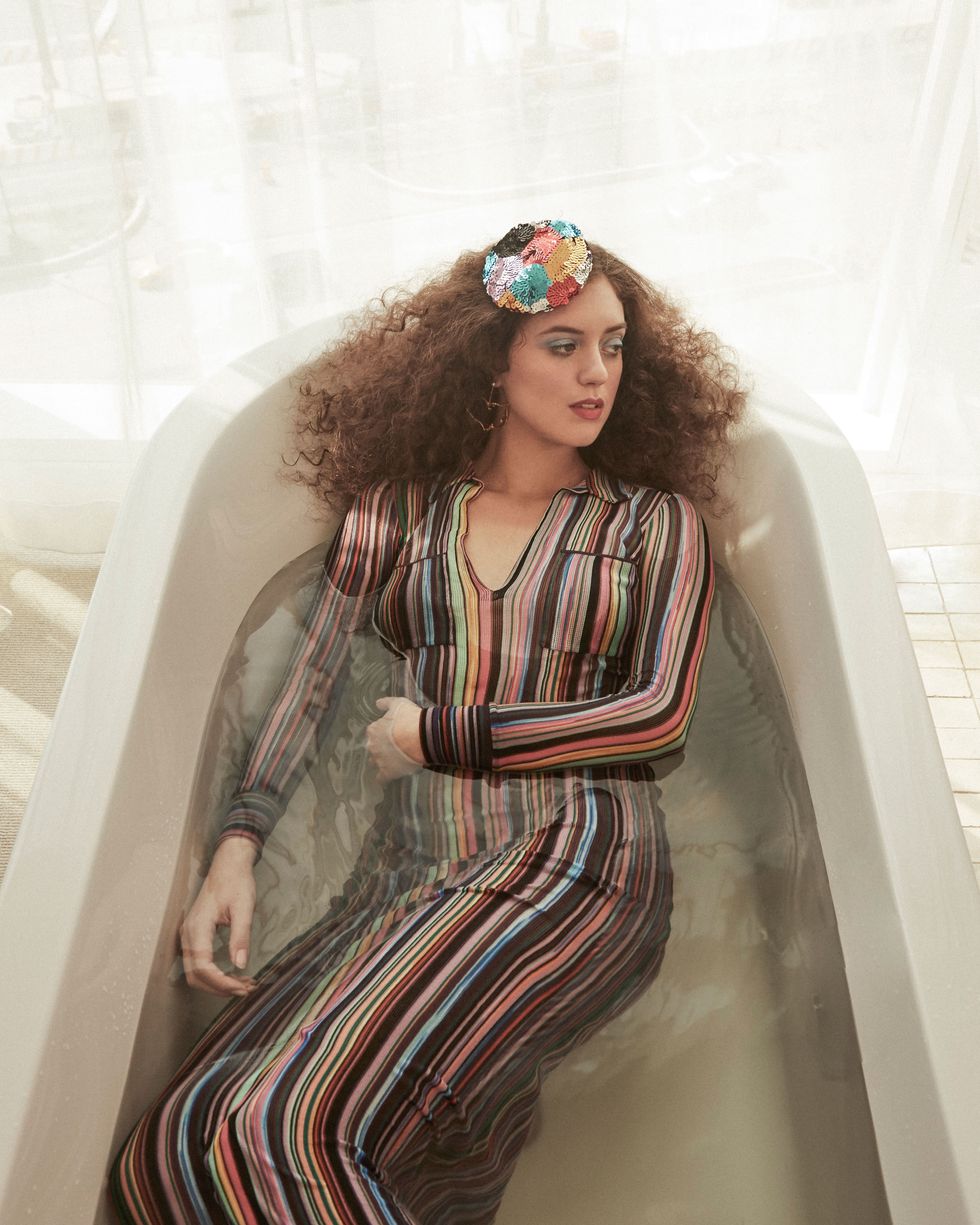 Headpiece by Ellen Christine Couture, Dress by Missoni
I think about whether Instagram would ever get deleted like tomorrow. It's created so many communities and put so many people on the map.

God forbid. Absolutely, and there's so many niches. That's what I love about it, you can follow just sex cammers and you would have a very rich feed.
You've reached this point to where you're so successful in this field, what prompted the transition to music?
Once I had realized that my Instagram was getting bigger, I felt that I wanted to offer something that didn't feel like democratically available, something that was very it's almost life. And I can be, but it's a little hard, and there's something about music that's very special. And I've done music since I was really young as well, so it just felt like a really natural thing. I started working on the EP pretty quickly, as soon as I started realizing I was getting big. And there was always going to be an album, and a second album as well. We'll see after that.
Is the pressure of the debut album crazy?
Yeah, but I'm super proud of the album. I love it, so I feel like it's a really good album and I just want to get it out. The pressure is more on hoping that people will see it and like it. But the album itself, I feel like is really great and I'm really pleased. But I've been working on it for 2 years, so it was not a quick thing. So hopefully it will be well-received.
So your day would be you camming, creating Instagram content, and then running into the studio?
Yeah, totally. It's been pretty serious. It's a new level of no time that I've never experienced before.
What's it like dating as a cam model?

I think it's good. Sometimes, I feel like I date all of my fans. But I kind of feel like there's a lot of love I get from my fans, so that's actually really a beautiful feeling. In terms of dating in real life, that can get trickier, but I feel like I'm really good at assessing someone really quickly and knowing if I think they're cool or not. And also, a lot of people have hang outs with cam girls, so I feel like there's a quick edit that goes on.
Related | Karley Sciortino is Your Slutty, Post-Woke Carrie Bradshaw
I remember that you were on Slutever, and I read Karley Sciortino's book. She talked about the "Whorearchy," and how people who work in the sex industry are perceived in the outside world. Like, what's socially acceptable, sugaring, cam girls? Do you find that in dating?
You know, the weird thing is that when you're doing cam girling or porn starring, you have to be very public with your sexuality. It's very visible, and anyone from the walk of your life can see it. The one really nice thing about escorting and sugaring is that it's very private. So there are different long-term risks, I think. And to me, the public thing was the biggest stressor and vulnerable point. Because people come at you from all different directions, it's actually so surprising from where people come at you from.
"If you cut out sex workers, then feminism is dead in my opinion."
Like people you know from high school?
Oh, definitely high school. Family friends and colleagues who tend to have major issues with it. They'll just come at me and tell me that this is wrong and they're not okay with it, telling me that I'm dragging my life backwards.
It's like... what makes a slut? Is a man having sex with tens or hundreds of people but not putting his ass on Instagram more slutty than someone who does have their ass on Instagram?
Well, it's exactly what you said. It's the ass on Instagram that was the real issue. I thought we were beyond all of that, but we're definitely not. I think the thing is that all women have to be embraced, it can't exclude sex workers. If you cut out sex workers, then feminism is dead in my opinion. That's the problem of feminism right now, it's still left over in past waves. So, is porn empowering or not, is a sexy image on Instagram empowering? Lots of feminists would say it's not, which I think is crazy.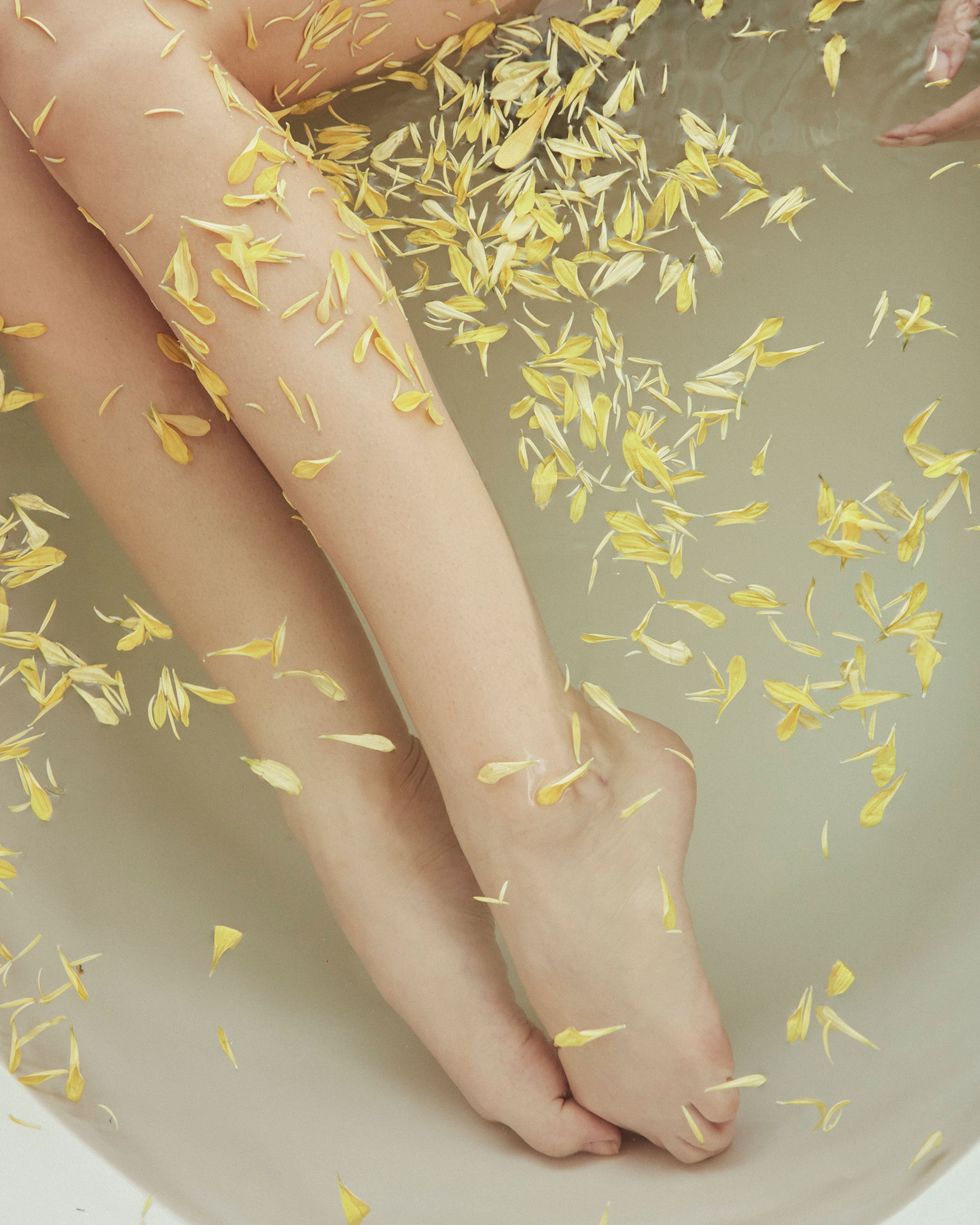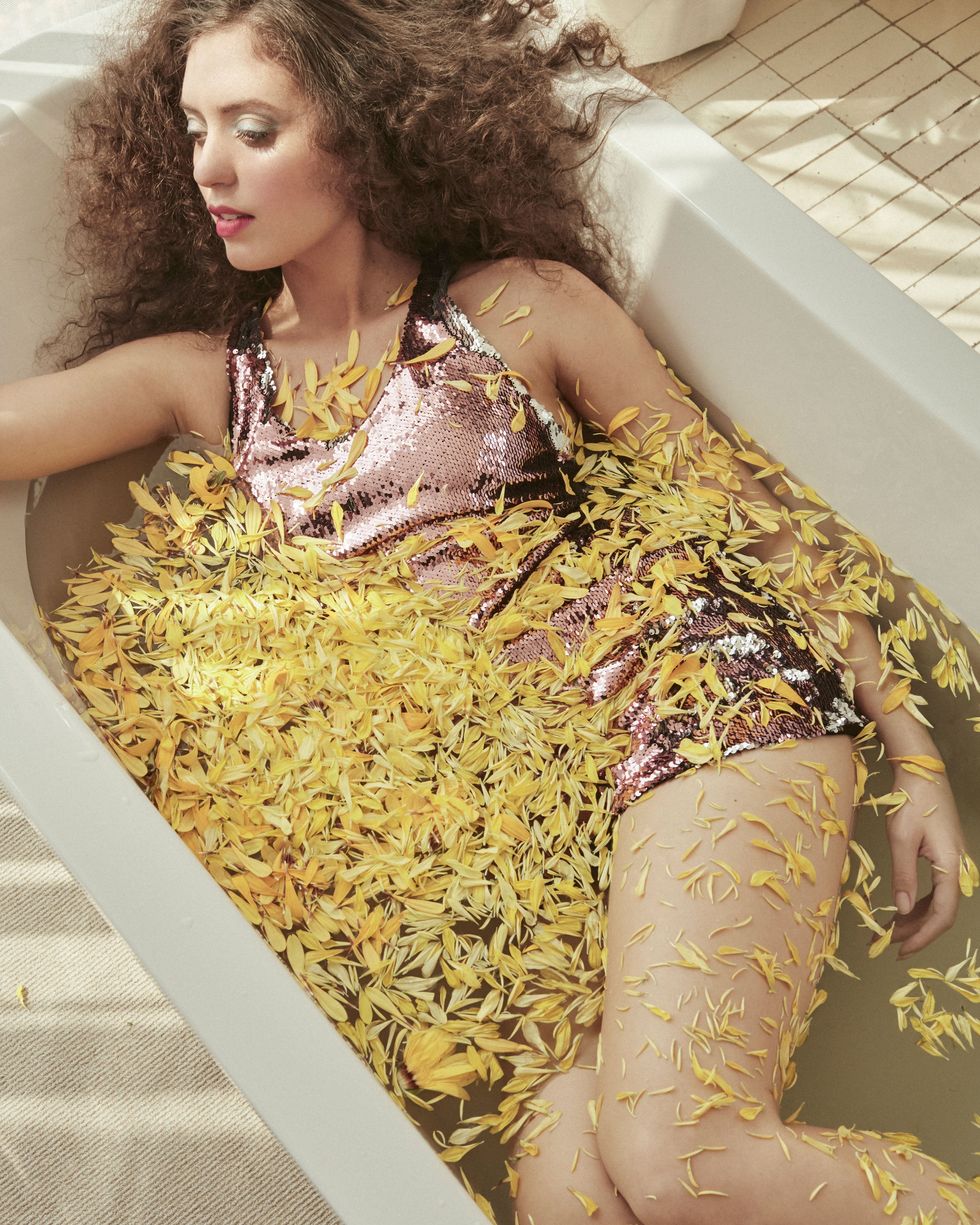 Top by Greta Constantine
America is still really Puritan, and there's this leftover sentiment of, "How much is too much?"
Exactly. What's "too much" or "too sexy?" Which tiny angle shift makes it too sexy? There's still this lingering problem of what's too sexy. It's literally the tiniest angle or the tiniest peak in a particular way, and it's bizarre to me. I used to be a modern dancer, so to be the body is the body. I'm dancing here, so it's just about moving and having fun. So it's like, "Oh that little areas right there is too much," that's what makes the difference.
What do you wish you could communicate with people that feel that way?
I guess that I'm enjoying myself and that they should stick to their own business. Just leave me alone, do your own thing and I'll do mine.
So when you first went into it, how was navigating that dissonance?
The only dissonance comes from this societal thing where I get record producers saying it's too sexy, or I get the mainstream media not covering me because I'm too sexy, or I get family and friends saying not to put my ass on Instagram. They're conservatives. I was so surprised, but it's been enough distance now that I feel like I'm mostly over it. But it still hurts.
For you to be doing this during the #MeToo movement, how is that? Does it make men more cautious?
Yeah, it does. I actually had artwork at a very well known place, and it had been agreed upon in commission and it was going up. And they said said, "Oh no, we can't put this up now because of the #MeToo movement." So they took it down. Images that are very sexy are suddenly not okay. So I think that that's the little danger it's moving into. It's fairly exclusionary of sex workers, and it's sex workers who actually have the best lessons to teach everybody on how to draw boundaries, consent, income, and how to judge and feel good about your sexuality.
Do you get a lot of hate?
Yeah, usually from women. They call me a slut, sometimes they'll say I'm ugly, and sometimes they'll say I have nothing better to do with my life so I have to do this. Dragging the world backwards is a common one, too.
How do you feel about the word "slut" in general? Do you embrace it?
Yeah. I honestly prefer not to self-label, but in general I think it's a great word. I guess I'm more of a virtual slut. I think sex workers should be empowering to other women. Sex workers are not the skinny, agency-driven, perfectly attractive women that are models. They're all very different.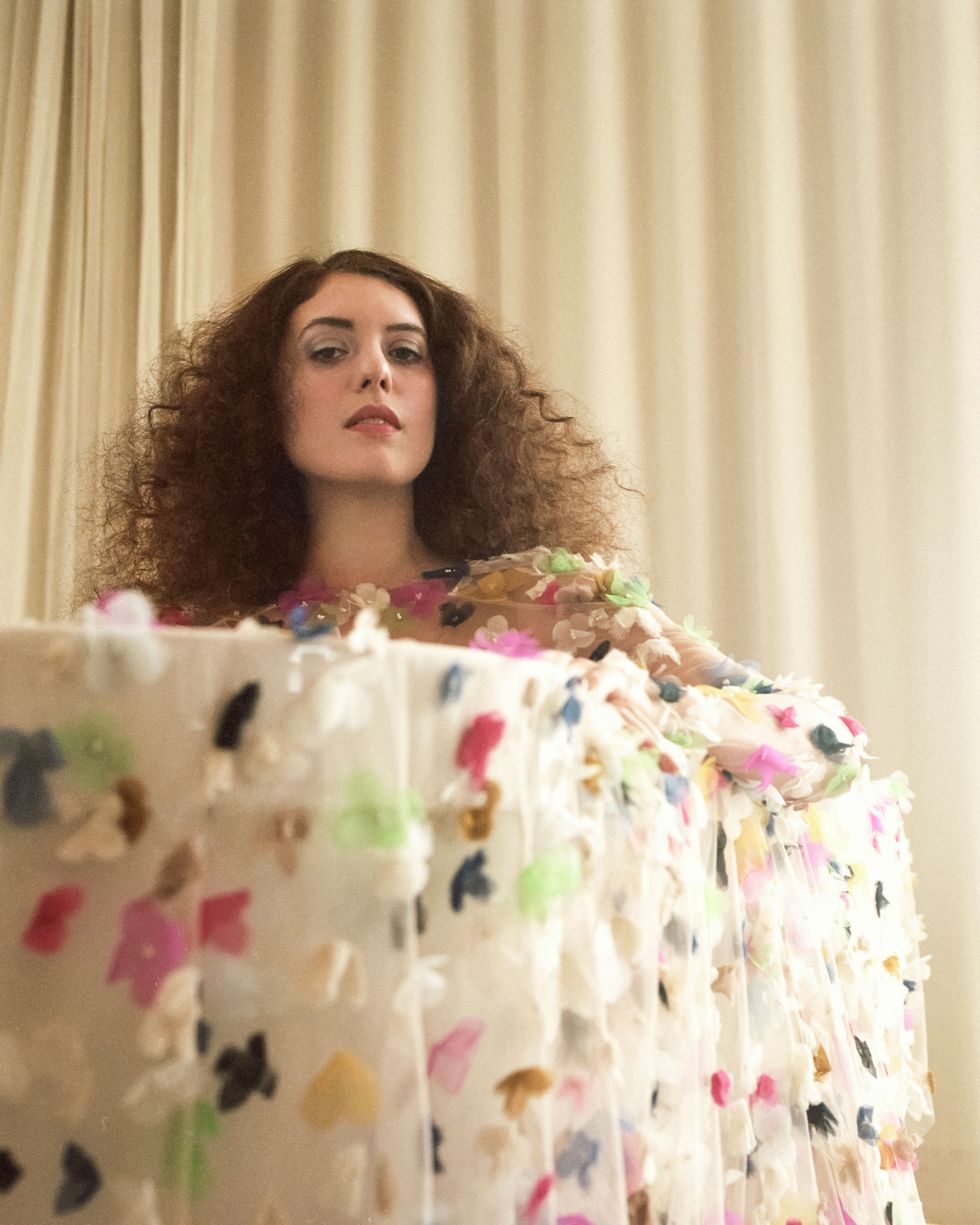 Dress by Christian Siriano
What's the difference between modeling and sex working? Aren't you both selling your body, in a sense?
Yeah, I don't think there is a difference. I think models are sex workers as well, but they're socially respected, unlike everyone else unfortunately. But, I really don't know if anything will turn it. I personally love following sex workers, and I don't like following the agency model girls because they seem like they have these perfect, fun lives that are unblemished.
Do you feel the impact to get the Kardashian figure with big boobs and curves? Because that's so saturated in images of women.
A few years ago I actually tried to gain some weight to get curvier, but it wasn't working. So I lost the weight. And I do a lot of video, and the main issue was that I couldn't look the way I wanted to because it translates differently than photos.
Related | An Afternoon With Kim Kardashian
Have you considered booty injections?
I haven't. I have seriously considered getting breast implants. I categorize girls three ways on Instagram: face, tits, and ass girls. The face girls are the agency models, and obviously the well-known influencers. The tit girls are the ones who mostly have breast implants. And if they're natural, they're probably agency models. So, those girls do really well, the face, the tits, the ass, they're all cheeks of the body.
Are they just regular influencers who happen to have fake tits and asses or are they undergoing surgery literally to show their bodies online?
I'm not sure which order it is, but the best implants help the pages to grow really well. For me I've always been all natural. That's just my brand and who I am. But it's funny because the whole process has forced me to really identify with who I am. Breast implants weren't really right for me and it's not my brand. So, it's weird to be so identified in that way, but it's also pretty powerful. This is me, and you're someone else, and we all want different things. We all fulfill different niches in people's feeds, and that's what's so fun about it.
So who are you now?
I am a free-loving, hippie, but very pro-sex girl. The girl next door, is also sort of my thing.
The girl next door with a ton of followers.
I'm at 1.8 million now, but I want more women followers, I think that would be cool and to be more mainstream. That would mean times are changing and that would be great.
Watch ONA's latest video below and look out for her album dropping June 8.
Photography: Maddalena Arcelloni
Stylist: Zu Sb
Hair: Kiyonori Sudo
Makeup: Angie Parker (using Marc Beauty at The Wall Group)
Location: The Standard, High Line