When I was introduced to The Bold Type, I partook not by volition, but force. A friend had assured me that the Freeform show, which centers on three millennial creatives working at a fictional magazine Scarlet in NYC, was a PG13-rated Sex and the City for the woke-gen. This deterred me. I presumed the series was the love child of liberal media's recent awaken to the fiscal opportunities in highlighting social justice issues and networks' ongoing obsession with creating a successful derivative on one of TV's most monumental series (RIP Lipstick Jungle). My friend spoon-fed me the show's relatability: I was roughly the age of the core characters in the series, he reminded me. I also live in New York and the show's backdrop is my own industry. One episode was all he asked, to which I reluctantly agreed.
When the show's lead Jane (played by Katie Stevens) inserted a Goop-approved yoni egg in her vaginal canal during the pilot, I knew it was all over. I was destined to impatiently await each week's installment, dutifully catching up pre-work if I missed an episode the night before. The show soon became a favorite of critics, who, like me, were instant converts. Rotten Tomatoes scored it at 95 percent. To our collective surprise, The Bold Type tackled tough topics like sexual assault, Islamophobia and immigration with ease. In the same episode one character might acknowledge her sexual fluidity, while another is in therapy for her orgasms — or lack thereof. Nikohl Boosheri's character, Muslim immigrant and queer feminist photographer Adena El-Amin, becomes central to the girls' understanding of their American, and, in the case of two of the protagonists, white privilege.

Persian-Canadian Boosheri dropped her native accent for the role, instead emulating that of well-known Iranian actress, Golshifteh Farahani, who was permanently banned from her home nation after posing nude for an editorial. Like Farahani, Boosheri explains El-Amin is a storyteller "challenging the status quo." The character is a far cry from lead protagonist Sutton — the blonde fashion assistant that the 29-year-old initially auditioned for, whose narrative mostly follows her affair with a superior — and much more inflammatory than your perky white girl making it in the big city. For Boosheri, representing the experience of El-Amin's communities accurately was of the highest importance.
"It's not just queer Muslims who want to see queer Muslims."
"That's the danger of having so few characters like this," Boosheri says of navigating the pressure. "Every Muslim, or lesbian, or Middle Eastern is going to look to her and that's really limiting on an artist and a huge responsibility. If even one or however many people can look at Adena and feel inspired to be themselves than I've done my job. You can't please everyone and she's not a conventional character and she's someone who's challenging the status quo so I don't think I can approach that character trying to please everyone."
Not only was satisfying these traditionally oppressed groups a priority, but offering a depiction of Muslim women unlike what we have been accustomed to became the basis of El-Amin's character development. El-Amin, who is introduced as Scarlet's social media manager Kat's (Aisha Dee) love interest, instantly establishes herself as both autonomous and confident in her capacity to hold long-considered conflicting ideals.
"We often see Muslim women as submissive or the victim, so I think it's really cool to see this woman very much in control of her own life and in control of her sexuality and what she wants to get across," says Boosheri. "It's not just queer Muslims who want to see queer Muslims. There is an audience for multi-faceted characters and characters that don't fit a certain box of what we're used to seeing."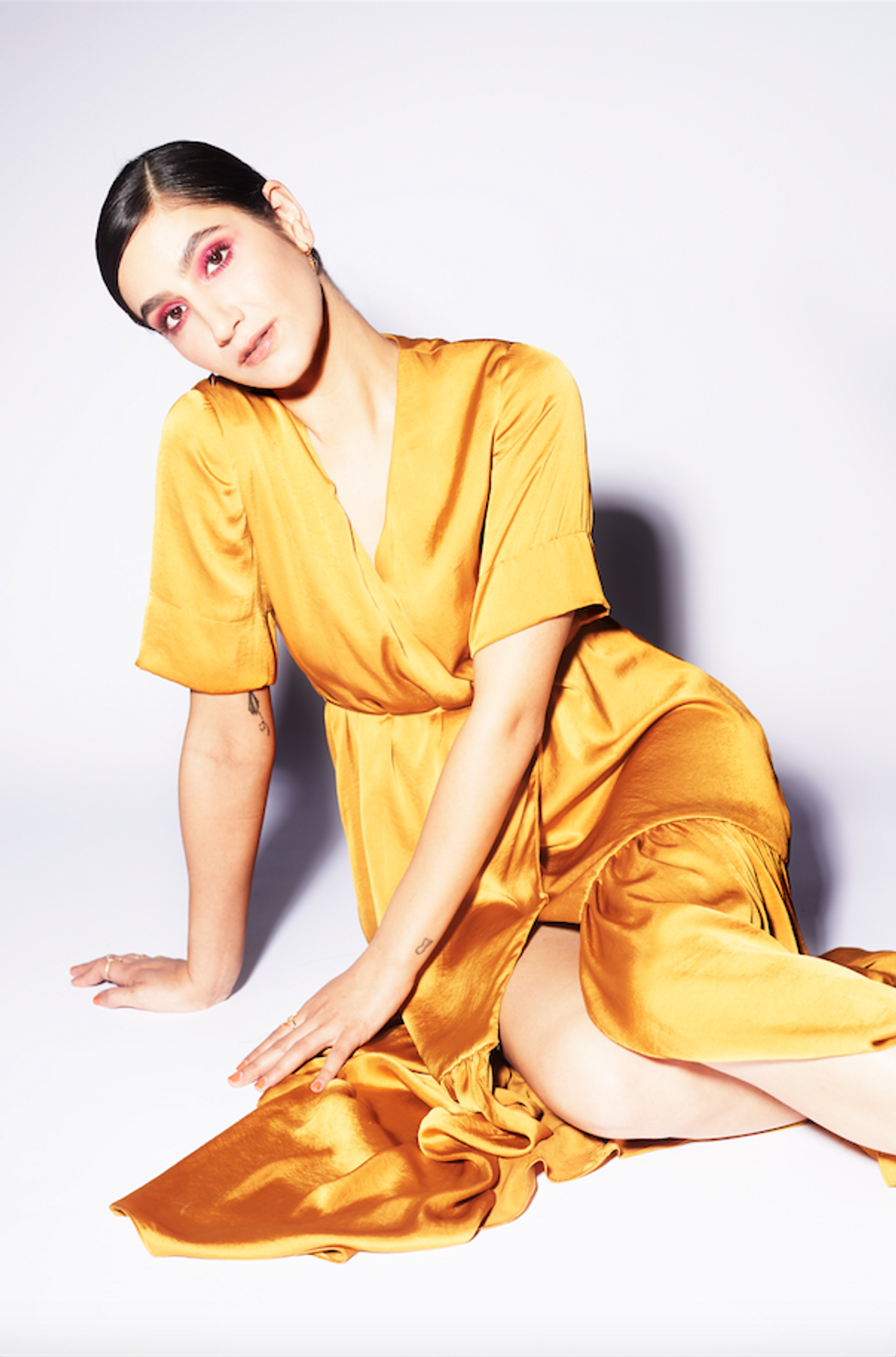 The first season of The Bold Type climaxed at Boosheri's character's deportation — a storyline that mirrored and explored the implications of Trump's Muslim ban. El-Amin has overcome numerous obstacles to reach her substantial success, building her credibility in the New York art scene from scratch, only to be sent back home at her career's peak. It's heartbreaking for her girlfriend Kat, as well as the viewer, and reinforces how tenuous one's position as an immigrant in the USA really is.
"I felt Adena's deportation story was so fascinating," Boosheri says. "I can relate to it even though I'm not from one of the countries banned by Trump. Even though it doesn't affect me that doesn't mean it isn't very real and very scary for people to be ripped from their homes. I think there was a time when it felt like anyone can come make something of themselves or anyone from any background. I think the idea of the American dream is changing. There's something sad about that."
As an immigrant herself, Boosheri is still adjusting to telling stories in a country fraught with tension. We were post-Florida and pre-Texas mass shootings when we met, and the gun control call-to-actions were reaching fever pitch. Relocating to Canada from Pakistan when she was just three months old and only recently emigrating to the US, Boosheri explains she constantly has to remind herself that she's not American, especially when, in her opinion, issues dividing the nation could be so simply resolved. "I'm reminded that it's a part of American history that we just don't understand. It's just so ingrained in American culture, in their identity, it's like, should I even be speaking on this?"


"I think the idea of the American dream is changing. There's something sad about that."
Whether her opinion is palatable or not, there's no denying Boosheri's voice comes through loud and clear — especially in her portrayal of Adena El-Amin. Film is still recovering from the Weinstein revelation, and opening its eyes for the first time to a new era in which abusers of their power are held accountable. An aspiring producer herself, Boosheri will be at the forefront of what she hopes will become a female-driven industry. "I think change will really happen when there are more women at the CEO level, and more people of color in the writers room and producing," she says. "All we can do is hope and continue to keep the dialogue open."
Related | Powerful Women in Hollywood Reveal Anti-Harassment Action Plan
Nonetheless Boosheri is proud of the industry's progress thus far. She credits social media as the reason those who have long been marginalized have finally found their place. Looking at the Hollywood landscape, the actress believes critical and commercial successes of minority-driven films like Black Panther and Moonlight set a positive precedent. Crazy Rich Asians, which set for an August release, is the first all-Asian cast to appear in American movie in 25 years. The more accelerated the progress, Boosheri believes, the more difficult it will be to break — and the reach of the entertainment industry knows no bounds.
"We'll really be able to tell when there's another one after that, and not just in another 25 years."
As for The Bold Type?Well, they set the ball rolling.
Photos by Daniel Prakopcyk