Land Of Distraction is using old roads to forge fashion territory untraveled.
The breakout contemporary line saw its launch on November 30th, transforming Los Angeles' Chateau Marmont into a perfect playground for the brand's rebel chic muse.
Founder Danita Short and design director Christian Juul Nielsen took threads of inspiration from '70s rock culture and outlaw motorcyclists to create something tailor-made for "the thrill seekers, rule breakers, and path finders" of the world.
After cutting his teeth with years at the top houses in couture, Nielsen found himself craving something unrestrained and raw in his designs. "Fashion is getting so contrived and restricted, with so many rules," he said. "We were trying to create something super easy [and] super light that everyone can wear."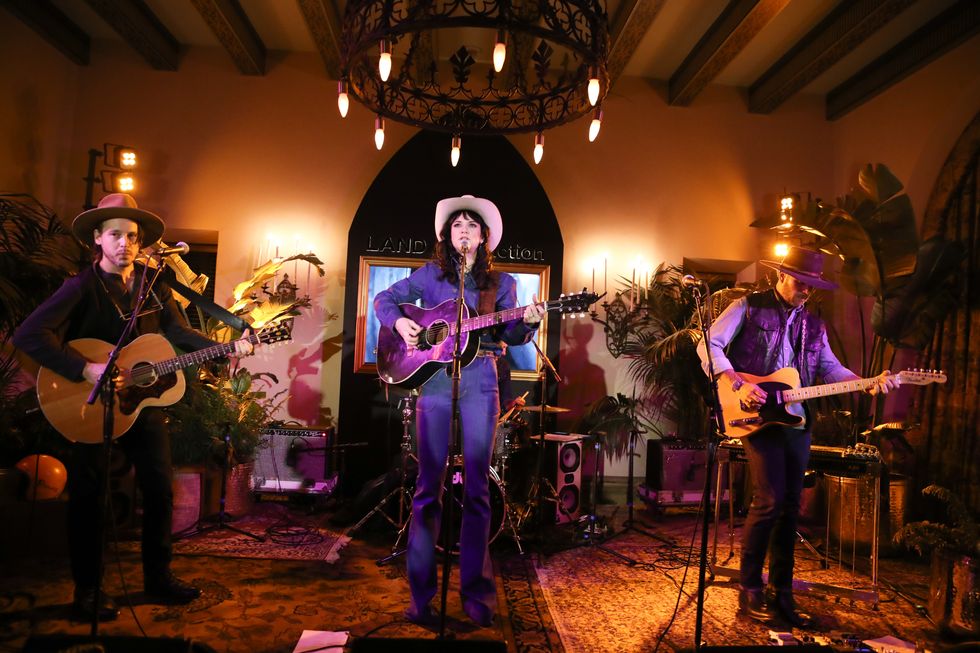 And Land of Distraction's collection is just that: an effortless mix of lush textures and precisely understated shapes.The launch itself was every bit as unconventional as the collection, foregoing typical runway pomp for a showcase of art, fashion and music. Vintage motorcycle helmets and trails of red roses filled the space, as a pair of classic Harley Davidsons sat in the courtyard and bathed in orange light.

DJ Mia Moretti spun a collection of retro-tinged tunes from behind a baby grand piano decorated with a cattle skull, while guests—including Kate Bosworth, Tatiana Maslany, Connie Britton and Jamie King—all sipped champagne.
The campaign video, directed by Leon Mark and styled by Jay Massacret, was projected behind country singer Nikki Lane, who took the stage in Land of Distraction's own denim jumpsuit and cream cowgirl hat. Elsewhere, photographer Ellen Von Unwerth snapped photos of Angela Basset and Shaun Ross together.
Land of Distraction's debut 40-piece collection will be available online February 1st 2018.