Independent New York designer Menyelek Rose pulled from his everyday experiences for his namesake brand's Fall 2020 collection, shown during NYFW.
Where Rose's previous Spring 2020 collection centered primarily on ruffles and movement, his latest takes on couture, fusing knit designs with surprising colors and textures, all directly influenced by major aspects of his life. It all culminates in what the designer says is his most personal work yet: "When I design, I always try to find inspiration in my daily life because these are the things that make me who I am and define my brand."
For certain tight-fitting knit tops, Menyelek drew from his upbringing in Rastafarian culture, incorporating key colors (red, yellow and green) from the flag of late Ethiopian Emperor Haile Selassie. That kind of global, yet personal mentality further catalyzed Rose to go even wider. And for his latest collection, he teamed with Beijing brand/retailer YOKADAKADA, which is now a brother brand to Menyelek.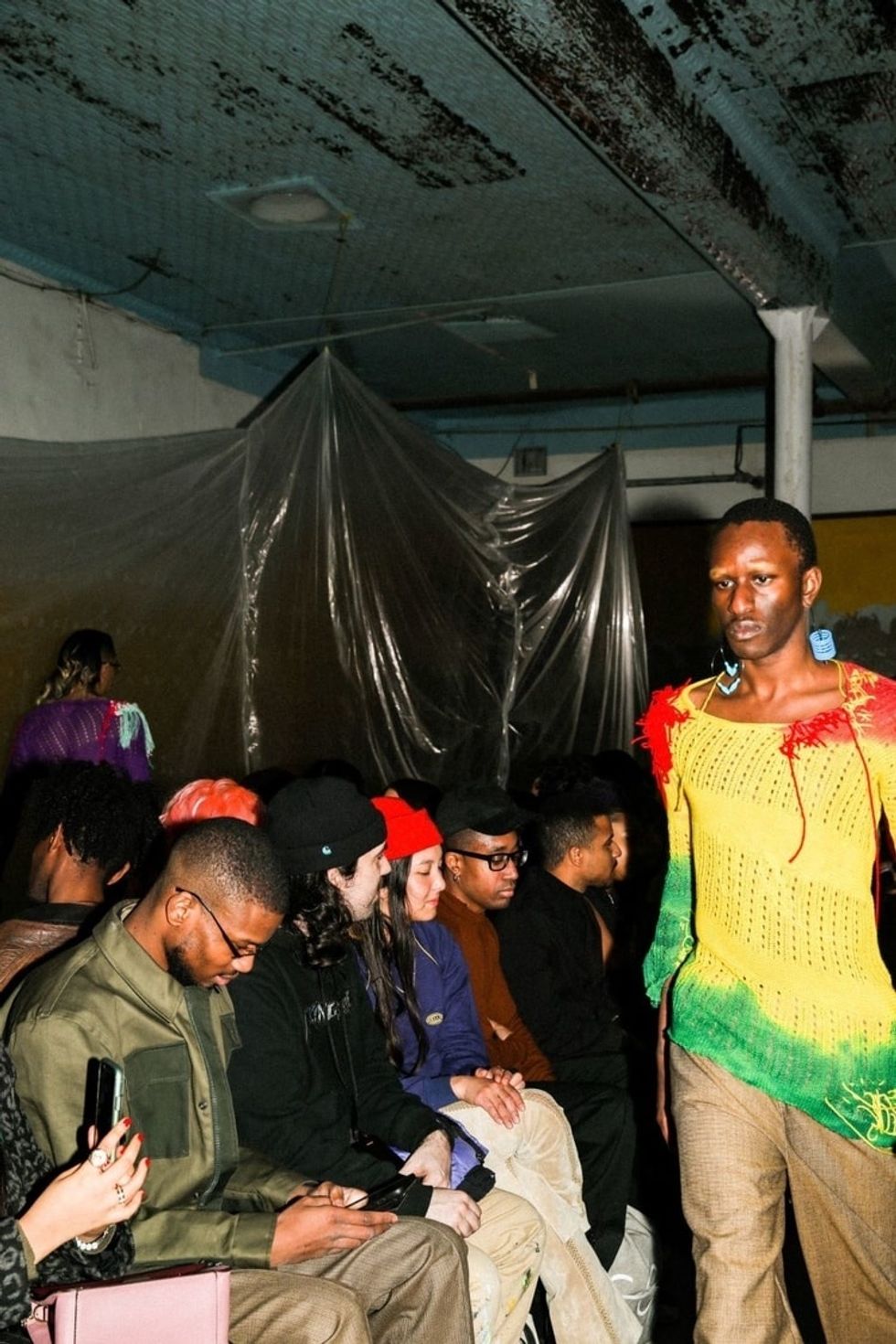 Rose might have more hard-earned support for his vision, but he hasn't lost touch with the unexpected flair that makes him stand out. One consistent motif of Rose's involves crochet patterns. In the new collection, it shows up on sleeves and shoulders of oversized suits, informing a more fantastical version of power dressing.
"My late grandma would crochet blankets, hats, and scarves for my siblings and I when we were younger," Rose says. "Her passing away in 2013 held the biggest impact on me because she made sure to keep me out of trouble as a child. So my incorporating of knits and crochet is my way to give tribute to her and her memory. It calls back to the men in my family that have always been very masculine, militant businessmen always wearing suit jackets."
To create the looks, Rose counted on the people closest to him, including his partner Hilldana Lorenzo, who assisted with crocheting, and Tookie Hong, the designer's longtime stylist. The playful looseness of the collection's presentation — from pairings of ripped multi-fabric denim with torn jackets and sparkly tops — can be partially attributed to Hong, whom Rose says "always delivers."
​"For this year's collection, I wanted [it] to be reminiscent of the kinds of people I would see going to my favorite [Brooklyn] techno clubs on Broadway and Myrtle, wearing shiny trashbag-like bottoms with tight tops," he explains. And as for casting, Rose broke away from his usual method of finding models on Instagram, and cast people on the street and subway who caught his attention.
"It's fun starting conversations with them and to see what their responses are," he says. "I casted people of all ages because at the end of the day, anyone and everyone can wear Menyelek and feel like they're in they're final form."
Nightlife
Story by Matt Wille / Photography by Ian Lewandowski