Slow & Steady 
Marc Jacobs is known to change the look of his collection drastically, touting red, white, and blue prep-school style one season and scrapping it in favor of bewitching gothic glamour the next. Last night at his spring 2019 show, the designer uncharacteristically presented an iteration of his preceding collection by revisiting voluminous silhouettes, dramatic silk ruffles and rosettes, and boxy 80s tailoring. It seems after decades of sharp turns in aesthetic direction, Jacobs is shifting focus to gradual evolution from one collection to the next.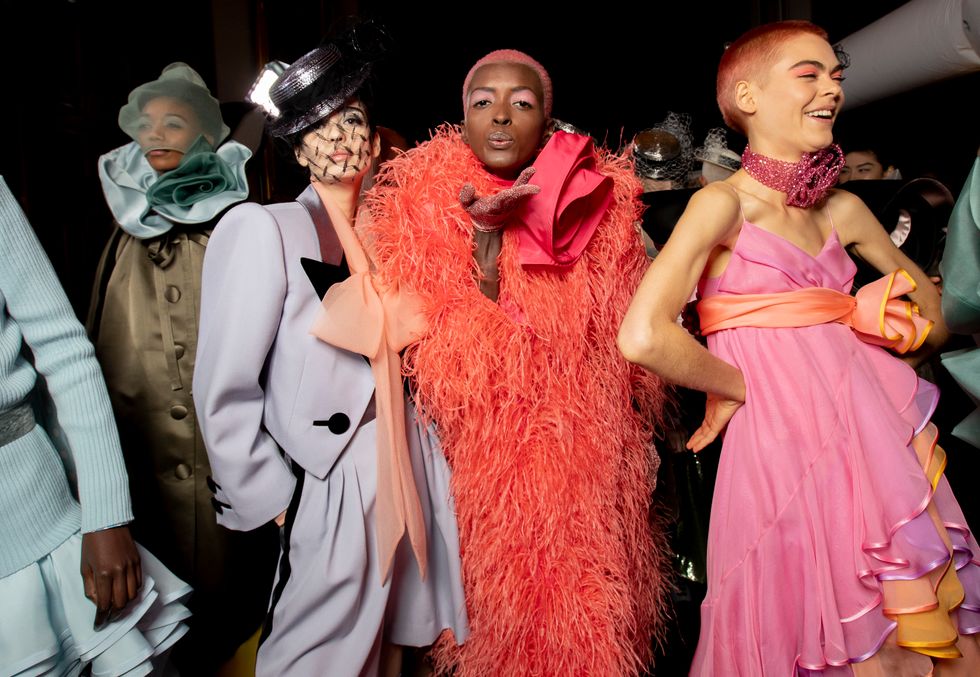 J'adore Dior
John Galliano's famous ancient Egypt-themed 2004 Christian Dior Haute Couture show opened with "Rubric" by Phillip Glass. Composer Steve Mackey chose the buoyant, high-energy symphony as the soundtrack for Jacobs' entire show.
Candy-Colored Characters
Saccharine shades of dandelion, blush, pistachio, red, peach, and azure make sweet silhouettes including tea length dresses, bishop sleeve blouses, and peter-pan collar coats, even sweeter. When choked with ruffles, multi-color ostrich feathers, and gathered tiers, the billowy confections read like haute clown costumes. Models with hair the same color as their outfits (courtesy of Guido Palau) compounded the theatrics.
Leg Work
Jacob's footwear also commanded attention. Translucent peep-toe wedges (the jelly sandal's more formal sister), metallic slingback kitten heels, and patent leather pumps with topped with bows were equal parts prim princess and party girl.
All The Trimmings
Jacobs added stylized tea-time accessories to each look. Box frame bags with loop straps were finished with translucent, orb-like clasps, gloves were executed with sequined lattice-work and sparkling mesh, and glimmering tights came in silver, gold, and pink.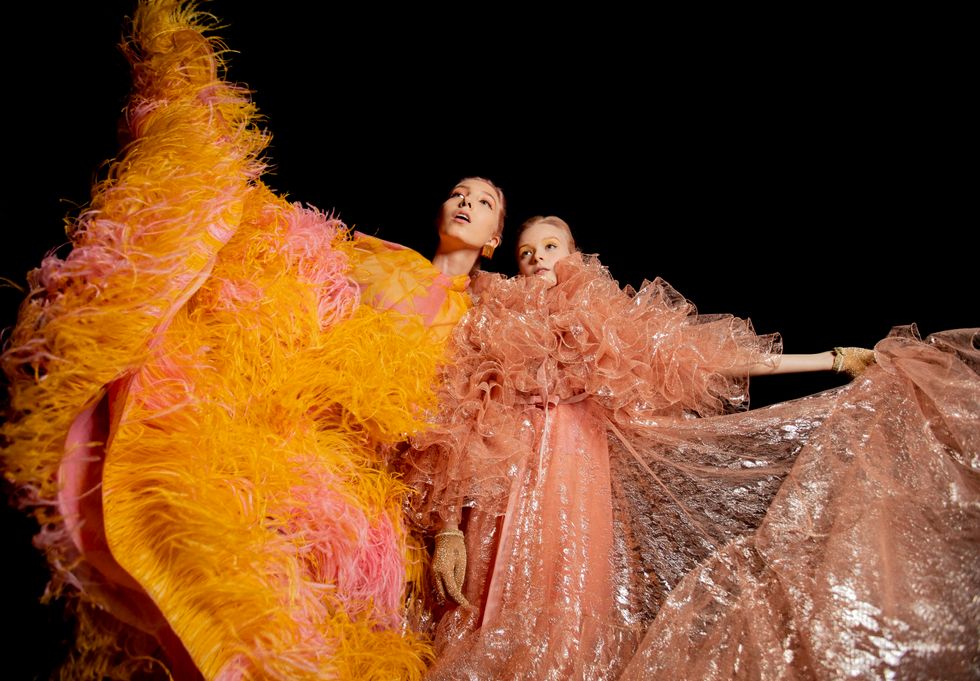 Wait, There's More!
Jacobs' show (often the most punctual at NYFW) was over an hour late yesterday. Most guests — even the celebrity ones including Nicki Minaj and Emily Ratajkowski — waited patiently. At a certain point, as The Cutreports, Anna Wintour shot up from her seat and walked away. Show goers thought that she had left the venue entirely, but as it turns out, Wintour was taking a phone call adjacent to the runway.
Images Courtesy of Marc Jacobs