Bronx-based rapper Maliibu Miitch is makes slick, unapologetic music about her daily life, her relationships, and her feminist politics. She had a big year last year, dropping a mixtape and two critically-acclaimed singles, "4 AM" and "The Count." Her success is hard earned: She's been working in the industry for years, having been signed to Ruff Ryders and Island Def Jam before eventually joining Atlantic Records this year.
Miitch is all about uplifting other women: her last project, Maliibu Miitch Top 5 remixed hits from Foxy Brown, Lil' Kim, Lauryn Hill, Missy Elliott, and Eve. She has also started her own label to represent and uplift female talent. The rapper signed her cousin and her best friends, saying that she knows the importance of bringing her peers, the people who can best understand and tell her story, with her on her journey to the top.

Today, Miitch is premiering a music video for her song "Give Her Some Money." The visuals (and titular phrase) explicitly tie into her feminist politics. Throughout the video, women work hard to earn money dancing, working at a restaurant, and making music. At the end, Miitch gives her female waitress a handful of cash, and a quote appears on screen reminding the viewer, "There is no force stronger than a bond between women."
PAPER sat down with Maliibu Miitch to talk about her upcoming projects, supporting female rappers, and the multiple aspects of her personality that she represents in her music.
You have a new project coming out.
The project is going to be called The Count. It's going to be like a 13 song — I don't want to call it a mixtape, it's a project. It's coming out in August.
How did you you come up with the album title?
Earlier this year I was going to come out with a mixtape called The Count based off the song I did. It was like a remix to "Ten Crack Commandments" by Biggie Smalls. I remixed it and made it the ten commandments for women. I feel like this project is basically like a countdown. I really feel like I'll actually blow up. Right now it's like taking baby steps getting there.
How did you want to adapt Biggie's album for the female perspective?
I'm so tired of this male-driven industry. I always loved showing females love. On my last EP, I remixed five female artists: Foxy Brown, Lil' Kim, Lauryn Hill, Missy Elliott, and Eve. I remixed all their songs, just paying homage to them. I just want it to be a bunch of female rappers now. I hate the fact that people make it seem like there can only be one or two these days. I want females to be more embraced in the industry.
How did you pick the women you covered?
Its funny because it was me and my man. I was like, "Hey, I want to drop something but I don't know what." And I wanted to do it with a full plan behind it. I wanted to do remixes to draw people in. And he was like, "You should remix a Lil' Kim song" and I was like, "Word, that would be awesome. Which one?" And he was like, "Crush on You" and from there I just envisioned me remixing a whole EP with classic female rappers. And, of course, I was like, "The next person has to be Foxy." I went on YouTube and started YouTubing mad Foxy songs. And I was like, "I can't pay homage without paying homage to Lauryn Hill!" And then with Missy Elliott, I wanted a fun, cool, not-so-serious one. The other three I had were super serious. And then Eve came after. I put two songs for Eve 'cause I couldn't decide. I was stuck between "Who's That Girl" and "Gotta Man." I couldn't figure out which one sounded better, so I was like, "I'm gonna do it how back in the day they used to join hooks together." That's literally how it all came about.
Do you feel a special connection with New York rappers?
Of course! We've all been through similar stories. To be able to come out of New York — there are so many rappers here. Everybody's got a few homies who rap. For one of us to come up, it's a huge thing.
Growing up here is very hard. I put a lot of what I've been through – the pain, the struggle — into my music. And even the city life. Living in New York is different from any life. I put a lot of that into my music.
Being in the Bronx, you gotta have a tough attitude, a tough exterior. I put all of that into my music. You can hear that, my struggle, you can hear me venting about shit I'm going through. If somebody pisses me off, best believe it's going to be in that song later. Coming from New York taught me to put my all into my music.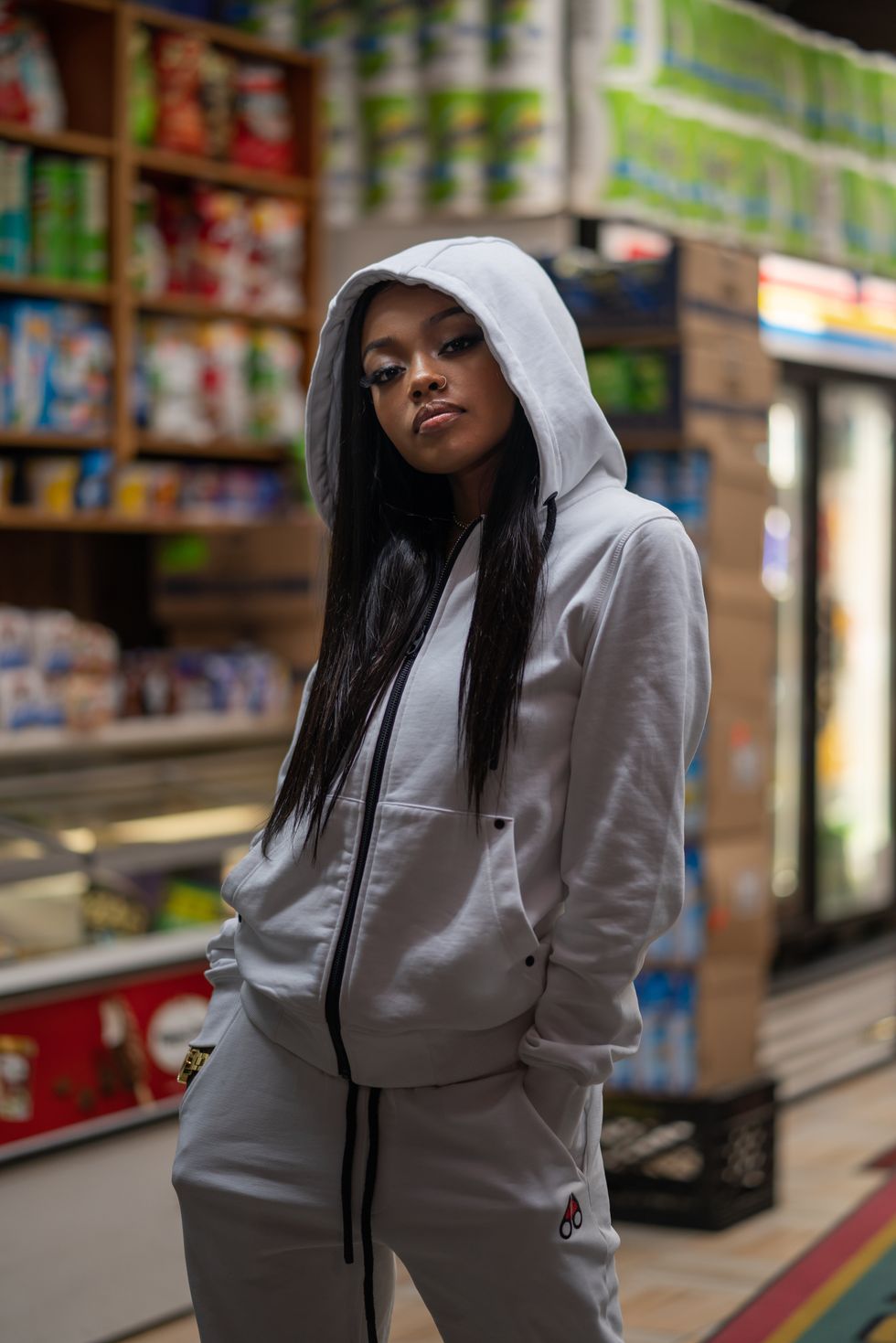 You started your own label, too.
Yes, when I was 21 I started it. It was when I was indie. I put my cousin down. She's a singer. She's from Houston, she had moved out to New York. My best friend, she's a rapper, and then my two homegirls, they model. It was an all-female group. It's just me and my friends. My friends are really good! I love embracing females, so I was like, "Let's make an all-female corporation." It was for the people, by the people.
Have you ever collaborated with your best friend since she's also a rapper?
Yes! We have worked on a lot of stuff together. My cousin and I have a few songs together, too. Now I'm trying to focus on me and they're doing their thing. My cousin just had a baby so she went down south for a little bit. One of my homegirls models, and she's travelling all over the place. She's in Bali now, she was in Australia. I believe in supporting where I come from and supporting the people around me. Who else is going to be able to tell these stories later on better? I gotta have my friends there.
What's your songwriting process like?
I don't get too caught up on beats. If somebody gives me a beat, I'll just sit down and write to it. Basically, I come up with the melody first, so I'll made ridiculous noises trying to find the flow.
Do you feel like you have to edit a lot or do you usually get it the first time you sit down?
I do the editing when I'm sitting there writing. Before I go to the mic, I make sure it's really good. Writing a verse takes me probably an hour. If it's a tricky beat, it will take me an hour and thirty minutes. I have to proof read it before I go into the studio. It's kind of like an essay, where you have to turn it into the teacher, but you don't want to turn it in if it sounds bad. I have to proofread it, I have to make sure it's good before I go in and anybody hears it.
You've said that Maliibu is one personality and Miitch is another. Can you tell me more about that?
Maliibu is more a bubbly side. When people think of Maliibu, they think of sunny, out in California. I'm very much like that. My personality is naturally outgoing. I'm loud, I laugh a lot. At times, my gritty side comes out. Back in the day I used to fight and get into a lot of trouble. It's just literally the good and the bad of me. I love to play with it in a song. Maliibu sometimes you'll hear during the hook. One of my songs is called "Gwapamole." It's me being real soft and bubbly, my natural speaking voice. The harder, deeper voice will be Miitch. I only like to use Miitch during the verses. She gets my point across more than Maliibu does.
Photos Courtesy of Maliibu Miitch
Sign Up for the Morning PAPER