A long running presence on the international scene, make-up maestro Kabuki Starshine has always struck me as a living, breathing work of art who's able to apply his craft in ways that range from practical to surreal. I just chatted with Kabuki for some starshine about his most exciting makeup clients.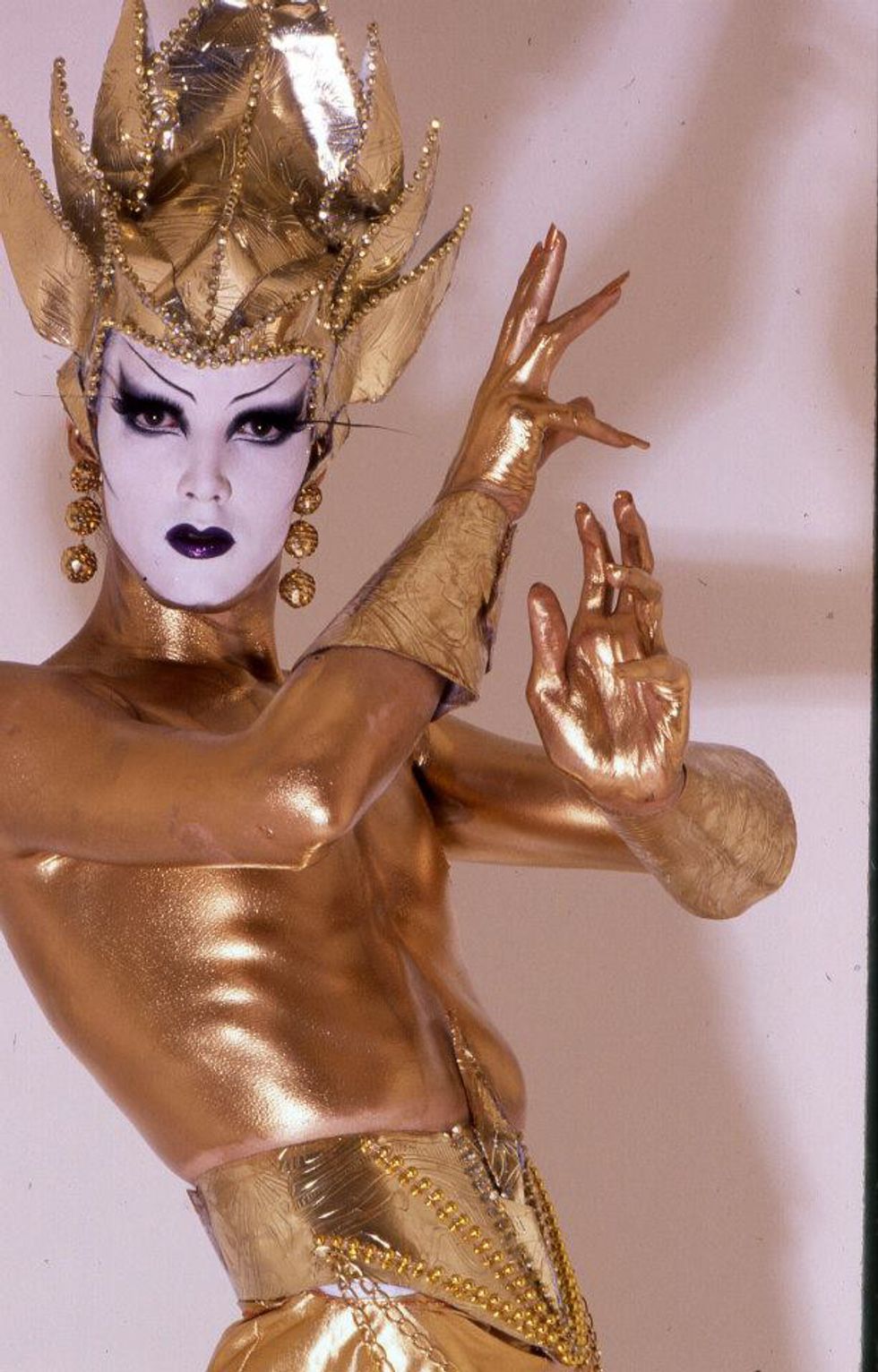 Hello, Kabuki. Where do you hail from?
I was born in the north of England in 1970 and I spent the 70's near Manchester.
What were your aspirations?
As a 10 year old?
Yeah, we all have dreams.
I was really into Top of the Pops and disco, so when we moved to Florida, Solid Gold didn't quite measure up. My ambition was to get into those black satin pants Olivia Newton-John wears at the end of Grease.
After the makeover.
Yes. Not before her makeover. I wasn't interested in that look.
How did you get into makeup?
I always painted and did illustrations. That gave me the confidence to transform myself with makeup at that young age. I painted myself up, and a lot of people told me they really liked my makeup and people made mental notes of it and that helped me down the road.
So you did yourself up?
I was doing that in Florida. Being stuck in Florida drove me to extremes. I wanted to look good and stir things up. When I came into my teens, when the British invasion happened with Annie Lennox and Boy George and Grace Jones and Divine, I was 14. I had expressed myself through painting and escapism through painting. These pop stars were living embodiments to what I was already connected to. I was unemployable in Florida, so at 20, I moved to New York. I grew my hair so long under the influence of all that glamour and I couldn't get hired for anything, so it was do or die and move to New York. I got a job at textile design, so I was able to make some money. It wasn't until '91 or '92 that I'd met someone connected to clubs. I'd seen you on Geraldo and I guess that motivated me. She introduced me to club promoters.
Did you want to become a club promoter?
Oh, no. I was the quiet one. I was along for the ride and a fly on the wall. It was a chance for me to get ideas and take it further than the dressing up I'd done as a teenager. And have somewhere to go where you're celebrated.
Do you do people like they're in an Aubrey Beardsley painting?
On occasion, when it's required. Certainly that's not every job or I wouldn't work that often. I've definitely done my time doing lots of things. When I worked in film, most of what you were doing was hiding things. It was the opposite of flamboyance. Someone's got a big tattoo or pimple and you're not supposed to have those things.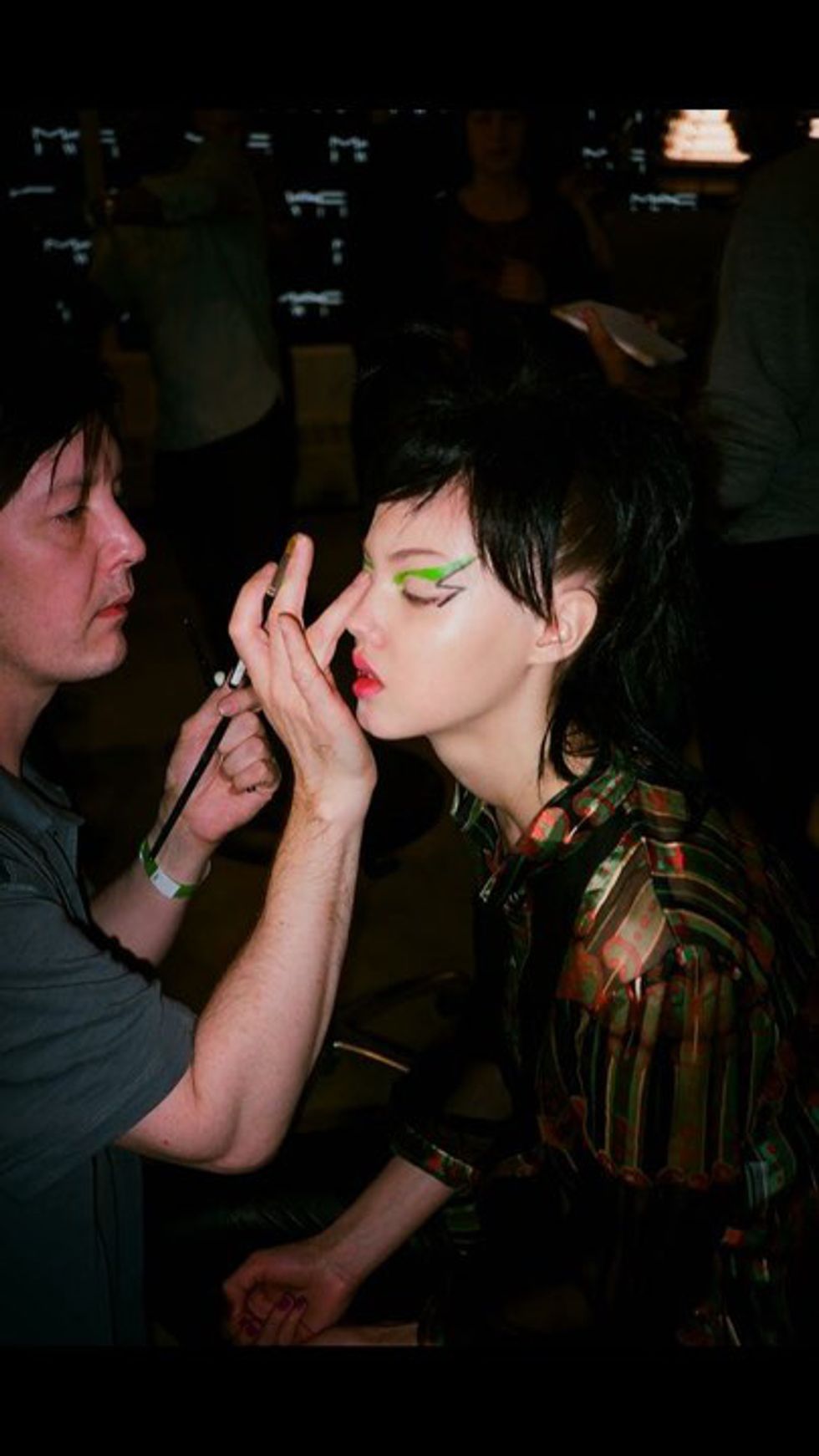 Does one job lead to another?
People like to work with people they've worked with before, that they can trust and are known entities, so it definitely helped. As far as the trajectory goes, I could try to break it down…You start out with the clubs and then I got the eye of Susanne Bartsch --she was high class compared to most of those people. I was working with Anohni at Blacklips theater group and doing plays and doing characters. Since I didn't sing or perform, it was more about a visual presentation. He'd give you a character or theme, and then Susanne picked me up and took me to Europe, where I caught the eye of Thierry Mugler. I was in his show in Paris at the circus. It was the most expensive fashion show ever done to that date. People like Tippi Hedren and Veruschka were in it. How do you end a show where there's every famous supermodel in history? You end it with a 23-year-old man with chest showing and glamorous makeup--no one's going to get jealous.
And then…?
The phone call that changed my life. I'd done a few tests and then I got a call from Pat Field that she was thinking of doing a new show called Sex and the City, and would I be interested. That was a real life-saving phone call. Of course I said yes. I did that show for two years.
Did you know the show would be so major? And what was your role—keeping the ladies sexy?
I knew that Patricia Field was major, and that Sarah Jessica Parker was on board with Pat when it came to pushing the show's style in a forward thinking direction. My role was to do the same for the makeup, making them as beautiful as possible while staying true to their characters, which was really the Golden Girls, but in a sexy parallel universe called New York City. That show got me into the union to do film. I did like seven indie movies. One of the last ones I did was Party Monster, which caught the eye of Steven Klein. Someone said, "If you want to break into fashion, work with a big star photographer." Steven said, "Bring all your stuff and do crazy things." Thanks to him, I had a big photo shoot with Karen Elson in Italian Vogue. [Klein was the photographer, Kabuki did the maquillage.] I put her in bald caps, changed her face in every picture, and made her a dragon. I didn't sleep, nor did she, for two days. I knew it was make or break. Madonna had seen the photographs before they were published and wanted me to come along and work on some publicity photos and videos for her tour that Klein was shooting.
How did it come about that you worked with Michael Jackson?
That was a big mystery. I didn't realize how it came about. I thought maybe because I'd worked with Macaulay, but no. Actually, Bruce Weber, whom I'd never worked with before, thought of me for that project. It was for L'Uomo Vogue, and it was the first shoot Michael had done in 10 years. They asked me to come back and do the cover of Ebony with him too. Those were his last photo shoots. He was really lovely. I can relive it all in my mind because I was so full of adrenaline when it was going on. I had to talk to him on the phone before I met him. I was at a cash machine and the phone rang and it was his people clearing the line to make sure it was me. He was gonna call me in seven minutes, so I ran home, not wanting to be on the street with sirens and street noise. I got so nervous, I had to breathe into a ziploc bag. I was hyperventilating. But he sounded so scared himself that I instantly calmed down. I sort of felt for him. And when I met him in person, he had dark glasses on so you couldn't see his eyes. He seemed very shy, but when we started to work together, I guess he got my energy, and he was so sweet, quite considerate of me and my working process.
There's a Broadway musical called War Paint, in which cosmetics titans Elizabeth Arden and Helena Rubenstein wonder if they've tyrannized women with their impossible ideals of beauty. How do you feel about that?
I wasn't around in the '30s and '40s, but I have seen the musical. I enjoyed the bits about marketing tricks like selling the same cream as night and day cream to double sales. I'm assuming the demand for beauty products was rampant in the culture already. Nobody wakes up looking like Dietrich or Garbo.
Is there any hope for the future of fashion?
Don't ask me. I just do makeup.
Well, it's not like you do windows!
I've got a contract with a makeup app, which does digital makeup. It's called Perfect 365 PRO. You come up with a whole look and it applies it to your face. I just did a Kenzo campaign directed by Natasha Lyonne, starring Maya Rudolph, Fred Armisen, and Macaulay Culkin. I did a Nike campaign with FKA twigs, which got over six million views. I work with Jeremy Scott for his fashion shows. And the Blonds, I do their fashion shows. I also did a MAC Cosmetics line. I got to name all the products too. I named them after Bowie songs or Joan Crawford movies. I have a brown eyeshadow called Trog.
I can't wait to try Berserk!