LIZ, the singer-songwriter who makes smart, emotionally-charged bubblegum pop — with occasional '90s R&B reverence for your nerves — is back with a brand new video directed by LIZ's "creative soulmate," James Orlando.
The Los Angeles-based artist released "Super Duper Nova" a few months ago, and the song, an intergalactic bop if there ever was one, is still stuck in our collective cerebral cortex. LIZ has always been a visual artist inspired by fantasy, her music vivid enough to envision worlds anew. "I feel like there are a lot of characters inside of me I want to explore," LIZ tells PAPER about her dreamy inclinations. "I truly love being a chameleon."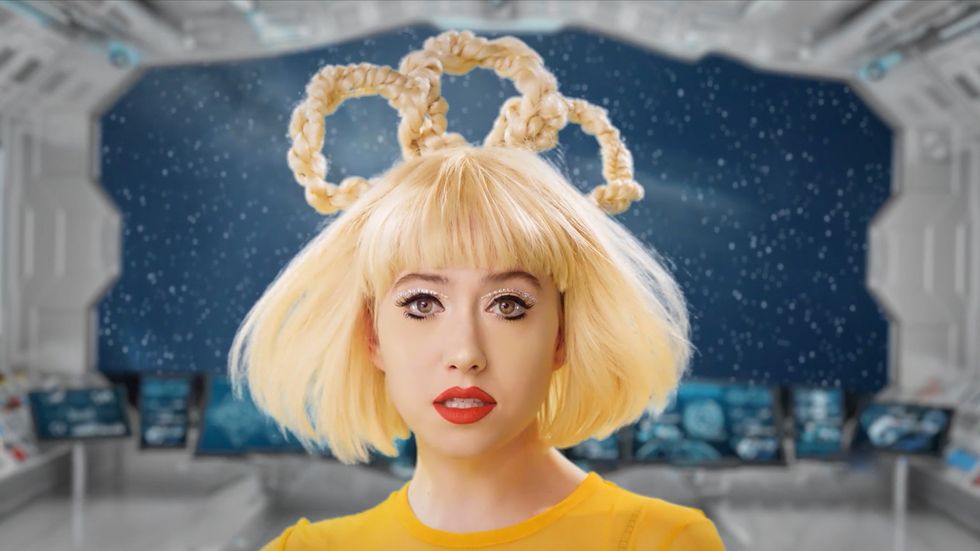 And chameleon, she is. In the treatment for "Super Duper Nova," our heroine is a pop star of many looks and faces in outer space, and, visually, it feels like an homage to the neon metallic aesthetic of Disney's iconic Zenon: Girl of the 21st Century series. In fact, LIZ and Orlando count that movie, Ready Player One, Star Wars, Return to Oz, Battlestar Galactica, and yes, the surreal candy-coated worlds created by Gwen Stefani.
In speaking about the goal of the "Super Duper Nova" video, Orlando says that he and LIZ wanted to take viewers along a "cosmic journey of transformation that we all experience as we evolve into our true selves." He also acknowledges the video's encouraging mood, saying that it's about LIZ waking up from a cryogenic freeze to find herself stronger than ever, "ready to perform for the whole galaxy. "There's a message of self empowerment, breaking free of your past self and evolving -whether that's IRL or through an avatar or a virtual identity," Orlando explains, teasing that part two is "coming soon."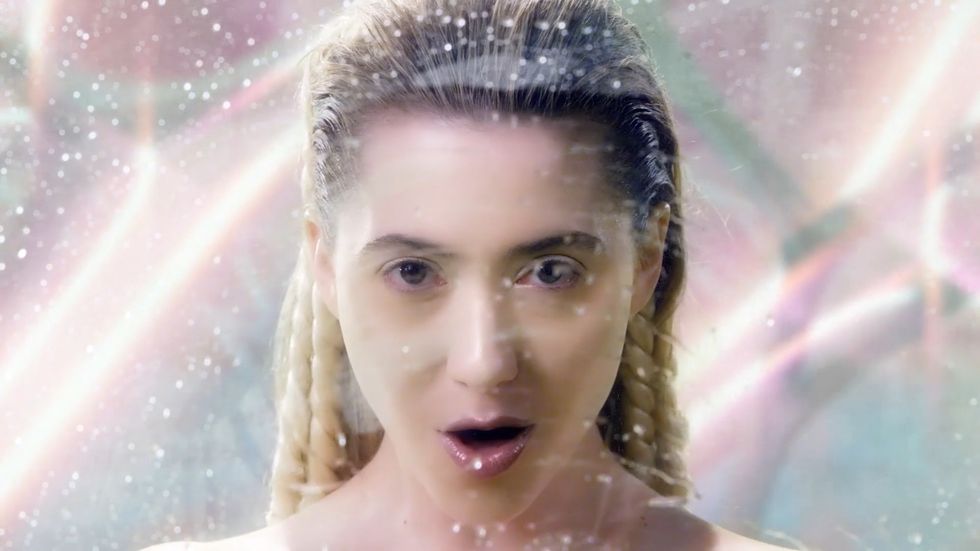 LIZ also suggests that there is more to come from her and Orlando, as "Super Duper Nova" heralds a new era for her as a visual artist. "You will be seeing lots of our world in my upcoming releases," she says. "My music now goes hand in hand with my visual narrative more than ever. We'd love to create a video game as well as a virtual reality-meets-IRL installation one day. There are lots of possibilities when our brains come together."
Catch the exclusive PAPER premiere of "Super Duper Nova," and don't miss LIZ's upcoming LA shows: tomorrow (July 13) she plays at Bootsy Bellows; and on July 17, she plays an all-ages show at Moroccan Lounge. Buy tickets here.
Photography: James Orlando