This article originally appeared in the second issue of MedMen's new quarterly magazine, Ember, created in collaboration with PAPER. MedMen is a California-based cannabis company and investment firm with properties spanning coast to coast.
Lake Bell is ready for her bath. At a studio space in Hollywood, the actress/writer/director will soon be climbing into a red-tiled tub for a '70s Halston-inspired cover shoot. When asked how she feels about her forthcoming dip, Bell is stoked. "Are you kidding me? I love a bath. How do I feel about getting out of it is more the question that we should really concentrate on. It's not my first bathtub, I can tell you that."
I ask her if she knows what exactly the bathtub is going to be filled with and Bell shoots back: "If I play my cards right, I hope just like a boatload of weed. I mean, that's why I signed up for this." The reason the bathtub will be full of weed (CBD bath bombs, to be exact) is because Bell's husband Scott Campbell and his business partner Clement Kwan are the force behind Beboe, a high-end cannabis label best known for its rose-gold vape pens and low-dose pastilles.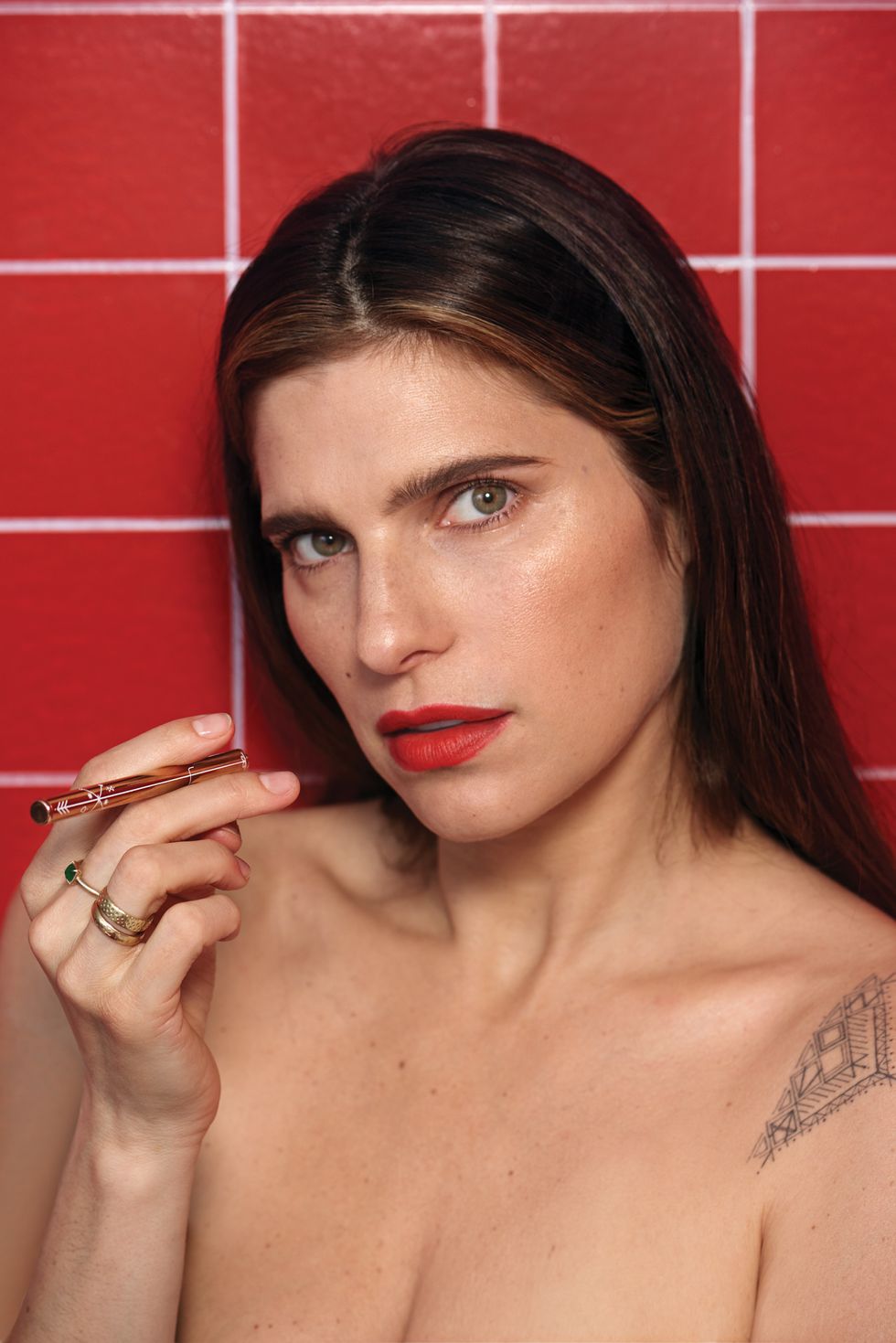 Just days before the shoot, Bell had appeared at Gwyneth Paltrow's Goop wellness conference to talk about the current pot culture for the "In Goop Health: Cannabis Panel." As legalization has come to pass, many smokers have come out of the weed closet. At the Goop summit, Bell makes it clear that there's no need to be ashamed of smoking anymore. Especially when there are new products like Beboe that make consuming marijuana so easy and low-key. Gone are the days of blowing smoke through a paper-towel tube covered with a dryer sheet in the bathroom so the kids won't know what's up. And after all, we are in California. Beboe is the kind of product that you can throw in your purse with your lip pencils and chakra crystals for discreet consumption anywhere.
Gone are the days of blowing smoke through a paper-towel tube covered with a dryer sheet in the bathroom so the kids won't know what's up.
"The thing is about weed culture," Bell says from the makeup chair, "the products that are out there were all so collegiate. My husband kind of creates identities to brands, and when he does thrust himself towards that part of the business and his art, his design sense is very luxury and sort of, you know, sophisticated in a way. So he wanted to take that sort of tone and apply it to a product that didn't exist yet really at the time." Beboe is part of a new wave of high-end marijuana products spurred by legalization in California. And like Bell says, it's a step away from the alien bongs and rustic rolled joints of traditional weed culture towards something more adult.
Bell likens the landscape to post-Prohibition. "In the same way that when alcohol first hit the scene, moonshine isn't really my taste either, but I'll dabble in a Moscow mule. So I think the idea is, now that it's out there and becoming more accessible to people, that there are different types of people who want to enjoy different types of cannabis. Beboe is microdose: its purpose is not to get fucked up, its purpose is to enjoy the benefits and the more sophisticated elements that the plant holds and can offer. So I think of it like the rosé of weed."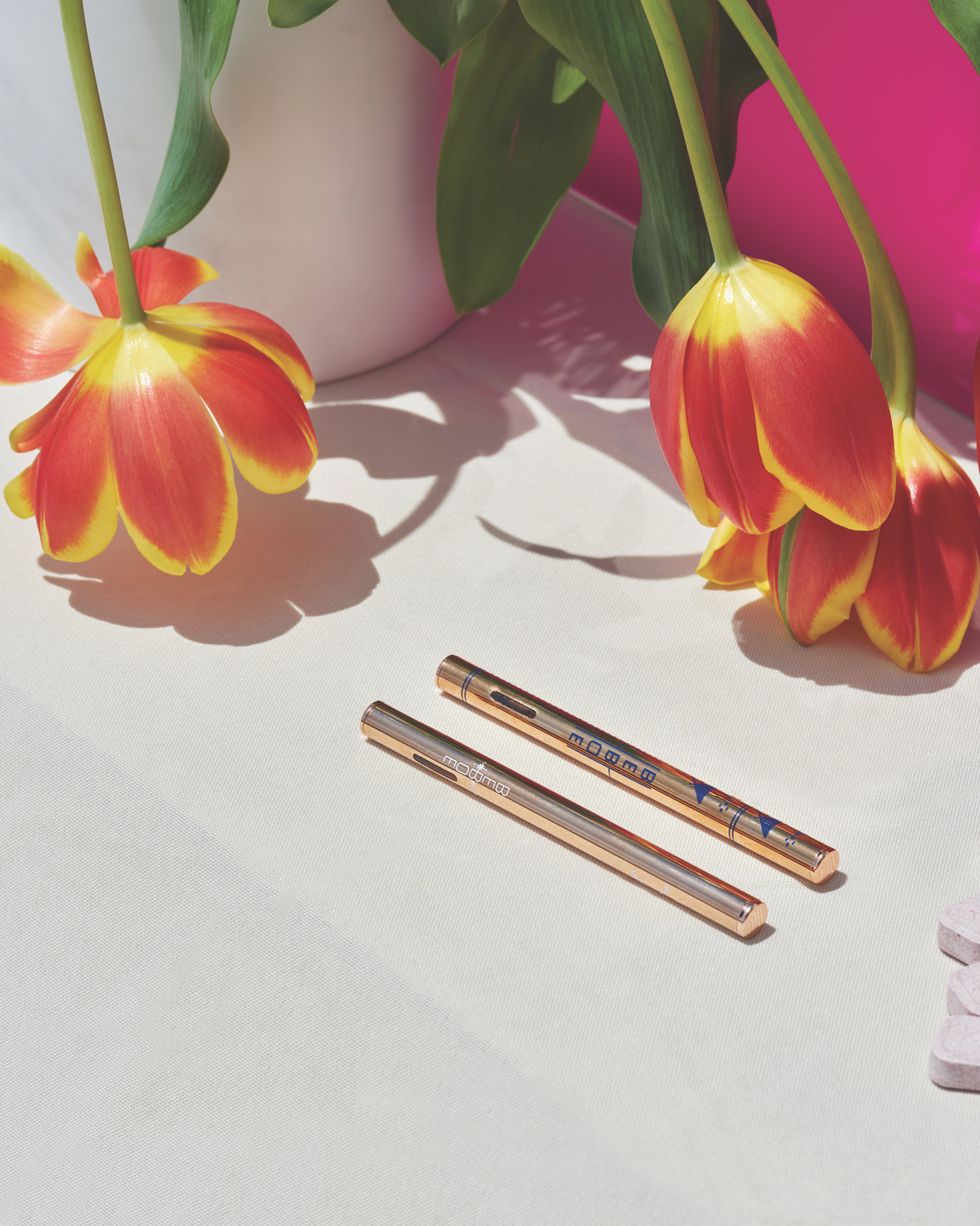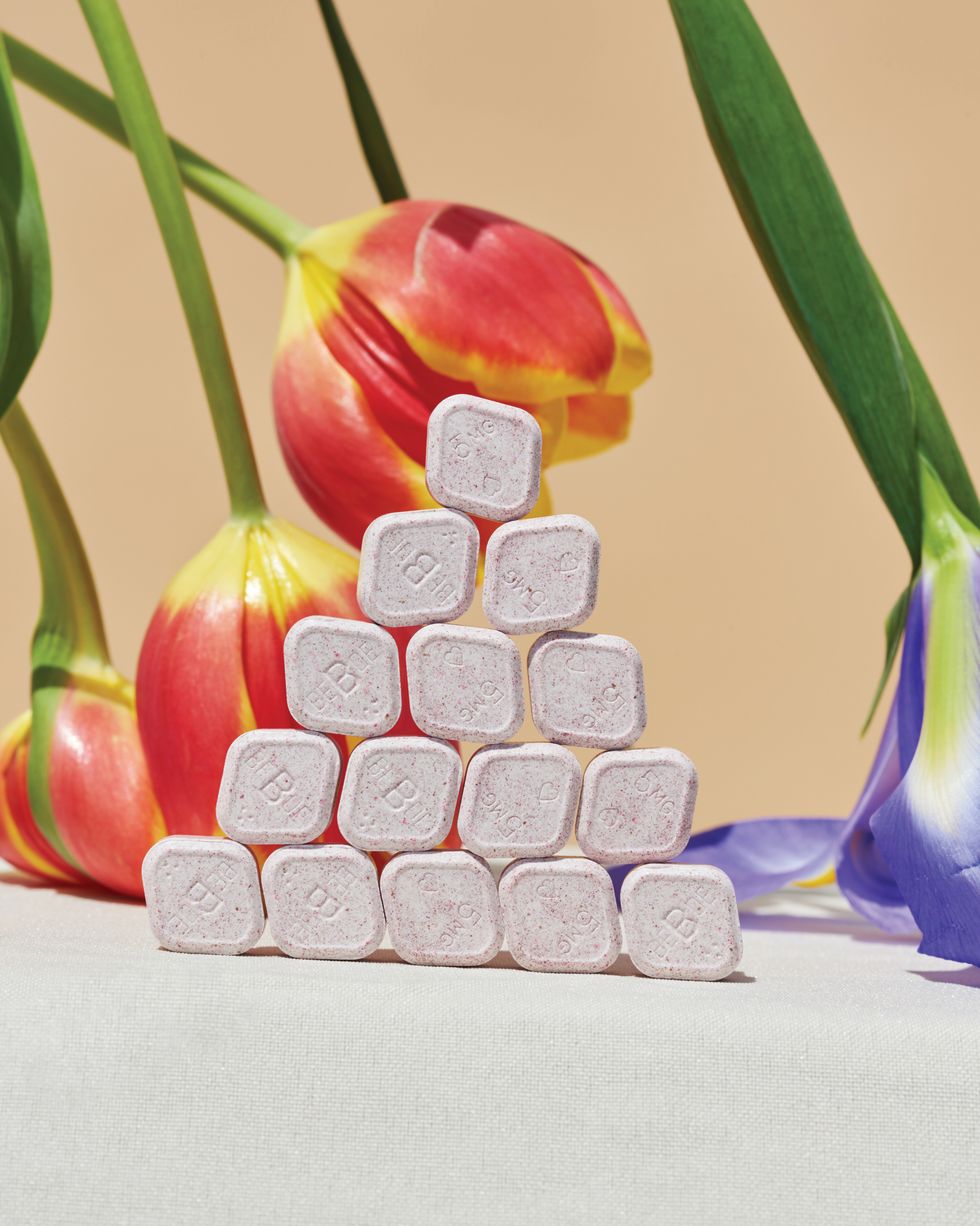 Bell has always been a casual pot smoker. Her first time was at boarding school in Connecticut, when a "kinda punk" guy offered her the chance to smoke with him in the woods. "I remember it was like fall. All the leaves were insanely burnt orange. I was really scared, but then of course I tried it and realized, you know, nothing really happens the first time you try it. So I just had to do what any self-respecting 14-year-old boarding school student has to do and that's pretend I feel something. So I did, and that was the start of my acting career."
A mother of two, Bell consumes weed differently now than she did as a teenager. Vaping is just another part of her lifestyle. "As a parent, I think pot's almost better than a glass of wine. Like a glass of wine, there's something really luxurious. Just the time it takes to get the wine and open the wine and find the glass, pour the wine, chill the wine. With a vape, you take a hit and you're good, you know? Much better for a working parent." She doesn't feel the need to conceal her marijuana intake from her kids like previous generations of stoner parents did. "I don't really hide it. We wait until they go to bed, in the same way. We have a wine company too, Saved wine. We have the wine around and we have Beboe around. It's not mysterious. It's nothing strange or weird or coveted."
Bell is currently working on a pilot called Bless This Mess with her friend, New Girl creator Liz Meriwether. Bell and Meriwether have been friends for years — Bell appeared in Meriwether's first feature, No Strings Attached, and did a guest arc on New Girl. Bless This Mess gives the friends another opportunity to collaborate professionally on a story they feel strongly about. Bell is the star, director, cowriter, and executive producer.
"Both of my movies, In a World ... and I Do … Until I Don't, have a hopeful message in the end. I want to take my indie spirit and inject it into a more universal platform."
"It's about a newlywed couple who are Manhattanites, and the husband gets left a farm in Nebraska. So they uproot and say 'Fuck it, let's do this,' and they move to Nebraska to farm alfalfa. Obviously, it's not the romantic Pinterest kind of existence that they had hoped for. It's more aligned to The Money Pit and Green Acres. The thing they really want to explore is the "kind of culture-clash, fish-out-of-water story that also traverses the territory of the red-state/blue-state culture that seems to be dividing us so much, and maybe we wanna have some way to kind of bring us together a little bit." Bell has personal experience: having moved from New York City to the small town of Vero Beach, Florida, as a teen, she experienced the culture shock of moving from North to South firsthand. It's a dynamic she's been interested in ever since. "In my last movie I Do … Until I Don't, I talked about small-town politics, and the kind of ecosystem of a small town I really am interested in, so that was something I really wanted to continue to explore."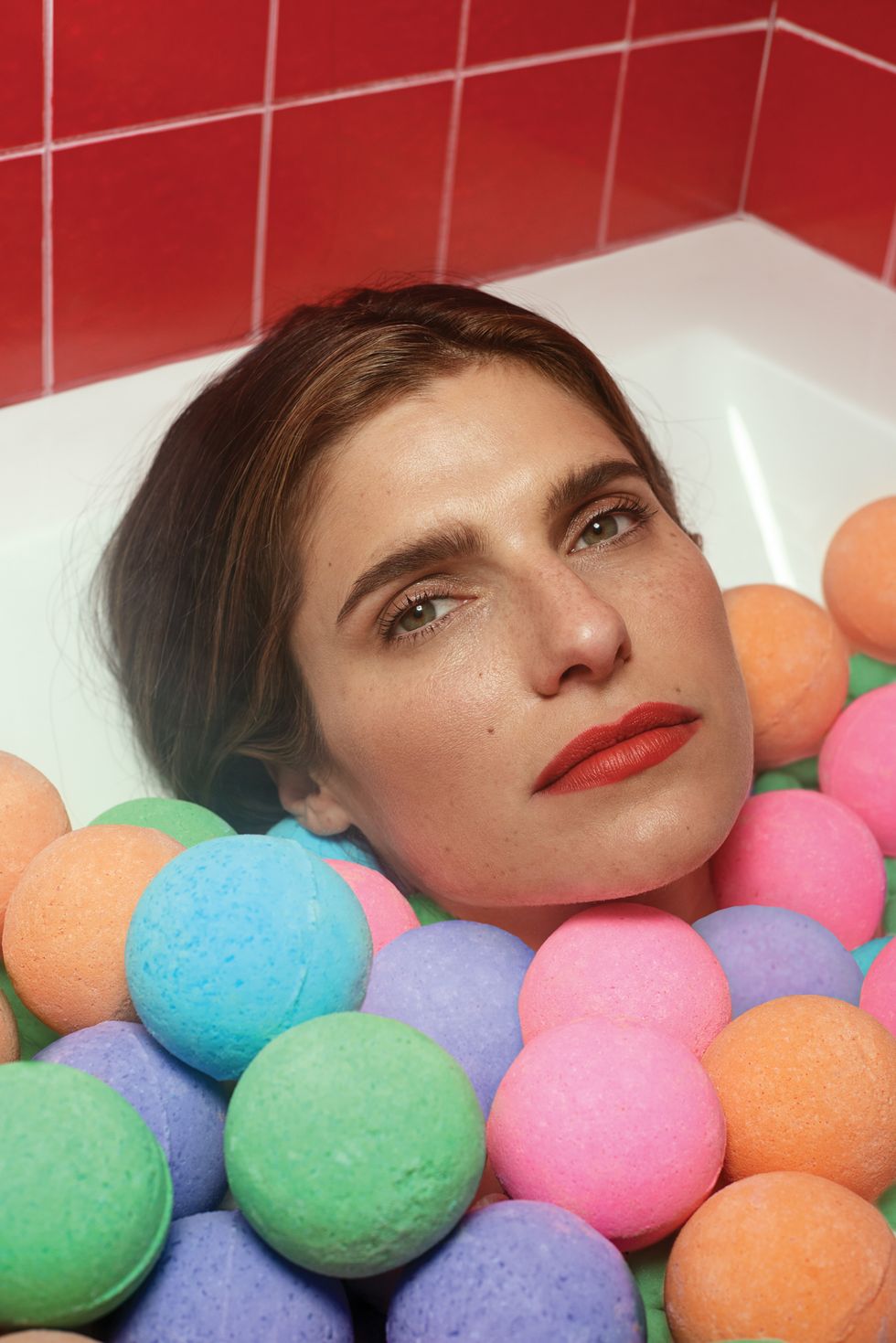 Her memory of the difference between New York and Florida is summed up in an anecdote: "I did not know really what cheerleading was. I remember being immediately rapt by the concept of this cheerleading thing. It really felt like you were in the movies. Because in Manhattan [I went to an] all-girls school. I did fencing, you know? My mom looked up in the yellow pages when she got [to Florida] because she wanted me to continue my fencing. She called a spot, and it was a tiny town. She said, 'My daughter's been doing fencing for about two years now. I want her to continue, she's 12 and she really enjoys it.' The guy was silent on the other line. He says, 'Lady, we sell it by the yard.' And that encapsulates everything."
She admits "I know this sounds very lofty for a little TV pilot, but I think [that through] our characters [we're] looking at the human condition through a lens of kind spirit regardless of politics." Hopefulness is the core of Bell's artistic sensibility: "I like to make content that is of a kind spirit. Both of my movies, In a World ... and I Do … Until I Don't, have a hopeful message in the end. I want to take my indie spirit and inject it into a more universal platform."
As she says so, the crew on set signals that the bathtub is ready for her, and a fog machine spouts a haze through the room that sets the mood. Carly Simon's "Why" plays on the stereo as the photographer shoots Lake smoking in the faux bathroom, looking as cool as any stoner has ever looked. Ordinarily, Bell is a nighttime-only smoker. Wake-and-bake is distinctly not her style. "But I do bake every night before sleep. Is that bake 'n' doze? That does not rhyme." However, today she is more than willing to hit the Beboe pen in daylight for the photo shoot. A few shots later, it's time for the bath. Bell gamely gets in the tub as the crew fills it up with CBD bath bombs. Soon she is entirely submerged, her face popping out from between the balls, smoking and laughing, laughing and smoking.
Throughout: Top & Pants by BreeLayne, Shoes by Tamara Mellon
Still Photography by Sergiy Barchuk