Karl Lagerfeld, king of fashion, is gone, and it's difficult — impossible — to imagine anyone approaching his stature in the industry. Lagerfeld was a workhorse (a Virgo!) with a sharp tongue and outsized personality, an internationally beloved celebrity who owned 300 iPods and a cat with two personal maids. He defined decadence.
In his 2013 book The World According to Karl, Lagerfeld wrote that he was like a caricature of himself. "I like that," he added. "It is like a mask. And for me the Carnival of Venice lasts all year long."
A number of elements added up to the Karl character: the wealth, the glamour, the taste, the wit. But Lagerfeld — like Coco Chanel, the predecessor whom he helped make legend — was ingenious when it came to the creation of a personal uniform. The black suits and leather gloves and low ponytail and omnipresent sunglasses were instantly recognizable, which is quite a smart move for anyone who wants to be recognized. He looked like an 18th century courtier made a baby with Mick Jagger.
Lagerfeld famously said that he lost weight in 2001 (almost 100 pounds, credited to Diet Coke) so that he could wear Hedi Slimane's notoriously skinny clothes for Dior Homme. Post-diet, Lagerfeld wore shrunken suits, tailored sharply as a kitchen knife, with the occasional break for $2,500 leather pants. "I never had one button retouched [of Dior Homme]. It's better than any bathroom scale, huh?" he said in a 2012 interview with French magazine M, as per Fashionista. "Clothes tell the truth."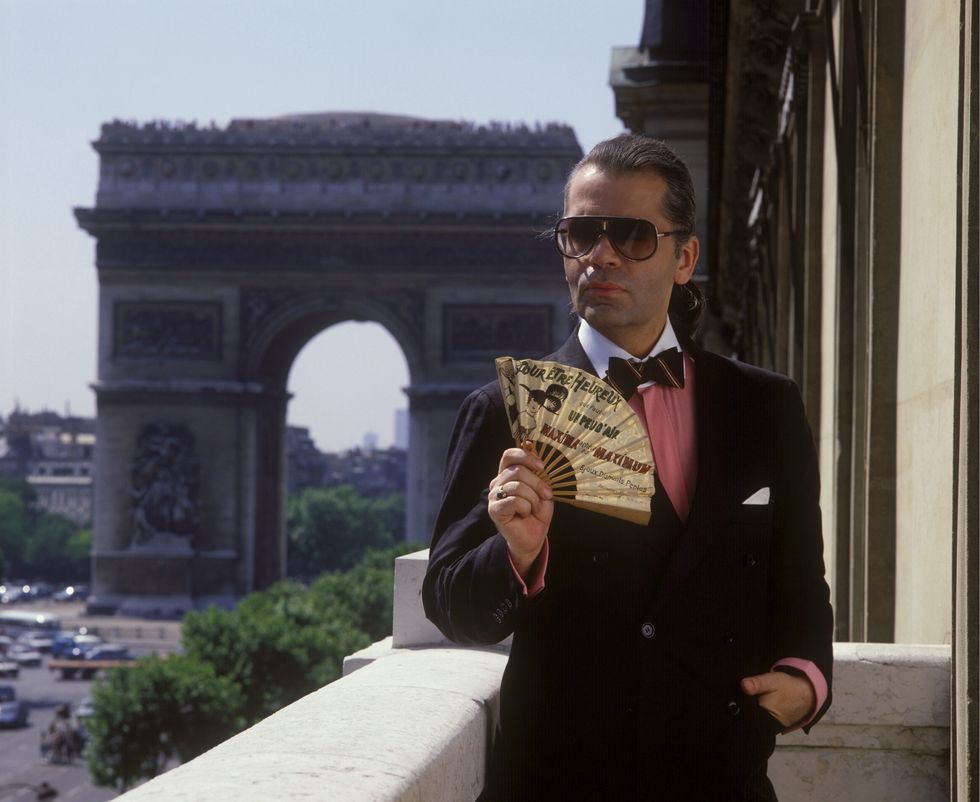 Karl Lagerfeld, portraits in Paris, France in January 1983
In the same interview, he explained that he cut the fingers on both his black leather gloves (which journalist Vanessa Grigoriadis described as "good for murder" in her award-winning Lagerfeld profile) to "make [his] arm longer," adding that in France having long arms means you are "influential." A quick Google of "does having long arms make you influential in France" yielded no results.
Lagerfeld also revealed the secrets of his famous ponytail, colored white with powder like a dandy at Versailles. "When I was tired of the fashion for long, curly hair — because my hair was curly — I started to attach it," he said. "It was in 1976. So that means that I have had the ponytail for 35 or 36 years! Not bad, no? It's the easiest hairdo. I'm not very gifted for hairdos. I don't like gel and all those products. It's perfect with this white powder, because my hair is not that white at all."
"He is also a terrific pop cartoon — a scolding great-uncle, Dave Navarro the elder, the S&M George Washington," wrote Grigoriadis. "His look is an extremely conscious metaphor for his philosophy of fashion and life: Here, watch as I bring together the old, in my tall eighteenth-century collar and bizarre powdered hair, with the new, as seen in my ponytail and $2,500 Agatha leather pants."
In an absurd aside on comedian Nick Kroll's cartoon series Big Mouth, which depicts seventh graders ravaged by puberty, Karl Lagerfeld is murdered by a serial killer attracted to ponytails. It's silly, but also reflective of just what a singular figure he was. If he ever saw it, I think he would have enjoyed it.
Sign Up For The Morning PAPER