The artist behind the wigs, flawless sew-ins, and natural looks for some of the hottest celebrities around is 23-year-old Brooklyn native and certified Slay Gawd Kahh Spence . Turning a hobby into a career, Kahh has toured with R&B star Kehlani, styled for the purple unicorn Justine Skye , Normani Kordei of Fifth Harmony , the boogie down Bronx royalty Cardi B , Jordyn Woods , and so many more.
After the international Sweet Sexy Savage tour with Kehlani last year, Kahh quickly became a hair industry sensation. Fans gravitated to the range of daring looks he crafted on tour which created a lane for the Kahh Spence brand. Embracing the power of social media, he shared tutorials on some of his signature styles and sold out classes and Slay Gawd merch across the country.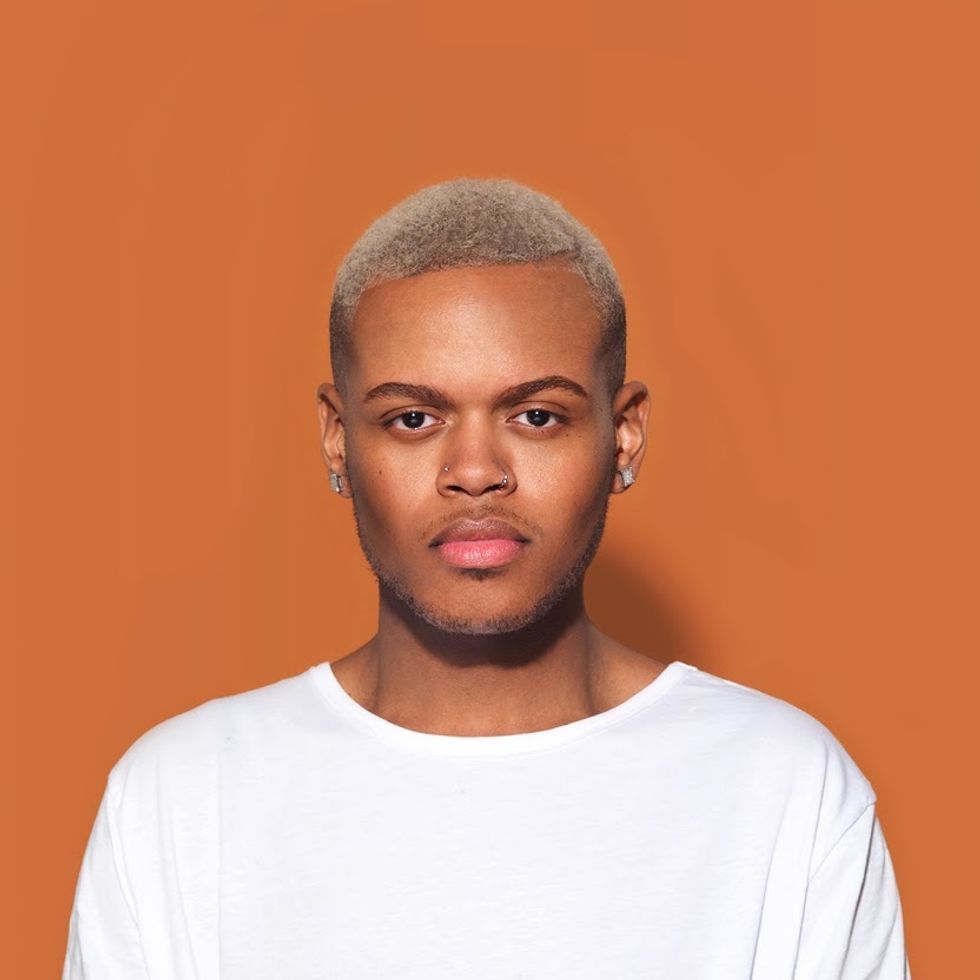 @CherryCollab/Chandler Easley
This season's New York Fashion Week became Kahh's playground for partnering up for his clients' most photographed moments. He was responsible for the leather head wrap Cardi wore front row next to Anna Wintour, the blunt purple cut on Justine Skye and that fierce Kehlani slick back. We caught up with Kahh to learn about life as a celebrity hair stylist in 2018:

When did you start doing hair?

I started doing hair around 14. My aunt had this Mary J. Blige inspiration in mind that she wanted me to recreate, so I did and she loved it. I remember using kitchen scissors, scared I was going to cut the both of us. Prayerfully it came out bomb. From there is where it really started and the rest is history.
Was becoming a celebrity hair stylist always your ultimate career goal?
I'm not sure if I'd say being a celebrity hair stylist was my ultimate goal. My ultimate goal in life was, and still is, to make people feel beautiful through what God's already blessed them with. This life is very fun though. I'm able to create looks for some of your favorite artists, influencers, etc. I never thought any of this would be happening.
What does Fashion Week look like for Kahh Spence? What is the process like deciding what looks to go for during NYFW?

Fashion Week has been interestingly fun and exhausting. I originally came out here for one gig, but then my girls needed me. I've been running back and forth between Kehlani, Justine Skye, and Cardi B, but I've been able to keep them all SLAYED!
Related | Beautiful People: Cardi B Is Still Real
For Justine, we decided to go for a short bob for the week and it was all her idea. I took it a little shorter than she expected, but she's so beautiful she's able to rock anything. For Kehlani, we haven't embraced her natural curls in a while, so I wanted to bring those back out. It's her first Fashion Week and she's just been slaying, but do expect the wigs to make a comeback this week. For Cardi, it's more of a collaborative effort with her team. I'm in love with everything we came up with for her these past few days.
How did you end up on tour with Kehlani? How has working with her and her team been for you?

Touring with Kehlani came about in December 2016. I created a cobalt blue wig for her and she was in love. Next thing I know, I'm sitting on a flight to Montreal for the first stop of the Sweet Sexy Savage World Tour. Literally we were texting as she just announced the tour and says, "You ready to be tour life?" I was in shock and didn't think she was serious at first. It's been the best journey ever. Our relationship has become way more than just client to hairstylist. We've built a solid friendship.
What has been your favorite look you've done so far?

My favorite look I've done so far in my career would probably be the silver look Kehlani did for her Coachella performance. My favorite look for Fashion Week has to be the head wrap look Cardi B did for the Alexander Wang show. I've done so much in my career, its so hard to chose!
Who is your dream client, and how would you style her?
My dream client is definitely Beyoncè. I'd love to do some medium length, beach waves, but in her signature color. She's definitely on my wish list for 2018
What have you found has been the key to your success working in the entertainment industry?
Consistency. Consistency is key. Keep working no matter what is happening. No one is going to care about your problems until you start to become a problem. Another key is humility because as God gives you blessings, he can take them right away.
What's next in 2018 for you?
For 2018, I will be going on a few tours and one of them will be my very own! I am doing a Look & Learn Wig Making Tour in four cities, sponsored by OGX Beauty & Indique Virgin Hair Extensions. Tickets are currently available for purchase at
KahhSpence.com
. I am also a Brand Ambassador for OGX Beauty, so I will be doing a lot of exciting projects with them. I just purchased my first home, so I'm looking forward to receiving all the blessings God has in store for me in 2018, while making my mom the proudest ever in Heaven!
Splash Photo via Instagram