If print is dead, don't tell 8-Ball founder, Lele Saveri, who is gearing up for a week of fundraising events to showcase the 8-Ball Community. The happenings include a benefit dinner, telethon talent show, radio party, and the fifth anniversary of the group's biannual zine fair.
The week kicks off tonight with a benefit dinner at Mission Chinese Food, serving up a membership drive and performances by 8-Ball Community DJs. "We are doing the dinner for cheap," says Saveri, "It's not really for the art gala crowd." Later in the week, on Thursday June 1st, 8-Ball TV will produce a televised talent show and fundraising drive, in the spirt of '80s telethons, hosted at Urban Stages in Midtown Manhattan. Fifteen different talents, from rappers to sword dancers to magicians, will vie for crowd-approval. Space Billiards in Koreatown will play host to the two-day zine fair over the weekend, where passersby can find self-published zines laid out across pool tables, courtesy of 8-Ball's network of friends. From individual artists to political activist groups to more established zine publishers, like New York's Printed Matter, the 8-Ball zine fair is all about inclusivity. On Saturday night, the community radio station will provide the soundtrack at the zine fair afterparty.
8-Ball, a loose knit community founded in 2012, might be best know for The Newsstand, a popup shop in 2015 that offered zines and other print works at a Brooklyn subway interchange. The Newsstand garnered press from the New York Timesand went on to be reproduced at MoMA during the New Photography exhibition. Between zine fairs and educational events, the volunteer-powered 8-Ball community runs a publishing imprint, produces radio and television programming, and manages a public zine archive. With roots in Williamsburg, the group now holds court in the basement of a Chinatown retail shop that's part HQ part hangout. The fundraising efforts are in part to help 8-Ball secure a new space as well as expand the mission. Saveri has ambitions to take 8-Ball in a direction with more emphasis on education and community engagement.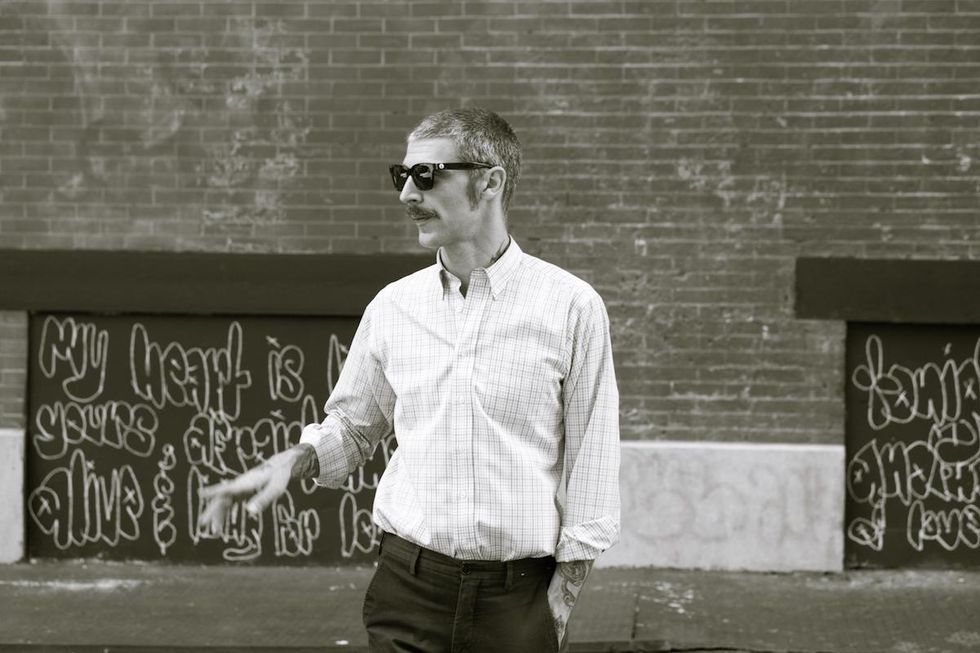 Lele Saveri; Photo by Blaine Skrainka

Saveri, a photographer, former VICE Italy photo editor and Milan gallery curator, grew his affection for zines before the internet came to be. He still sees zines as important to art, despite today's media saturation. "The origins of zines were to showcase art in the cheapest way as possible," says Saveri. "That changed with emergence of blogs and online platforms -- the immediacy of zines were replaced by blogs. But for an artist now, the zine takes the place of a book, which are difficult and complicated and expensive to put together." While you might assume the world wide web to be at odds with DIY print zines, Saveri spins it positively. "We know the internet has a lot of negative sides; we also know that the internet started as a free platform for people to create and share." In that way, he maintains, the internet and zines have mirrored DNA.
Before 8-Ball got going, Saveri felt that many zine fairs were too limited by theme -- art, music, comics, feminist, anarchist -- and he wanted to do something that highlighted everybody in the same spot. This inclusiveness, along with a firm stand against corporate monetization remain part of the ethos at 8-Ball. As brand managers scroll Instagram for the latest influencer, it's easy to imagine 8-Ball's DIY coolness serving as an avatar for retail clothing or a software product (and it's not that there haven't been offers) but Saveri maintains his intentions to avoid making money or working with companies. His concerns aren't simply about the purity of 8-Ball, itself a brand in a way, but hint at a more existential anxiety that he describes in terms of the "scheduling and structuring of society." More simply put, brand support is superficial, he says, it follows trends. "They'll say, we need to find a community or scene or artist that represents the moment. And next season we'll move on. As an artist you get used as a flag to sell products, then thrown away and replaced by the next artist. That's not real support for art."
On the flip side, "people are convinced that, if ten thousand people following me [on social media] I should get money. That's the way our society works. I'm against that mindset." Saveri recognizes the obvious conflicts of staying true in a consumerist society; the 8-Ball volunteer force all work other jobs, corporate or otherwise, but he holds, "If i can, while I can, I'd like to prevent this project from being governed by brands."
The now New York-based Saveri, like a true Italian who grew up in Rome, compares brands to the medieval church. "A lot of artists were supported by the church. Caravaggio was gay, supported by the church, and died in exile!" he says, sincerely, while being quick to clarify that he's not comparing himself to Caravaggio. "At some point, someone just needs to stand against the commercialization."
And so, the group pushes on, against the odds. "It's not a race," says Saveri. "8-Ball is not a scene or community that's trying to be the best at any one thing. We're just try to make the best we can, to make the best effort, and be as inclusive as we can. It's really all about what the volunteers put into it."
Splash photo via

Support 8 Ball Community Inc HERE



--