The current cast of Cyndi Lauper's Tony-winning musical Kinky Boots sees two music stars stepping onto the Broadway stage for the first time. Jake Shears, who's famous for fronting the glam pop outfit Scissor Sisters, has taken on the role of failing shoe factory owner Charlie Price; and Kirstin Maldonado, the Grammy-winning Pentatonix vocalist, has become Lauren, an off-kilter employee who helps Price turn his business around. We caught up with the shining co-stars to talk onstage slip-ups and pre-show rituals.
Who would throw you off if you saw them in the audience? Oprah? Obama? Beyoncé?
Jake Shears: I actually get more excited and energized when there's friends or people I really admire in the audience. What's always thrown me off more than anything over the years, even in concerts, is just a low-energy audience.
Kirstin Maldonado: Definitely Beyoncé. J.Lo! Shania Twain! Ryan Gosling! (Laughs)
What was your most embarrassing onstage slip-up?
Jake: It takes a lot to embarrass me. One of my lines in the show is, "I can't even get Pat to answer my calls," and the other day I said, "I cant even get Pants to answer my calls." It was hard not to laugh.
Kirstin: Instead of singing, "I knew you had it in you," I sang "I knew I had it in you..." Oops!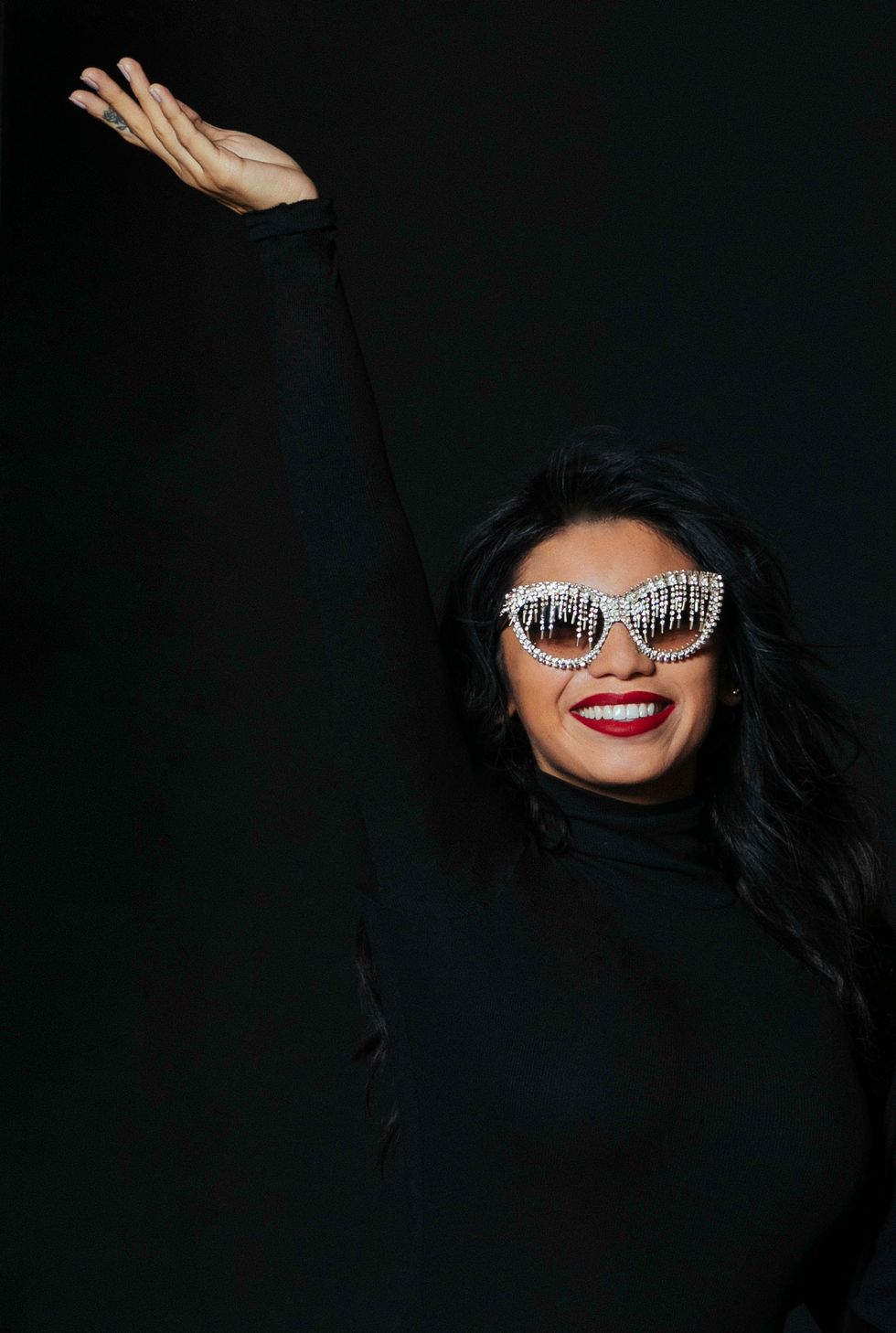 Sunglasses: A-Morir, Turtleneck: Kamperett
Who would you most like to collaborate with?

Jake: Jeff Lynne of ELO. To this day, he's one of the greatest producers and songwriters. His music and production is timeless, and he knows how to make a great record.
Kirstin: James Blake.
What is your pre-show ritual?
Jake: Shower, shave, try to get any cobwebs off the voice. Maybe play a little "Celeste" on the Nintendo Switch.
Kirstin: Drink lots of water and relax.
If they made a musical of your life, what would it be called?
Jake: It would be named after my book, which was named after a Bowie song, "Boys Keep Swinging"
Kirstin: "The history of wrong guys." Just kidding.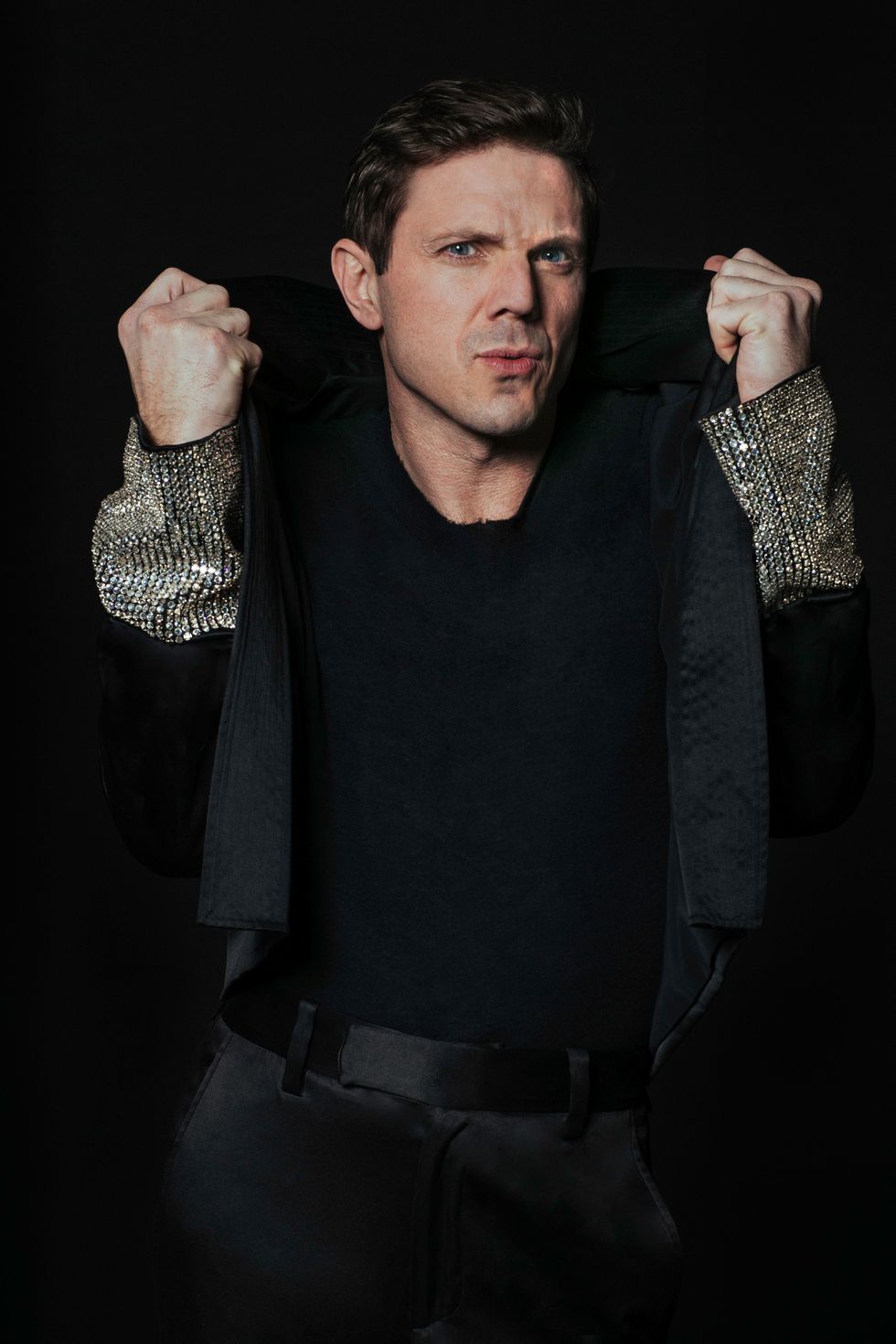 Suit: Linder, Shirt: Zadig and Voltaire
Do you remember the first musical you ever saw?
Jake: I wasn't exposed to a ton of theater when I was a kid, but my mom took me to see the first film version of Annie when it came out. Also the Muppet Movie. Both are still very influential to me.
Kirstin: The Lion King. It was so magical. [But] my favorite musicals are Wicked, Evita and Next to Normal.
What did you think when you were first asked to be in Kinky Boots?

Jake: My first thought was, "Oh my god." Then it was processing whether or not it was something I would actually be able to do. Being on the other side of the stage in a musical was never something I thought was really in my wheelhouse. I always thought I'd just be writing them. So initially, it was doubt.
Kirstin: I was so excited to join such a wonderful family and a show with such an important message. It's such an honor, [and] it's made this Broadway dream I've had since I was 8 even more special.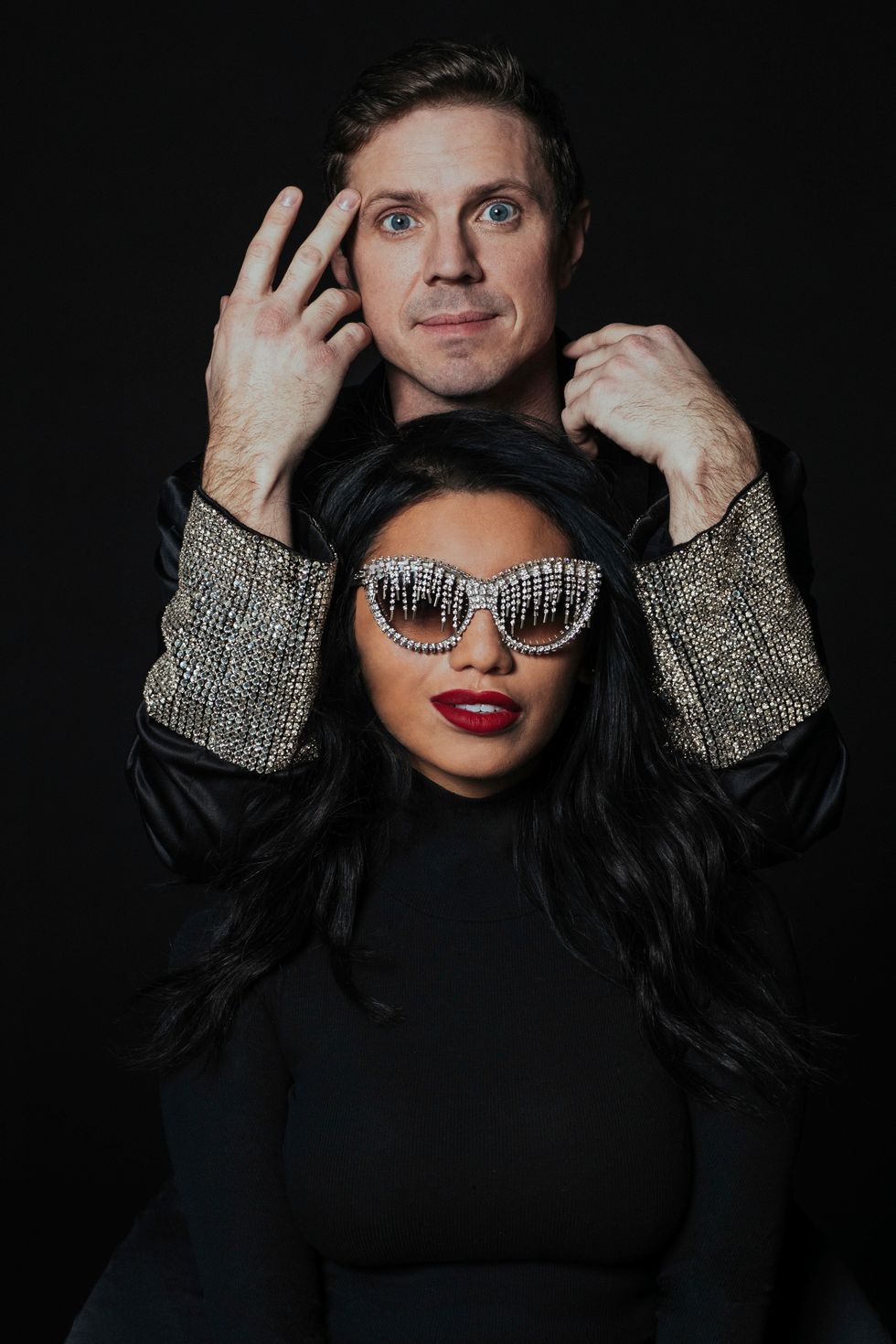 Eight shows every week is brutal. How does it compare to touring?

Jake: They are similar, and both have their challenges. It's nice not to have to travel, but the actual show itself can be a lot more taxing on the body. I can get lost singing a concert. You cannot get lost when you're doing a show like this. The five show weekends are what really push it to the limits. I'm still trying to build up stamina, and I find myself really cashed on a Sunday night.
Kirstin: Honestly touring has very much prepared me for this. Singing a cappella [with Pentatonix] for an hour and a half for sometimes three nights in a row definitely strengthens the cords to handle this.
What's your favorite Pentatonix song?
Jake: "Dancing on My Own." I love how Kirstin sounds on it. It's a really sweet interpretation.
What's your favorite Scissor Sisters song?
Kirstin: "I Don't Feel Like Dancin'"
For more information on Kinky Boots, visit kinkybootsthemusical.com.
Photography: Katie Levine
Photo Assistant: Laura Lemus
Styling: Christina Campagna
Styling Assistant: Lusine Vanyan
Hair and Makeup (For Kirstin): Brandie Hopstein at Opus Beauty using CHANEL Palette Essentielle and Shu Uemera Art of Hair
Groomer (For Jake): Claudia Lake