The Daily Front Row held their annual Fashion Media Awards last night in New York City's Rainbow Room to kick off NYFW. This year, Pose actor and trans activist Indya Moore got onstage to receive the award for Cover of the Year, which went to ELLE Magazine's June issue. But it was Moore's powerful and moving acceptance speech about the Black trans women who were killed this year that had the biggest impact.
After walking on stage to accept the award from presenter and ELLE creative director Stephan Gan, Moore first described the meaning behind the special earrings they were wearing that evening, which were designed by Aree and feature 16 frames of Black trans women who were murdered this year.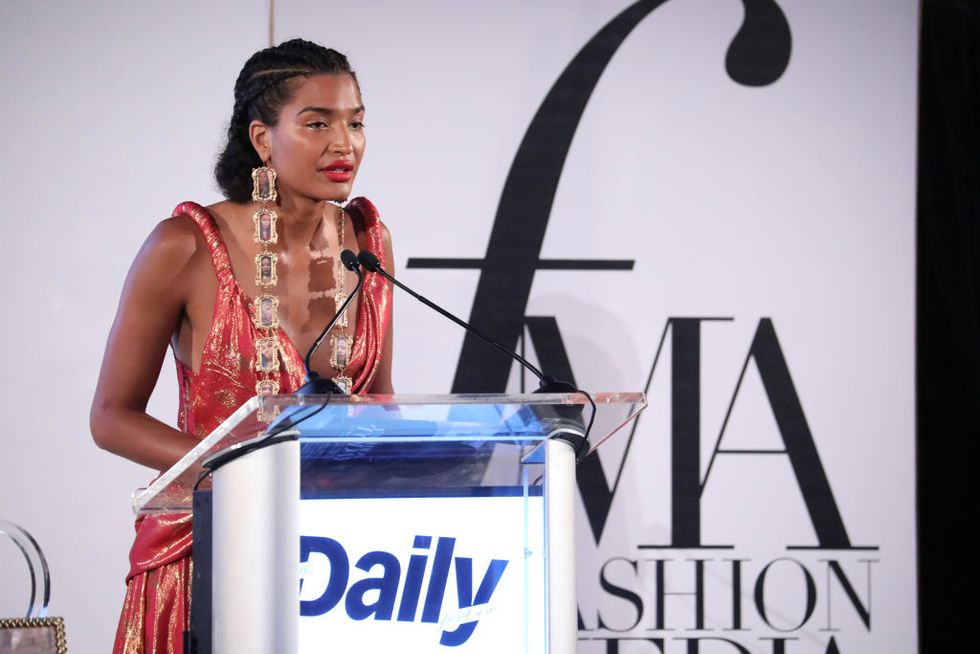 Brian Ach/Getty
"As you all know, or not, I am Black and I am trans, some of you may be uncomfortable with the politics of my speech and I won't apologize for that because my life is politics," they said. "Right now, the Supreme Court, they're voting on whether or not trans people can access employment, shelter, and healthcare in the same ways that you all have access. It's hard to tell I'm being celebrated for being myself in a time where people like me are being murdered for being themselves."
"This year, sixteen known women were taken from us," they continued. "On this day that I'm celebrated and awarded for being visible, I decided to bring them with me, I'm wearing them on my ears as earrings." Furthermore, they carried a clutch with an image of Bailey Reeves, a 17-year-old Black trans girl who was shot to death on Labor Day.
"I'm grieving with her family," they said. "She would make the seventeenth and youngest known Black trans female murdered this year. As predicted, it was too late to include her in the jewelry created by Aree, so I brought her in this picture frame for you all to see. Just like me, these women dared to exhaust their freedom to exist by being visible, however, instead of being celebrated they're punished for it. While we make up 0.6 of the American population, the life expectancy of a trans woman and femmes is 35 years old. That means simply that I may not live past 35 simply because I'm Black and trans. Existence that requires bravery is not freedom. A life that requires bravery is not free."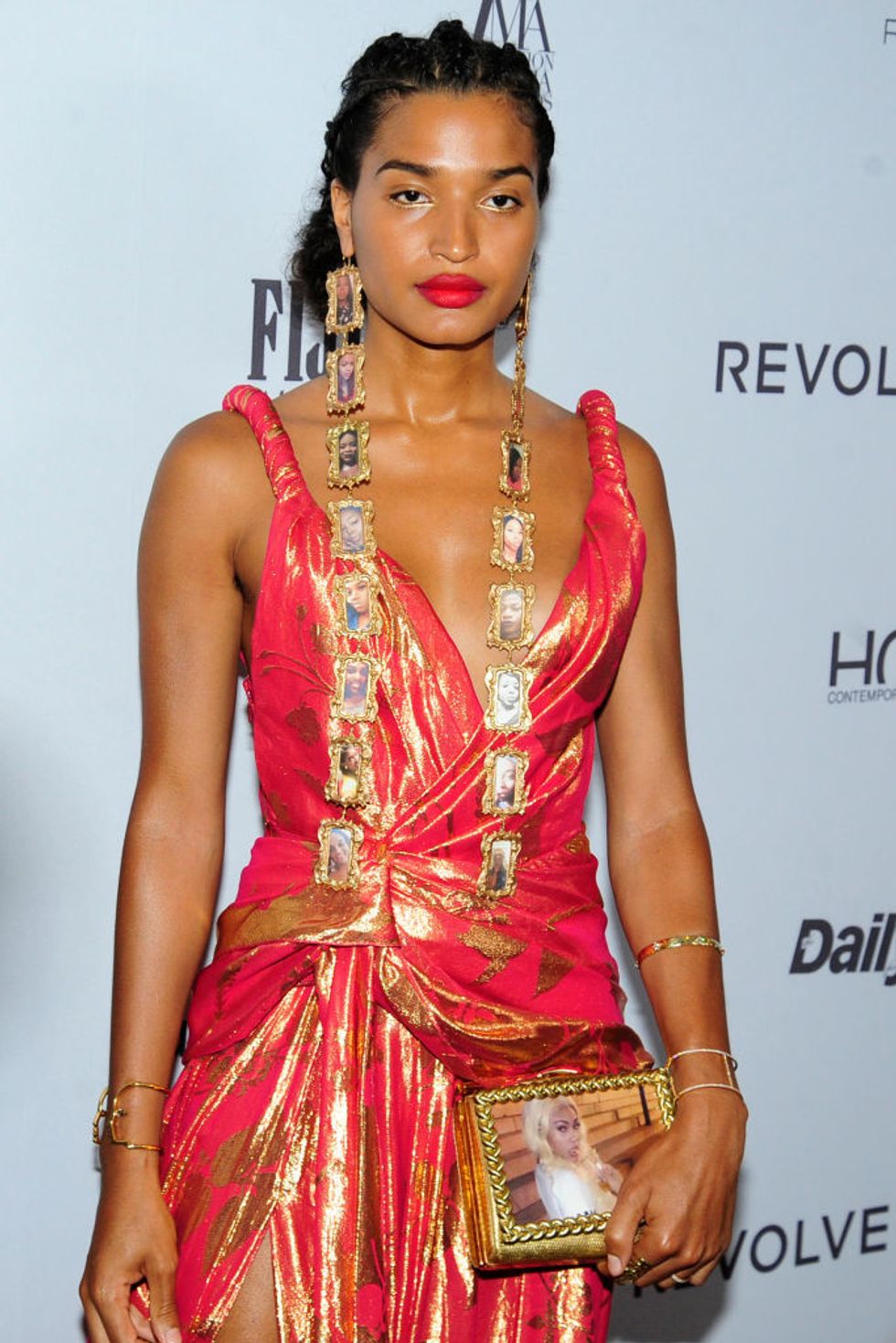 Paul Bruinooge/Getty
"I accept this award in honor of the truth, the best award and the award that we all deserve is to be able to get home safe," they added. "I accept this award in good faith that my recognition doesn't lead to the erasure of other trans and GNC folks who also deserve healthcare, housing, safety and visibility, magazine covers, runways, leading film and TV roles, doctorate degrees, high school diplomas, college educations, and families, lovers, and representation everywhere and in every space, each and every one of us and everyone that we know; our families and friends occupied."
Afterwards, the entire room gave Moore a standing ovation, applauding their words that touched everyone and were felt throughout the night.
Other winners announced that evening included Zendaya for Fashion Force of the Year, Kate Moss for Style Icon of the Year, and Halima Aden for Breakout Model of the Year. Vanessa Williams, Tommy Hilfiger, Ashley Graham, and Tan France were among the celebrities at the star-studded event. Comedian and TV personality Graham Norton acted as the evening's host.
Photo via Benjamin Lozovsky/BFA.com