With all the grace of a gazelle and gale-like force, a Bronx beauty disregards her perfectly-pinned copper curls, battling her constrictive beaded dress and teetering heels, to leap, fists flailing, to defend her kin and co-star against a common threat. While her older sister might claim to be regular, degular and schmegular, you better believe Hennessy Carolina is anything but.
Exhibit A: how many 22-year-olds have parlayed a reality television stint — fights and all — into global fame, social media stardom, a film career and fashion line, all while proudly owning their queerness? As far as we're aware, there's only one.
Carolina, the Love & Hip Hop-alum, budding actress, evening wear designer and family to rap sensation, Cardi B, has been not-so-quietly waiting in the wings for her turn in the light, and now she's shining brighter than ever. If the young star can bravely come out to her traditional Caribbean family, there's no telling what's next for her (literally, almost all of her projects are yet to be announced), but rest assured we are well in the grips of a Hennaissance.
PAPER caught up with Carolina to talk fame, reality TV and sexuality.
You and Cardi B catapulted to fame so quickly. How has it been navigating all of this?
It's good, it's really a blessing. There are certain things to it, like you can't have an opinion sometimes, and some people don't agree with you. Other than that, it's just a blessing.
Is it largely because of social media? Millions of people watching your every move?
Yeah, it's the social media thing for sure. But it's fine, I'm just learning to be myself and not worry about what anybody has to say even if I express how I feel.
Related | The 10 Best Lines From Cardi B's 'Invasion of Privacy'
It's ironic because people initially fell in love with you and Cardi because you were so unfiltered. To have that honesty, especially in a world that's so calculated, is refreshing.
Yeah, for sure. Everyone feels that they have to have this image and hide themselves. They want to be so perfect so badly for the public that it's not even reality. You're not even really living your life, you're living it for somebody else. Some people act a certain way because they are worried about society. I act a certain way just because I'm living my life. I don't worry about anybody.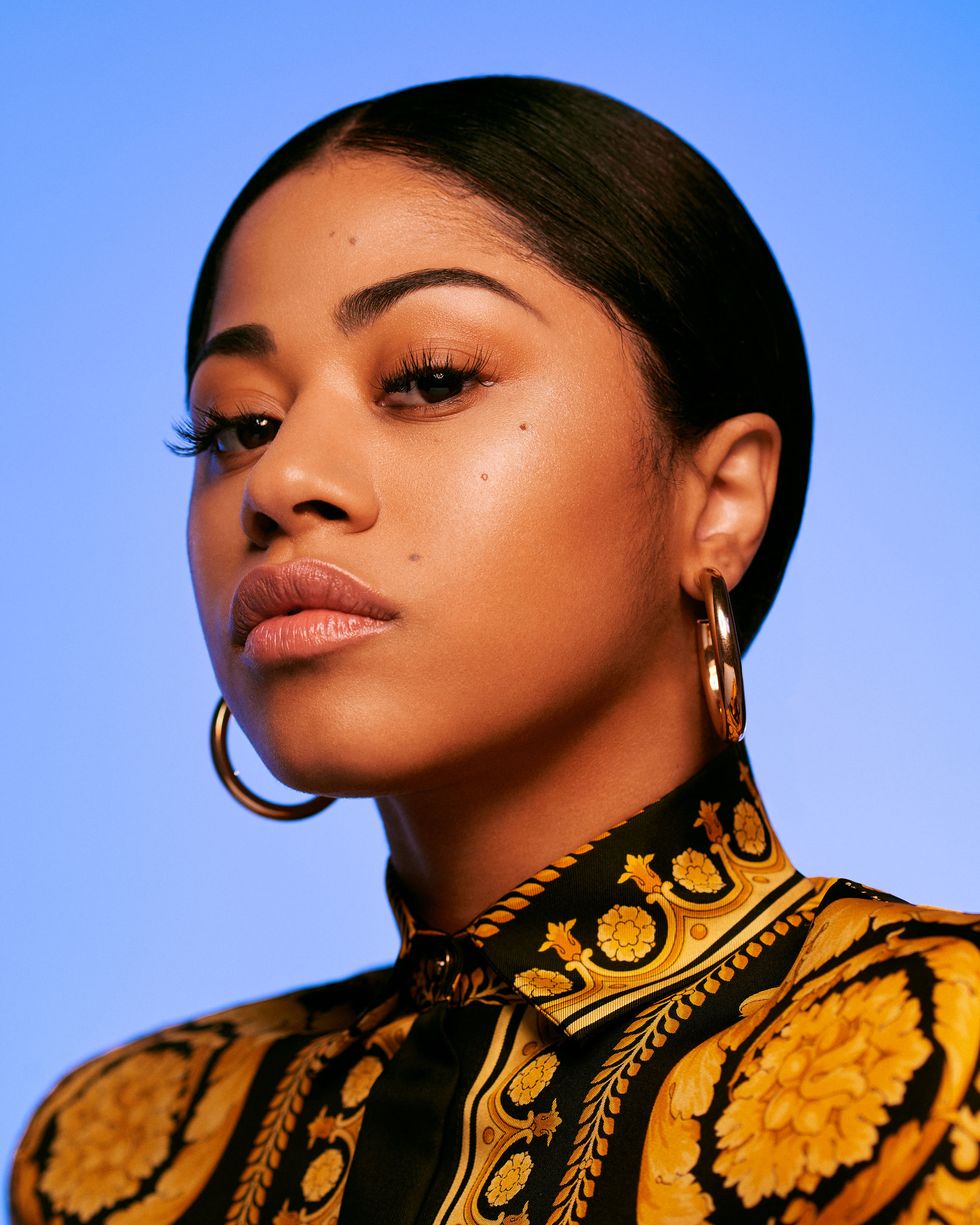 Shirt by Versace, Earrings by Jennifer Fisher
Did you predict the fame?
I don't want to [say], "Yeah I seen it coming," but I did see it coming. My teachers used to tell me all the time, "One day you're going to be famous. Make sure you come back, don't forget about me when you make it." People would tell me, like teachers with their masters degrees. When people who are very intelligent are telling you that, it's like "Oh my God are you for real?"
I read that you were nervous to go back to TV, why is that?
To be honest, TV can portray you in whatever way they want to portray you. Let's say if you're speaking about certain topics, they can switch it up and make it seem like you're speaking on something else. TV is really tricky and a lot of people judge.
It's really taking the control out of your hands.
Yeah, but it depends on what type of shows. If it's a show about drama, I don't want to do it. If it's a positive show, I'm fine. I'll just be myself and it will be fine.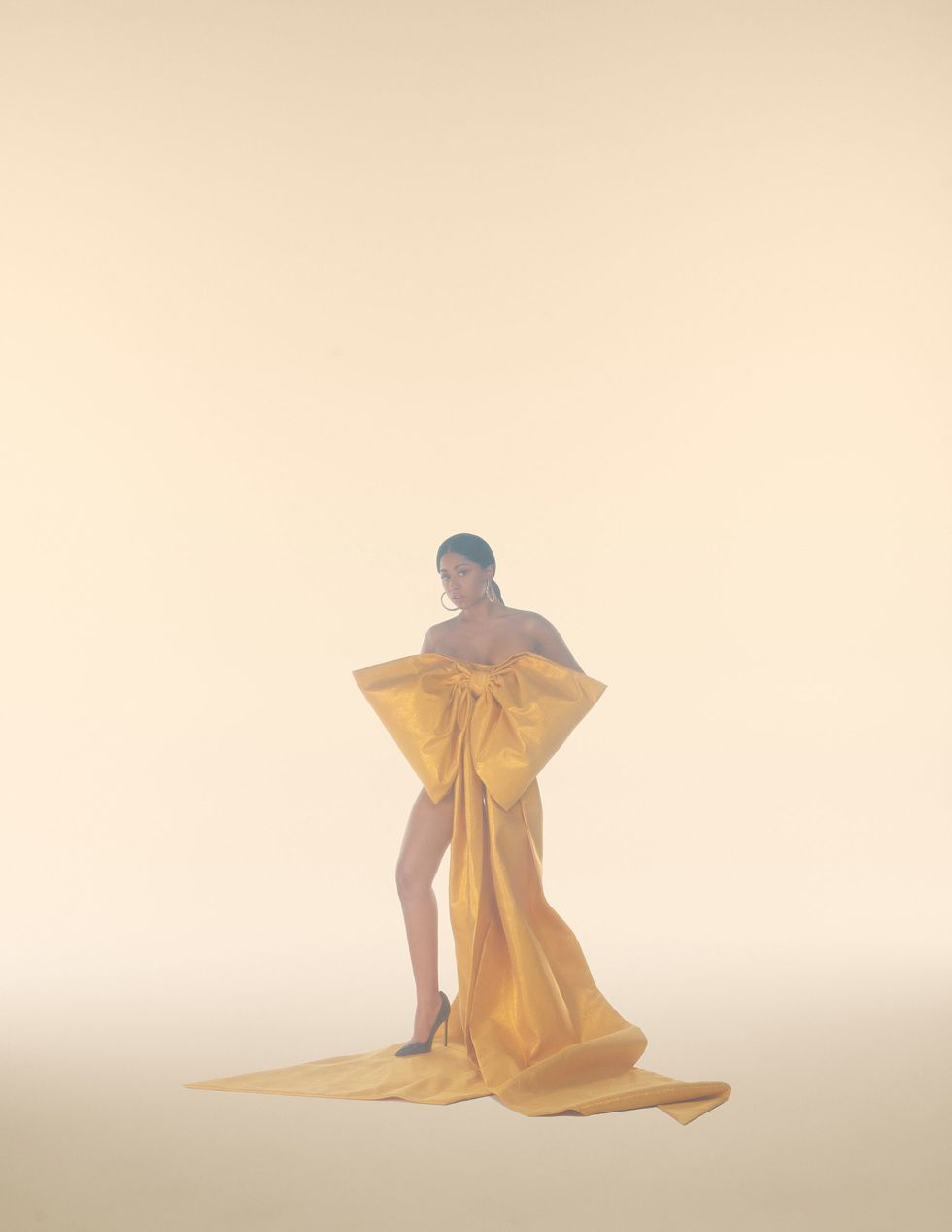 Bow by Moschino, Shoes by Manolo Blahnik, Earrings by Jennifer Fisher
It can do so much for you, but then you get put in a box. You really have to fight against the former reality TV star stereotype.
The thing about reality TV is there's a lot of drama. So, I was just focused on having no drama.
So when something happens like the fight on the reunion, do you go to producers and ask certain incidents to be cut or is it more a case of, "You know what, I did what I did and I'm proud of it."
No, I wasn't proud of it at all. That's nothing to ever be proud of. What I did at the reunion... first it was personal beef and she was just lying for the camera. People become actors when the cameras turn on, people are liars. And second, we had a real personal problem with her and the fact that she got on camera and lied... so I just did what I did because I got pissed off. I'm from the Bronx, I'm from the hood, so when somebody talks about fighting you will fight back. I really didn't have to say anything to the producers, I just didn't want that to represent me as a person.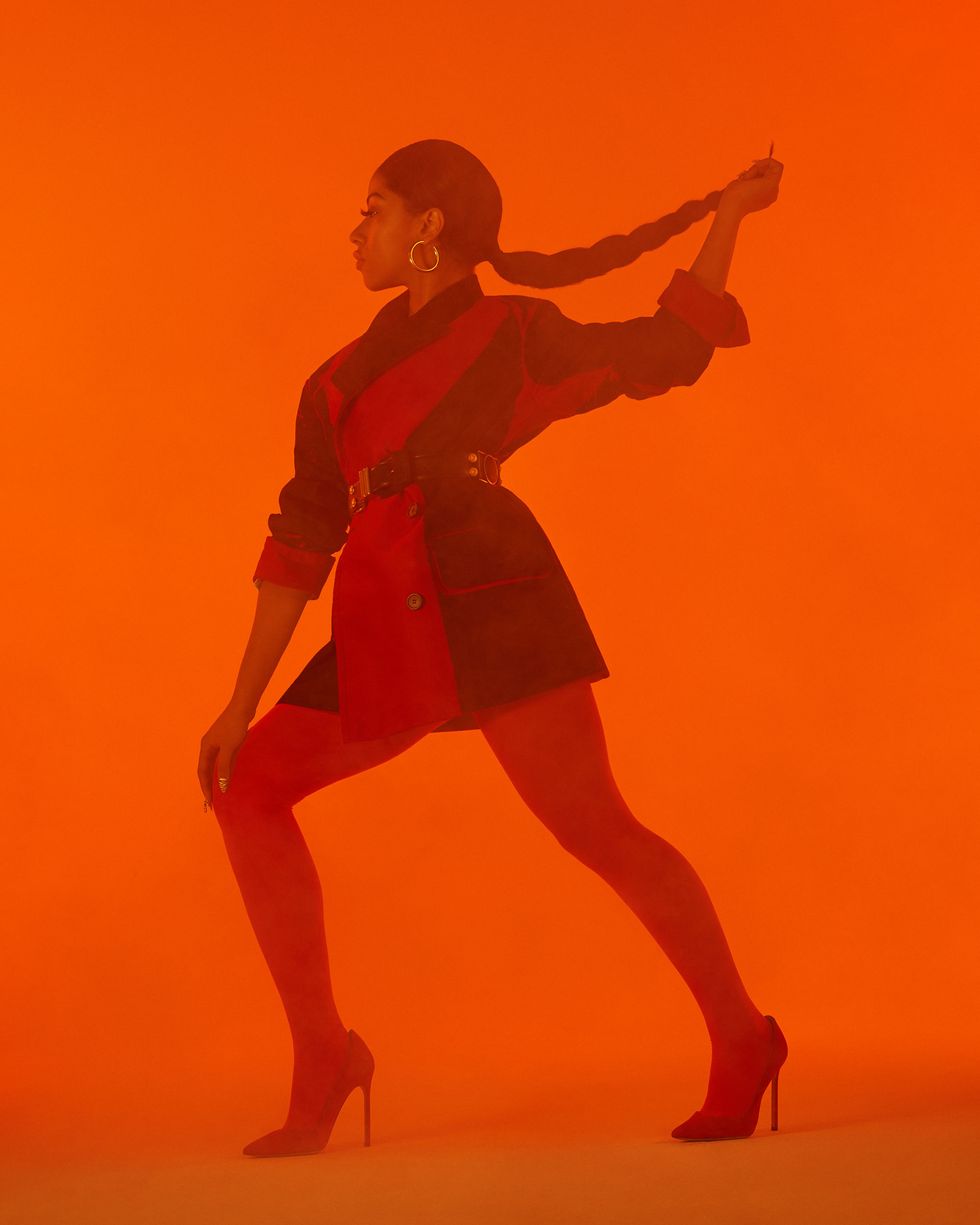 Blazer by Prada, Belt by Versace, Shoes by Manolo Blahnik, Tights by Falke, Earrings by Jennifer Fisher
You're also protective of Cardi, which is really beautiful. I remember you responding to Azealia Banks, and defending your sister.
We grew up protecting each other, so it's just natural. We only had each other, so that's all we know. When someone is coming at her, that's just the natural thing to do. But how do I handle it after? I'm just learning to let people have their opinion without taking it personal. If I pay attention to what they say I'm going to be mad — upset all day.
Is Cardi like, "Simmer down, it's chill," and holding you back?
What we tell each other, is let's not pay these haters no attention. But it's hard because we really have big hearts. We would not want to hurt nobody else, and we wouldn't want to talk about nobody else. So, we get really sad when somebody says something mean to us because we're really good people and we have really good hearts. It just really hurts our feelings. So we just learned to let people just talk, let them have their opinions, and not take it offensive. Don't let that mess up our minds.
Related | Beautiful People: Cardi B Is Still Real
You went with Cardi to the Grammys. What're your thoughts on the Grammy president saying women need to "step up" if they want to compete with men?
Us women do everything. Do you know what women are capable of? We can carry a child. People don't even understand we can see the world in a whole different way. You know what... don't even get me started.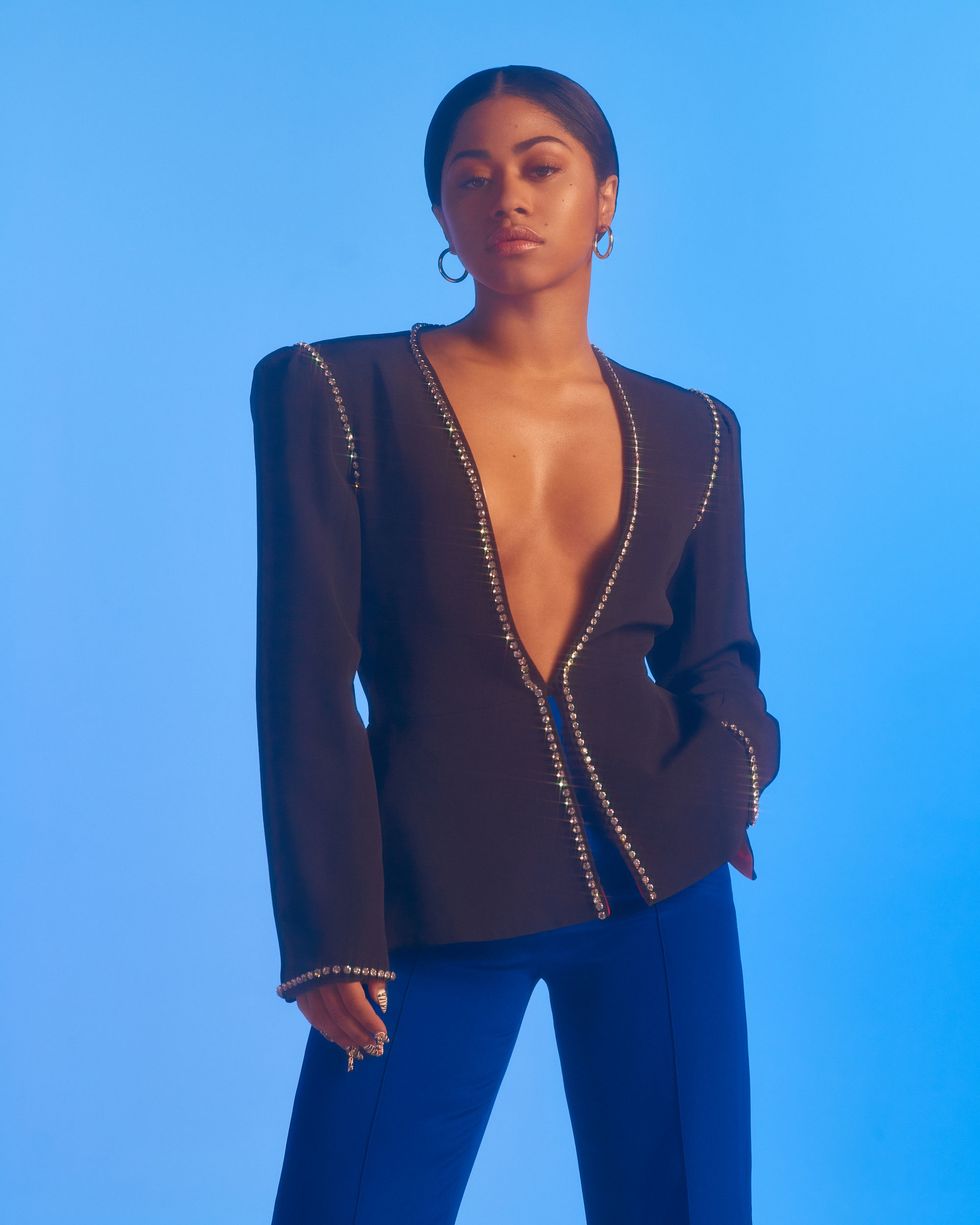 Suit by Gucci, Earrings by Jennifer Fisher
Cardi just twerked on stage like, seven months pregnant. What male rapper do you see doing that?

Right! Why do people always make it hard for us women? I think we represent breaking down barriers and doing everything that they said we couldn't. We're just proving to these men that we can do everything they think we can't do. It doesn't matter if you're stronger than us physically. We can still get everything that you can get done, plus more. They are going to eat their words very soon.
How was dealing with your sexuality and coming out, as a woman in the public eye?
Well, it was kind of hard because my mom is Caribbean and she didn't really accept it at first. It was really hard because growing up people always made it seem like you have to be with a man. But God wouldn't want people to not love each other. So why do I have to listen to what other people want? Like why would God be afraid that two people of the same gender love each other? Why do I have to be with a man because you feel like that's what I'm supposed to do? That's not what my body wants. That's not what my heart wants. That's not my happiness. I taught my family and they actually became accepting because I sat them down. I spoke to them, and told them what it is and how life works.
How did they react?
They actually started accepting us, and accepting my girlfriend. Sometimes everyone would be a little weird about it, but then they would just see like, "Oh my god, this is love," you know? We've been believing this is the way things are and it's not — that's just rules that been put on us. But now I feel free and now I just try to spread the message as much as I possibly can. Love is love no matter what gender.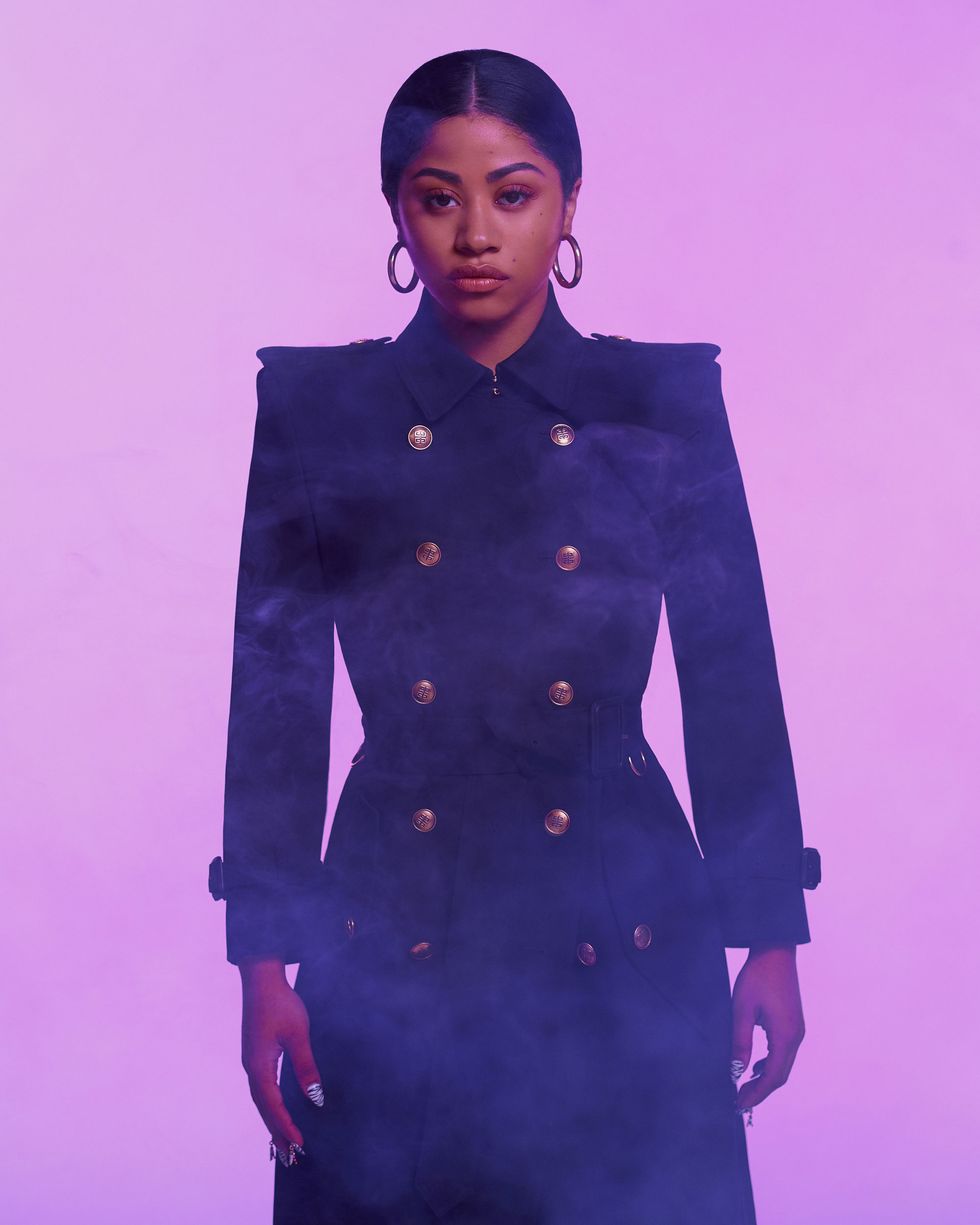 Trenchcoat by Givenchy, Earrings by Jennifer Fisher
People didn't know until they saw it.

I didn't even know until I saw it. That's my point. Like when I was young, I didn't know. Like when I used to look at girls and be like, She's so pretty, but like let me look away. What the hell am I doing? I was trying to hold back my feelings but then when I grew up and realized like no this is what it is, like how am I going to stop myself from liking a girl? That's not possible. How am I going to stop my feelings? I'm not a devil's child, why would you think it's a sin? It's not a sin.
It's 2018!
Right, it's 2018. And you know what? People like that they have weird fetishes. They like to suck toes, and look at butts... people have weird fetishes out there, and it's like no one's judging you about your weird fetish. And this is not a fetish... loving someone who's another gender is not a fetish, but it's like they have their certain preference to what they like, so why do I have to limit myself? You can like what you like and I don't judge you on it.
You're becoming an LGBTQ icon.
[Screams] Oh my god, you got me excited. I'm so happy I'm actually spreading awareness because you don't understand, my family is Caribbean — they do not like that. They do not play like that. My mom, she did not play with that. And I opened up her heart, I opened up her eyes and she's now so accepting about it, and even her family is accepting now.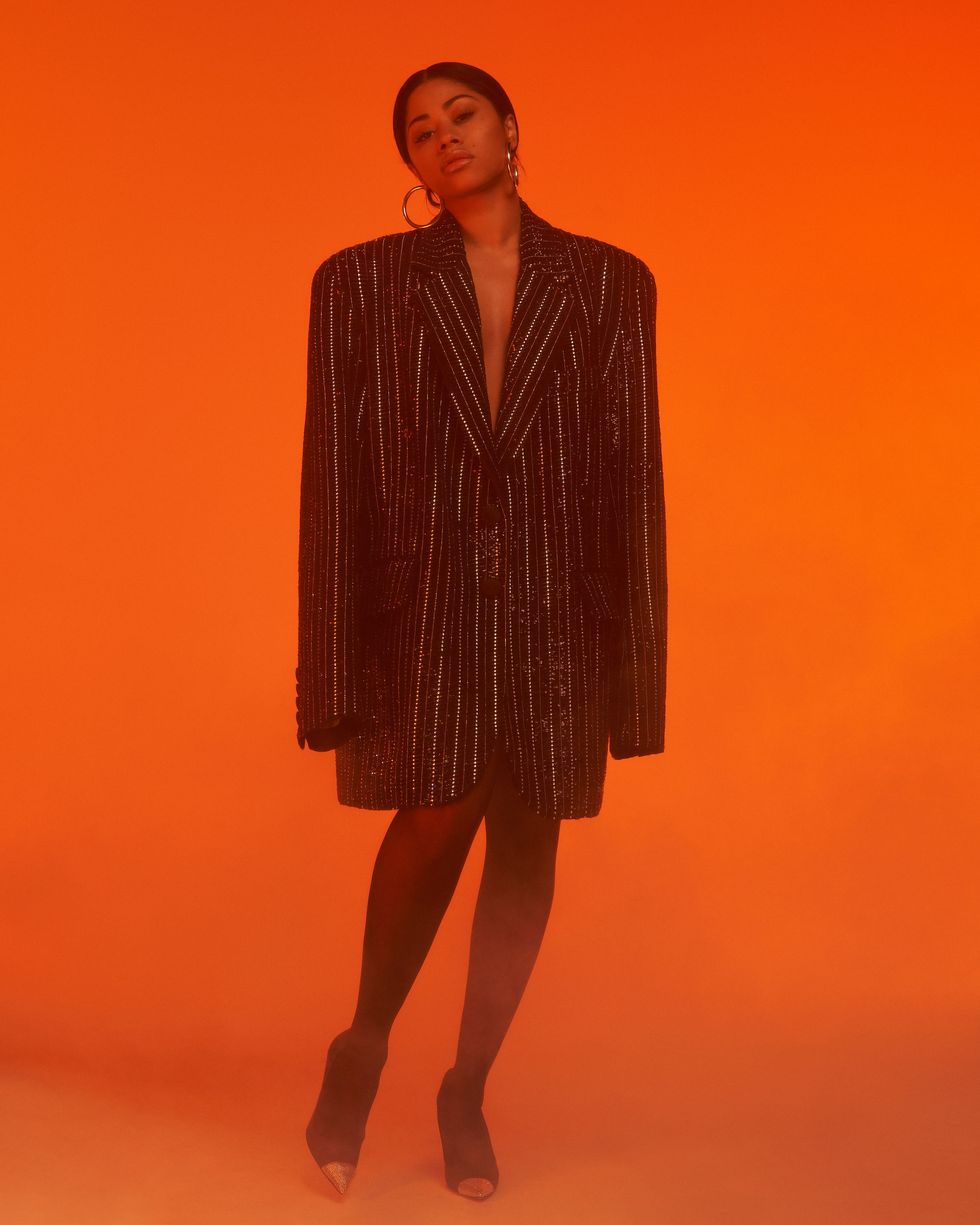 Blazer by Marc Jacobs, Shoes by Tom Ford, Tights by Falke, Earrings by Jennifer Fisher
Are you going to do something for pride? You have to be on a float.
You think so? I'm with it. I want to be on it.
Although you also have so much else going on...
Thank god, the Lord Jesus Christ. Some fashion, TV, and some movies coming up. So that's what I'm up to right now. I have my clothing line right now. I was going to release it for the Fall 2018, but I'm just going to release it in 2019 because my sister is having her clothing line come out Fall 2018, and I don't want it to come out at the same time.
Is there pressure to not step on Cardi's toes?
I'm just doing what's smart. I always support her no matter what, so if she wants to drop it, fine. I'm her sister, so if I got to push my thing back I'll push it back. We're always looking out for each other. That's not even a problem for me. Everyone thinks I should be an actor. Everyone really wants me to act and I'm just like, Sure I'll try anything. Nowadays I'm really just trying to live my life.
Hennessy takes Hollywood.
Yeah, that sounds good.