Helmut Lang's ongoing Artist Series has given us collaborations with Keizō Kitajima and Walter Pfeiffer, and now the brand has launched yet another — this time with New York City photographer Peter Hujar.
A revered artist in 1970s Lower East Side, Hujar was often grouped alongside Robert Mapplethorpe, as the two documented a sexual revolution within the gay rights movement. They lived within a 10-block radius of each other, and photographed intimate black-and-white nudes, focusing specifically on LGBTQ people.
Hujar's work famously positioned erotic subject-matter in a high-brow context, from full-frontal male nudity to close-up portraits of individuals in lust. He notably photographed Andy Warhol superstar Candy Darling at Columbus Hospital, just six months before she died of lymphoma.
Related | Helmut Lang Collaborates with Japanese Photographer Keizō Kitajima
"Hujar's pictures are highly emotional, whilst stripped off excess," the brand says in a statement. For their Artist Series launch, they've specifically highlighted three black-and-white portraits from Hujar's orgasmic man series. The photography "is a testimony of his unique exploration of beauty," they add.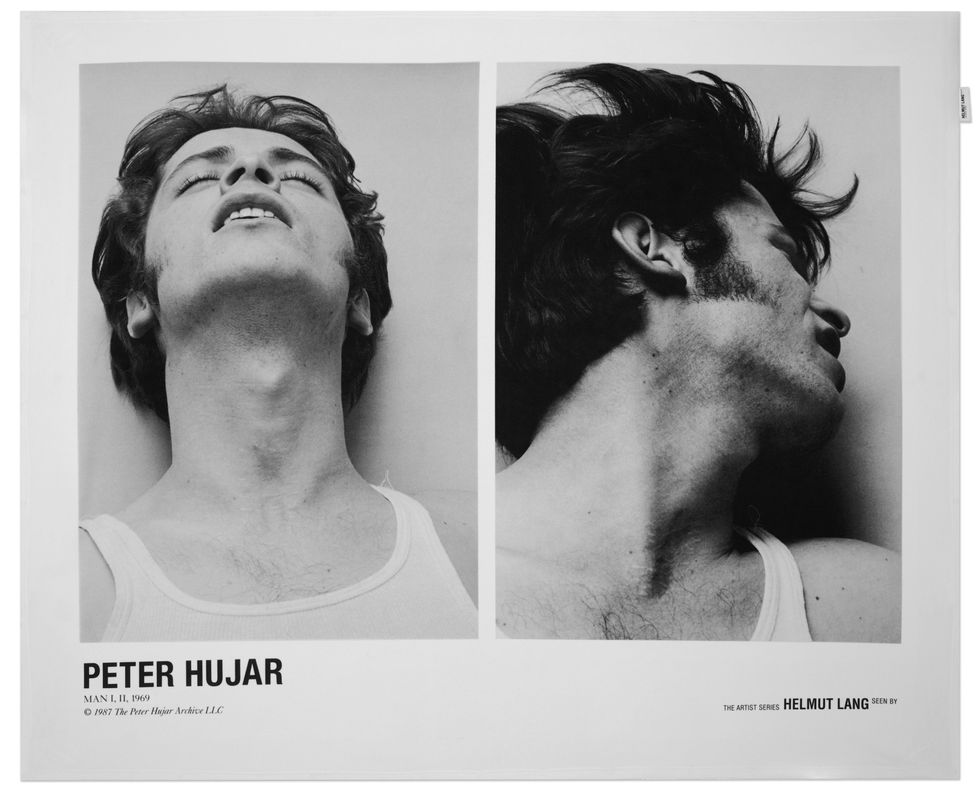 Fifteen percent of all profits from the capsule collection will be donated to The Elton John AIDS Foundation (EJAF).

After Hujar died of AIDS in 1987, he left his estate to author Stephen Koch, who explained the images more on Helmut's site. "Peter believed that photography should be about the connection between the viewer and the person photographed," Koch says. "He wanted, always, some level of intensity. A remark Peter made was 'The sight of naked flesh for me is like a physical blow.' He always thought that nudes were an appropriate subject."
For more on Helmut Lang's Peter Hujar release, visit HelmutLang.com.