Nobody costumes queer nightlife quite like Eda Birthing, the Chicago-based designer using fashion as a means to build colorful, otherworldly characters. Her latest project is a collaboration with rising queer production company Bitchcraft, who Birthing worked with to create a campy short film, called Glimmer of Us, directed by Aliya Haq.
The video features some of the greatest Chicago drag performers, including Abhijeet, JforPay, Kenzie Coulee, Khloe Coulee, Lucy Stoole, Siichele, Ramona Slick, Denali, Pangea and Dalton Rhodes. Birthing herself also makes a cameo wearing her own designs, rounding out this crew of larger-than-life personalities.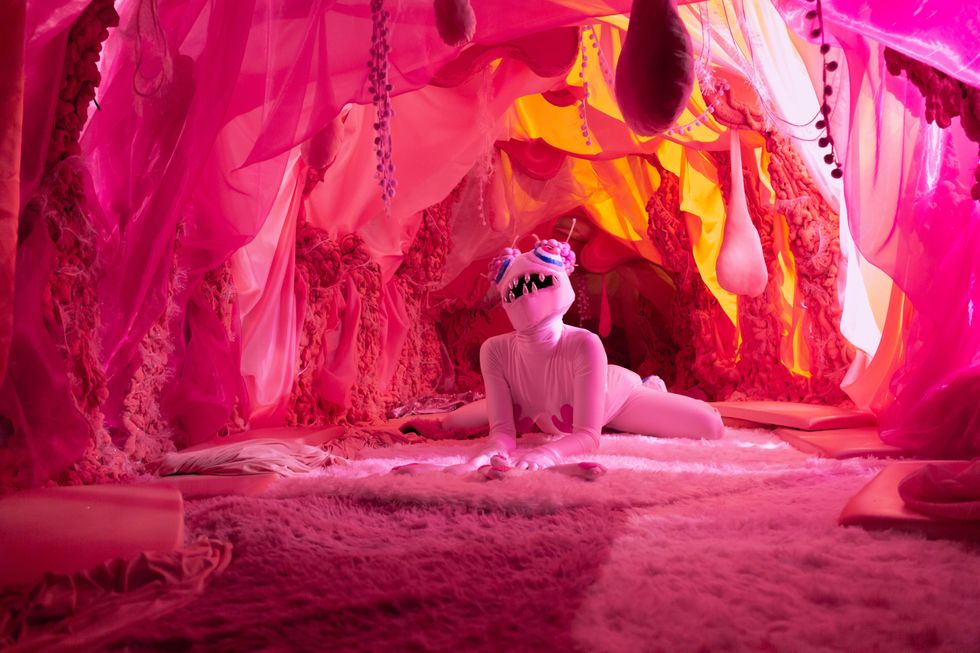 "I think it was fascinating how true [Glimmer of Us] was to the testament of what Bitchcraft is,'' Bitchcraft producer Saro Melero Bonnin says. "We were able to merge our fantasies and put together a project for Eda, who has been our dream client since the start."
Glimmer of Us, which features illustrations throughout by Zoe Pham, tells the story of an innocent creature entering the world from a pink womb-like environment. At first against its will, the creature is forcefully birthed out and greeted by all the welcoming queens, who're clapping and smiling upon its arrival.
Like a twisted episode of Teletubbies, where PBS Kids meets poppers, the fashion film continues to unfold as a queer life lesson. We watch the creature sheepishly learn from these mentors — on stripper poles, in corsets and giving full faces of makeup — until it finally joins in on the chosen family fun.
"This world put our collective knowledge to the test," says Bitchcraft's in-house designers Rachel Cole, Kaden Jase and Alexis Vergara, who used materials like foam, fabric and 12-foot wood flats to build the Glimmer of Us set — a testament to the DIY mentality that holds Chicago's queer performing arts community together.
Photos courtesy of Eda Birthing