With the close of men's fashion month this week (London, Milan, Paris, St. Petersburg!) we recount the highs (and sighs) that bore out over the fashionable weeks. From disco dandies to #dadcore, there was hardly a dull moment in les capitaux de la mode so herewith the heady highlights:
Gosh-A-Go-Go
With a mix of 90s rave and footballer kits on the runway, the Russian phenom Gosha Rubchinskiy drew the fashion crowd to St. Petersburg for one of his most articulate and dynamic shows to date. A collab with chav OG Burberry (Creative Director Christopher Bailey sat front row) and head pieces by renowned milliner Stephen Jones, the show for Spring 2018 had a strong anglo bent—though more Trainspotting than Saville Row. St. Petersburg has been the portal to the west for Russia since antiquity and Rubchinskiy continued that ideal in glorious and modern style.
A Twin Peaks Experience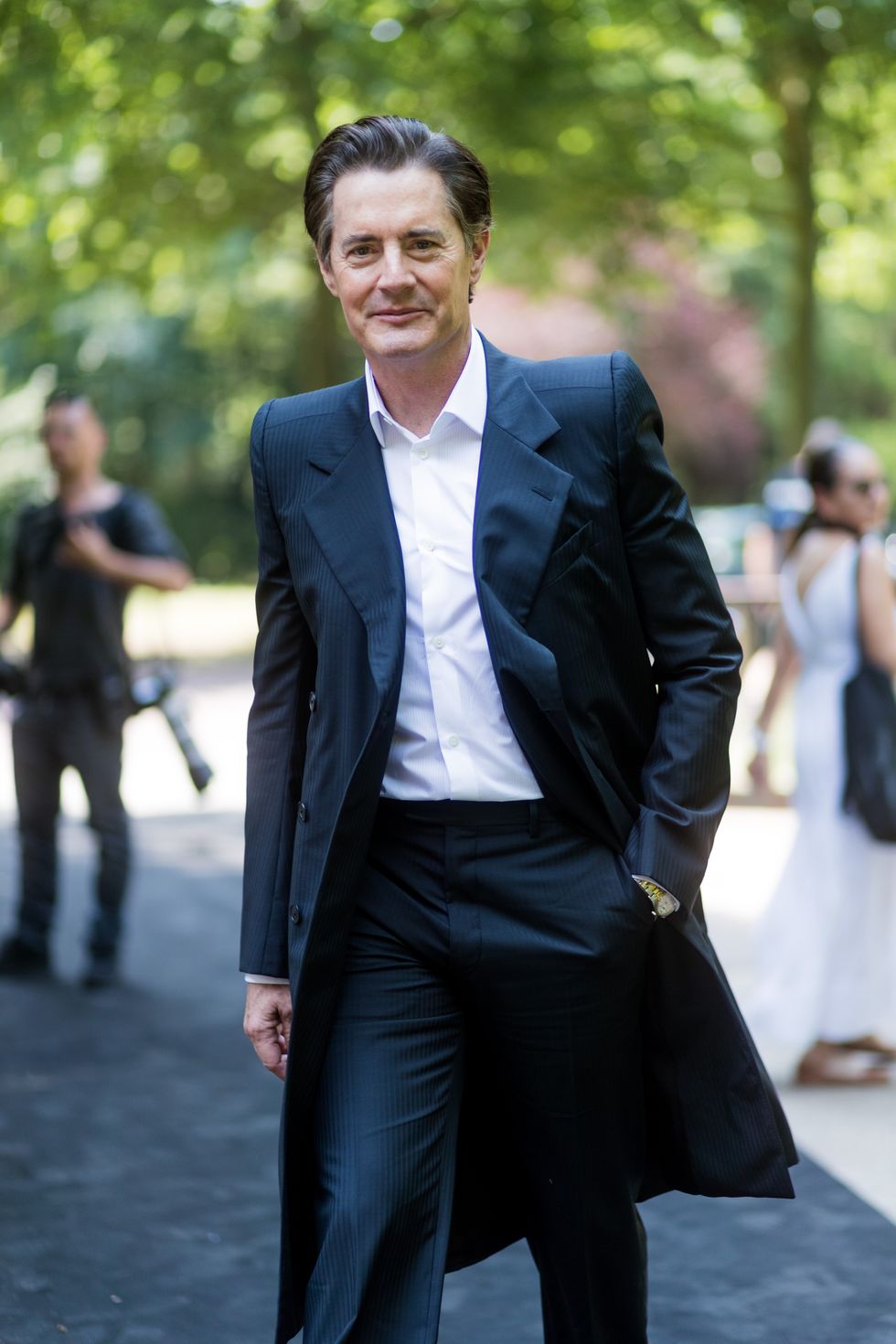 Christian Vierig/Getty
For his Spring 2018 Balenciaga menswear's show, Creative Director Demna Gvsalia chose the bucolic interior of the Bois de Boulogne as the location, and what did the day's fashionable strollers stumble upon but none other than David Lynch Everyman, Kyle MacLachlan (aka, Twin Peaks' Agent Dale Cooper). In an elegant top coat with the label's signature exaggerated shoulders, the amiable (and agelessly handsome) actor lent a perfect Lynchian oddness to the otherwise idyllic afternoon. Also to google: Dadcore.
Life Is A Caba-Rei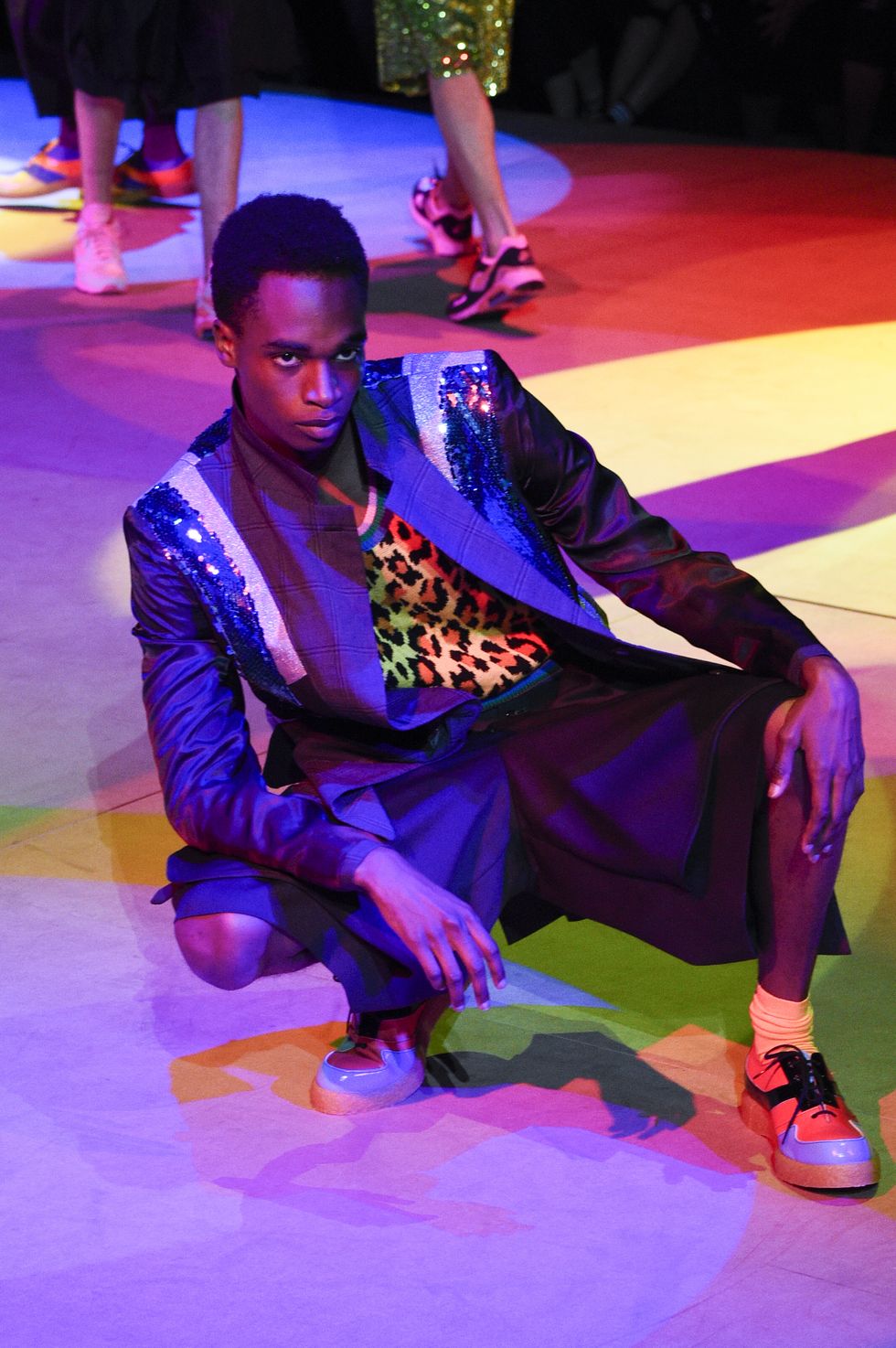 Peter White/Getty
The solemnity and circumspection that accompanies most CDG shows was thrown totally out the window for this season's Comme des Garçons Homme Plus presentation in Paris, which featured dancing models, disco lighting and all-around joy; a word not usually associated with fashion shows and sparingly next to Rei Kawakubo. With the miraculous boffo reception of her Met Exhibition (not to mention block-snaking lines choking Fifth Avenue on the reg) it would seem the designer is having a little fun or perhaps just looking at the darkness of the world and saying "Let's dance!"
Dissent the Runway
If Domenico Dolce and Stefano Gabbana were aiming for a newsworthy moment by casting a slew of influencers and chiseled no-dels for the show last week, they certainly got it; though one imagines not exactly in the way things played out. Among the season's cast was 21-year-old Atlanta singer/songwriter Raury (Raury Deshawn Tullis) who, upon finding his own beliefs at odds with some pieces in the collection, particularly a "Boycott Dolce & Gabbana" t-shirt, decided to make a move. The result was one of the more powerful fashion images from a runway show perhaps in a generation and a refreshing reminder that the runway can be as relevant a place as the protest podium.
Story Time
Stefano Pilati, the revered designer late of Ermenegildo Zegna and Yves Saint Laurent, debuted his latest collection not on a runway in Milan or Paris but rather through a series of instagram stories on his own personal account (@stefanopilati). Called "Random Identities" the collection rendered in all black was gender neutral, shown on women and men alike, mostly friends of the designer, but with the same undone elegance and sophisticated nonchalance for which he is known. A voice greatly missed since his departure from Zegna, the surprise reveal was a jolt of excitement from a name who tops just about every list for high profile jobs in men's and women's fashion. As of now there is no plan to produce or even sell the collection to retailers, a cruel but hopeful tease for his most ardent fans.
A More Perfect Union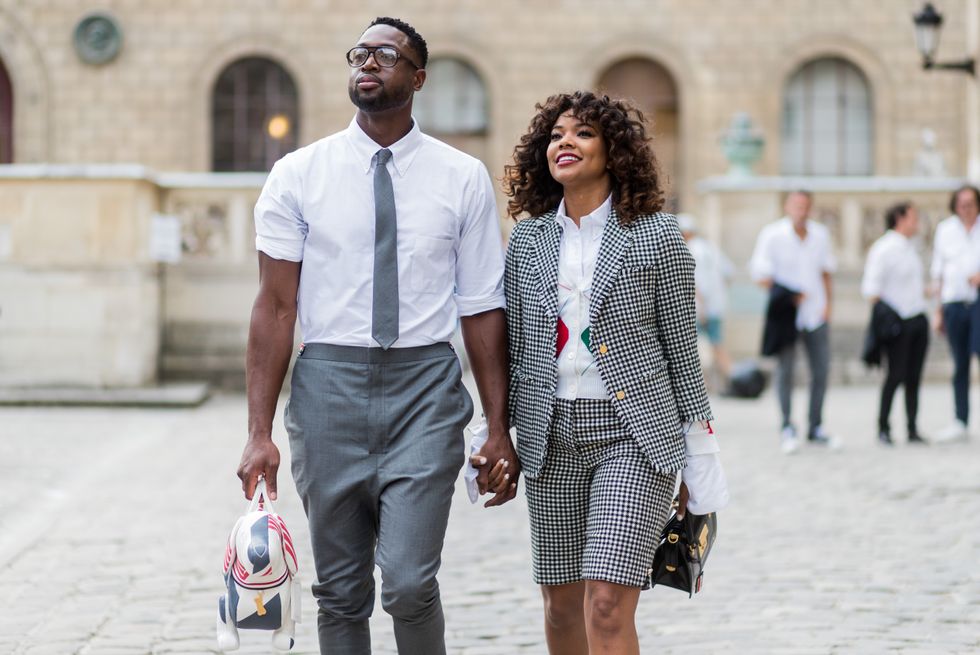 Christian Vierig/Getty
Gabrielle Union and Dwyane Wade cut a deliciously fashionable swath through the menswear collections this season and gave us everything we want from a glamorous power couple alighting the front rows of Paris. From their complementing Thom Browne tweeds to billowing silks at Haider Ackermann's show for Berluti, the pair transcend hashtag aspirations and give new meaning to Paris When It Sizzles.
I Was Told There'd Be Drake
Louis Vuitton Men's Creative Director called on no less than Toronto's own Champagne Papi to soundtrack his latest collection to casually marvelous effect. The swingy offering in sumptuously drapey grey separates and lively, silken florals was brought perfectly to life by the steady beats and sonorous vocals of "Signs," which debuted at the show held in the Palais Royal.

KUWK(enzo)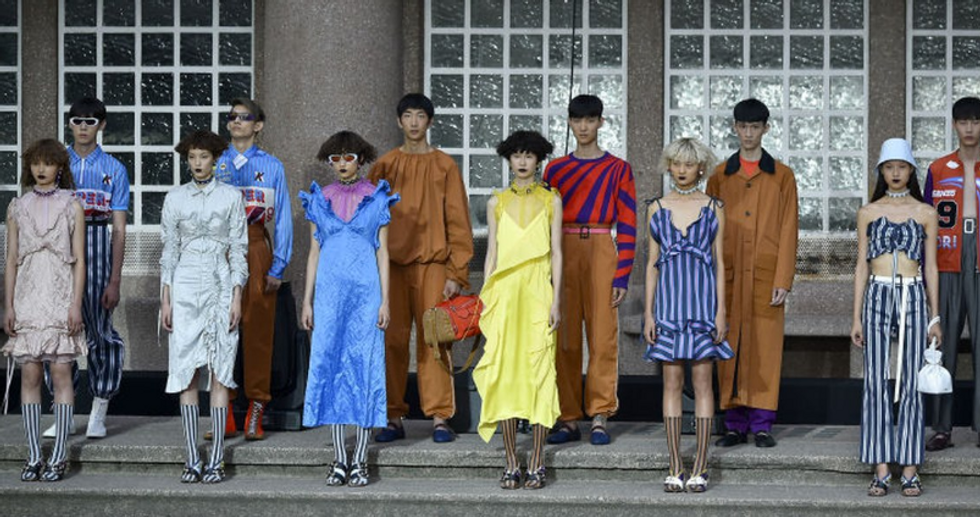 Courtesy Kenzo
To close out the Paris men's collections, Carol Lim and Humberto Leon of Kenzo offered a gangbusters show for both mens and women's lines. The duo are always good for a topical yet ravishing runway spectacle and this season was no different. But perhaps the most compelling aspect of their Spring 2018 collection was the all-asian casting. Drawing on muses from Kenzo's past (model Sayoko Yamaguchi) and present (composer Ryuichi Sakamoto), it was a refreshing no-brainer to present the show on exclusively asian models. Lim & Leon have uncanny instincts on the power of a runway and one wishes they were the rule less the exception.
#FROW Spotting at LV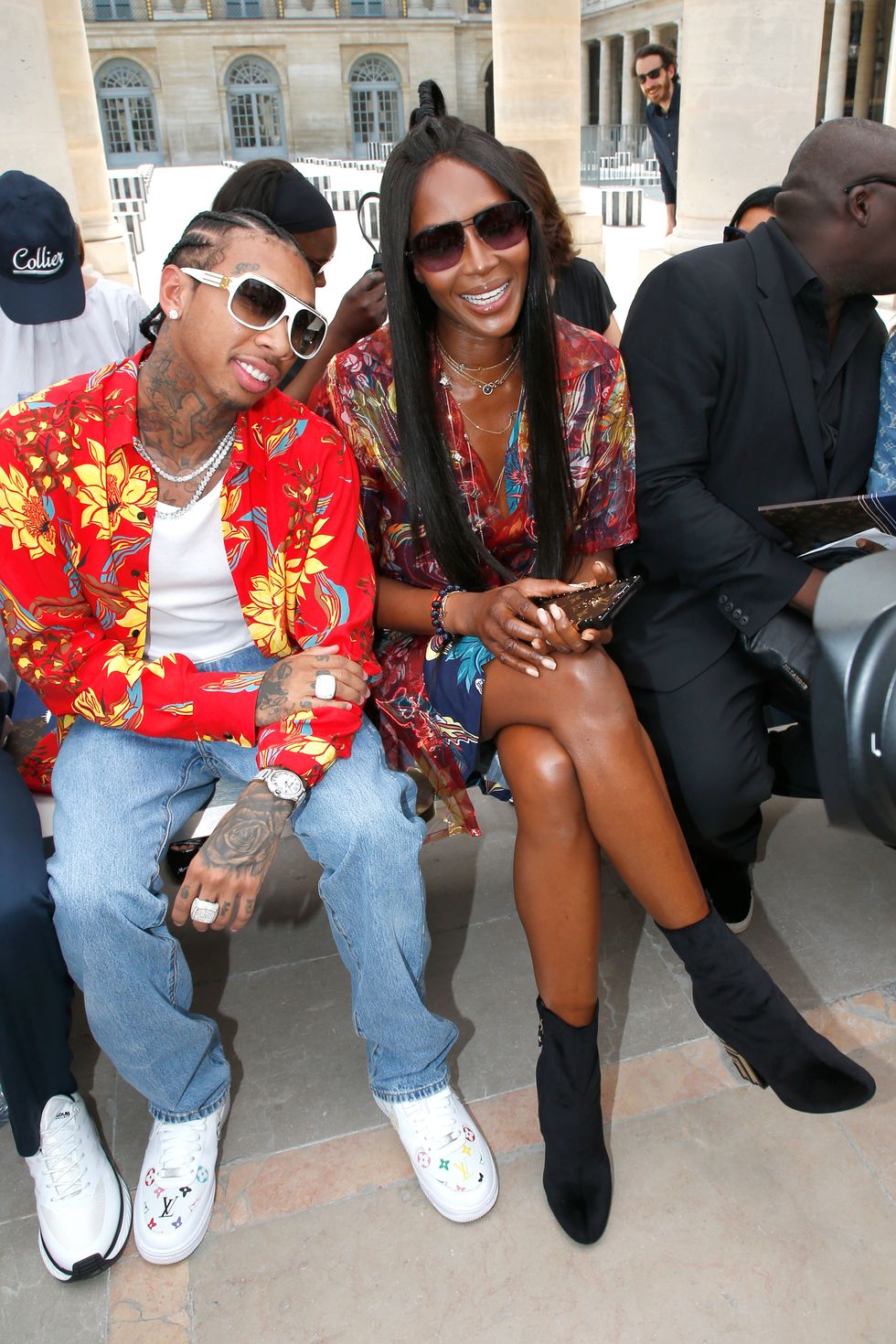 Bertrand Rindoff Petroff
If you can get Naomi in your front row, you know you're doing something right. Such was the case at Louis Vuitton men's where La Campbell was spotted in a pyschadelic floral print shirt dress from the collection (seated next to Tyga).
Seeing Green
The London designer Craig Green captivated the city's men's fashion week with a collection of unmatched poetry and artistry. Thinking of utopia and escaping reality, he landed on pleated and quilted ponchos with separates in dazzling colors and patterns. Green's shows are known to be emotional affairs and this one was no exception, yet the pieces seemed grounded and tantalizingly covetable to wear right now; a highlight of the week and a strong collection from one of the city's most exciting talents.
Nightlife
Story by Matt Wille / Photography by Ian Lewandowski