Long-running drag personality, Ruby Rims used to lipsync, sing, and crack naughty jokes at clubs like the '70s sex haunt the Anvil and '80s cabarets like 88's. At 63 years old, he's seen—and done—it all, and has lived to tell about it. Thankfully, Ruby (male name: Robert) is writing a memoir called Ruby Rims: More Than Just a Drag Queen. I just caught up with the flamboyant entertainer, who told me his thoughts about doing drag when it was more subversive, and also how far we've come as a community.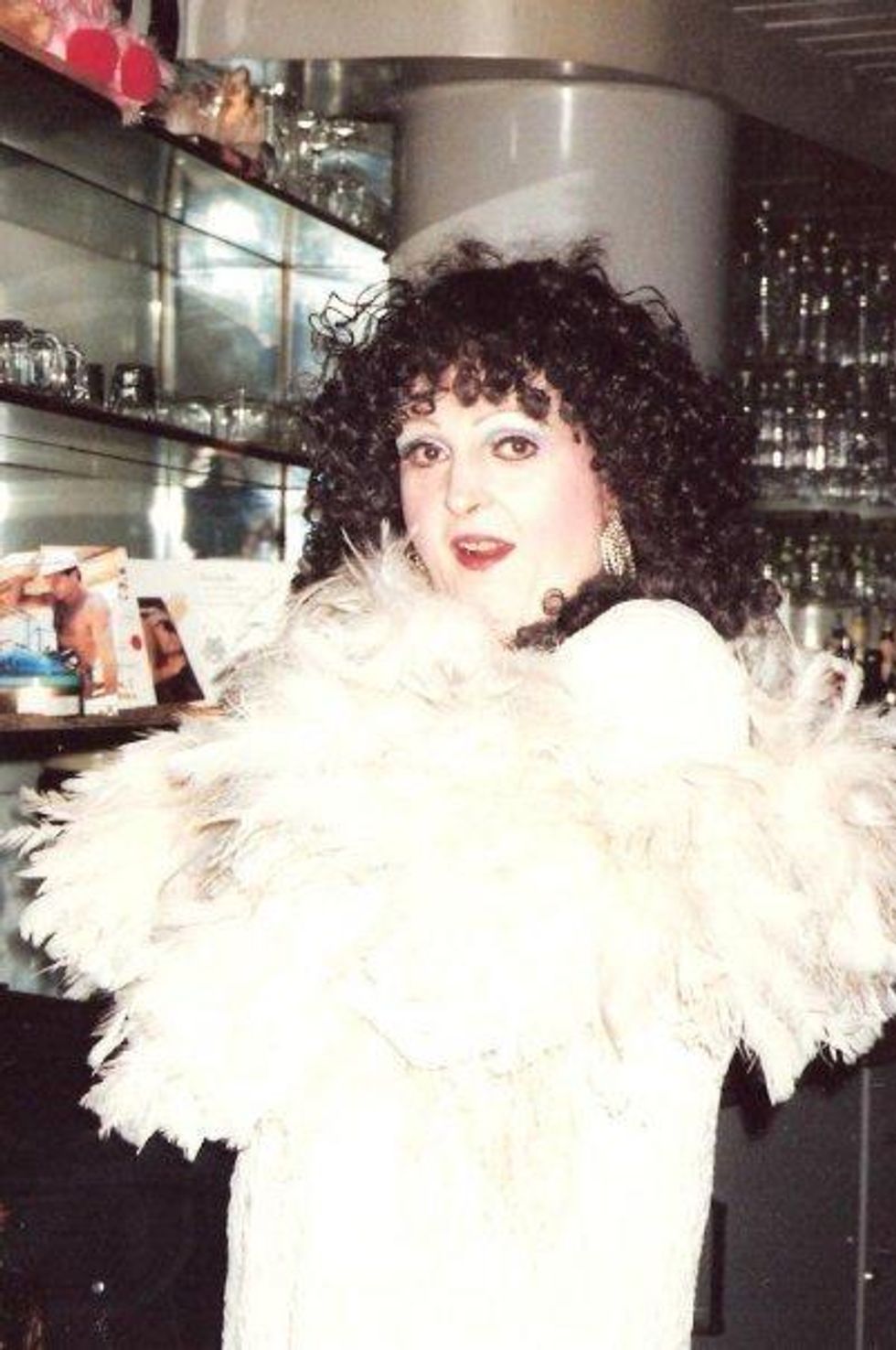 Hi, Ruby. Where are you from and how did you start doing drag?
I was born and raised in Newark. It was rough. You were either black or Italian, and I was a screaming queen. I started doing drag in 1973 at a little club in Newark called the Other World. It was very appropriately named. It was an early gay disco. I used to lipsynch. The first song I ever did was, very appropriately, "Leave Me Alone (Ruby Red Dress)." I had come to New York when I was 18. In those days, you only had to be 18 to drink. My first New York bar was the Roundtable, on East 50th Street. It was near where all the boys [hustlers] worked, on 53rd and Lexington. I went there and saw my very first drag show, which was John LaFleur. I said to myself, "I can do that, and I can do it better." When the little bar opened in Newark, I said "I want to do a drag show." I did "Ruby Red Dress" and "I Feel Pretty." I looked like, my god, what a mess, but I thought I was real. David Miller, an incredible drag queen in New York, became my drag mother. I started doing shows with him. He had me perform at the Limelight, on 7th Avenue South. Then I started doing a little thing at Peter Rabbit's.
Tell me the genesis of your name. I can only imagine.
It's not only a name, it's a statement--although nowadays, not even much of that, honey. But I'm still here and I woke up this morning and I'm still looking down at the daisies. I became Ruby Rims in 1974. My friend had called me Ruby--he gave all of us girls' names because everybody was Mary back then. He was Celeste because he was Italian. Robert was Diane because he was a 6' 4" white boy with blue eyes who wanted to be Diana Ross. At the Club Baths, I was giving a rim job. The guy ended up being a friend. He said, "Ruby Rims." I said, "That's it!" Someone once looked at a poster of mine and was heard to say, "If I had a name like that, I'd change it." [Laughs]
When did you start performing at the raunchy Anvil club?
In January of 1977. I was the first drag queen they ever hired there. Gary, who ran the Anvil, asked me to do a guest spot as a goof. They didn't have drag queens or women in the place. They had guys with fire tricks and dancing on the bar. Felipe Rose was one of the dancers—he's Puerto Rican. He later dressed like an Indian and became one of the Village People.
The first night I went on, I had to follow the fisting show. That got out of hand! [laughs] The goof backfired on them. The crowd went nuts. I was crazy and had fun. I never tried to be real, although some people thought I was. I had a figure, but now I have a figure eight--I ate, I ate, I ate. They used to yell "More, more, more!" Or I think they used to yell, "Whore, whore whore!" [Laughs] The first Christmas I did at the Anvil, I took the mic and made everyone quiet and said, "I'm gonna sing something for Christmas." I sang with my own voice, a cappella—that's a musical term for "We can't afford a band"—"Oh Holy Night." The owner of the Duplex, John Healy, and the pianist, Richard Burke, they grabbed me and said, "Why are you lipsynching?" Healy said to me, "You're gonna do a show at the Duplex." And Richard said, "I'll play for you." In 1978, I did a live cabaret show.
At the Anvil, did the gays feel that a drag show was an intrusion on their eternal sex hunt?
No, because so much went on there. Some people just went there to dance. And the sex was all downstairs. In the early days, it was upstairs, and we had a dressing room in one of the hotel rooms. The hotel was up above. It used to be called the Hideaway.
But the crowd loved you, right?
Yes. Only a couple of them said, "Eh, a drag queen." Please! If it weren't for drag queens, you wouldn't have had Stonewall, so go to hell.
I was the highest paid person at the Anvil, and I was only getting $50 a night for two sets—at 3 AM and 5 AM. And I made tips. The total was $100 to $200 bucks. In those days, that was good money. I wish I had it now. [laughs]
Did you have a day job at this time?
No. I lived at the Chelsea Hotel, which was $75 a week. After almost a year, I moved to the George Washington Hotel, which was only 60 bucks a week. And after 13 weeks, you got your money back in taxes because you were considered a resident.
Was there any jealousy or bitterness in the drag community then?
Not really. There was a little jealousy at the Anvil, but not with the drag queens, with the dancers, because they realized I was raking in the tips and they weren't. You always tip the drag queens. There was a black guy named the Amazing Yuba, who did a fiery dance and then he started doing Grace Jones and he started making money.
Tell me about your career in the '80s and '90s.
I did the cabaret rooms—the Duplex, Don't Tell Mama, 88's. I have a cat named LaMott [for late singer Nancy LaMott]. I made friends with all the cabaret people. In 1992, I was diagnosed with AIDS. This last Sunday was 25 years to the day. I was diagnosed the day after my mother's birthday. "Happy birthday, ma. Got AIDS!"
Sorry to hear that. Was she proud of your accomplishments?
Yes, and so was my dad. He died the same year I was diagnosed. He said, "You're gonna live a long time." They were very proud of me. They came to see my show in 1983 at Don't Tell Mama, and [singer] Margaret Whiting was in the audience with [ex gay-porn-star hubby] Jack Wrangler. My parents were taken because my mother used to walk around the house singing Margaret's hit "Moonlight in Vermont." I introduced them to Margaret and after that, I was solidified. But I never told them Margaret and Jack were there to see my opening act, Vie Tabacc!
Hilarious. I introduced my parents to Margaret too, and they were also thrilled. What else were you up to back then?
In 1986, I did PhilDonahue, and then I did Geraldo and I did Donahue two more times. 1994-1995 was rough, kind of touch and go. They didn't think I'd be here long.
Thank god you made it. I know you live at Manhattan Plaza these days. Do you have a day job?
No. I get social security and I volunteer. I always try to give back. I did the thing with the teddy bears—Teddy Cares. I gave out 10,000 teddy bears to kids. And now I do "Ruby Rims and Friends Do the Can-Can," a show at Metro Baptist Church on West 40th. I help run the food pantry there because there was a time I had to use it. And I do other things. On November 1, I'm doing a 64th birthday show—the title is "Will You Still Need Me, Will You Still Feed Me, Because Now I'm 64?"
How do you feel about having lived to see all the changes in the world as far as advancements with the LGBT community?
It feels bittersweet. It makes me happy. I sit at Starbucks in the morning near my house and I watch the Hell's Kitchen boys come in holding hands and they're off to work and they kiss each other goodbye. It makes me happy and yet it makes me sad because in our day they would have fucking killed us. I got bashed in Newark and was in the hospital for five days because I was a fag and was set up. We paid a price. I think some of the boys realize that and some of them couldn't give two shits.
I'm doing this thing called the Generations Project. Young men like to hear stories about the past. They're having a brunch on June 17 at Etcetera Etcetera They want me to come and tell a story. I'm gonna do it because our history's dying—a lot of it's gone already. We didn't know we were were making history. We were too busy being in the middle of it and living it. We've come a long way, but we still have a long way to go. Transvestites and transgender people are still being treated like shit, even by their own brothers and sisters. Gay men can be some of the most prejudiced people in the world. It's a work in progress. Prejudice is a disease, just like HIV. You have to work on it every day. Because we've been discriminated against so much, we do it to ourselves. We forget.
Photos courtesy of Michael Musto.