Remember when Vetements was one of the hottest names in fashion? During its peak, roughly between 2014 (when it exploded into the scene) and 2017, the brand was on the backs of nearly every major influencer, sneakerhead, and fashion insider alike. It was instant street style gold, thanks to its oversized hoodies, DHL T-shirts, and uber expensive jeans. Demna Gvasalia was heralded as the mastermind behind the underground label, but now, he's exiting the brand he co-founded five years ago.
Speaking of his departure to WWD, he explained that he started Vetements because "I was bored of fashion and against all odds fashion did change once and forever since Vetements appeared and it also opened a new door for so many. So I feel that I have accomplished my mission of a conceptualist and design innovator at this exceptional brand and Vetements has matured into a company that can evolve its creative heritage into a new chapter on its own."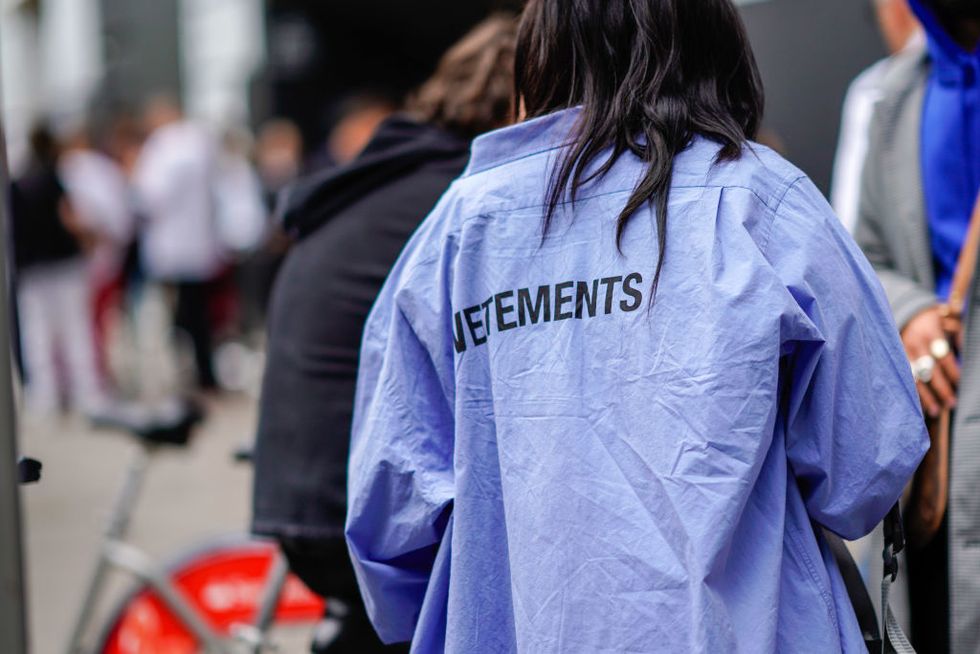 The Georgian designer, who will continue to serve as creative director at Balenciaga, was no doubt the face of Vetements, but he has long maintained that the label is the work of a collective group, all of whom will continue on with design duties without its star thinker. Despite his high profile, however, the energy and buzz behind the brand he co-founded has declined in recent seasons. It remains to be seen how his absence will affect Vetements, but he's exiting at a time where the hype surrounding it has simmered down significantly.
A series of factors have contributed to this waning, including Gvasalia's new job at Balenciaga (which remains white-hot and has taken some of the luster from Vetements) and his sporadic show schedules (he's jumped around between the Paris RTW calendar, the couture calendar, the men's calendar, and finally off-schedule). It's also a different time in fashion now than it was when Vetements first launched — his overpriced, capitalist-kitsch wares and predictable styling cues have faced growing competition from other luxury streetwear brands with a stronger community of followers.
As Gvasalia split his time equally between Balenciaga and Vetements, it will be interesting to see how the former will evolve now that he will be devoting more time to the French brand. As for Vetements, CEO Guram Gvasalia told WWD that this moment marks a new era for the label, including growth and major expansion. "New projects and surprise collaborations are to be revealed in the very near future," he told the outlet.
Lead Photo via BFA / Photo via Getty