During his guided tour of the Peggy Guggenheim Collection, that bastion of modern art on Venice's Grand Canal, David LaChapelle carefully considers masterpieces like René Magritte's moody Empire of Light and Marcel Duchamp's miniature replica-filled Box in a Valise. By the photographer's side is long-time pal and collaborator Daphne Guinness, the fashion guru, Alexander McQueen muse, and brewery heiress who manages to gracefully navigate the museum's different galleries in a pair of black anti-gravity heels.
Earlier in the day, LaChapelle sat at the 16th century palazzo-turned-luxury hotel Aman Venice, surrounded by cameras as he unveiled Earth CelebrAction, the striking, oversized 2020 calendar made for the Turin-based coffee empire Lavazza. Later in the evening, a barrage of Campari Spritzes served in the book-lined library further commemorated the occasion.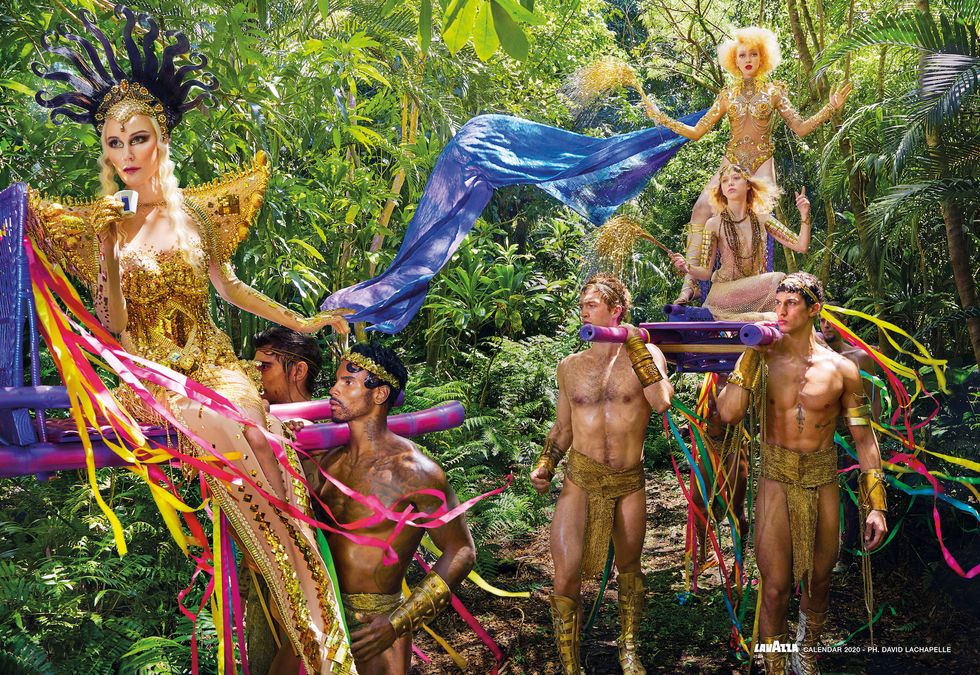 January: "Celebrate"
Since 1993, Lavazza has sought out photographers like Helmut Newton, Annie Leibovitz, and Platon to create glamorous, often provocative calendars that reinforce the brand's deep connection to the arts. This time around they gave LaChapelle — who was also tasked with the 2002 edition and contributed to 2012 — free reign to celebrate nature however he saw fit.
"It's rare to get a corporate client to let you do what you want, especially today when there's so much banal stuff out there," points out LaChapelle.
In his signature cheeky-pop style, he responded with 12 magical realism-fueled vignettes, conjuring up a whimsical universe "that isn't faced with extinction, with an ocean that's not full of plastic, air that's clean, and people getting along without making war and living in harmony with Mother Earth. It's a fantasy. That's not reality," he says in a quiet room at the Aman in the company of his entourage and a table bearing a plate of yet-to-be-eaten oysters.

Noting the rise of too-warm tropical waters and fast disappearing frogs and geckos, LaChapelle senses that "we're on the precipice of apocalyptic things; something scary is coming, a disruption."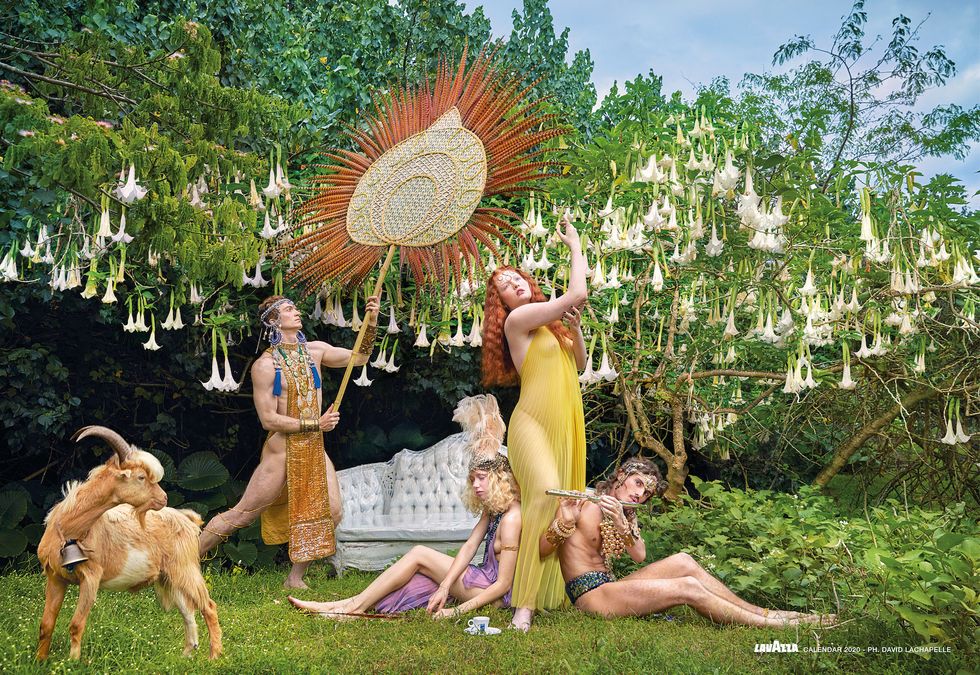 February: "Listen"
But he's not a photojournalist documenting every disturbing shift in the ongoing climate change narrative. Instead, he's channeled his knack for high-gloss kitsch and saturated hues into constructing a mythical paradise of subversive images that show "how the world could be."
Each month's ethereal depiction is an ode to a different empowering word, including: defend, sustain, nourish, and breathe. By melding butterflies and waterfalls, planting a winding staircase in the middle of the forest, and juxtaposing a searing shade of orange against the hot black lava of a volcano, LaChapelle re-instates a sense of wonder and playfulness that increasingly seems out of reach, a utopia where carefree nymphs and a bounty of glistening red berries are the norm.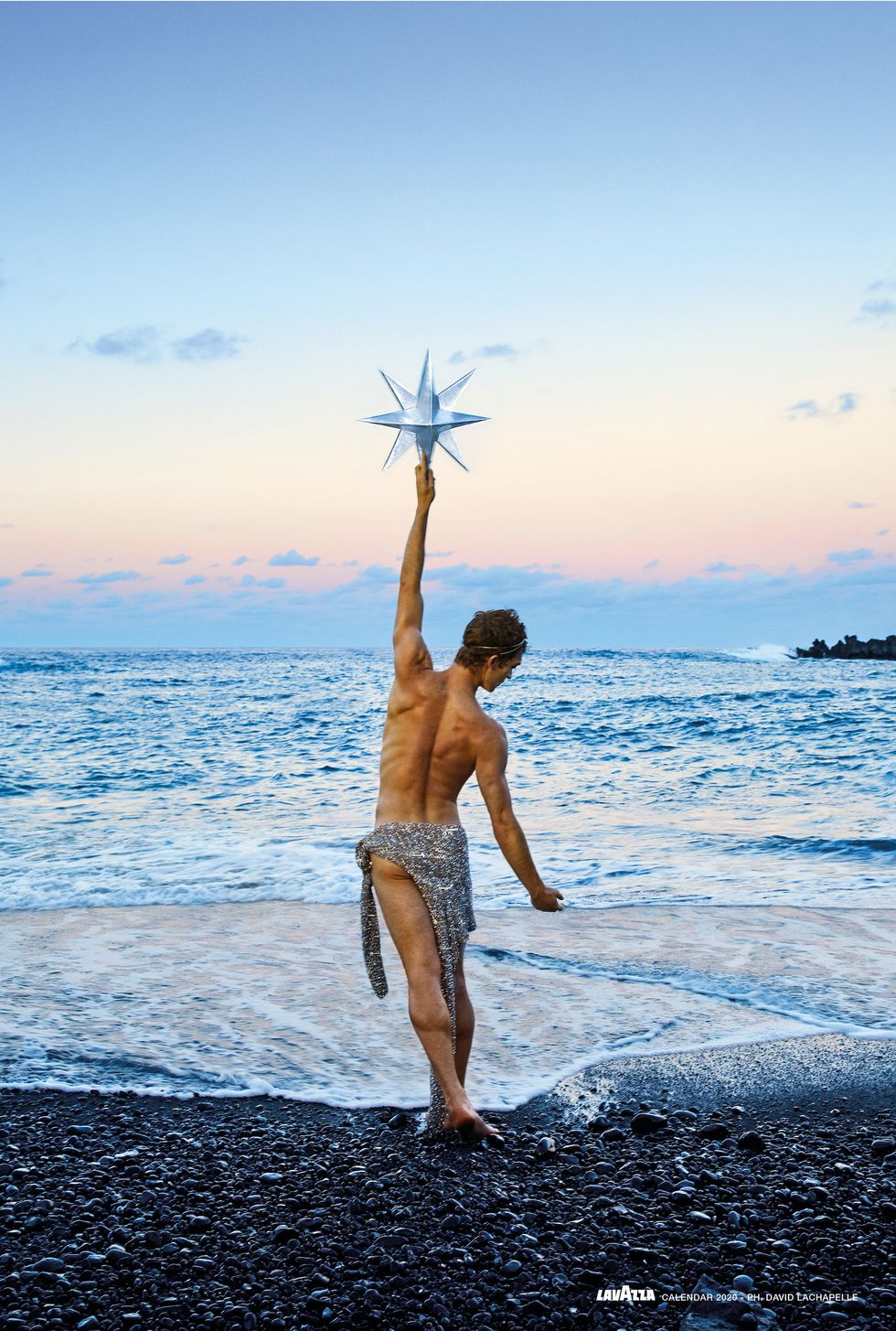 March: "Realize"
LaChapelle blames the for-profit choices "made years ago by people in charge" for the planet's current state. In 1979, for example, then President Jimmy Carter boldly installed 32 solar-thermal panels on the roof of the White House, only to be dismantled by the Reagan administration seven years later.
"Carter is underappreciated as a President. He's a humanitarian and the best example of a Christian. He didn't use Christianity as a weapon to separate people, but took the tenets of Christ and loving our neighbor really to heart," says LaChapelle. "He's one of my heroes and a reminder of what American presidents with integrity can be like."
The morning after Donald Trump's 2016 presidential triumph, LaChapelle woke up feeling as if he were "living in this crazy movie you couldn't write. In New York, in the '80s, [Trump] represented everything about greed. I couldn't stand how smug he was. I had a friend who worked at the Plaza, in the Oak Room, and just to show off his power Trump would pull him out of the kitchen and berate him."
If his photographs spur people to make impactful environmental changes in a socially and politically tense era, that's certainly positive, but "it's a lot to expect from a calendar," LaChapelle adds. He will be content simply knowing he brought a dose of beauty to them, "a lightness of being. I want each page to be a storybook."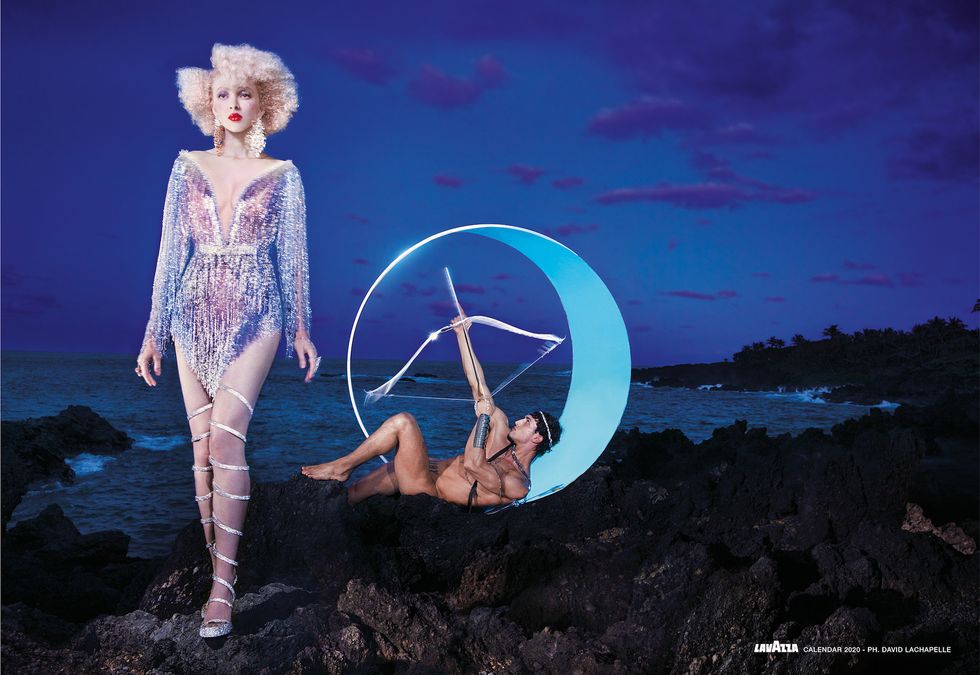 April: "Defend"
All that lushness captured in Earth CelebrAction is not coincidental. Ever since decamping to Maui more than a decade ago, LaChapelle's work has evolved, expanding to reveal a reverence for landscape. "When I moved there I didn't know it was going to inspire 13 years of work. It's the ultimate setting. I used to build sets. Now I just find them in nature," he says.
Guinness, who has traveled to Hawaii numerous times for LaChapelle projects, describes it as a magical nirvana resembling a contemporary form of surrealism, a swirl of "respect, happiness, and laughter" amid the trees.
Like this endeavor, it's the kind of backdrop LaChapelle thought was reserved solely for daydreaming. "When I was a struggling artist in New York, I just wanted to make a living off photography," he explains, "to afford to eat at my favorite vegetarian restaurant in the East Village, Angelica Kitchen. I used to always pray for a cabin in the woods. I was looking for a different way to live. I needed that prayer answered and it found me."
See the remaining months from Earth CelebrAction below:
Photography: David LaChapelle
Sign Up For The Morning PAPER