Many articles, on websites like this one, claim they've found a pop star unlike any other.
I can say in good faith, however, that there's no one quite like the cartoon singer-songwriter, 19-year-old Kei Wells, who "records" under the moniker Dad.
That is, there's no one like Kei except for the internet's reigning digital It Girl, Lil Miquela, who released her first single "Not Mine" in 2017. Both Kei and Miquela are 21st century descendants of Gorillaz, the iconic demonic-looking virtual band created in the late '90s by Damon Albarn and Jamie Hewlett.
If you combine Lil Miquela and Gorillaz, you get something close to Kei, who just dropped "her" first single "Alligator."
Not bad for a cartoon! "Alligator" is a cute, dreamy, catchy break-up bop with cheeky lyrics about getting over an ex, inspired by Kei's recent split from her boyfriend.
Popular Instagram illustrator Beverly Johnson is the visual artist behind Kei's pink chop and laid back style. She's designed Kei's origin story as a cartoon strip.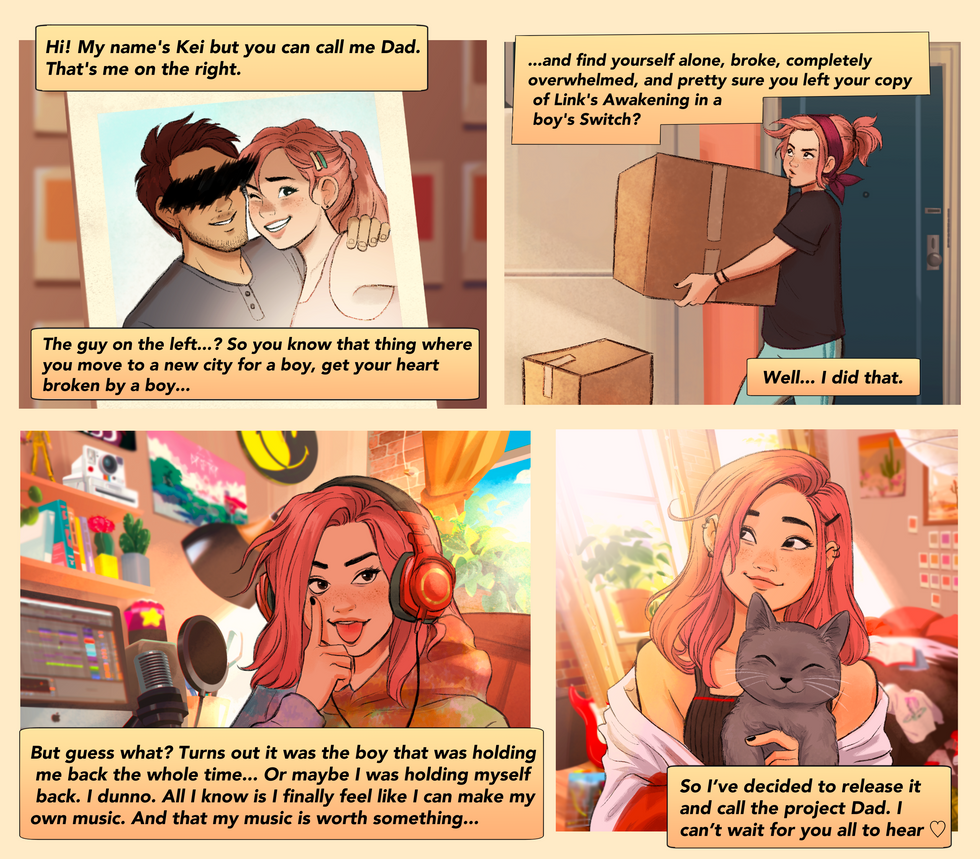 According to her bio, Kei currently works out of her bedroom in Los Angeles. She was raised in a small town near the Mojave desert, and grew up listening to the likes of Weezer, First Aid Kit and Smashing Pumpkins. She first started recording songs on her laptop as a teenager, but never showed them to anybody until she moved to LA, chasing a boyfriend. After said boyfriend broke her virtual heart, she finally found the confidence to start sending her music around.
With her laptop, pink hair, love for Weezer and tongue-in-cheek name, Dad sounds like an act who'd get along well with Clairo, Beabadoobie, or other pop-rock wunderkinds who got their start in the bedroom.
You might be wondering, since Kei is a virtual avatar created by a cartoonist... why does she actually sound so good?
While it's not exactly clear who Dad is yet, so far we know that Kei has found champions in Wrabel and Gallant, who are both collaborators on her upcoming debut EP. She'll be unveiling more names leading up to the release.
"I heard bits and pieces of some early Dad songs floating around for a while," Gallant tells PAPER, about how he got involved with Kei.
"I was working on some stuff at the time and decided to pull it up and lay down a verse on a future record. She has a way with words that I can't really explain — like it's coming from a deeper, darker place — she would put like 12 words in a space that you'd never think they would fit into, for example, and somehow it would come out sounding other-worldly. We vibed on a few more things, but I'm not sure if they'll all make the cut— whatever does though I'm excited for her to put out there, she's really something special."
Meanwhile, Wrabel explains, "I got introduced to Dad through a friend. Working with Kei was so fun — it just felt so natural. Our upcoming single came about the first day we met. We were just messing around, passing the mic and it just started falling into place. Felt like we were chasing something special. I'm stoked to have gotten to work with Kei on this project and I'm so happy she's getting her music out there. The first release 'Alligator' is a jam!"
If "Alligator" is any indication, there're some serious hitmakers on the team. Follow @thatgirldad for clues and more bops.
Sign Up For The Morning PAPER