As far as years go, 2000 is memorable. It was the turn of the millennium — something that induced rampant fear among generation X for multiple years prior. Clunky computers were considered the height of technology, NBC aired, and terminated, cult teen drama Freaks and Geeks, and a Southhampton-born teen, Craig David, released his debut album, Born To Do It.
Breathing the same air as David two decades later is just about the closest thing to time travel one might experience. Now 36-year-old David is selecting his next pair of sneakers at Soho's hype beast hot spot, Fight Club, and appears to have barely aged since his days dominating the early 2000s charts. Born To Do It saw David address both his prowess and woes with women on a multitude of hits that belied his age. "Walking Away" went straight to no. 1 in four countries, and "7 Days" and "Fill Me In" not only hit no. 1 in the UK, but also charted in Europe, North America and Australia.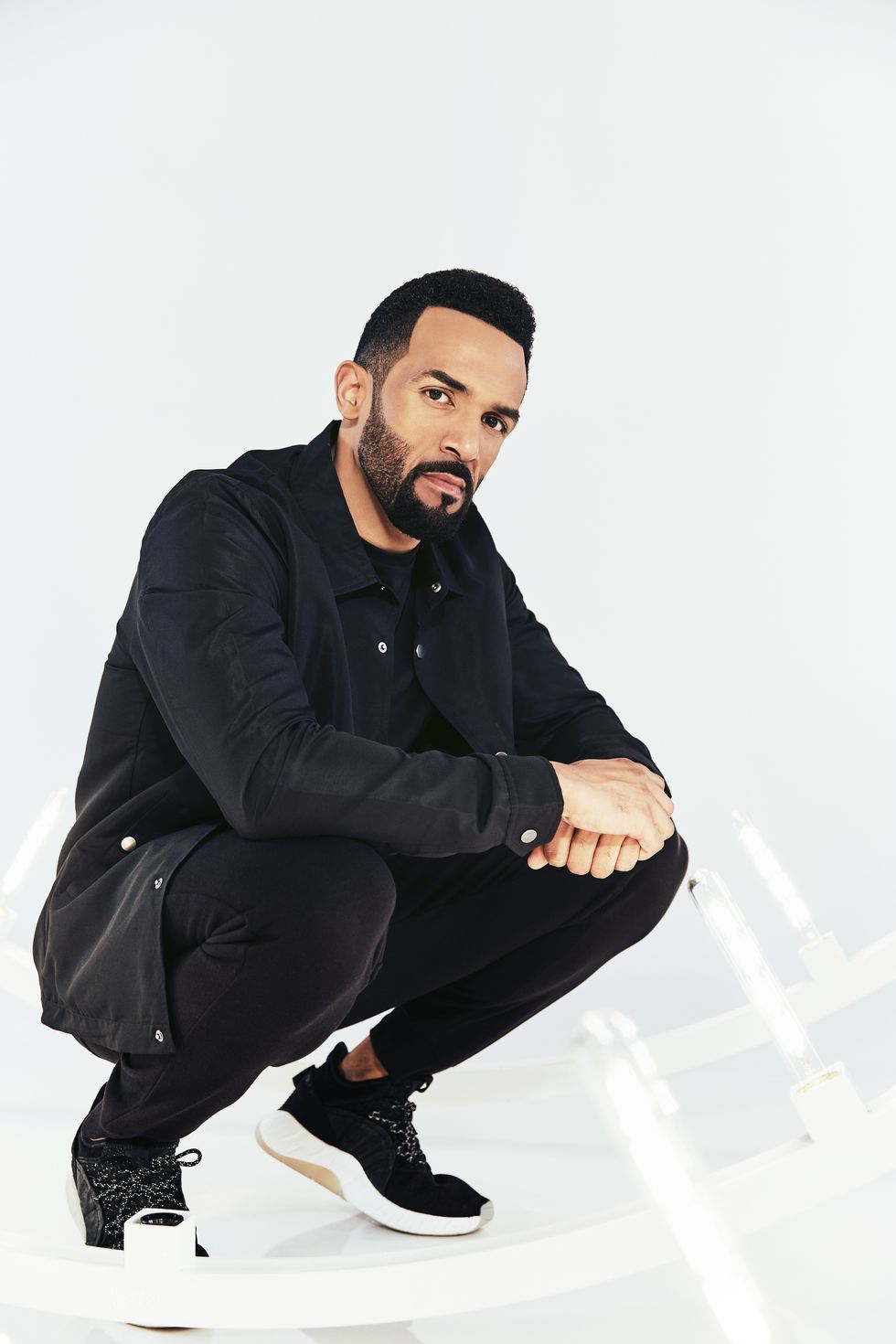 He was the pull-out centerfold on teen girls' walls, he was the album you bought your dad for Christmas, and his inimitable runs, combined with impossibly quick melodic-rap verses, ushered in a new era of R&B — even Drake references David as one of his early idols. It was the rise an aspiring artist could only dream of, and, for a 19-year-old David, it meant unabridged access to the high life. This all; quickly became too much, too fast. After an unprecedentedly quick shot to stardom — backed by an unconceivable number albums sold and top chart-positions — David began to emphasize numerically-defined success over artistry. "This is how I knew I was starting to fall into a dangerous place... it's a dangerous area when you start to go by statistics and numbers," he says. "The second year I did 3.5 million. That is where I realized I was focused on the charts rather than the person I was."
Today, David has put down the plaques to become a new kind of artist. His three follow-up albums seemed promising, offering fans hits like "What's Your Flava?" and his David Bowie re-make "Hot Stuff (Let's Dance)," but none managed to match, let alone eclipse, the success of David's debut. Even his greatest hits album, David's last-ditch effort to regain his early 2000s relevance, fell flat. So he reestablished himself in Miami. He became the former R&B-sensation-turned-DJ-gym-junkie, throwing the coolest penthouse parties in the city (I should come to one of his parties, he exclaims, if I'm "ever in Ibiza"). But it wasn't enough.
"Sports cars, beautiful homes, but inside something was saying to me, 'It's not about having the beautiful things,'" David explains. "I just felt like I wasn't complete with this sports car and this home and trying to live this life. My identity was in the studio making songs. It's not to be ungrateful that the albums have allowed me to have that kind of lifestyle. But I had this aha moment: I have to make music and put time stamps on people's lives. That's what this is about. It's about you having a moment and being able to think back to this song."
David's impact is certainly undeniable. It becomes increasingly obvious judging by his reception at Fight Club, and not 20 minutes go by before we're interrupted by a French couple asking for a selfie. This happens often, David informs me, after taking a picture with the duo and graciously wishing them luck for the rest of their trip. While this may have read disingenuous from other artists, David is the picture of authenticity. Placing his hand over his heart, as he does often, David humbly admits fan interaction is "still the most flattering thing. I never take it for granted."
David's renaissance is still relatively recent, and to an outsider, can be pinned to one YouTube video. Appearing on Kurupt FM's "Sixty Minute Takeover" on BBC Radio 1Xtra, David performed his hit "Fill Me In" over a the beat of Justin Bieber's "Where Are Ü Now." David's ability to hold the nostlagic track's original melody coupled with the overwhelming popularity over Bieber's new tune made it instantly viral.
Even though critics bemoan the end of R&B with the consistent integration of trap beats and rap features, David has never been more excited about the landscape. After assisting Kaytranada with his first UK no. 1, "GOT IT GOOD," and collaborating with everyone from British MC Big Narstie to Bastille, he's back with an electro-infused R&B album The Time is Now — a far cry from the unadulterated guitar-based melody of "7 Days."
"Going in the studio with these young producers, it's flattering that they're like, 'I loved what you did back then,' and that's why I'm still here," David says. "I go in the vocal booth, they play a track, and I sing and give everything I have, as if I was 16 again. And you can hear them, 'Ohhhh he's still got it! He's still got it!' That was the moment where that little candle inside of me started to build into a roaring blaze and it was like you know what, I get this now."
While David acknowledges nostalgia has played a significant role in rebuilding his relevance, he's determined for his restoration to be organic. "It's not about me trying to tell them the story. I think we have to re-educate people here. If they know the 'Walking Away,' 'Fill Me In,' or '7 Days,' that's enough," he says, leaning into admire Pharrell's new kicks for Chanel. Despite his musical rise, demise and resurrection, David is still real — the Southhampton wunderkind who bet it all and won big, is now ready to start from scratch. "Now that I have the wisdom, it makes me want to get out of bed again," he says. "The fact that I can still be brand new to someone and hear them say "Have you heard of this new kid, his name Craig David! You know what I'm saying?" I'll be your new kid."
Listen to Craig David's The Time Is Now, below.
Photos Courtesy of Craig Daivd