On a frigid Thursday night on Wooster Street in downtown NYC, high heels and platformed boots clack across the uneven cobblestones as art lovers, friends and admirers funnel into the Leslie-Lohman Museum of Art. It is the opening of Coyote Park's debut solo photography show, I Love You Like Mirrors Do, a collection of chromatic photographs and self-portraits documenting the lives of Coyote Park, a two-spirit, Indigenous (Yurok), Korean-American transgender artist, and their loved ones.
The exhibition marks the first installment of the Museum's Interventions series, which intends to engage queer artists and cultural makers in producing new interpretations of the museum's extensive collection of over 25,000 works. Hung alongside Park's original works are selected pieces from the Museum from which Park drew inspiration, together creating a fresh take on queer illustrative and photographic histories.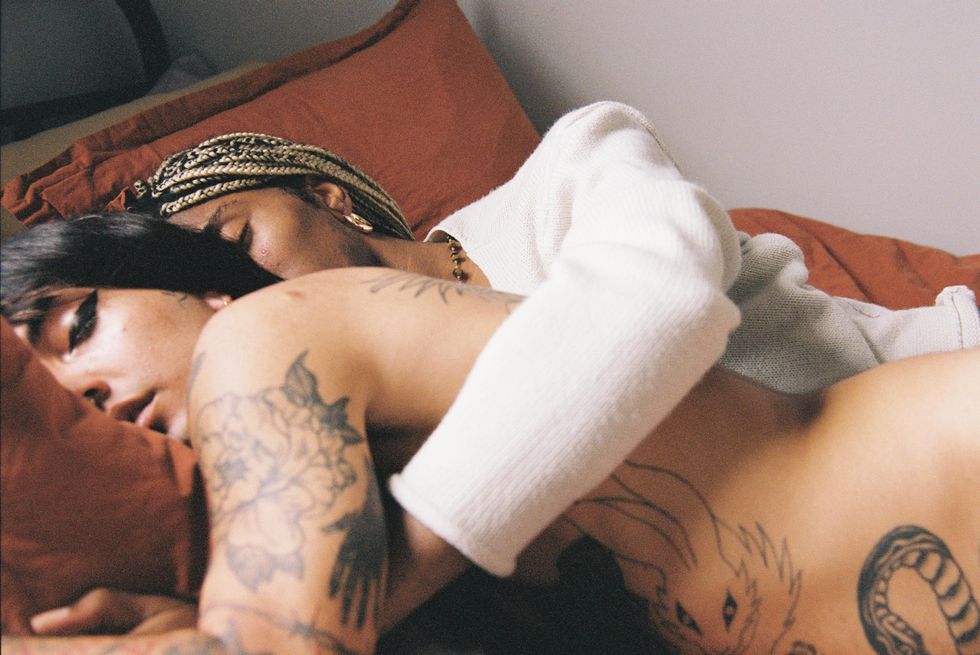 Tender and impactful, ILove You Like Mirrors Do explores the intimate bonds between loved ones and the diaspora by celebrating sacred and personal moments between queer, trans and Indigenous kin through photography and film. Coyote Park even turns the camera on himself, inviting the audience into his chosen family.
There is a unique energy in the room on opening night, a high-frequency vibration of palpable joy and excitement, as many of the attendees sipping champagne and wandering the exhibition rooms are also featured in the photographs as dear friends of the artist. They become all at once patron, muse, model and lover. You can hardly hear the whine of city sirens over the cacophony of shrieks and laughter.
A self-professed "memory-maker" and "hope-builder," Park continues to capture and honor moments of queer love through their collections, both in their art and in their chosen event spaces. Their current series uses the metaphor of the "mirror" to deepen their own investigations of love dynamics by centering the notion of reflection and introspection.
Check out PAPER's behind-the-scenes conversation with Coyote Park to discuss mirrors, trans love and creating lasting moments of joy.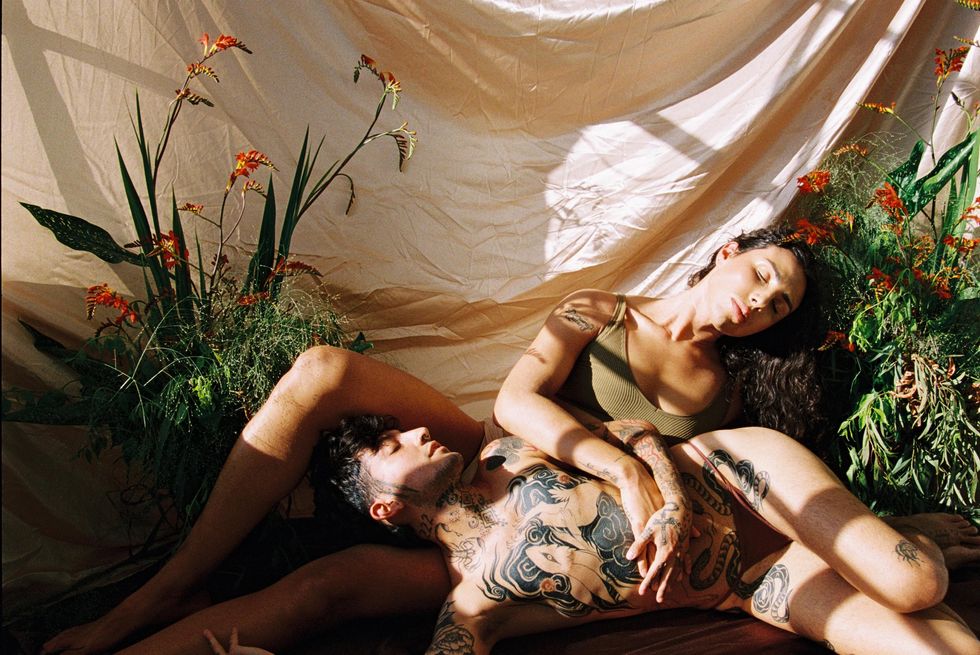 I'm so curious about your choice to recreate, or rather reimagine, certain pieces from the Leslie-Lohman Museum's collection. Tell me a little about this creative decision, the artistic licenses you took and what that process entailed.
Stamatina Gregory, the Leslie-Lohman Museum's curator, suggested doing an intervention series with the museum's collections as a way to create a conversation around important work from queer art histories in the archive. These reimaginings were a way to honor that work, informed by what came before me.
I wasn't just interested in exploring what the archive lacked (Indigenous queer people, trans people of color or other identities like mine), nor was I hoping to simply fill a gap, but I was interested in continuing these legacies of intimate image-making. I was interested in seeing ourselves in the images of others and also in the process of turning the lens toward myself.
How does nightlife and your time spent as a photographer in the queer kink scene in New York inform and influence your current art practice?
My early experiences (pre-pandemic) of being a nightlight photographer and working with queer kink performers, designers and couples were formative in shaping my current photographic practice. In queer nightlife, many of the people I created portraits with were people that I knew outside of the club. It transformed image-making into a process of gift-giving; I was making my queer family feel good.
Working with queer kink artists was an influential time for me in recognizing the importance of having conversations before and after creating any form of documentation. I went from doing artist profiles nonstop that highlighted individuals to my current practice of working closely with people who I have more long-standing relationships with. I saw images as these precious points in time that I didn't want to slip away. Images hold a lot of power. As makers, we hold a lot of power. Inviting my chosen family into sharing the lens was a way of sharing that power communally.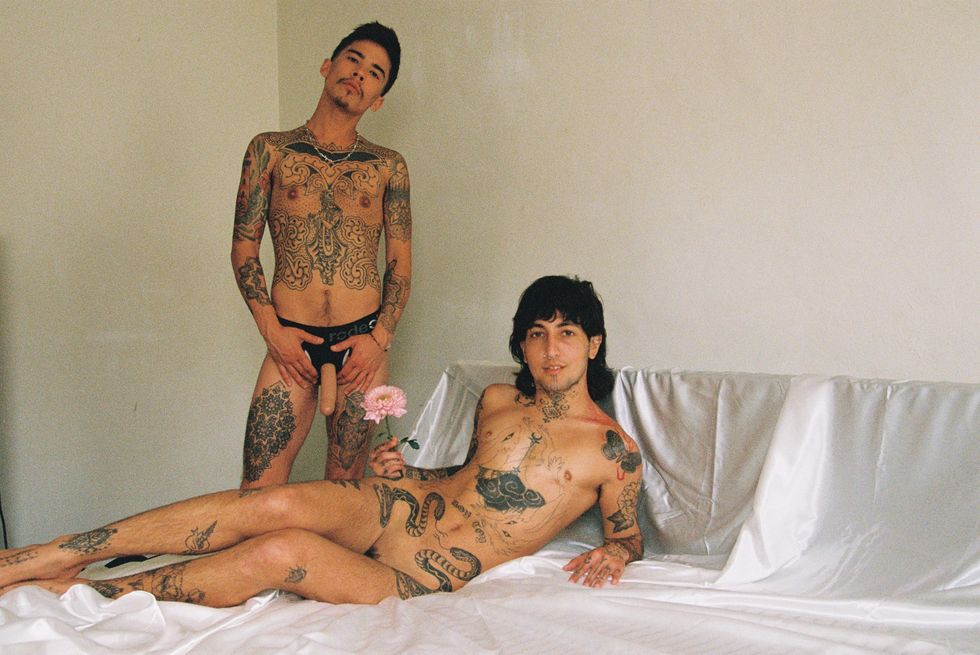 I love the metaphor you use in your collection title of the mirror. Mirrors can reflect beauty, but are also often a source of pain. I like to say that "every mirror tells me a different story." Can you tell me about how the analogy of mirrors relates to your collection and to your experience producing this series?
T4T (trans for trans) love is a mirror facing every potential me and every beautiful appreciation of you. When I love another trans person, that love mirrors the most raw desires and authentic parts of our shared human experiences. As you enter the exhibition space, the first thing you come into contact with is a mirror facing you. Museums have historically not had the art of trans artists of color depicted by trans artists of color. This mirror signals that this is a space for people to see themselves in. Whether it be traces of themself or a similar connection to the love that is felt within the works.
Love, sensuality and intimacy play a noticeable role in your work. This series in particular captures a distinct tenderness and vulnerability between subjects and even between the subjects and the viewer of the photographs. What does it mean to you to welcome others into this intimate world you've created?
I'm so exhausted by the world I've experienced in my waking life. Weighed down by street-based violence I've been met with, saddened by internet hate and ultimately drained by societal harm. Art has always helped me cope and choose love. My queer family has reminded me time and time again that this is a life worth living — where pleasure, rest, peace, playfulness, romance and care is abundant. I wanted this intimate world that I created within the walls of a physical art space to be a playground for trans joy.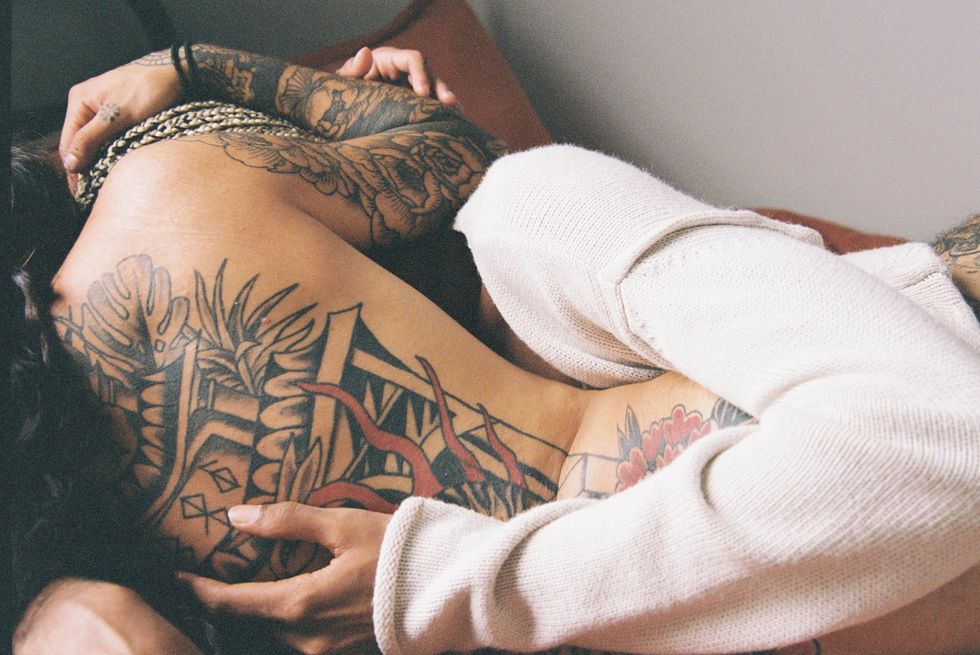 You've spoken about your work as a "memory-maker" and "hope-builder." Can you expand on this in the context of your latest series?
As a memory-maker through images and moving images, when I am no longer on this earth I hope I can remember love. I want to remember love. In November, I took a train to New Mexico to see my kin out there, walked in rivers, partied in New York. Last night, I rode a mechanical bull. I have memories photographed in the series like being at the nude beach cove with my boyfriend, memories of cuddling with lovers, playing with my deepest loves in the gardens in Kaneohe, O'ahu. I didn't grow up with a lot of images of trans people from histories like mine or bodies like mine. So when you don't see that, it is hard to remember that we too are here. Life with my trans kin is always a celebration. That's what it felt like to create this latest series. Even when the loneliness, shame, insecurities or judgement makes it feel otherwise. Our living hope is in these memories we make together.
When we spoke briefly at the event, you mentioned a pretty cosmic moment you had earlier that day. Can you tell me a little about your day leading up to such a momentous event?
Everyone was in town! That felt cosmic, like when worlds collide. Before the show, I went on memorable dates, went to a spa rave, had some downtime with my loves that I missed. At the event itself, my high school boyfriend (that I went to prom with and was my first T4T relationship) brought me a lei shipped from O'ahu. I burst out crying! At the exhibition opening and at the afters, you could feel the love in the room like no other. I am so damn proud to be trans and to love and be loved by other trans people.​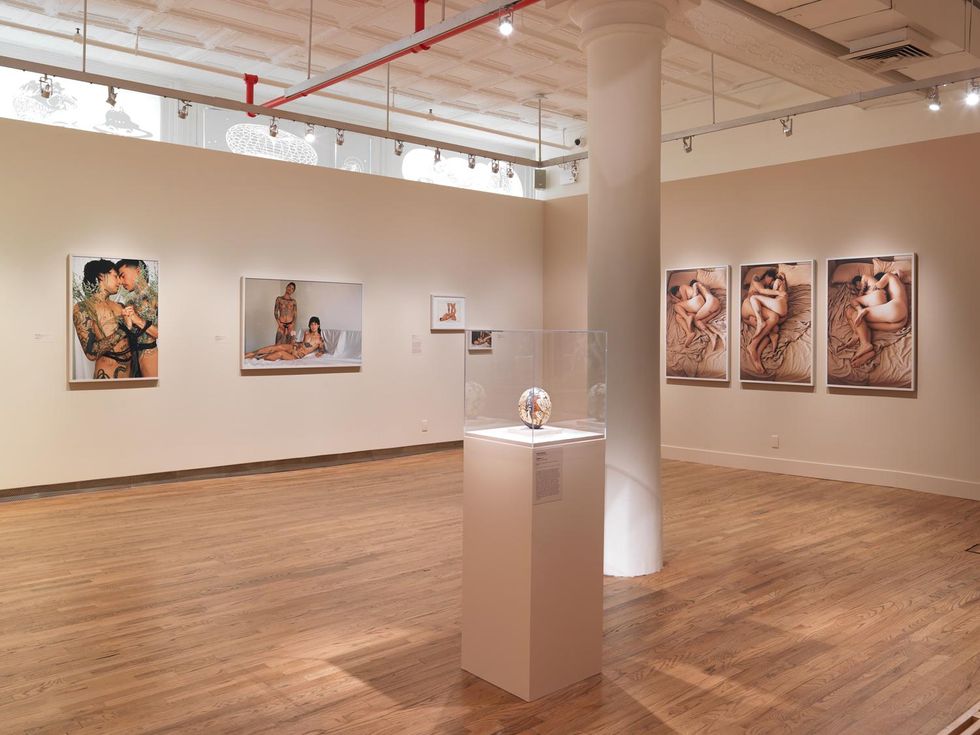 Photo by Matt Grubb, courtesy of the Leslie-Lohman Museum of Art.
Photographs courtesy of Coyote Park
From Your Site Articles
Related Articles Around the Web