Hillary Taymour is more than just a fashion designer. She's also a steward for Mother Earth, a video game designer and, now, a book author alongside longtime collaborator and brother from another mother, Charlie Engman. Released October 3, I Care a Lotta, I Wear Collina Stradalooks back on 10 years (beginning with the brand's Fall 2019 collection) of the duo being total weirdos and brain-vomiting all over the fashion industry.
Their body of work includes asking fashion week guests to bring trash and recyclables to their show to make an impromptu set and sending Kim Petras to the Met Gala as a literal horse, so of course their book is just as fun and unhinged. A standard monograph with perfectly laid-out pages this is not. Instead, it's a visual product of the duo sifting through millions of images from their archives, which Engman then very considerately collaged together in a mad scientist sort of way for nearly 300 pages.
While chilling among the flora of the Elizabeth Street Garden with her dog, Taymour chatted with PAPER ("Sorry, Charlie is probably asleep," she regretfully informed us) about what it was like to look back on 10 years of work, how she manages to be be both productive and chaotic and what divine messages from the cosmos are tucked within the pages of the new book.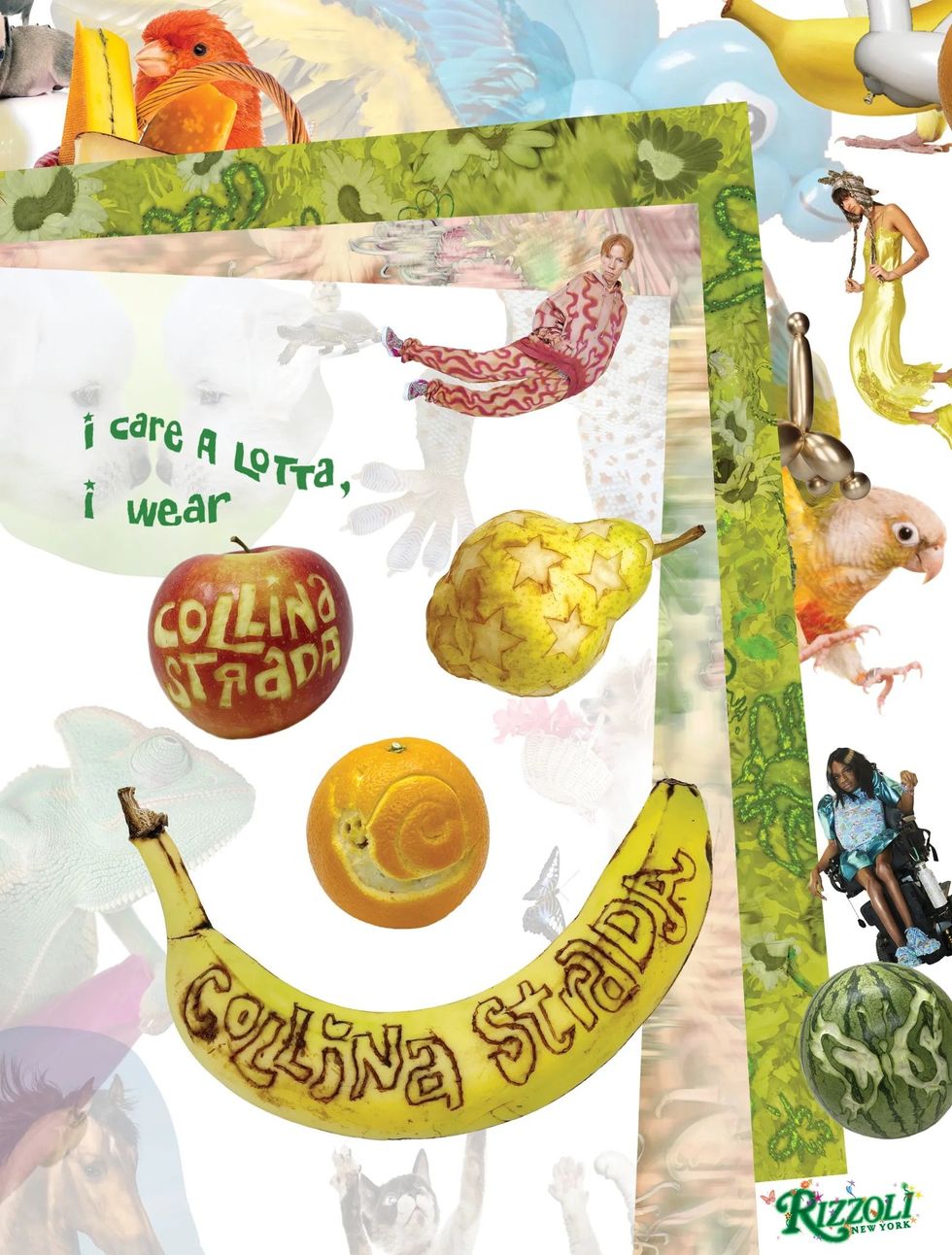 It's kind of out of the blue, yet at the same time I guess I'm also not surprised. But how did you get a book deal?
I had lunch with Jefferson Hack [the co-founder and CEO of Dazed Media], and he was like, "You should have a Rizzoli book." And I was like, "Sure." And so I had a Rizzoli book deal the next day.
Did that make you realize that you wanted a physical chronology of your work so far?
On Instagram, you see the moments and clips of the shows, but a book layout gives such a different context of the work. You actually see, in order, how much work we've produced. You see that I'm not just a fashion designer. We made a video game. We made a reality TV show. If you just knew the budgets for these things... We did the fucking most with the smallest amount of money. Honestly, we've been doing grassroots shit for way too long. Someone needs to give us money. I'm just kidding. Actually I'm not kidding.
How do you even go about deciding what you're going to put in a giant book?
We put everything on the biggest hard drive in the world you could buy, because we have probably over a million assets. Then we categorized everything seasonally, which was the hardest part. That took a month.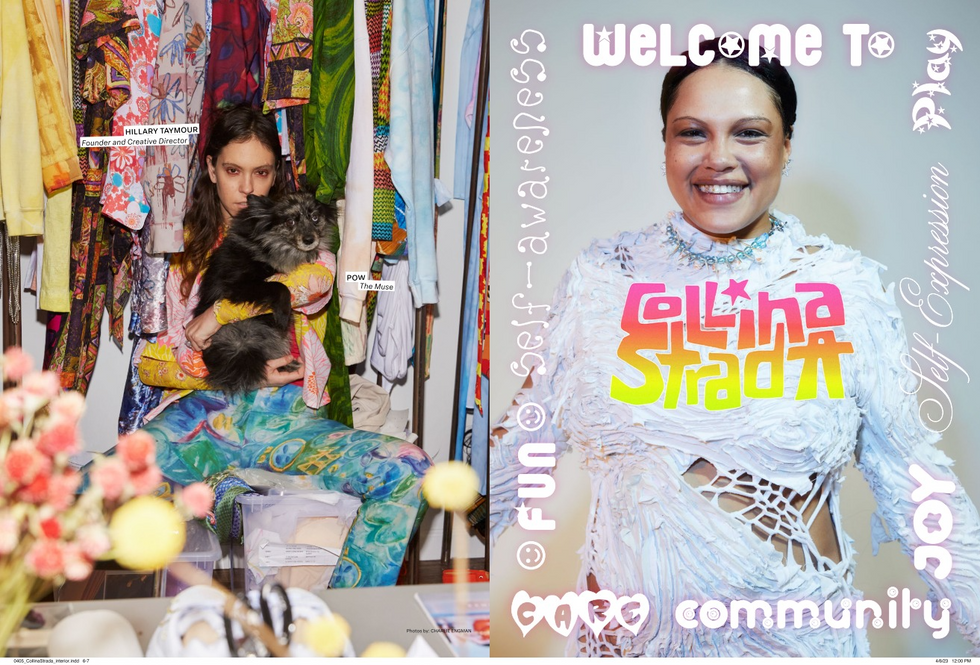 And you two manage to stay organized with all of that?
We don't, but we're organized chaotic so we know where everything is in the pile. But no one else would know. We couldn't tell you how to find it or where to find it, but we know how to find it, if that makes sense.
Was it challenging to work together on the book then?
I know exactly every one of my favorite images from every season. I said that certain images had to be in it, and that's that. He isn't like that. Charlie loves everything for a different reason so I always do the edits for when we shoot together, but he's the layout king.
Did you ever disagree?
Kimberley [Drew] would say that me and Charlie are always fighting. But we're not! We're just like brother and sister, and that's how we talk to each other. We're very direct. There's no tiptoeing around emotions or feelings or any of that. We just cut to it, and we both trust each other. I am Charlie and he is me. We know we got it.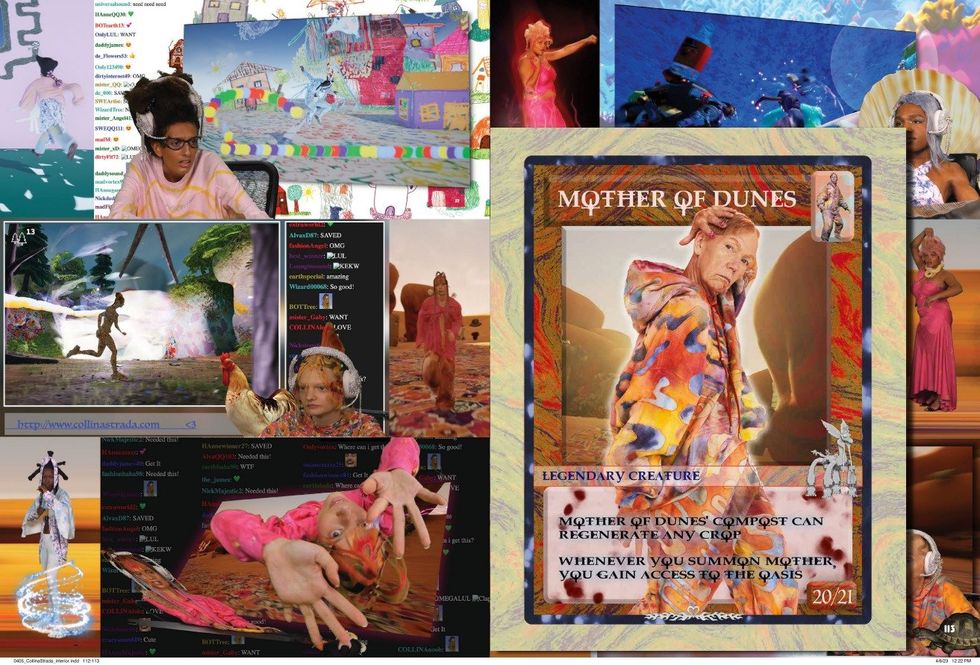 I feel like you've known each other for a long time.
I've known Charlie since 2011 when I hired him as my intern. On Craigslist, he sent me his website that had all these weird nude illusion mirror selfies with body parts in really weird directions. I thought, "This is a weird person." And then I reached out and was like, "You take weird photos. We should shoot a lookbook." So we shot a look book together. And then I took him to a trade show in Las Vegas and Urban Outfitters asked who shot that lookbook. Then he was in Iceland shooting for them the next week.
When I look at your collections, it's on a fashion magazine's website or Instagram, but this book is like seeing in their entirety the little worlds you and Charlie made with each collection.
Exactly, which makes it such a different thing. Now that you see it like I see it, you should watch the "Collina Land" pre-Fall 2021 trailer on YouTube again that we did for Gucci Fest. It's insane. I watched it last night because I was proving to someone that I made a whole video game. We worked on the video, the lookbook and the literal playable video game for three months.
And the magic cards!
Charlie's the magic card connoisseur. Each one took him a week.
What was it like to see the book IRL for the first time?
I hated the book when I first saw it. I thought it was basic. So I looked at other people's books to see what was out there, and I was like, Wait, other people's books are definitely not like mine. There was nothing basic about my book. Now I love her. She shows her true colors, literally all of them.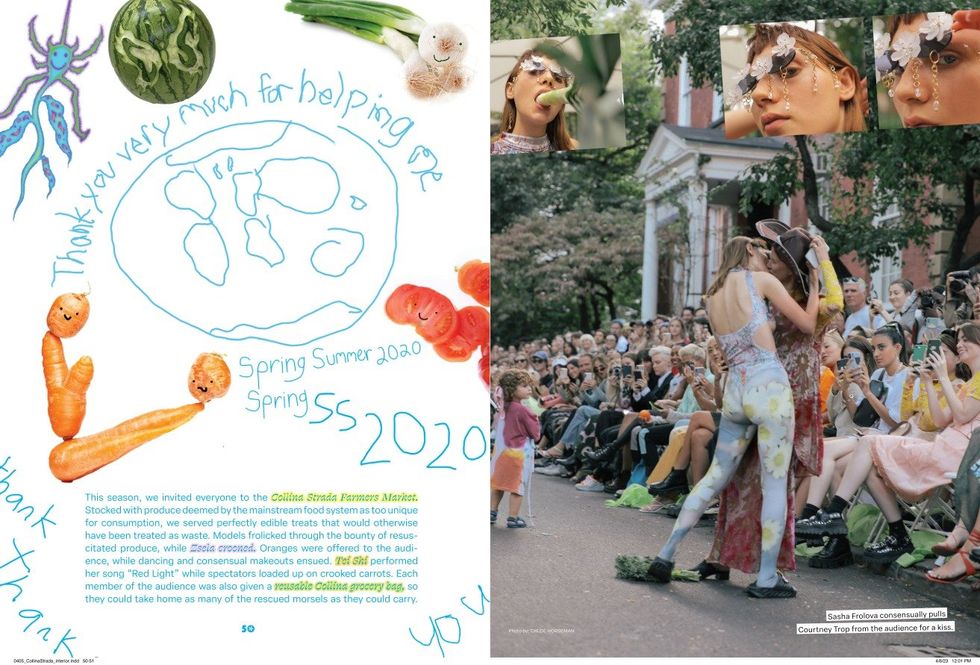 Someone told me that you do basically oracle readings from the pages. Can you give me one?
Wow! New love! You're receiving new love!
That was their first kiss on the Spring 2020 runway. They were flirting over text message, so I asked Courtney how she'd feel if Sasha kissed her on the runway. And she was like, "Yeah, totally." Then I asked Sasha if she wanted to kiss Courtney. And she was like, "Yeah, sure." And then they started dating afterwards.
What's crazy is that I got a fortune cookie recently that said to be ready to receive love.
Who even needs a psychic? It's your time, baby.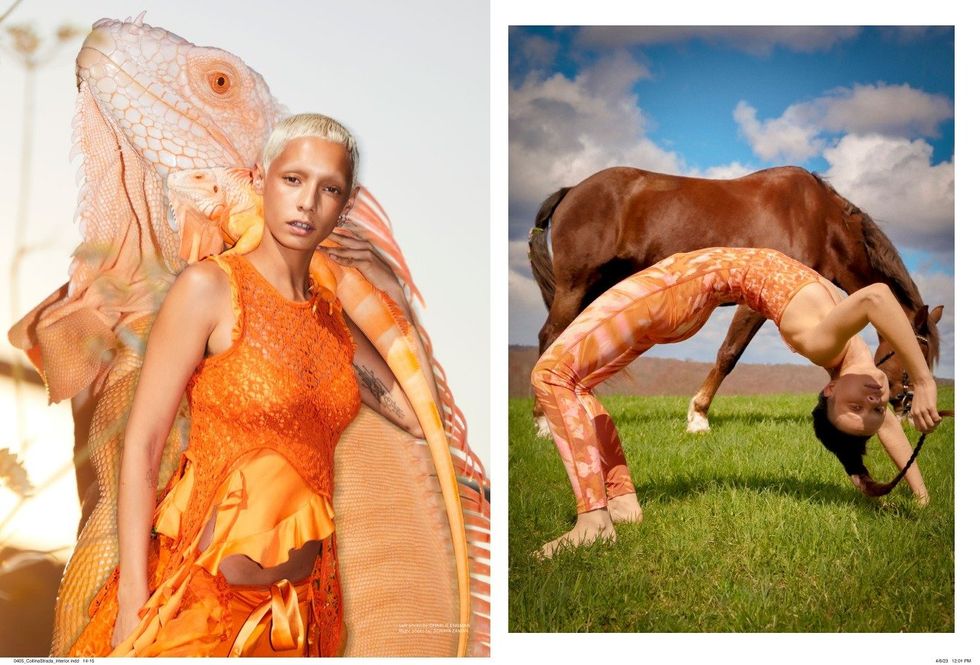 Can we do another?
I see Sarah, our yogi expert, and a horse. Horses are really good therapy. Like equine therapy is real. So there's calming and loving support systems in your life.
Okay, wait. Last one!
This is all of the looks from one of my favorite shows "Got Milkweed?" I think it's saying that you need to wear more Collina Strada.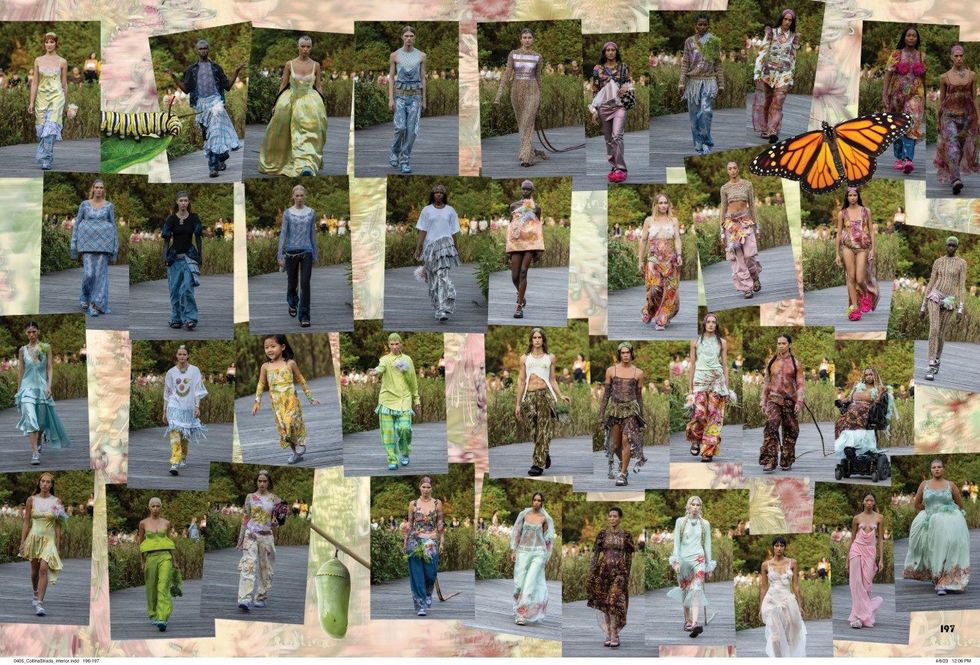 Photos courtesy of Collina Strada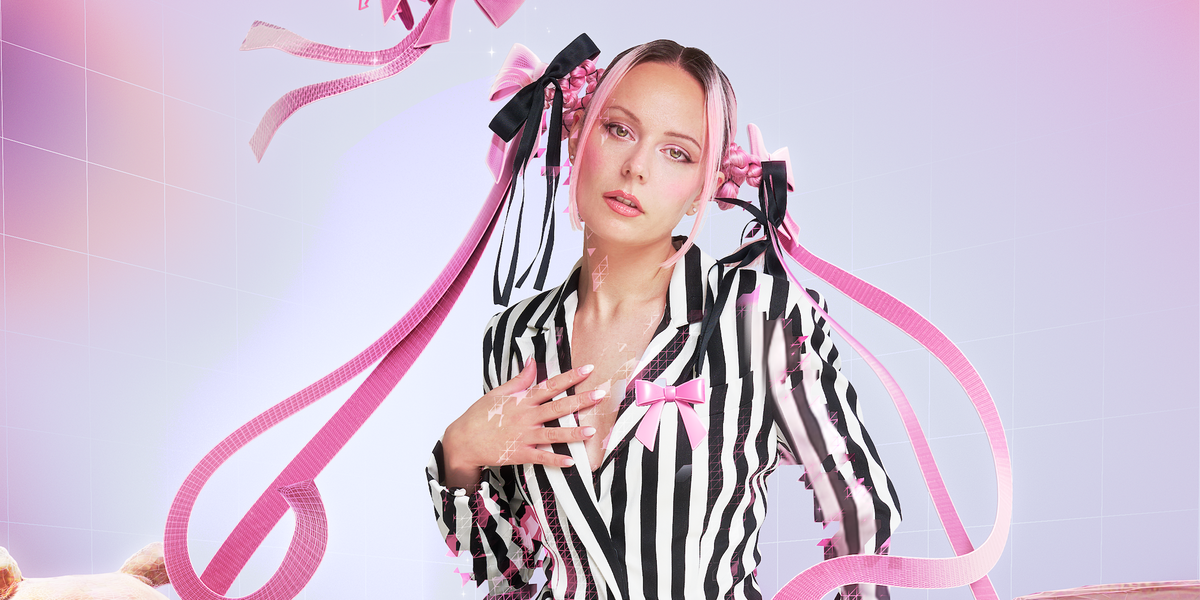 Music
Story by Harry Tafoya / Creative direction & VFX by Andy Rolfes / Photography by Nicholas Needham / Styling by Erik Ziemba / Hair by Davey Matthew / Makeup by Frostie Delite
Story by Harry Tafoya / Creative direction & VFX by Andy Rolfes / Photography by Nicholas Needham / Styling by Erik Ziemba / Hair by Davey Matthew / Makeup by Frostie Delite
07 November