Rebecca More and Sophie Anderson are two self-proclaimed sluts with a sharp business acumen, a talent for tapping into the cultural conversation, and outlooks that are as entrepreneurial as they are ostentatious. Look no further than the origin story of their infamous "We're fucking Cock Destroyers" video — a moment in viral history that has since positioned them as queer icons, owners of a new merch line, and stars of Men.com's new period piece gay porn series A Tale of Two Cock Destroyers.
The iconic video was birthed from a luxury hotel gang bang, or rather a moment in between a sold-out morning session and an afternoon iteration that needed a little sales boost, when the British porn stars decided to take matters into their own hands.
"I've always made videos that [tapped] into the power of the internet," More says, mischievously. "I've always known it was very good for sales… and we had to fill the spaces, so I just popped the phone on and it came from the heart. Organically."
After uploading the initial video, More says she "completely forgot" about recording the promo — something that contributed to her immense surprise once the video went viral a few weeks later. In fact, they weren't even sure what people were referring to after the first few "you're a gay icon" messages began coming in.
"We were like, 'What have we done?' We couldn't understand what they were going on about," More says, explaining that an upload of the promo by another person was what actually caused the clip to go viral. "[It took] people who kept reciting the video back to us for us to figure it out... so we watched it again and just started laughing, like, 'Oh, we are extreme.'"
As More puts it, even in their "little bubble," she and Anderson are "known for being quite rude and extreme with our words and stuff," though, according to More, she's always been "a bit extra."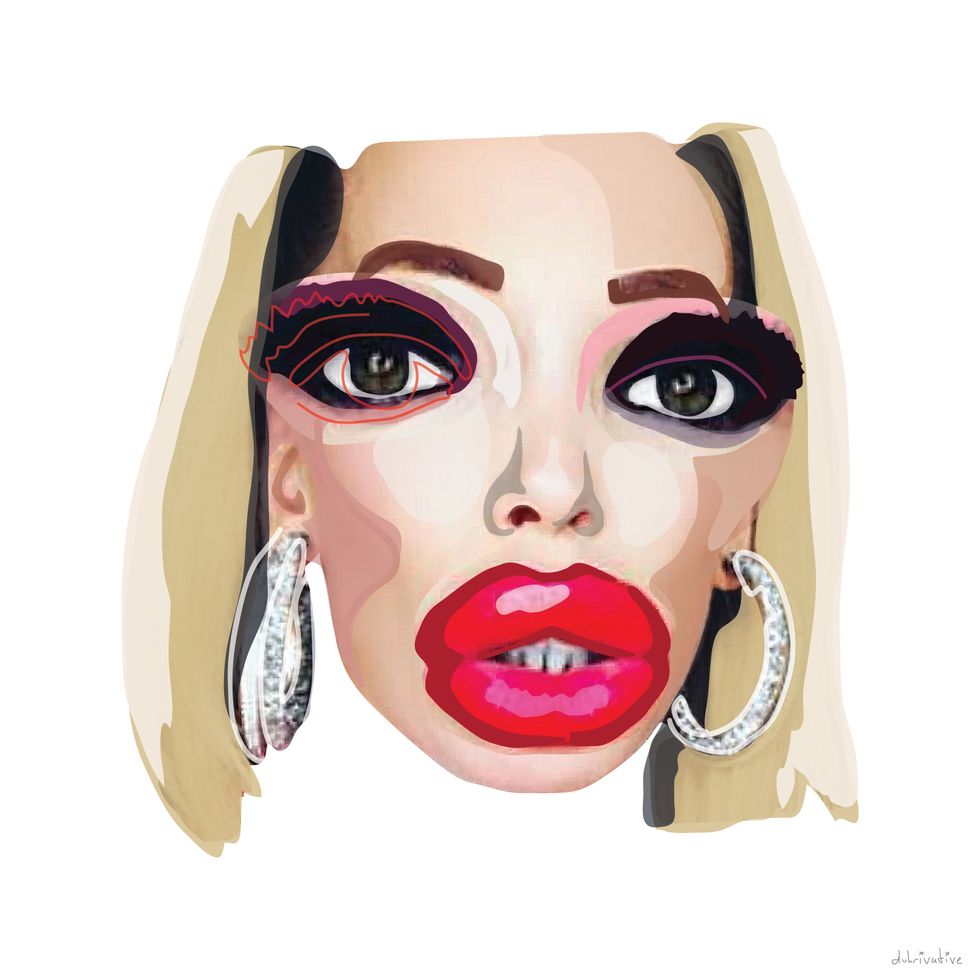 Rebecca More
"I always felt different… a little like my parents weren't actually my parents," More says before launching into a conversation about how she didn't really find her way until her twenties when she was training to become a lawyer after having her second child. But after emerging from a bad relationship, More eventually moved to London, where she completed her degree and began working for the Citizens Advice Bureau, even though the pay was less-than-ideal for a single mom of two. As a result, she began webcamming, stripping, and then escorting — something that she says taught her to hustle.
"It was the sex industry versus being on that bread line," More says, though she admits the amount of criticism she's received for choosing to take this route has been substantial. "People would say to me, 'These women, they don't do that, they make sure they suffer,' and that sort of thing," she recalls. "But I was like, 'I don't want to suffer. I want to have money and have a good life."
Similarly, Anderson says she "never really felt at home, [as] you know, a bit of a weirdo, an oddball," especially as a woman whose always been in touch with her sexuality, though that also took a while for her to truly embrace.
"[Sex work] has really helped me, not just from a monetary point of view, but a 'finding out who I am, and how fucking strong I am' point of view," Anderson says — a point bolstered by More's belief that we should all be fighting for a woman's "right to be a slut."
That said, More says this isn't a lesson that came easy, as it took cheating partners and a lot of sexist, double standard-laden naysay to help her realize that she also had a personal distaste for the conventional "one partner my entire life… eating spaghetti bolognese together every night of the week" model.
"Like, if I want to sleep with a guy, I'm gonna do it. What's the problem?" More says, before explaining that age and pure life experience taught her a lot. And while the industry veteran does think times are changing for the better, she still acknowledges that there's a lot of work to be done, especially when it comes to the rulemakers of society, including banking institutions and the UK parliament, which proposed its own version of America's harmful FOSTA/SESTA legislation last year.
"There's still that prejudice, we're not over that," More says, adding that some women she works with are still ashamed. "It hasn't been an easy ride in many ways, but everyone's going to judge."
That said, More also admits that she's been working on her attitude toward judgmental bullshit for a while, explaining that, "when you've had to try and fight your way through life, you have to become very vocal when you have struggles," especially when it comes to being a single mom who's also a sex worker.
"You just have to become more of a fighting spirit," More says, her tone shifting slightly as she lets out a giggle. "And you're not going to give a shit about anything."
Anderson echoes this sentiment and says that she really loves that the duo "are out there and spreading the sex-positive message and not giving two fucks to people's negativity," especially when it comes to supporting their newfound queer fanbase.
"It makes a difference to people's lives, especially if they feel they have to hide something away from people as they are [afraid] of being rejected or not accepted," Anderson says, before adding how she's felt incredibly welcomed by the queer community.
"How lucky am I!" she exclaims, "It just seems this family accepts and understands me and my [love of] sexuality… [but again] it's all about accepting yourself."
Which leads us to their latest "dream come true" endeavor, A Tale of Two Cock Destroyers. Though it's a Men.com production, More and Anderson were asked to join the period piece as two rival, Victorian-era brothel madams fighting, sending each other to prison and, as Anderson puts it, "ordering my whore boys around."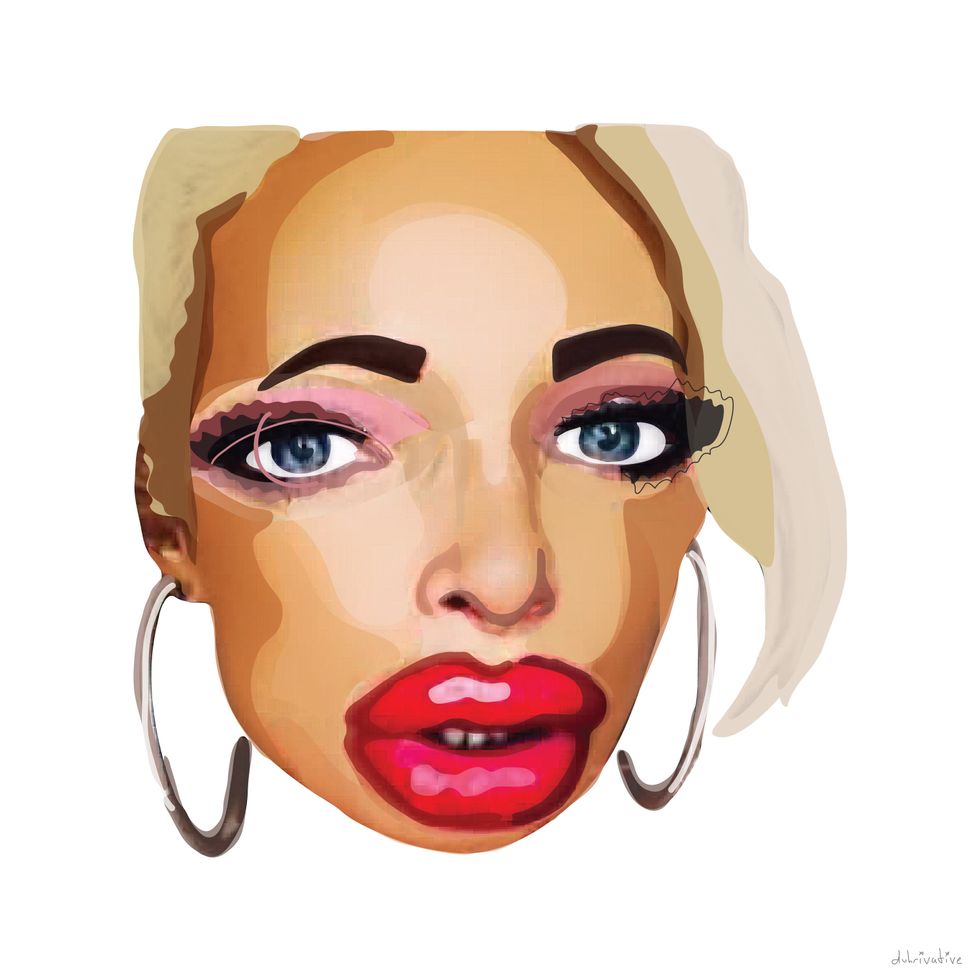 Sophie Anderson
The video features some of the biggest names in gay porn — including Ty Mitchell, Joey Mills, and Johnny Rapid — and More explains that while they were a little nervous about being "straight girls on a gay porn set," they decided to say yes as big "fan girls" who just "felt honored to be accepted onto a gay set."
"We were just really happy to be there and it was so nice of them to be like, 'We love you,'" she continues. "There was a lot of mutual respect going on, we really just had the fucking time of our life."
And while they both agree that being a part of the production was an incredible, once-in-a-lifetime experience, they want to continue being active allies and supporters of the queer community for years to come. Their first plan? According to More, the Cock Destroyers are currently training for a 10K run on World AIDS Day to raise money for the Terrence Higgins Trust, a British charity that provides HIV and sexual health services.
"Sophie and I have to stick together! We're not doing a competition, but we are training for this run together, [which will be] in the freezing cold," More lets out one last laugh, "But it's such a good charity. It'll be worth it."
Welcome to "Sex with Sandra," a column by Sandra Song about the ever-changing face of sexuality. Whether it be spotlight features on sex work activists, deep dives into hyper-niche fetishes, or overviews on current legislation and policy, "Sex with Sandra" is dedicated to examining some of the biggest sex-related discussions happening on the Internet right now.
Support the Cock Destroyers' fundraising efforts for the Terrence Higgins Trust, here.
Sign Up For The Morning PAPER