For Chrissy Chlapecka, this Valentine's Day is all about self-love — and she's putting herself first on her sizzling debut single, "I'm So Hot."
Since 2020, the 22-year-old TikTok phenom, who counts themself as their "own bisexual awakening," has been steadily amassing a following on the app thanks to their deliciously campy takedowns of capitalism, bigotry and the patriarchy. One of the leaders of the BimboTok movement, Chlapecka's tongue-in-cheek content celebrates the hyperfemme in all its hot pink, glittery glory. Defying a society that both objectifies women's bodies and suppresses their sexual autonomy, Chlapecka encourages others — 5.1 million followers as of this writing, to be precise — to be confident and embrace their true selves through authentic self-expression.
For the Chicago native, part of that self-expression includes singing, and her debut single is a marabou kitten-heeled step in the direction of glitzy pop stardom. Co-written by Chlapecka and Alexandra Veltri, "I'm So Hot" is about feeling yourself so much you literally want to fuck yourself. "When I wake up alone I can hardly take it (you know?)/ 'Cause I just can't believe I get to see myself naked (head to toe)," Chlapecka coos breathily on the opening verse. In the iconic words of Chlapecka's idol Paris Hilton: That's hot.
Set to a punchy, mid-'00s-inspired dance-pop soundscape, the track throws it back to the unapologetically sexual pop of Prince and the sticky-sweet, insta-catchy dance floor bangers of Kylie Minogue, Nadia Oh, Kesha and Britney Spears' cult-fave Blackout era.
"Every time I go into the studio I reference that era of Britney. I really love the sound of the early 2000s," Chlapecka, who also takes inspiration from the "hyperpop girlies such as Slayyyter and Charli XCX," tells
PAPER.
Despite its irreverent lyrics and club-charged sound, Chlapecka revealed in a vulnerable TikTok that the song was inspired by a previous "toxic relationship with sex," which was largely the result of some traumatic experiences in high school as well as an abusive ex.
"Self-love and self-pleasure in any aspect is so healing. A lot of the inspiration behind the song is the sexual trauma I experienced as a teenager that I had to work through. The song is about reclaiming my body and being like, 'I can love myself and I can pleasure myself and that can be good enough for me,'" she tells
PAPER.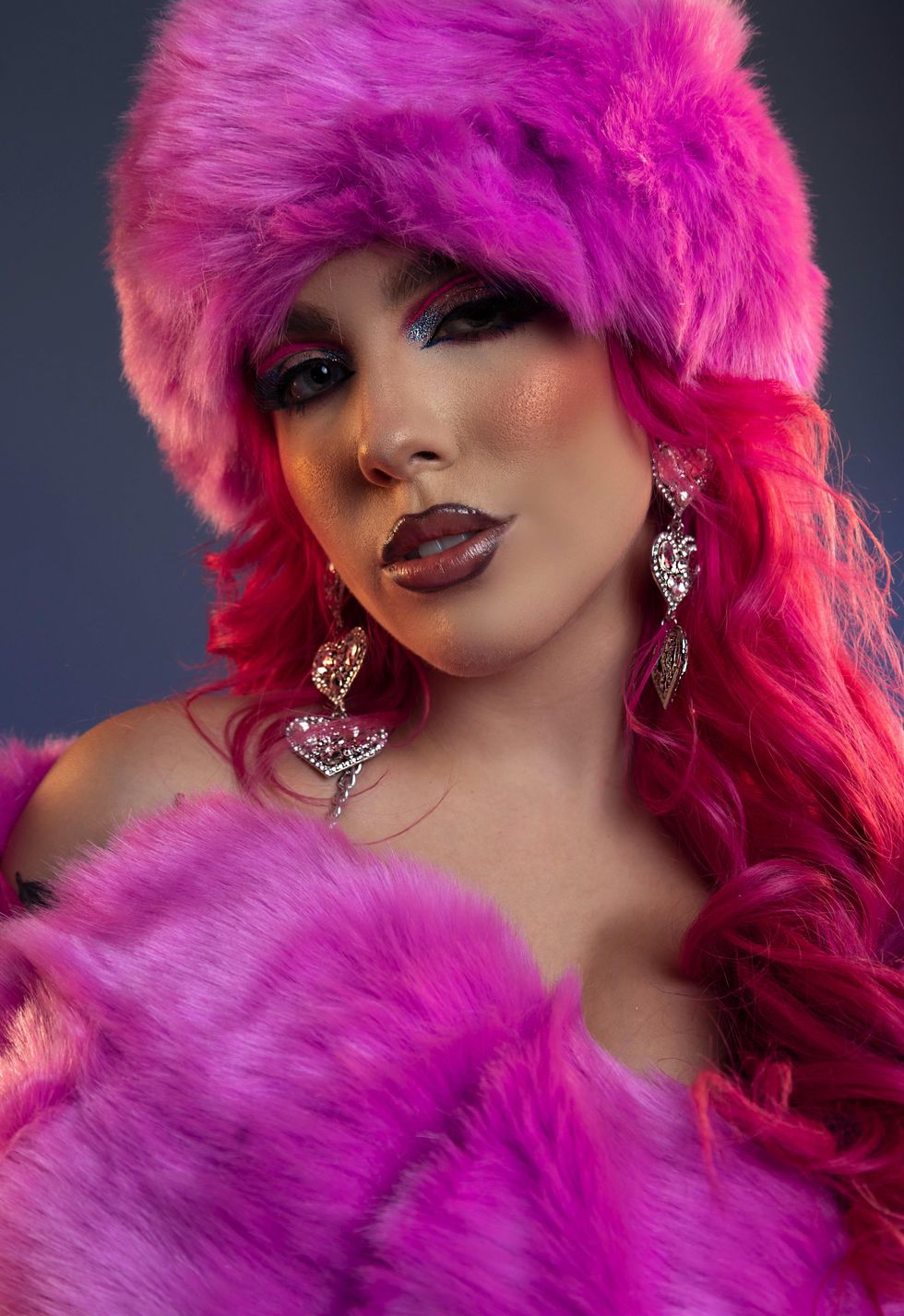 Chlapecka has been "very musical," ever since they were a kid: "Music has always been a very good therapeutic outlet for me growing up. You know, the classic 'I'm singing over my mom and dad getting a divorce downstairs' kinda shit." She flirted with musical theater in her teens, something she believed would be a major part of her life trajectory. After studying theater for a semester in college, however, she realized she was more of an Ally Maine than a Rachel Berry. (Well, the glossy pop star version of Ally Maine, anyway — Chlapecka does a mean Lady Gaga cover.)
​"I wanted to be on Broadway. That was the goal. But I realized I didn't want to be confined to this box that musical theater puts people into. You have to look a certain way, act a certain way, sing a certain way. I think there's so much creativity in musical theater, but I wanted to create freedom outside of that for who I could be as a person — I wanted tattoos, I wanted to dye my hair pink, I wanted to be silly," Chlapecka says.
Below, Chrissy Chlapecka tells
PAPER
about the importance of radical self-love, how they view their place in the bimbocore movement and why we need to give TikTok pop stars a chance.
Someone on Twitter said you were setting the bar high for "TikTok artists" because finally we have a song that doesn't sample a nursery rhyme. There have been a lot of TikTok stars who have released music to varying degrees of success. There's also this idea that influencers and TikTokers shouldn't or can't make valuable music. What do you say to those people?
I've seen a lot of comments that are basically like, "Oh my God, finally a TikToker making music that isn't bad!" That is very validating, but also, I don't wanna discredit anyone else's hard work because music is subjective to the listener. There's music that's objectively amazing that I just don't enjoy.
People think that it's so much easier for influencers to break into the industry because of their following, and that is a valid fact. For somebody like me, that was the goal. I knew that I had to have some sort of platform if I ever wanted to be the pop star of my dreams. I work hard to maintain the platform and be myself and also show myself in different aspects of entertainment because you have to be multi-talented to do these things in the industry.
So while it's very validating, I do think a lot of influencers and content creators blow up on accident. I didn't think I would ever blow up on TikTok. I just started posting in June 2020 and the second video I ever made suddenly got a million views, which was amazing. My life changed and I'm forever grateful. I love everyone who has been here with me, but also, [TikTokers] are allowed to have other goals and things we want to do with our lives and with content creation. Music has always been the end goal for me... I think people have to understand that many influencers' backgrounds go deeper than just the few years they've been online.
There's still such a taboo surrounding women's masturbation and self-pleasure, but once in a while we get a pop song that normalizes it, such as Britney Spears' "Touch of My Hand." Do you hope your song will continue to open the conversation about that?
I really, really hope that people can hear the song and find comfort in it, because it is such a taboo. Especially when you're talking about someone who identifies as a woman — we can't talk about masturbation or loving yourself because we're gonna be seen as conceited or too much. I don't care if I'm too much!
Learning to love myself and reclaim my body in the ways that I have with self-pleasure and self-love has made me the person that you see on your screen today. It makes me also want to help those who are struggling with that, because it is so isolating and so scary to go through those moments in your life where sex is abused. I always call myself a big sister on TikTok and that's what I wanna do with my music — allow people to love themselves for those two minutes and 30 seconds and just hope that goes into the rest of their day.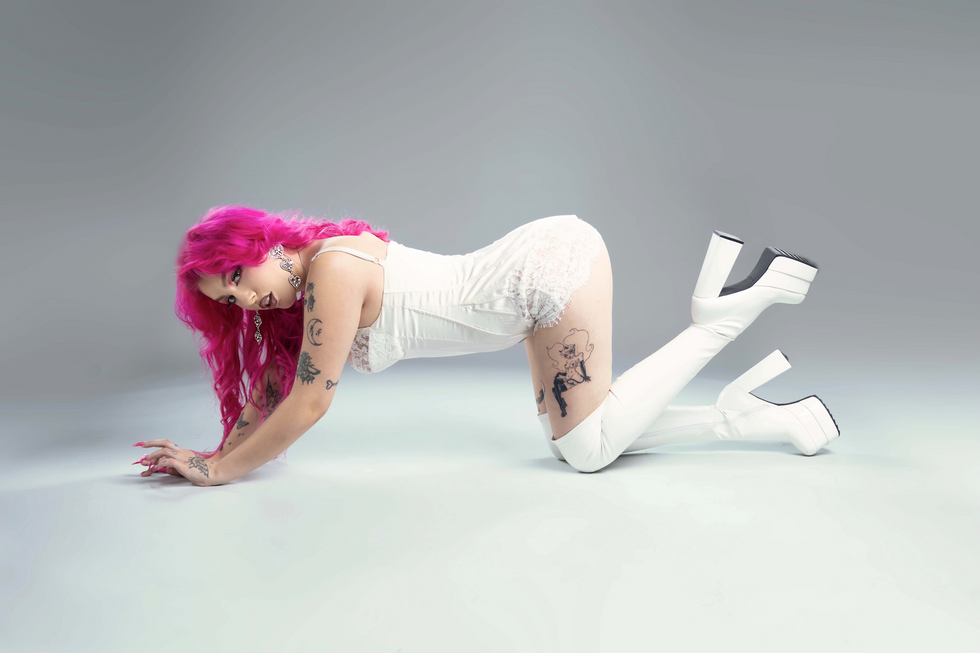 ​This song taps into that message — you, yourself, are enough — in so many ways, and it's important.
It's important and it's hard to learn. I think people can totally look at me and be like, "Oh, it must be so easy for them to be so positive and so loving and so caring about themselves." You know, I think that's just an everyday conscious decision. I have to wake up and be like,
Okay! I'm gonna love myself today and it's gonna be hard and I'm gonna give myself grace in the moments that I don't feel like I'm being 100% or I'm not doing enough
. It's difficult, and I think that's something people can really resonate with. Having a self-love mantra in the song means a lot to me. I just hope when people turn it on, they smile and sing the lyrics and feel like the baddest bitch in the car.
What does self-love mean to you?
It means I know I am loved and I know I am worthy and I know I am enough. Reminding yourself of that can really help not let those other forces that are trying to get to you rip you apart. You are a whole person, regardless of what somebody else thinks or somebody else says or how somebody else treats you. We wouldn't be able to survive if we tapped into the ways other people thought of us. We have to remember we're all human beings and we're all special in one way or another. There's no hierarchy.
Why is it so important to find self-love, especially for people in marginalized groups?
For those who are in those spaces, we have basically been told not to love ourselves because of our queerness, or because of who we are as people, or what we look like. A lot of us grew up, too, in environments where those things were seen as taboo, or not okay, or a sin. Loving yourself was impossible to do.
It's so important now in these spaces and communities because self-love is so healing. Finding moments of grace for yourself — whether it's like,
I'm the sexiest girl I've ever met!
or
I'm gonna be kinder to myself today!
— is so incredibly healing. A lot of the trauma people experienced in early childhood or their teenage years or in college or even later in life, that stuff doesn't go away. Finding validity in oneself and finding self-worth makes all those things we went through more miniscule.
You came out publicly on TikTok and have also found family in the LGBTQ+ community, whether at Pride events or in online spaces. What have you discovered about yourself since joining those spaces?
I came out — kind of only online — in 2020. That was really scary because I hadn't told any friends or anyone in my family, but I was talking to, like, the millions of people watching me and was like, "Yeah! I'm queer!" It was so liberating to just be so wildly accepted in the blink of an eye — in a like, in a comment, in a share. The fear of doing that with the other people in my life was still there, but what they thought almost didn't matter as much because I had so many people supporting me and being there for me. I also recognize that's not a common thing for people who come out. I was extremely, extremely lucky to have those people there to help me.
The more I talk to queer people and the more I'm in the environment and performing at Pride, or meeting people at clubs or just meeting people on the street, I learn so much about my younger self. I begin to question: "Why'd I let this person do this to me?" or "Why'd I get into this situation?" or "Why'd I act like that?" It has opened up a world of reflection and kindness toward younger me, who I have a lot of grace for now.
I've been through a lot of unfortunate situations with abusive relationships and crazy family stuff and crazy friendships. I didn't blame myself for that necessarily, as it's never the victim's fault, but I didn't understand why I allowed so much stuff to happen to me for so long. Now, stepping back, being older, being more one with myself, feeling whole, I just see a girl who was very broken and needed a hug — a girl who needed
me
, the me I am now, to go to her and be like, "Let me help you! It's okay to be queer, it's okay to be yourself, it's okay to
not
be with this person. You're safe, you're gonna be alright."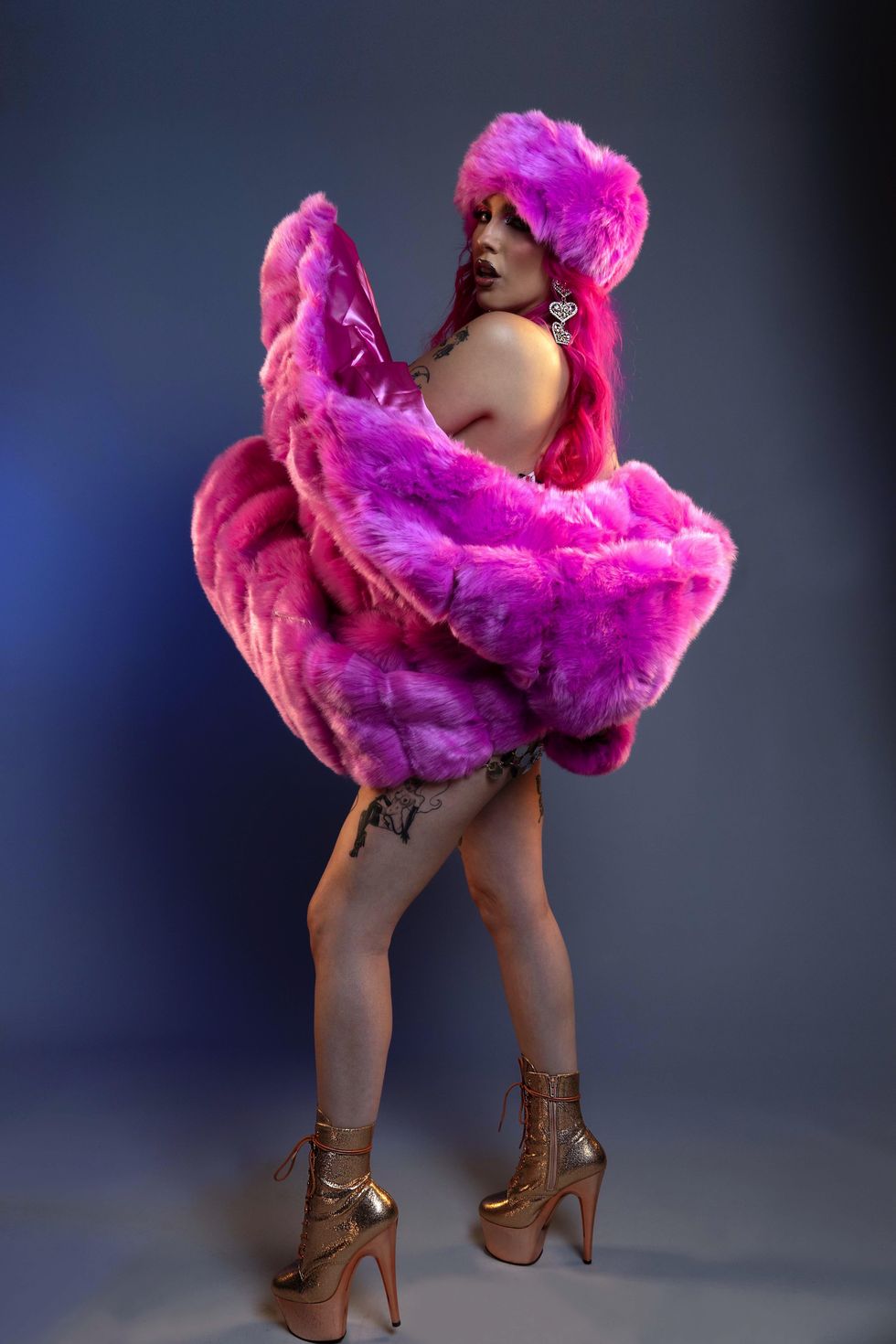 "Bimbo" hasn't always had the most positive connotation. Why reclaim the word?
I really think that now, with the reclamation of the word, being a bimbo is celebratory of hyper-femininity, regardless of gender. Regardless of how you dress or who you are, there are so many ways to present being hyper-feminine, or to feel hyper-feminine, or to feel very in touch with your femininity, and I think that's beautiful.
Where do you see yourself in the bimbocore movement?
I think femininity is one of the most powerful things in this world. I love my feminine side and I'm so grateful that I'm able to share that on the internet and in my music, and also share that with other people and make them feel appreciative of it because it's not something to be ashamed about. Like, wearing high heels is hot, girl! Be a bimbo! Show your boobs! Like, who cares? There are bigger problems in the world than the way people dress and present themselves. Those problems are the way that other people react to people dressing like themselves and the harm they do to those people —
that's
the problem.
I think 10 years from now I'm still gonna be behind all this bimbo stuff and be the same girl I am today, fighting for everyone's acceptance of oneself and fighting for acceptance in general for people who identify as bimbos or love the bimbo culture. I will always be a girl's girl, I will always love the girls, and I will always fight for the bimbos.
What are your favorite pop culture bimbo moments?
There's so many. I mean, I really loved... What was that show Paris Hilton was on?
The Simple Life
! Oh my God, I think that's gotta be one of my favorites because watching those episodes is just so hilarious. That girl, Miss Paris Hilton, is an icon. I think she's hilarious. And I love her music so much.
Her album is genuinely a great pop record. "Nothing in This World"? "Screwed"? Iconic.
I know! She was like, "Get me in the studio! I can do whatever I want!" And we said, "Yes, you can!"
What's the best gift to buy yourself for Valentine's Day?
Buy yourself chocolates, buy yourself flowers, make yourself dinner, be romantic to yourself because you deserve it. I would say the best gift to get yourself on Valentine's Day is a nice vibrator, or a sex toy — whatever it is that you enjoy — and spend that time pleasuring yourself. Hands down, that will always be the gift I get myself every year because I deserve it and so does everyone else.
Related Articles Around the Web