Since the beginning of November, Chicago has seen a jolt to its already-electric music scene, thanks to 30 Days, a month-long concert series produced by Red Bull. The series first launched in L.A. in 2014, where it had a habitually-sold-out three year run before deciding to decamp for the Windy City. Like with its Angeleno predecessor, 30 Days spreads out across the city, hosting shows at some of Chicago's most legendary venues like Metro, Riviera Theatre, The Empty Bottle and others. The roster this year spans the genre gamut and has included sets by Kali Uchis, Syd, Mitski, Jorja Smith and Lizzo as well as forthcoming shows by Jacob Banks, Khalid and more. As the series hits the homerun stretch of a successful Chicago debut, we chatted with Marcus Heisser, the Senior Manager, Global Artist Relations and Product Development, about the choice to bring 30 Days to Chicago and how Red Bull is tapping into the city's thriving creative community.
What was the impetus of organizing a music 'event' across a month (as opposed to a more condensed festival)?
We feel like the '30 Days' format gives us a platform to give quality, focused exposure to amazing artists representing genres and ground-breaking music from around the globe. A more "condensed" format would limit the attention we could shine on the local community, music scene and the artists themselves. 30 Days also allows us the ability to reach a significant number of music fans in unique and interesting ways.
What made you choose Chicago to be the second city for 30 Days?
At Red Bull, we're never satisfied; always trying to learn from our past successes and then challenge ourselves to exceed them. For the past three years, 30 Days had sold out and made a significant impact on Los Angeles. So we thought, why not bring this experience to another market? We chose to bring our 30 Days festival to Chicago for a few reasons: First, the strong history of Sound Select in the city: Chicago was one of the first markets to which we brought Sound Select in 2012 and since that time we have produced 49 events there. Second, we've developed some tremendous relationships with influential Chicagoans. Over the years, our partnerships with Andrew Barber at Fake Shore Drive and Brent Heyl at Empty Bottle have helped us maintain a consistent presence in the Chicago music scene and identify some of the best artists in the business -- Chance the Rapper, G-Herbo, Smino, just to name a few. Finally, and most importantly, the music: Chicago's music scene is more fertile than ever. 30 Days provides a tremendous platform to expose the local artists and sounds that we feel is "next" to resonate globally.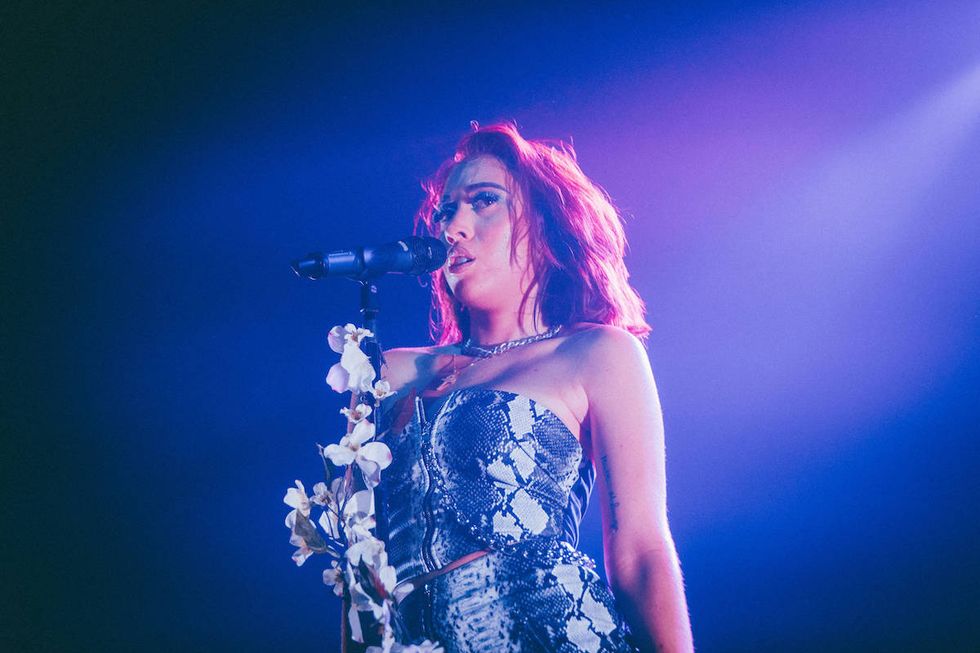 Kali Uchis performs as part of Red Bull Sound Select's 30 Days in Chicago festival, at Metro in Chicago, IL, USA on 9 November, 2017. Photo by Bryan Allen Lamb / Red Bull Content Pool

In what ways are you tapping into Chicago's music and creative scenes during 30 Days?
Our Chicago team took the lead in the programming of the festival. They are the ones that are deeply ingrained in the music and culture of the city. The team has developed strong relationships with the local talent over the years through collaborative projects and events. Kweku Collins, Raevyn Lenae, and Noname have all been featured this year during our monthly Red Bull Sound Select Presents events in Chicago and now are a significant part of our 30 Days celebration. In addition to traditional performances, 30 Days is also playing host to a number of community events. On the academic side, we'll be pairing students up with creative industry leaders around the themes of "Music & Tech" and "Music & Photography". On November 5th, we hosted a Cratedigger Record Fair in conjunction with Discogs, featuring the best of Chicago's independent record stores.
How do you pick the venues you host shows at?
We've been producing and presenting music and culture-focused events in Chicago since the mid-2000s and have worked closely with many of Chicago's legendary mainstays such as the Metro, Empty Bottle, Aragon Ballroom, Reggies Rock Club, Subterranean, etc. Additionally, some great new venues have opened over the past decade that have played an important role on the local music scene, such as Lincoln Hall, Concord Music Hall, Thalia Hall, Chop Shop First Ward, House of Vans, etc. For us, it's important to support the local businesses and venues that support the local creatives and music scenes. It's our focus to present the best possible live music experience for artists and fans across a variety of popular genres and scenes, in locations across the city and in venues of all sizes. (We take the same approach to our programming.)
Splash photo: Mitski performs as part of Red Bull Sound Select's 30 Days in Chicago festival, at Lincoln Hall in Chicago, IL, USA on 7 November, 2017. Photo by Jules Ameel / Red Bull Content Pool

For information and to snag tickets to a 30 Days show, go HERE