Last night at the Brooklyn Museum, American fashion's great and good came out to celebrate its own past, present, and future as it does every year in the first week of June. The Council of Fashion Designers of America Awards (CFDAs), by no stretch New York fashion's biggest night (that honorific goes to the Met Gala to be sure), but are rather an indicator of what the stateside industry values at present — what it think it should value.
For the competitive awards there are four: Womenswear, Menswear, Accessories and Emerging Talent. Often the same designers and brands populate the categories year after year, cultivating a dispiriting sense of inertia, that lends itself to the whispered refrain that New York is creatively lagging behind its European counterparts. Honorary awards for Lifetime Achievement or International preeminence (along with Positive Change, Influencer, Media etc.) give some injection of personality from people outside of the local runways — usually from entertainment or foreign fashion characters. This year brought on stage a generous swath of figures from popular culture in an unlikely, if joyously whiplashy mashup: Kim Kardashian! Oprah! And even the elusive James Jebbia, founder of Supreme. So what is to be read in the tea leaves of last night's winners and stars?
Related | Top 10 Takeaways From the 2018 CFDA Awards
The night opened with a surprise (and low-key jaw dropping) appearance from none other than Oprah herself, to present the Eugenia Sheppard Media Award to Edward Enninful, the newly minted EIC of British Vogue. Enninful has already gained acclaim for pushing the historically whitewashed BV into the present, with covers and stories that show women of color, shape and various backgrounds (not just skinny, white and rich). His ambivalence to the status quo, and confident inclusivity in his magazines pages, has put him at the top of the list for successors to fashion media's highest perch, the editorship of American Vogue. Last night's moment with Miss O had a whiff of an anointing to his possible and future American subjects or at least an underlying message that this was the one to watch.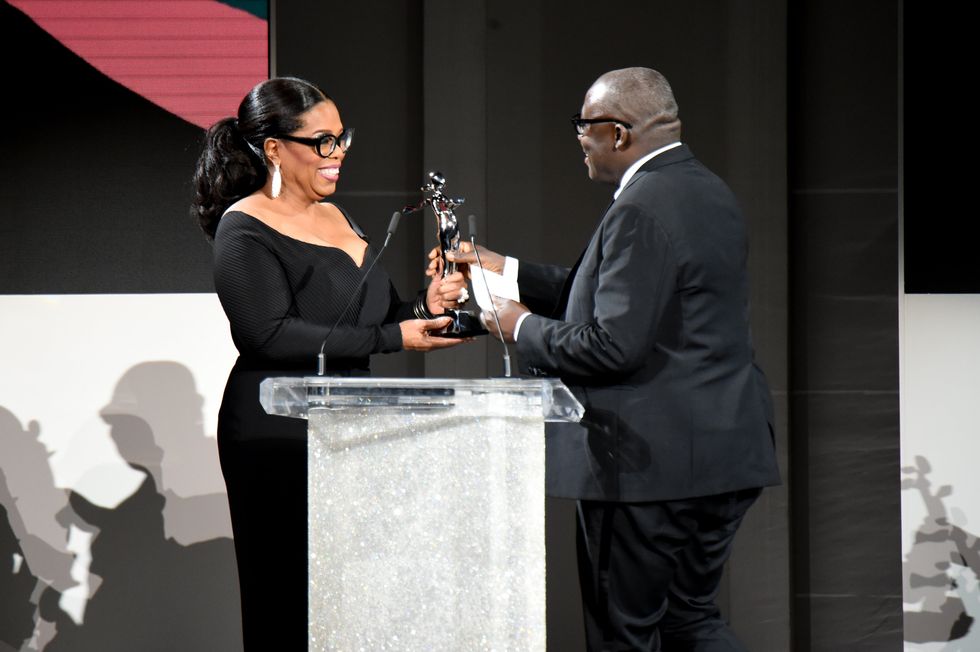 If Enninful represents a possible future for American fashion, then Ralph Lauren, the recipient of a "Members Salute" award last night, is perhaps the picture of its glorious past and relatively unsteady present. With a Mount Rushmore of designers gathered on stage to pay tribute (Donna, Calvin, Tommy, Vera, etc.), Lauren, at 78, is still the undisputed king of the hill when it comes American sportswear and retail. But the last few years have not been kind to his business: rafts of layoffs and downsizing, CEO turnover and brand restructuring after years of expansion and dilution. Also it begs the question, what is the future for a brand that so fetishizes a certain anglo notion of living in a world spasming under the weight of that long held ideal?
And what is the new ideal? One could argue that James Jebbia of Supreme (who won last night for Menswear) has moved that ideal out of Lauren's tweedy mansion and into the street; a street where customers choke the blocks of SoHo with lines around the block on the regular for just the chance to lay down thousands for shoes and gear. In one of the more curious moments of the night, Jebbia proclaimed, upon winning his award: "I've never considered Supreme to be a fashion company or me a designer." Which, despite the koan-like detachment, and slightly troll-y ambiguity, the words are a passcode into the brands recent prevalence. The reality is more companies are fashion companies than they aren't (find me a brand any brand that does not have merch, ironically or otherwise), and Supreme is the most deft at being a not-not fashion company than anyone else. It's a retail shell game that so subverts the notions of status and aspiration (the inveterate currency of fashion) that when the product comes out the other side it causes an Internet hysteria and traffic jams on Lafayette St. Something tells me if Grailed had been around in 1968 when Polo was launched, it wouldn't be much different.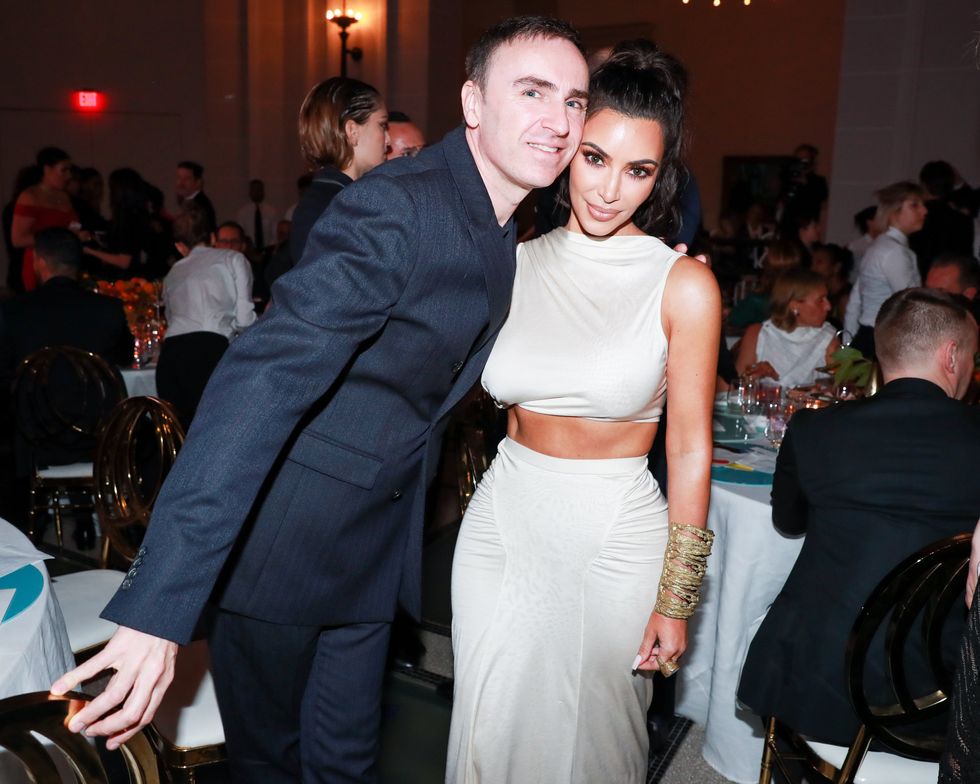 And in a not so surprising twist, Raf Simons once again went home with the award for Womenswear Designer of the Year for Calvin Klein (he won last year for both men and women). Simons has made much of his work there about the equal parts sweetness and horror of the American experience, and he has arrived here at just the right time for the latter. Since his ascension to the helm of such a deeply beloved American brand, there has been an expectation that he alone could raise the mercury on New York's creative heat — a tall order and at the very least an unfair one. The news that after three seasons he will show his upcoming menswear show in Paris demonstrates that he has still one foot in his creative homeland. Last night's award seemed to be a not so subtle plea to not abandon his newly adopted city just yet.
In a category that is usually the most anticipated (as it lends itself to the occasional upset or dark horse more than the others), Sander Lak of Sies Marjan's win for Emerging Talent felt in keeping with winner's of CFDA's past: Vogue-approved, pretty clothes for beautiful, young people, European-leaning (Lak is Dutch and an alum of Dries Van Noten) and a boyishly handsome designer, round out the package. Lak has made a swift and colorful impression on New York runways and his award last night would seem, in addition to rewarding a clear talent, to send a signal to other European designers, maybe second of third at their big name studio, that New York is place to make their own name, and in short order, if you have new, bright ideas.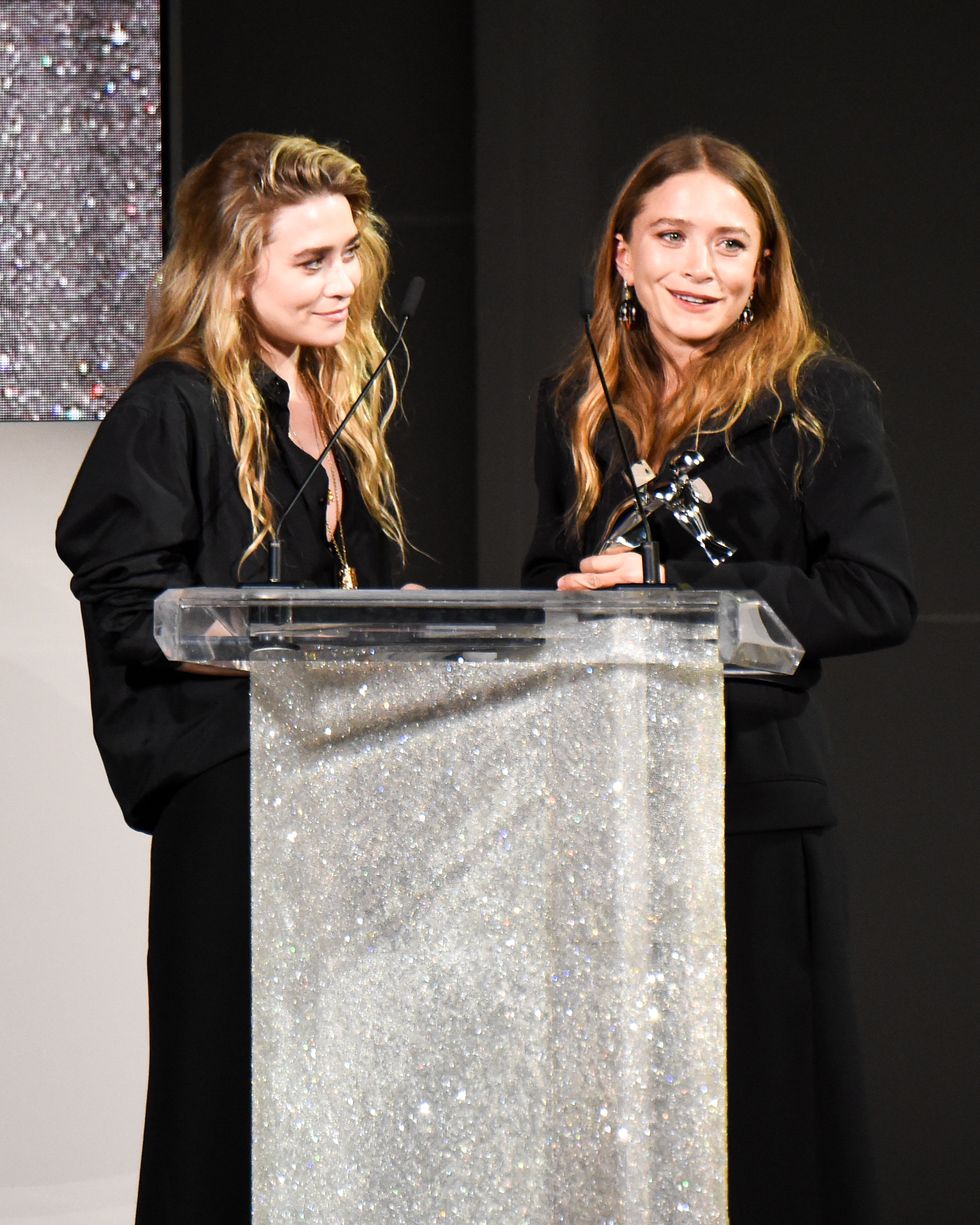 But it is the longer game that Mary-Kate and Ashley had in mind when they started The Row now 12 years ago (gulp) and last night they were rewarded for Best Accessories. The sumptuous bags, shoes and other 1% accoutrement that won them the category are the things of Internet and fashion group text obsession. These canny women know exactly who they are and who they're designing for, with a monastic approach (literally and figuratively) to their brand. If anyone will be worthy of the 2065 version of Ralph Lauren's truly heartwarming tribute, it will likely be these forever adorable geniuses.
It may be hard to square last night's winners with any larger cohesive vision or moment (uber luxurious, shamanesque cross-body bags, skateboarding streetwear zaddies etc.), but there was a sort of genuine feeling that as the palace gates of high fashion have begun to open ever so slightly to the heretofore disenfranchised and ignored, the sky has not fallen and in fact the sun can finally, blessedly shine in for everyone.
Photos via BFA
Sign Up for the Morning PAPER