Encircled by a wild lion, Cara Delevingne delicately hops into safety. She returns again after his trainer's green light, unfazed, ready to pose once again for her David Yarrow-shot campaign with TAG Heuer. This process is repeated each time the lion, an animal that Delevingne has tattooed on her index finger, comes too close. TAG Heuer's motto is "Don't crack under the pressure," and while Delevingne is far from cracking, you'd be fooled into thinking the situation involved no pressure at all.
What comes to mind when you think of Delevingne? She's beautiful, yes. Talented, of course. Intelligent, without question. Each adjective suits the British model-turned-actress a thousand times over, but perhaps bravery and perseverance are the most applicable today. One of the most famous faces in fashion, 25-year-old Delevingne walked away from her modeling career at its pinnacle. She transitioned into film, where she's been cast in both blockbusters and indies to emerge the industry's new it girl, and is still in high-demand among the world's most luxury brands.
Delevingne has vocalized her depression, her queerness, and her harassment across multiple industries; she has updated conversations and services her community no matter the cost. To celebrate her bravery and new campaign with iconic watchmakers TAG Heuer, PAPER sat down with Delevingne to talk about the pressures of progress.
How are you feeling?
I just wrapped a movie, so I'm a little tired; it's a project called Her Smell. It has seven lead female characters about a '90s female punk bad. Elizabeth Moss, Agyness Deyn, Ashley Benson, Amber Heard. The weather has been making me crazy — the sunshine and the rain. It really fucks with me to be honest. I don't understand how anyone doesn't think global warming isn't happening. I'm scared.
Listen, I was just watching the TAG Heuer campaign video... you had a real lion 10 feet behind you and weren't even worried.
I'm so thankful to TAG. Imagine just going to South Africa and staying on a safari reserve and shooting? And not only that, but working with the trainer, and understanding why he does what he does.
Because I know you have such a connection to lions.
Well, I'm a Leo.
What's your rising?
I don't know, Capricorn I think?
Okay, ambitious, driven.
I do love astrology. The mapping of it and where you're born and when you're born is really important. Most Leos are so proud to be Leos, but to me, cats are just mesmerizing. They're so unpredictable. I love dogs and they're loyal, but they just need to be cuddled and have food. Cats don't give a fuck about shit. I have a really special connection with cats... just because I have so much respect and admiration for them I think they, kind of, fuck with me? But I always feel like cats are the boss.
When they want you and when they need you, it's so flattering.
So beautiful. The way they walk... [This campaign] is the situation I've been in my whole life. If you get scared, the lion senses i, and I love that so much. That first day I had to be in a cage while the lion checked me out. I would be in a cage and the lion would go around sniffing me, and I knew what it felt like to be in a zoo.
"Everyone has a story and everyone should have the right to tell their stories."
Well you have been in a zoo — the transition from fashion to film, you're literally coming out of one lion's den and heading into another.
In comparison to what else is going on in the world, they're not the most fucked up industries. They're fucked up in the sense that they have the biggest platform and the most eyes on them, but they're so behind. Still. The world has been, and still is, about power and greed. It's always been quite male-driven and more and more we have to get those young girls' voices heard. Everyone has a story to tell. [It] doesn't matter where you came from or where you went to school or how clever you are or how clever you think you are, or how pretty you are. Everyone has a story and everyone should have the right to tell their stories. And to feel beautiful. And wanted. And sexy. To feel how ever you want to feel.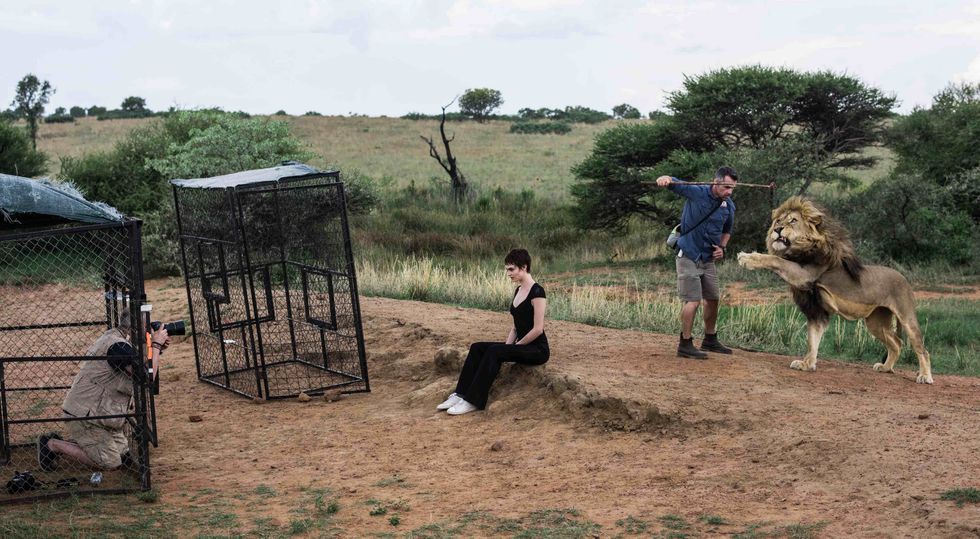 What are your thoughts on the industry's new orientation towards diversity and inclusion? Is that a trend or are we making genuine progress?
I think the diversity part of it is not a fad. The shift has been so beneficial in terms of understanding everybody, or emotional acceptance. With people being vocal about how they feel — angry and hurt — that's been amazing. I'm more worried about the equal rights thing being a fad — literally male/female rights. I just feel like sometimes the #MeToo movement has been amazing, but I still feel like so much has been brushed under the rug.
Do you feel like "the reckoning" stopped after film?
It's just taken so long in other industries — like fashion, I mean... And music, it's still...
Do you feel the effects of #MeToo on set?
I do and I don't. It's being spoken about more, but it hasn't really shifted into being yet. I think the Harvey [Weinstein] thing is a great start, but it hasn't found itself yet. There's a hell of a lot more to go. It's so in our nature to question everything, and for women, we think "water off a duck's back." This isn't going to change with a generation, this is going to be something we teach our daughters.
And our sons.
Yes, education. And how men are brought up.
You're such a proud queer women and you've done so much for the LGBTQ community. I want to talk to you about the debate going on with Rita Ora's song "Girls." There are bisexual women saying I feel really seen, and others argue this rhetoric sets us back. What's your take?
I mean, I love all of those artists, I think it's a really great song. And I don't think there's anything wrong with it. I think it's not fair to point a finger. I love Rita. I think she's a wonderful artist and I always support her in what she does. I don't think it's right to say her experience and her words are wrong. If she hadn't ever felt that way and it wasn't true then that would be weird. She's being proud of something and saying it.
Right, publicly.
Yeah, she's being honest about something she may not have been comfortable before. I don't think it's wrong. And people disagreeing with it and being vocal... no one's ever going to fully back one thing that happens. There's always going to be a conversation. It's why you make music, or movies, so people can talk about it. That's the point.
It was interesting that she apologized, and whether or not she necessarily should have.
She didn't need to apologize. She did nothing wrong. She should be able to come forth and say, "This is the way I did this and I'm going to keep on singing this song because it's a great song." It came from the right intention and that's what's most important.
So amid all this noise, do you think we're improving?
Look, I think we are improving, but it's always going to go up and down...
It's not linear.
Exactly, 100 percent. But at least we're making progress. The more we talk about things and there are disagreements, again, there are always going to be people on both sides of the fence and as long as you keep that fence open, keep the gates open...
Literally, keep the walls down.
Walls down. Guards down. Masks off.
Music
Story by George M. Johnson / Photography by Mason Poole / Styling by Shiona Turini / Hair by Nakia Rachon / Make-up by Rokael Lizama / Creative direction by Andrew Makadsi