Camila Cabello has had enough from body shamers. On Saturday, the "Señorita" singer took to Instagram to voice out her frustrations over social media, and the dishonest portrayals of the female body.
It's the second anniversary of her hit single "Havana," and the singer went online with the intention to post a photo in honor of the milestone. But a headline about people body shaming her caught her eye. She wrote on a post in her Stories, "Honestly first thing I felt was super insecure just IMAGINING what these pictures must look like, oh no! My cellulite! oh no! I didn't suck in my stomach!"
She continued, "But then I was like... of course bad pictures, of course there are bad angles, my body's not made of fucking rock, or all muscle, for that matter."​ What frustrates Cabello the most is how this culture fosters unhealthy and unrealistic body standards for young girls and women, and how "they're seeking a perfection that's not real" in this "airbrushed world."
She explained, "They're constantly seeing photoshopped, edited pictures and thinking that's reality, and everyone's eyes get used to seeing airbrushed bodies and airbrushed skin, and suddenly they think THAT'S the norm?!!! It isn't. It's fake. AND FAKE IS BECOMING THE NEW REAL."
"Girls, cellulite is normal. fat is normal. It's beautiful and natural." The 22-year-old singer concluded her message saying, "I won't buy into the bullshit today!!!! Not today satan. And I hope you don't either. Love only, camila."​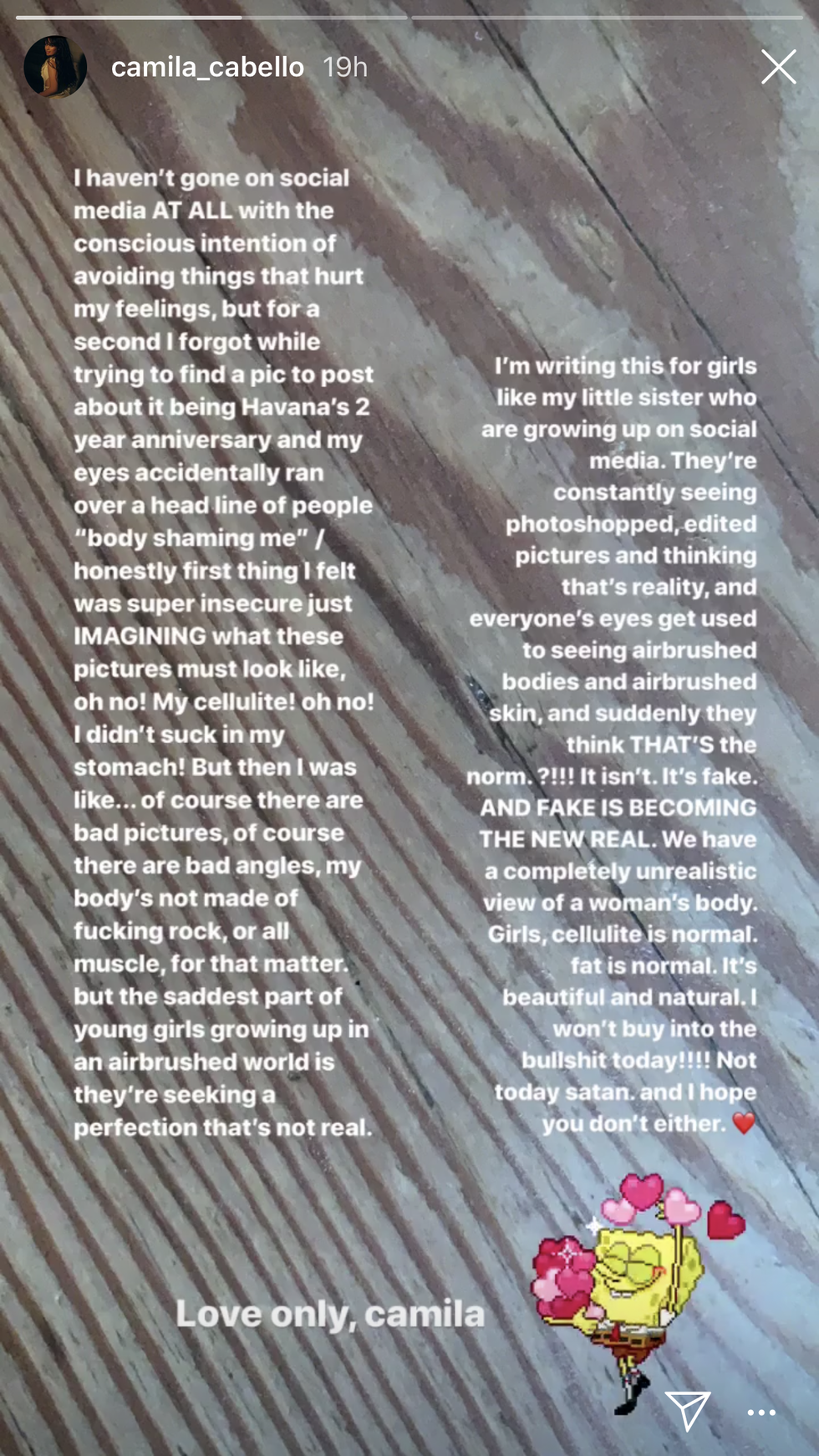 Cabello has also been open about struggling with her mental health and anxiety. In two lengthy posts, she spoke about being "incredibly nervous" and "socially anxious," and how she constantly chooses to fight for herself. As someone with a huge following and wide-reaching influence, hopefully her messages of empowerment actually impact people.