When the parameters of your existence are determined only by the walls that make up your small, minimally furnished New York apartment, it's difficult to break up the weeks into days into hours into minutes into seconds. You can differentiate time with music (thank you, Troye), conference calls (ok, Club Q) and alcohol (hello, Drizly), but also with scents — and Boy Smells, the Kacey Musgraves-endorsed candle auteur, is perfect for making isolation a bit more bearable.
Boy Smells' newly released Kush Collection, aptly described as "a calming distraction," is an escape across all four scents: Cowboy Kush, Cashmere Kush, Purple Kush and just plain Kush (which was the one of the first scents created by the brand). "Boy Smells actually began as an experiment in candle-making in the basement of my and my partner and co-founder David Kien's home in LA," Co-Founder Matthew Herman says. "[It's] a testament to the fact that you can tap into your creative energies to conceive something magical when you're working from home."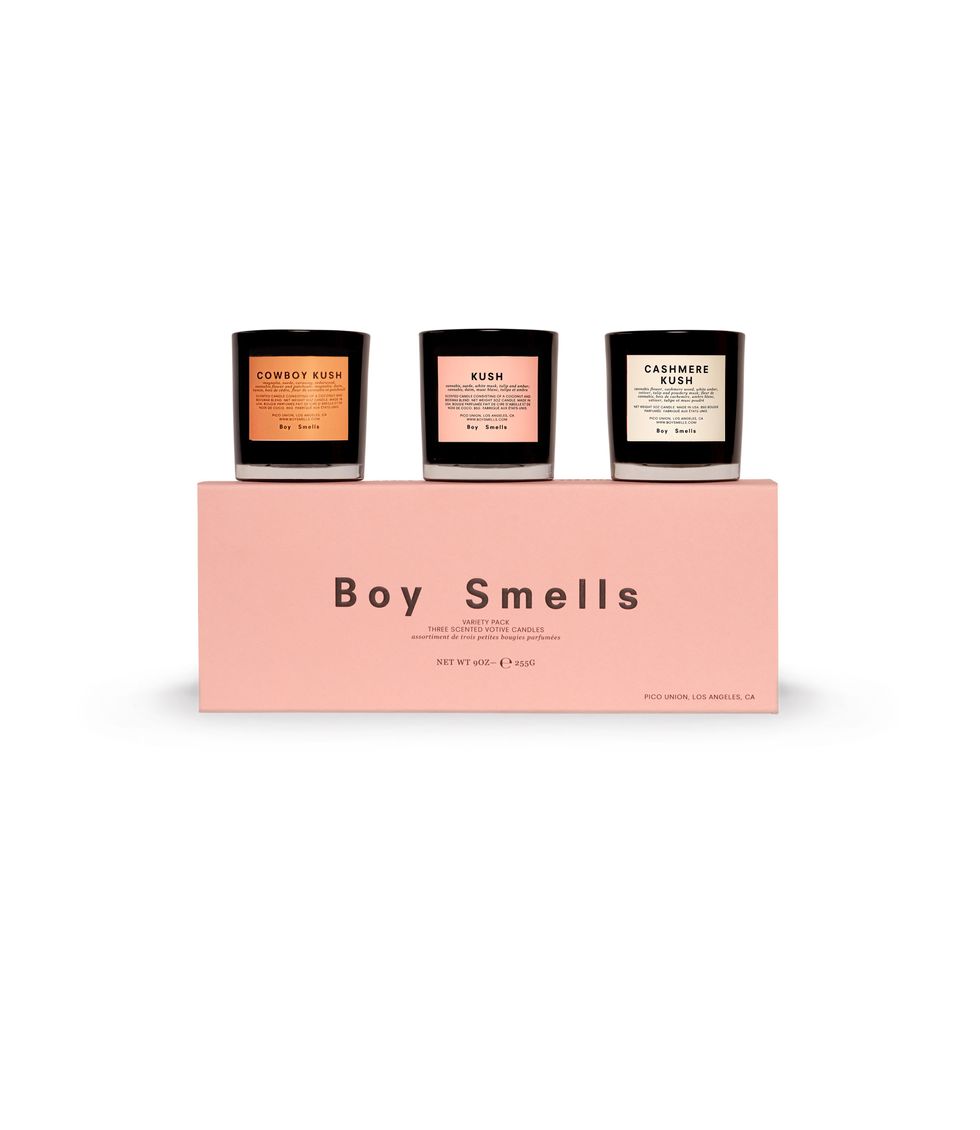 The pair never expected Kush to be such an immense success (it's a Boy Smells best-seller), and decided to expand upon it in order to pay homage to their roots. "What better time to celebrate Kush than 4/20," Herman says, especially while the entire world is in quarantine. "This year's lineup comes at a time when we think people need these calming, meditative scents the most."
Fusing a range of notes, from saffron to suede and patchouli, the Kush Collection aims to be equally nostalgic and subversive. "We hope that people can use the trio to transport their senses to the wild and unbridled desert with Cowboy Kush, or maybe add a warm embrace to your current set-up through Cashmere Kush," Herman says. "Scent can be a great tool to break up the monotony of the day by awakening your senses, creating different ambiances, and even transporting your mind to far away places."
In a time of extreme uncertainty and loneliness, Boy Smells released these candles to help make their community feel closer. "To us, 4/20 perfectly captures this mindset of togetherness and finding peace," Herman says, "and we hope this collection can help us all to clear our minds, even just momentarily."
Photos courtesy of Boy Smells