It's been an unbearably hot minute since New York has been hip-hop's epicenter, but thankfully SoundCloud-cum-streaming sensation A Boogie wit da Hoodie is leading the charge to put the Big Apple back on the rap map. The fact that the young Bronx native is now among the genre's most coveted no doubt inspired the title of his recent full-length project, The Bigger Artist. Let's face the music — it's A Boogie's 2017, and we're just living in it.
Related | NAV Couldn't Care Less What You Think About Him
It feels like you've blown up so quickly. Did you predict the success of this album? Did you predict the response on "Drowning"?
Yeah, I predicted "Drowning." It was just the sound. Everything sounded perfect.
You have some insane collaborations on this record; it's impressive for such a young artist.
I just wanted to work with as many artists as I could. Now I'm back in the time where I'm by myself again. I'm just working on another project for the future. I like being with my friends when I'm working, just because of the type of songs I'm creating. Sometimes artists will reach out like that, but I like more physical contact when it comes to working with an artist. I don't really like sending songs over.
How did those connections happen?
I was in the studio with most of them. The only person I wasn't in the studio with was Trey Songz. I was in the studio with him before, but not for this song. Chris Brown, 21 [Savage] and everyone else was in the studio.
What attracts you to other artists?
I guess it depends on the beat and the song. It has to be the right beat, the right song, the right tempo. After I put my vocals on it, that's when I really find out who I'm working with. Robin Thicke made me change the lyrics because the song wasn't appropriate.
You have to tell me what you changed it to.
I forgot.
No you didn't. You know the original lyrics.
It was some crazy shit.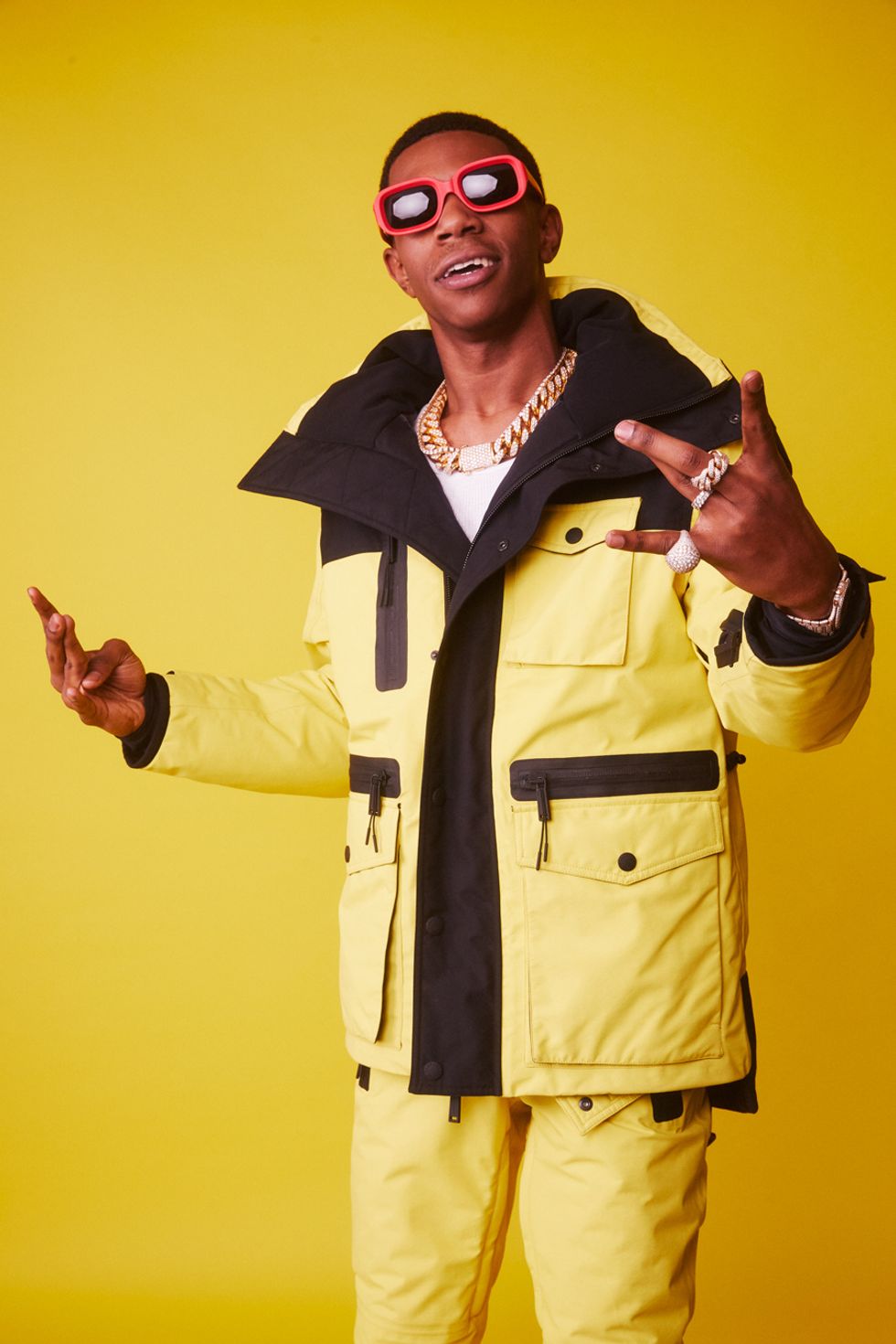 Top & Pants: DSquared2, Shoes: Fendi, Socks: Barney's, Glasses: Illesteva
You've worked with some really controversial artists — Chris Brown, Kodak Black. Do you keep that in mind when you go in to do a song with them?
That's why I don't go out and do music with everybody. It's not a good look.
But ultimately are you thinking, "Fuck it, you're an amazing artist," and that's that?
It depends. A lot of people didn't like Kodak on that song "Drowning." I feel like he was, but a lot of people felt like he wasn't [fit for it musically]. Based on comments and stuff like that, they were just asking, "Why Kodak?"
So people call you out for that? Asking why would you work with Kodak or Chris Brown?
A few people hit me up saying that.
How do you handle backlash like that?
I just say that's what I want to do.
Social media has also fostered call-out culture. Do you read comments?
I do keep an eye out, but I don't reply.
Does it ever get to you? Would you ever make a change based on what people are saying?
That doesn't affect how I move. I just keep it in mind. If it affects how I move, I wouldn't read it in the first place.
You do really address the youth's obsession with social media. "Stalking You" is a great example.
That song right there. A lot of people like that song. A lot of girls think it's about them, too.
A lot of girls that you dated or just grew up with?
Yeah, but I can't tell you who.
I know you're a new dad. How do you balance that?
I don't get to see her that often, but when I do it's the best thing ever.
That must be hard — you're growing as a person and an artist while raising another human.
It came along, so it's like, I gotta do it.
How has it changed you?
It keeps me aware of how important life is. I used to be more careless. Her mom was 17 turning 18 when she was pregnant, it was like... damn.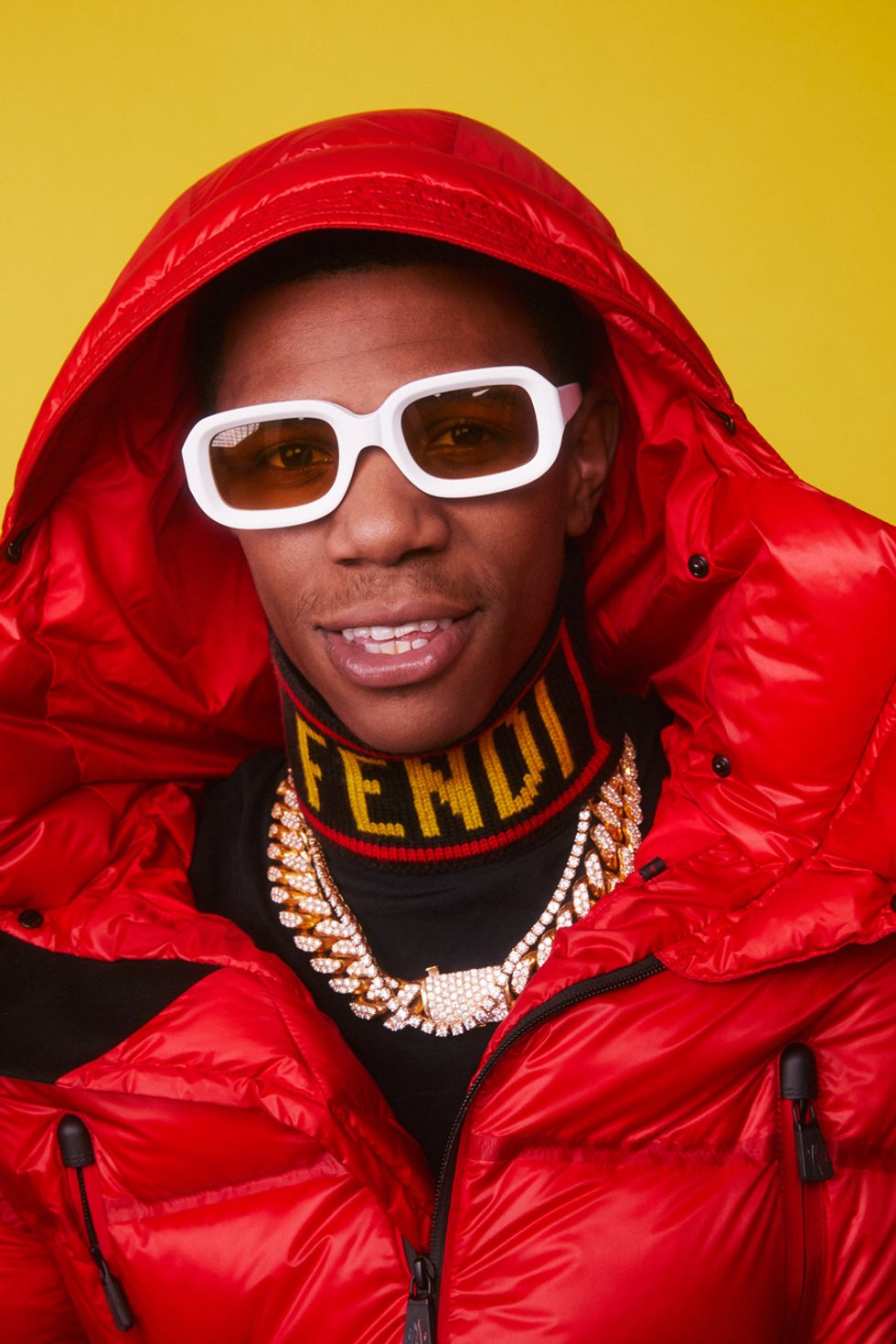 Puffer: Moncler, T-Shirt: Barneys, Neck Piece: Fendi, Glasses: Illesteva
What's it like going back home to The Bronx? Are people just telling you how much they love you?

Yeah, they attack me. Not in a bad way though, they just come at me and hug me. I love it, but it gets crazy.
Is that the best part of all this?
Yeah, the fans.
Do they send you letters?
Yeah, to the PO Box. I have letters that come in the PO Box. I don't get a chance to read that much anymore, but they say a lot of crazy shit, good shit, all types of shit.
Everyone talks about how New York hasn't had any heavy-hitting rappers in a long time, but that's you now.
I feel like that's pressure for me, but I'll take it all in.
When did you know that things were picking up?
When "My Shit" came out, there was a lot of talk about me being the next big thing out of New York. It was my follow-up after that.
I know you struggled with labels, did you find they were trying to mold you?
Yeah, I feel like they wanted me to be a different person than what I am.
How did you push back against that?
Making my own lane. Showing them I created my own way even though a lot of people don't make the type of music I make. I like that. It makes me stand out.
How did you formulate that sound?
Just listening to older music from before. It repeats itself in a way. Everything is the same in a different way.
Who's popping right now that you're a fan of?
Right now I'm a big fan of The Weeknd and Future.
They both work so hard. I feel like that's what a lot of young rappers coming up don't get. They see the glamour, but they don't know that Future is in the studio for 17-hour days. Do you find yourself having to really balance being on the scene?
I don't do lean or anything. I tried it once, but I feel like I'm more of a weed person. Lean makes you sleepy. You gotta mix it with some other shit I guess.
But lean with Sprite or whatever...
It's that sleepy vibe. Some people like that woozy feeling too.
What is "making it" to you?
It's not about having it already. You can't always have that same "it," you have to change up. That's where the hard part comes in. For example, I just made this album and now they're expecting something else, but I don't want to give them exactly what they're expecting.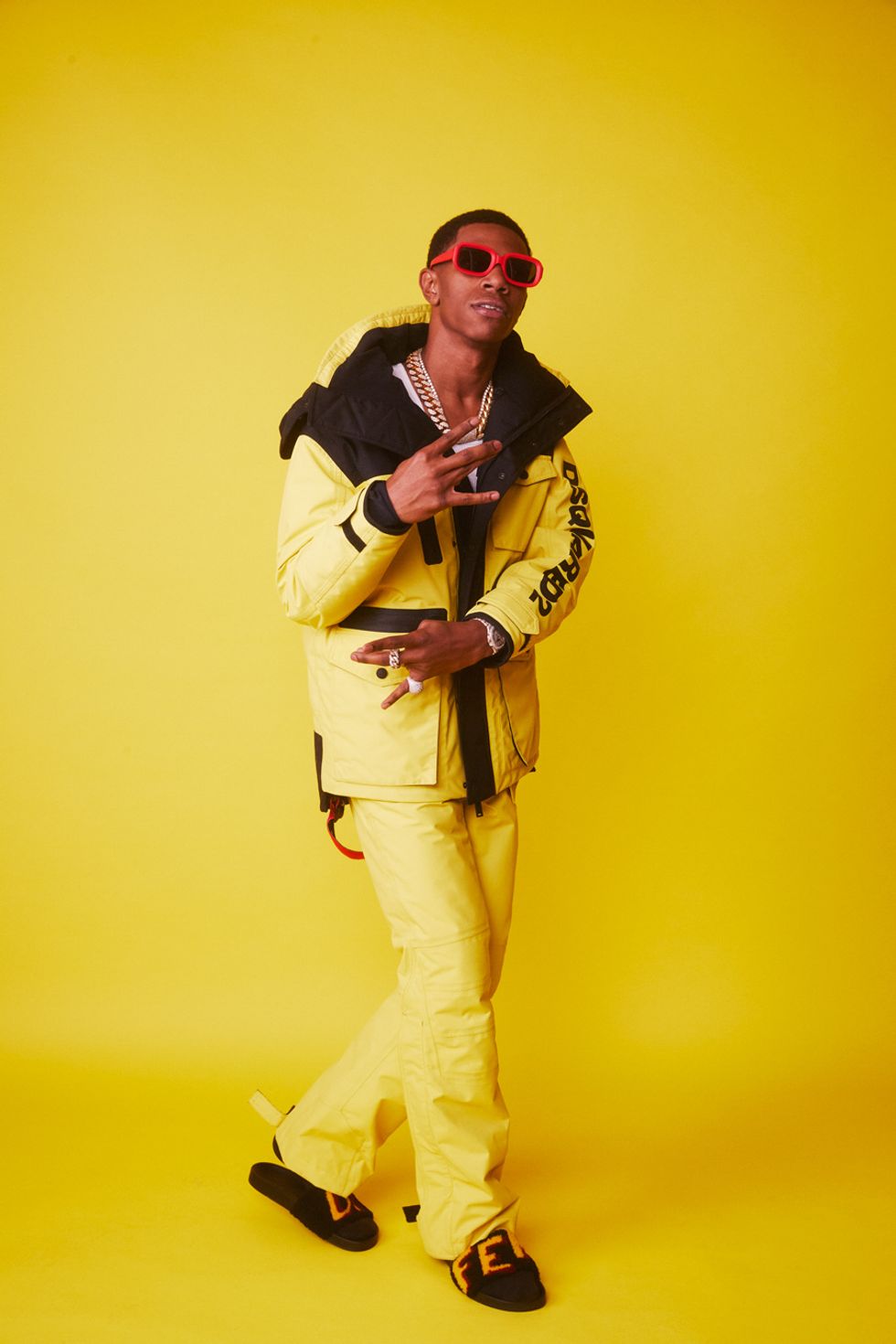 Top & Pants: DSquared2, Shoes: Fendi, Socks: Barney's, Glasses: Illesteva
Do you want to go a completely different way for the next project or do you want to just mix it up?
I want to hit them with something they don't even expect. I want to drop something they can play in the clubs still.
Do you ever feel like you need to get political with your subject matter?
I don't have to, but I just try to keep myself out from certain things. If it comes up to the point that I feel like I need to speak, I will do that. The kind of things I would like people saying is when they hear my music and how it can hit them... Sometimes I'll see something that makes me want to write. I'll write a few bars really quick. I do it a lot. Probably every other day.
Did you always want to do this?
I always wanted to do this. I didn't think it was going to be like this, though. In the beginning I didn't really put too much work in, probably because I was younger, but as I got older I realized that I needed a bit more money so that I could go to the studio.
I read that you still want to go to college. What would you study?
I would do engineering. I would want to go to school for everything I need. Anything I could think of. Let's say I wanted to learn how to fix vehicles.
So you want to be the person that can solve absolutely any problem?
Yeah. I would do air conditioning and everything. Rapper/air conditioning man. If anything, I'd fix my own stuff. My own bathroom and toilet so that I wouldn't have to call anybody. I'd rather be a more hands-on person.
Has there ever been a time where you said, "I should just give it all up and be a mechanic or an electrician"?
Not like a real one. I would just do it for myself. If my family needed anything, I would go over to their house and fix some stuff. You never know for the future what you would need.
Are you supporting your family?
Yeah, I'm supporting my family.
How does that feel?
I feel like the dad of a family. It's a lot, but it makes me just want to do more and more.
When you find yourself splurging, do you pull back?
Every day. Every fucking day.
Right. Even when you get more money you feel like you're still poor.
That's crazy. I like to think like that anyway. If you think you're full, you won't get hungry anymore. It's also about maintaining that and responsibilities.
It's a trap isn't it, on this treadmill of wanting more and more.
That's true, too. Every time I wanted more it's like I knew what was my limit to push for. I never really overdid it.
Like what?
Music. I never wanted to go in the clubs and be in a rapper's face asking them to check out my music. I wanted to be famous and I wanted to do it, but I never wanted to be extra with it. I'd rather do it the more genuine way.
Photography: Eric T. White
Styling: Eric McNeal
Grooming: Lisa Caprio