The neo-R&B revolution is full of remarkable voices, from SZA's honeyed slur, to NAO's helium soprano, to Kehlani's anglic waterfall. But you've never heard one quite like Bassette's.
The 24-year-old singer's pipes are airy but dense, shy but powerful, with a gritty crystalline rasp undeniably reminiscent of Amy Winehouse. Her unidentifiable accent disarms hard consonants and wraps around endless vowels with a flirty warmth, that comes from the coordinates of her life. Bassette learned her first words on the island of Bermuda where she was born and lived until she was five, before moving to Scotland for several years, and finally to Sheffield, England. She's lived in the UK for 20 years, but her birthplace leaves its imprint on her loose, soft syllables.
Since she moved to London for university after high school, dropping out shortly after to pursue music full-time, she's been using that voice to make brassy, R&B-pop with electronic flourishes, sometimes courtesy of her collaborator, electronic artist Joe Hertz, who gave her her start on his hit "Playing For You." Her new single "She Bad" introduces her debut EP, which is out later this year. It's a low-key R&B groove, with a euphoric, rattling pop chorus about a rare subject: romantic contentment. "One of the ones when he knows what I want before I know what I want/ Know no one's perfect/ He's pretty damn worth it/ Makes me want to give him the best I can offer," she sings, her creaking accent is particularly glorious on the "r" as she sings, "Boy he knows how to love me right, love me right/ Boy he knows how to love me raw."
The video, which PAPER debuts today, makes the song's sunshine literal. Bassette grins, dances, and grooves in the visual, directed London visual duo Fa and Fon, around London streets and a field of wildflowers at golden hour.
PAPER chatted with Bassette about her puzzling accent, London's music scene, and writing lovingly about love on her new album.
When did you realize you could sing?
I've always enjoyed singing. I've always enjoyed music from a young age. I think when I was around 10 or 11, that's when I first sang in front of people and that's when I realized that I could sing from people's reactions.
When and where was that?
I was around 10, at my best friend's house. I lived in Scotland at the time. It was around Christmas. She'd just got a Pop Idol CD, karaoke thing as a present. We were both singing and recording ourselves, and she was like: "Wow, you can actually sing!" and showed her whole family. Later in school, I did little talent shows here and there but didn't really take it seriously. When I was 19, I moved to London. That's when I got management and started going to studio. I started writing every day and taking it seriously and kind of perfecting my craft I guess. I've been pursuing it for about four years now.
How did you make your way to London?
Yeah, it was after high school. I came to London for university. I studied psychology for two years at uni, but I knew that I wanted to do music and I knew London was the place to do it. That's why I picked London University. After two years, I dropped out to focus on music just because it's my passion and I just love it. It was tough, all my friends were carrying on with Uni. My parents didn't really agree with it. I didn't really have a set plan or anything, but it had to be done.
What was growing up between Bermuda, Scotland, and England like? Where feels like home?
I think London definitely feels like home to me. Definitely. I just love the vibe of it. It's completely different to Bermuda. Bermuda is so small and there's not very many people and not a lot to do, but I do love Bermuda.
What is your relationship to Bermuda like?
I've been back twice, so I left Bermuda when I was 5 actually, but I've been back twice. I went back last year, saw my family, that was great. I do want to go back more often though. I want to go at least once a year now, it's just expensive.
Do you think growing up among different places affects your music? Were you inspired by different sounds and music scenes in those places?
In my house, we grew up listening to Soul and Motown... R&B music. I feel like maybe that molded me more than outside environments, to be honest. My parents used to listen to music around the house all the time. I also have an uncle who is a saxophone player and I have another uncle who is a drummer. They are quite established on the island... they're all in Bermuda.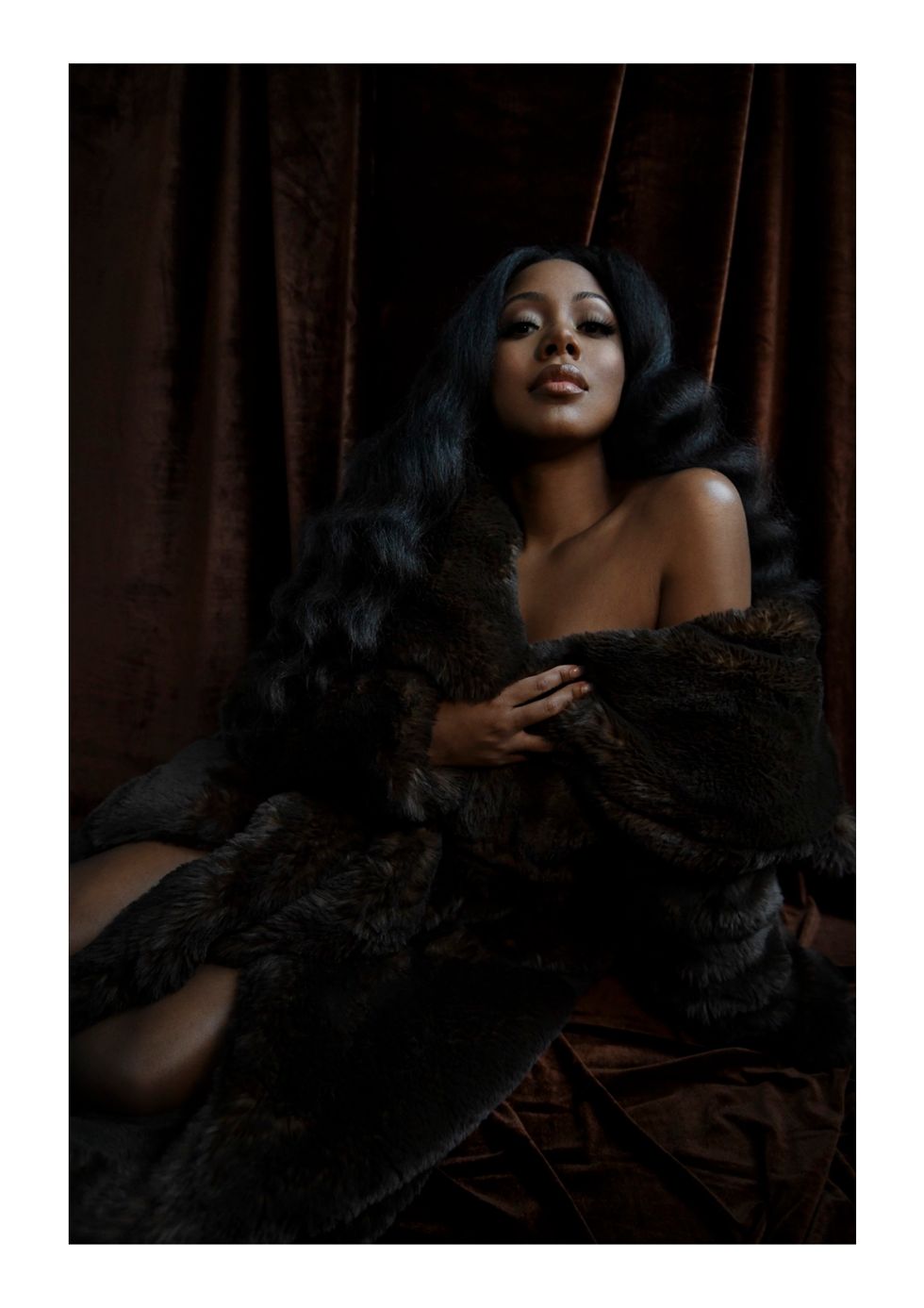 Your story, of growing up between countries, is kind of the peg for you. Do you get tired of people knowing you for that, since you lived in England for so long? Or it makes sense, because it's a part of your story?
Yeah, it makes sense because it's a part of my story. And people ask anyway because of my accent, like I don't sound British even though I've been here most of my life, the majority of my life I've been there. Even at work, because I still work part-time, even at work people always ask me, "Oh, where are you from?" So it's an everyday thing for me, but it's like "I've been in the UK for 20 years." And when I say Bermuda, it's like "oh wow, the Bermuda Triangle." They always want to know more. So yeah, it's an everyday thing. I don't mind, it's cool.
What are the pieces of your accent? I've never talked to anyone who sounds like you.
It's so weird, because people always think I'm American, but when I speak to an American person, I'm clearly not American. A lot of people think I'm Canadian, some people pick up on Scottish, which is cool because I did live there, but I think it's just a mixture of everything to be honest. But my brother, sister and parents sound like me as well.
Why do you think you gravitate towards R&B? What are your thoughts on the kind of R&B renaissance we're in the middle of?
I think it's great. R&B music is great. It's good it's having a comeback. I gravitate to the soul element and how it just connects with you, emotionally. It's what I naturally gravitate towards. My new song, "She Bad," it's got kind of poppy elements to it, but I think the way I sing over it, it's more soulful than a pop song would be.
Totally, yeah. So tell me about "She Bad." It's such a joyful song, about being content. I feel so often, songs that sound like that are like: "He doesn't treat me right."
Yeah! "She Bad" is, as you said, a happy love song about being loved right. It's very positive. At the time, I was in a very positive mindset. It was exactly how I was feeling at that moment. I wrote it almost a year ago. I wrote it last August. It is about my boyfriend, actually. We're still together which is good. I still feel the same way [Laughs].
Wow! A happy story for once.
Yeah, yeah
[Laughs].
So you wrote it a year ago. Looking back, how do you feel?
I'm just happy that it's out! 'Cause I remember writing it. I remember... I found the beat online actually. I reached out to a producer called RiverBeat, he's awesome. He's got really cool beats. He sent this beat to me and I wrote it super quickly, as well, like in one night I wrote the whole thing. I recorded it in a voice note in my phone and I sent it to my manager and he was like: "Yep. Record that. It's gonna to be your next single." a year later, we're finally releasing it. It feels great, I'm so happy to finally be getting it out there.
It does have this juicy pop chorus. Are you interested in exploring more pop sounds, or you want to stay rooted in R&B?
Yeah! I'm definitely open, I'm definitely open to... I want to explore everything, I'm so open to new things. I'm open.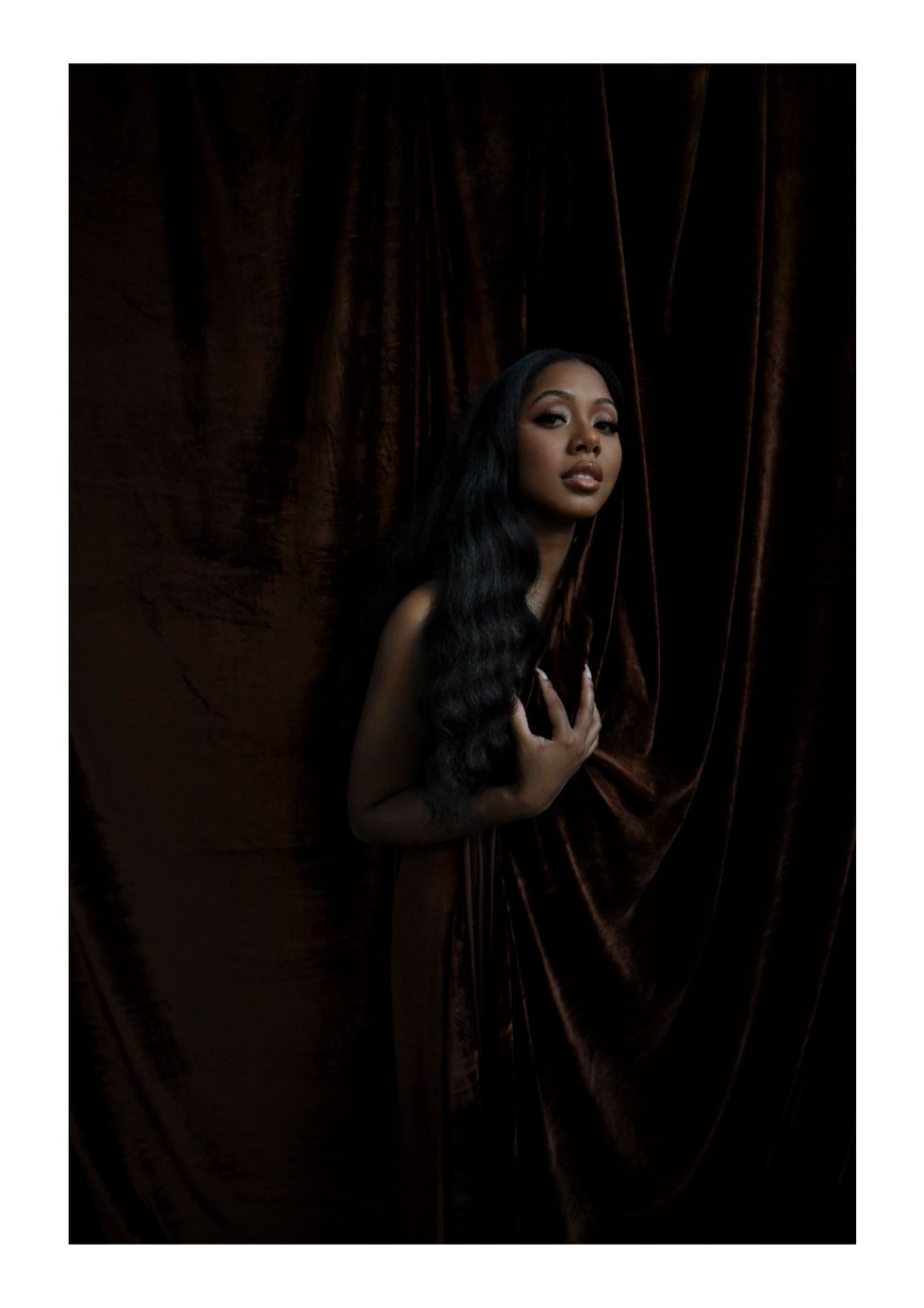 What did you want to create with the video?
So, we worked with creative directors Fa and Fon, they're this sister duo in London and they're super cool, super creative. They wanted to create this fallen angel image. This angel falls from the sky and ends up in London, and she's lost and she finds who she is in the city, basically, she finds her wings again. So we filmed it on their farm actually, they grew up just outside of London. So we filmed it there, then the second half of the video is filmed in Dalston, London. It was all them, to be honest, they're great. They sourced all the styling, make-up and everything. It was all Fa and Fon.
Does "She Bad" point us in the direction of what's coming in the EP As far as the R&B-pop sound, and writing intimately about relationships? What is the EP about for you?

The EP is more love songs, but, love in a positive light. 'Cause as you said, all the songs out there show love in a negative, bad light, but it's not always like that. So my EP's definitely more positive, it's more happy, it's more, yeah, just being content with where you are at the moment, in relationships, with yourself. Yeah, it's more trap-y, pop, it's not too trap, it's not too pop, it's somewhere in between. I've written all my songs, I write everything myself. I source all the beats myself, and it's all me, pretty much.
You must get the SZA comparison all the time. But your songwriting style really did remind me of hers. Is she an inspiration?
Yeah! I love, love, love, love SZA, from her early music to now, I've been a huge fan from the beginning.
What kind of comparisons do you get for your voice?
I've had Amy Winehouse, but I feel like my voice is a lot softer than hers. Amy Winehouse is just, her own person, she's great. I've had Corinne Bailey Ray, Diana King...
This is your fullest project to date. What was most challenging for you about creating it?
So I'm releasing it completely independently. So me and my management created our own label, and all my songs I'm releasing myself. I've had to kind of create this business mindset, which I never used to have. I think that's been a challenge, just thinking more business-like I guess. But for the project, writing it, it was really straightforward for me. I just write everything myself, in my room, and if I'm happy with it, then cool!
Did you consider shopping your music around to labels? Or did you want to be independent?
I want to be independent. I want to just grow a bit more, before maybe a major comes on board. I want to put out at least two EPs, and a couple more singles myself, before having to get a major label on board. I want to just grow like that. And then eventually, it'll come to the point where I might need extra help. Mainly, I just want to have people connecting with my music, and connecting with what I write about and wanting to see me live and doing a lot of shows. After my projects, I just want to be doing a lot of shows and I want to be connecting with the people who listen.
Photography: Sebastian Burford