Art Basel Miami Beach officially kicked off on Thursday, but the fashion festivities began a bit earlier this season, with the unofficial start arguably being Dior Men's Pre-Fall show on December 2.
The jam-packed week's other participating brands include Versace, Loewe, Audemars Piguet, and more, with their contributions ranging from one-of-a-kind sculptures to art exhibitions. Check out the complete roundup below for more of this year's notable fashion/art happenings at Basel Miami.
Bode Pop-Up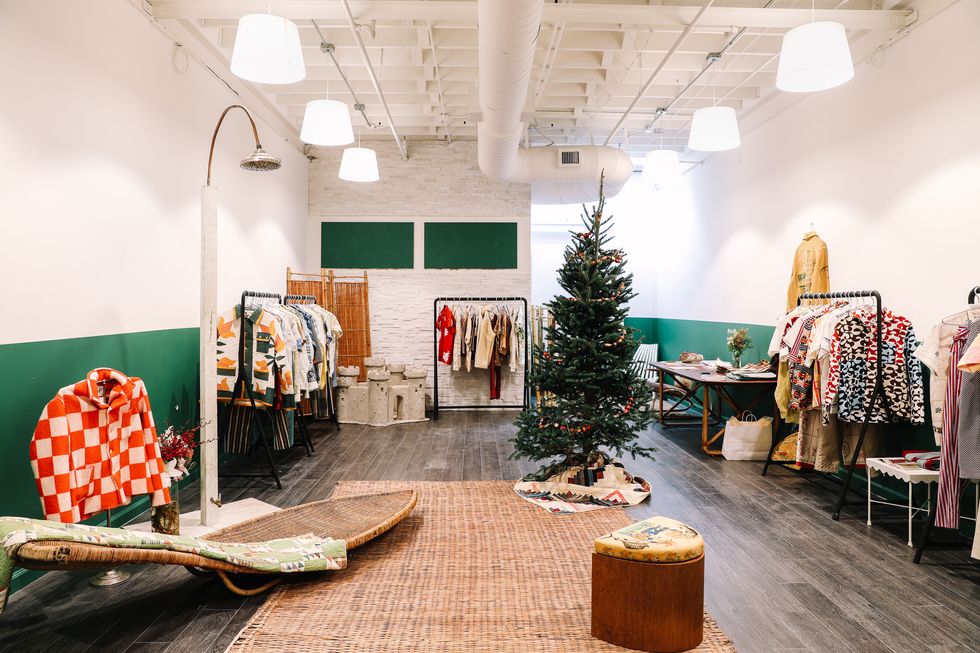 ©Appear Here
When: Dec. 6–8, 11am to 7pm
Where: 2669 NW 2nd Ave Miami, FL 33127
CFDA-winning menswear designer Emily Adams Bode's eponymous label is hosting a pop-up in Miami's Wynwood district over the weekend. She designed the empty space with a Miami deco-period Holiday vibe, featuring select Bode and vintage garments as well as pieces of furniture and design created in partnership with Green River Project LLC. The holiday installation was made possible by Appear Here, the startup that rents out pop-up space to businesses, independent designers and fashion brands alike. The Basel pop-up is part of the "Appear Here presents" series, which transforms empty venues into engaging spaces during key cultural moments.
Miu Miu M/Marbles Stool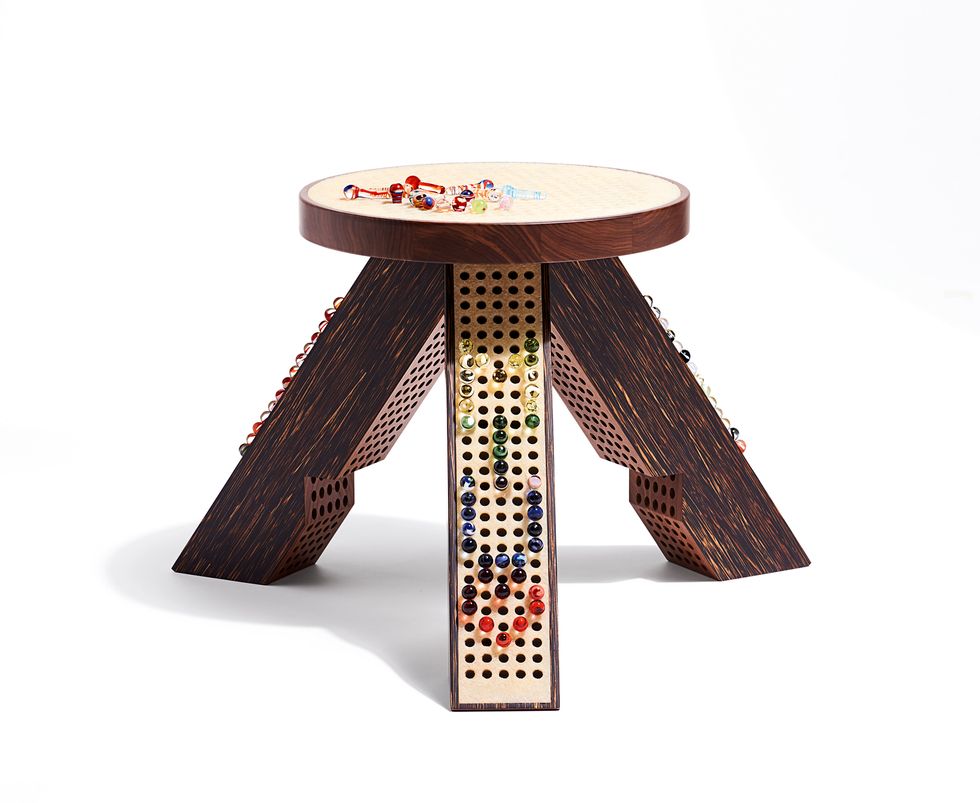 When: Viewing Available to the Public Between December 6-8th
Where: The Standard Hotel Garden in Miami Beach and The Design District Post Office in Miami's Design District
Miu Miu teamed up with Paris design agency M/M to create a limited edition stool for Art Basel, a follow-up of the brand's M/Matching Color Stool launched earlier this year in Mlian. The Miu Miu M/Marbles Stool, which was originally inspired by the label's Fall 2018 runway show set, is crafted with a mix of materials like wood, rubbber, and glass, and features matchsticks inserted throughout that can be moved around and customized.
The Miu Miu M/Marbles Stool is available for purchase exclusively at the Miu Miu Miami Design District boutique and miumiu.com. See below for more photos from the official launch event at the post office as well as the installation in Miami Beach.
Bottega Diner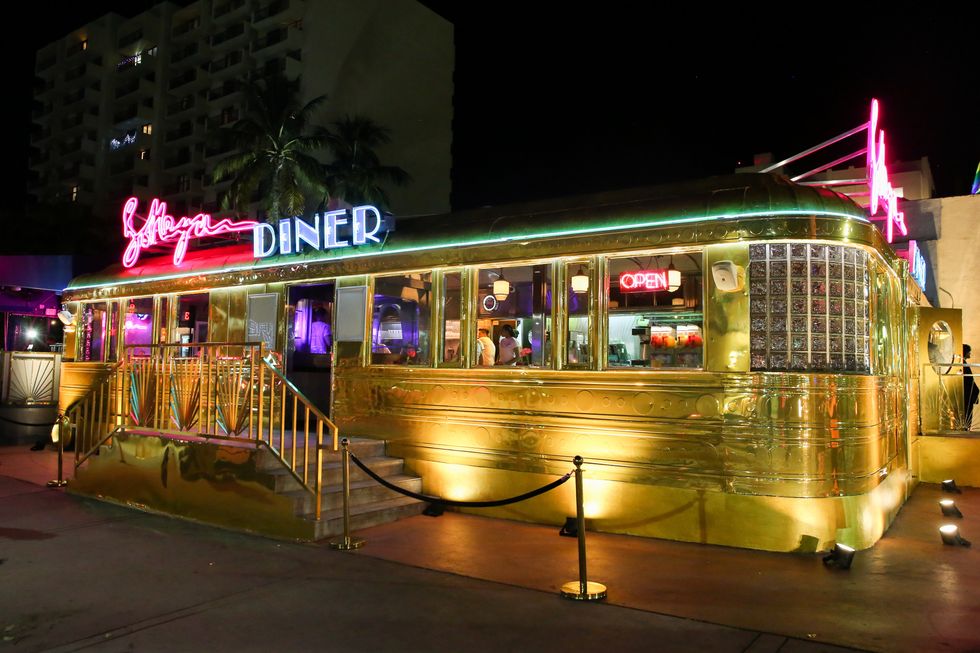 Bottega Veneta Presents: the Bottega Diner
To celebrate Bottega Veneta's new store in Miami's design district, the Italian brand transformed the 11th Street Diner in Miami Beach by covering the structure's exterior in their signature gold and adding a neon squiggled Bottega sign out front. Open for 24 hours, guests can stop by and munch on classic menu items like vanilla milkshakes, cheeseburgers, and fries all served with Bottega-branded paper straws, napkins, coffee cups, toothpick flags and matchboxes. To celebrate the opening, creative director Daniel Lee (fresh off his four wins at the Fashion Awards) stopped by during Art Basel for the opening party, which featured guests like Kate Bosworth, Laure Heriard Dubreuil, Paloma Elsesser, Princess Nokia dancing to tunes by Soul Clap. See below for images from the opening event.
When: Open Now Until December 14
Where: 1065 Washington Ave, Miami Beach, FL
FENDIFRENESIA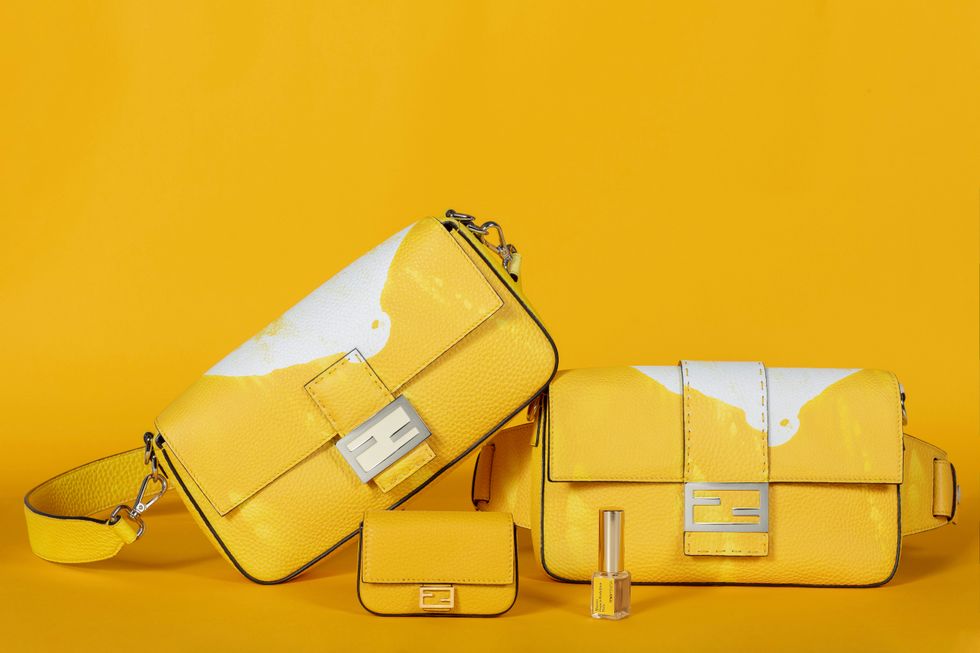 Fendi is releasing a limited-collection of scented leather baguettes, the first time a luxury brand offers handbags with fragrance built in the leather. Dubbed FENDIFRENESIA, the collection is a collaborative effort with renowned perfumer Francis Kurkdjianis who developed a patented technique for the scented bags. The collection is available for men and women exclusively at the brand's store in Miami's design district, where a yellow interactive fragrance room featuring the scented bags is open to the public inside. A nano size scented leather baguette is available now on FENDI.com.
See below for photos from the official launch party held at the store, where guests like creative director Silvia Venturini Fendi, chairman and CEO Serge Brunschwig, Winnie Harlow, Olivia Culpo, and more celebrated the new collection.
Location: FENDI Miami Design District Boutique, 150 NE 40th Street
When: December 5–8
Dior Men Fall 2020 Show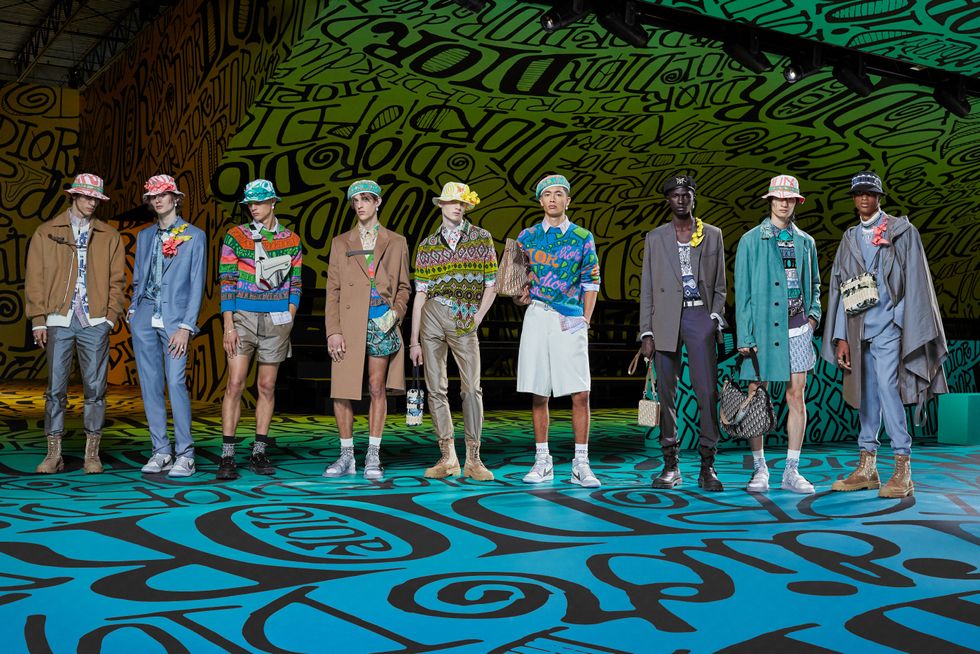 Held on the eve of Art Basel, Kim Jones showcased his Fall 2020 collection for Dior Men in a space across the Rubell Museum, where celebrities like Kim Kardashian West, Maluma, and David Beckham were all in attendance. The show featured two unique collaborations with Shawn Stussy and Air Jordan 1 sneakers, and utilized a range of colorful prints, textures, and graffiti-like patterns. The show was also nod to Christian Dior's beginnings as a gallerist, further bridging the worlds of art and fashion. See below for some behind-the-scenes shots of the final fittings, captured by photographer Jackie Nickerson.
Loewe Exhibition
The Loewe Foundation is showing the fifth exhibition in its ongoing Chance Encounters series, which brings together artists from various disciplines. This year, the British artist Hilary Lloyd will present a textile, sound and video installation in the Loewe store in Miami's Design District. Large-scale ceramic sculptures by Ewen Henderson will also be exhibited in the space. The opening will be held on the evening of Tuesday, Dec 3 at LOEWE Miami.
Versace's South Beach Stories in Collaboration with Sasha Bikoff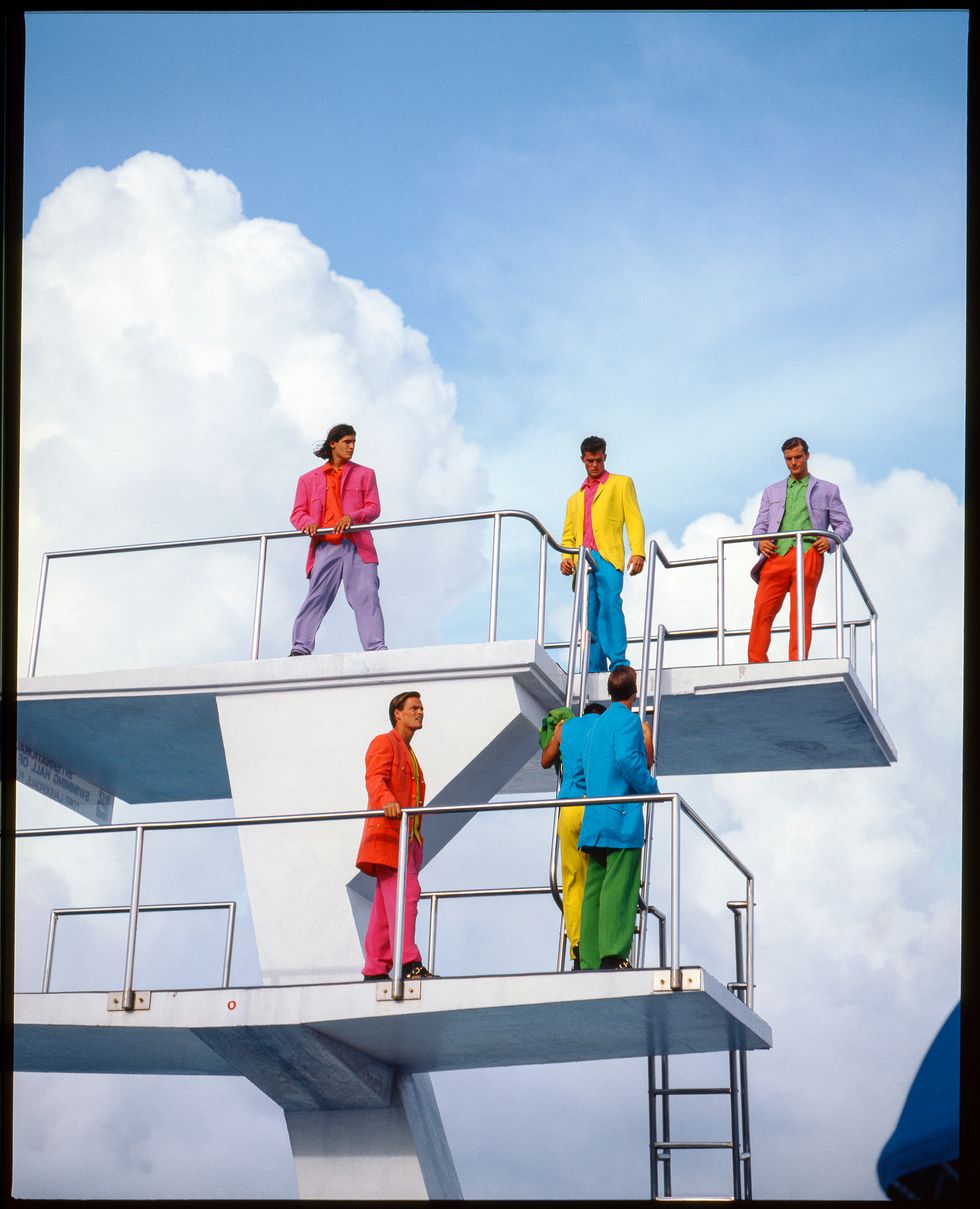 A new exhibition by Versace and interior designer Sasha Bikoff will draw inspiration from the brand's rich history and is taking place at the brand's Design District boutique. Unique furniture pieces designed by Bikoff will be displayed alongside the archive looks they reference. The store will also showcase three settings designed by Sasha, first presented at FuoriSalone during Milan Design Week 2019.
Dates: December 6th and 7th from 11AM - 8PM; December 8th from 12PM - 6PM
Location: Palm Court Event Space, 140 NE 39th Street, 3rd Floor
​Virgil Abloh Sculpture: "Dollar a Gallon" III, 2019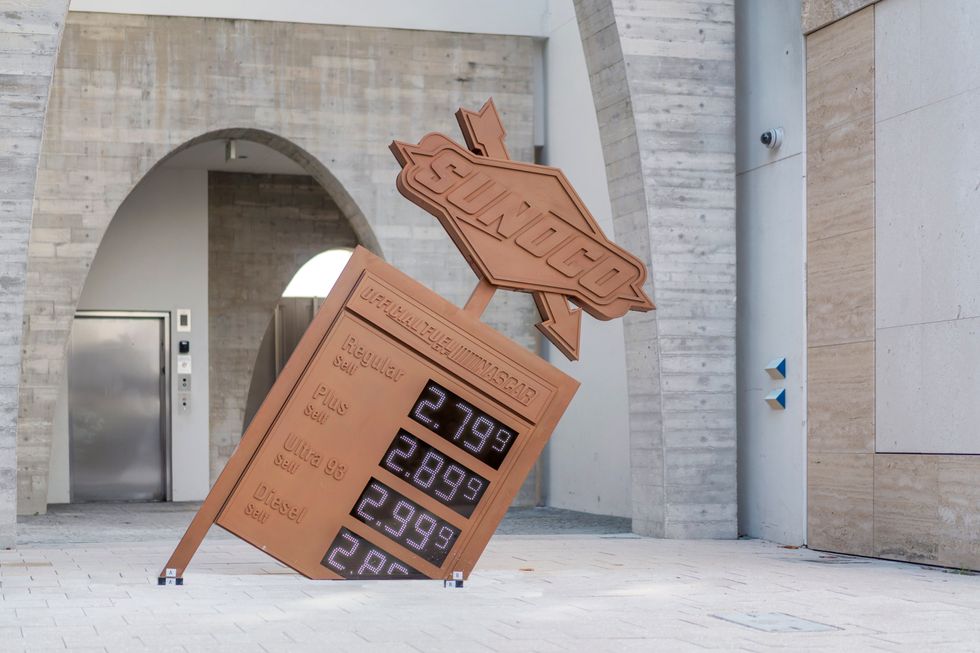 "Dollar a Gallon" is a sculpture by designer, artist, and Off-White founder Virgil Abloh which presents a window into the his study and research of the effect of advertising. The work is reminiscent of a gasoline sign relaying information about various types of gasoline and the respective pricing, while also being the commodity of an advertised sponsor. Its positioning in Miami's Design District implies the concept of commerce and necessity re-packaged as a brand — while underscoring the relevancy via location.
Dates: December 2019 - December 2020
Location: Paseo Ponti, Between NE 40th & 41st Streets
Balenciaga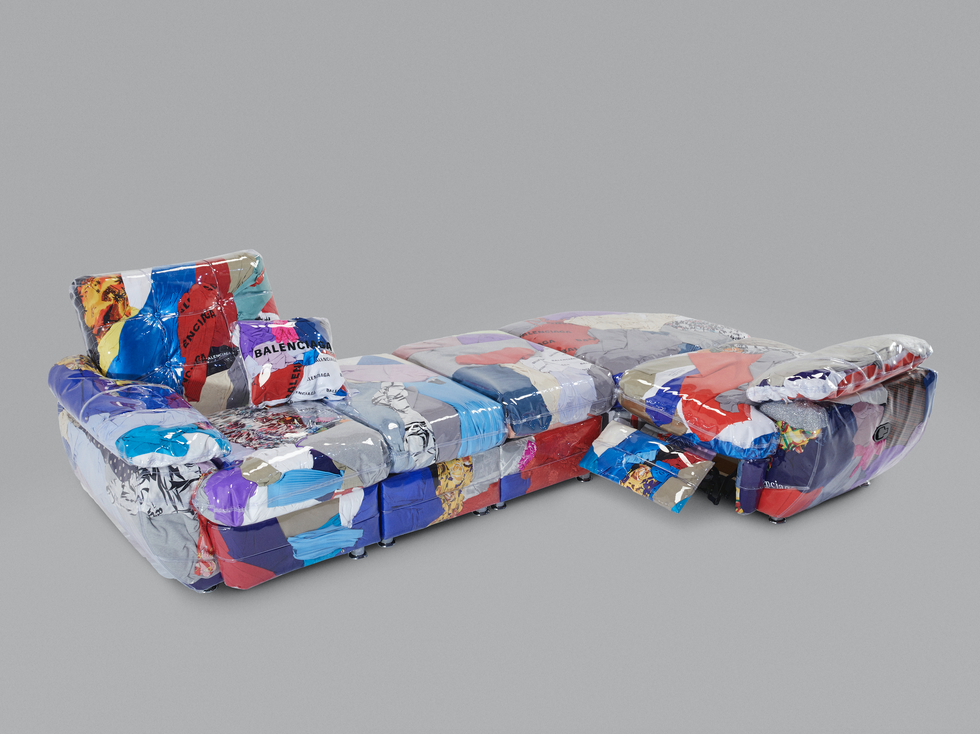 Balenciaga collaborated with artist, architect, and furniture designer Harry Nuriev on a new artwork as an example of environmentally conscious design, giving generations of garments and other materials another life. The oblong sofa is upholstered with damaged or otherwise unsellable garments and off-cuts from obsolete stocks of Balenciaga clothing, encased by scrapped transparent vinyl. Patterns, cuts, and tags within the stuffing are a mix of past seasons and ideas.
Dates: December 3-8
Location: Design Miami
Thom Browne Installation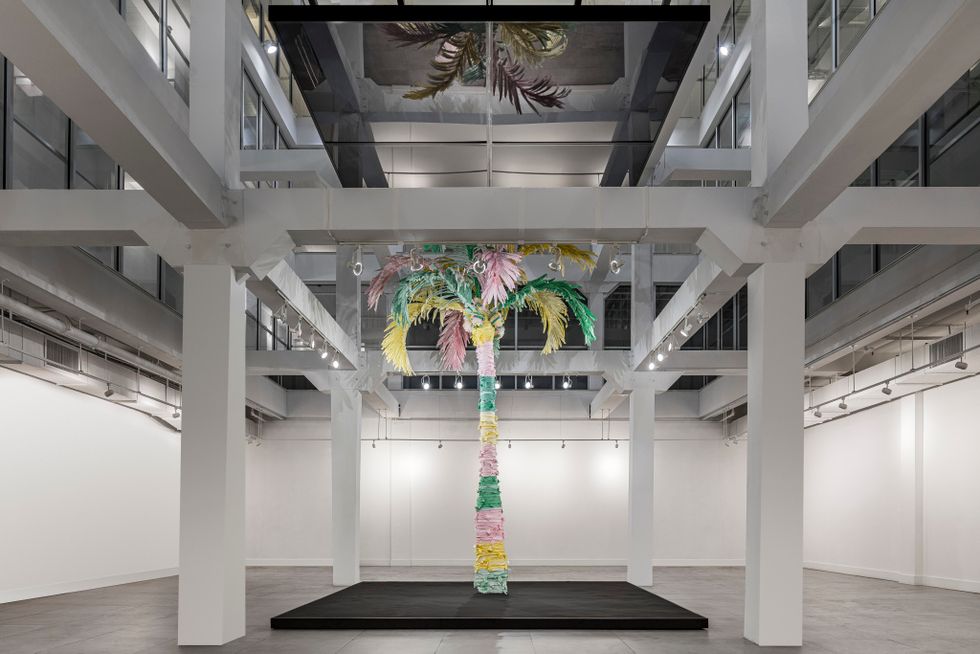 Designer Thom Browne will unveil his first large-scale public artwork on Thursday, December 5th, at The Moore Building during Art Basel Miami Beach. Palm Tree I (2019)—a twenty-one-foot tall palm tree constructed from yellow, green, and pink seersucker, pincord, and gingham oxford—is situated between a black mirror and sandpit, and operates as cheerful pop art as well as a meditation on ideas of work and play sublimated in notions of Americana.
Location: Moore Atrium, 4040 NE 2nd Avenue
Berluti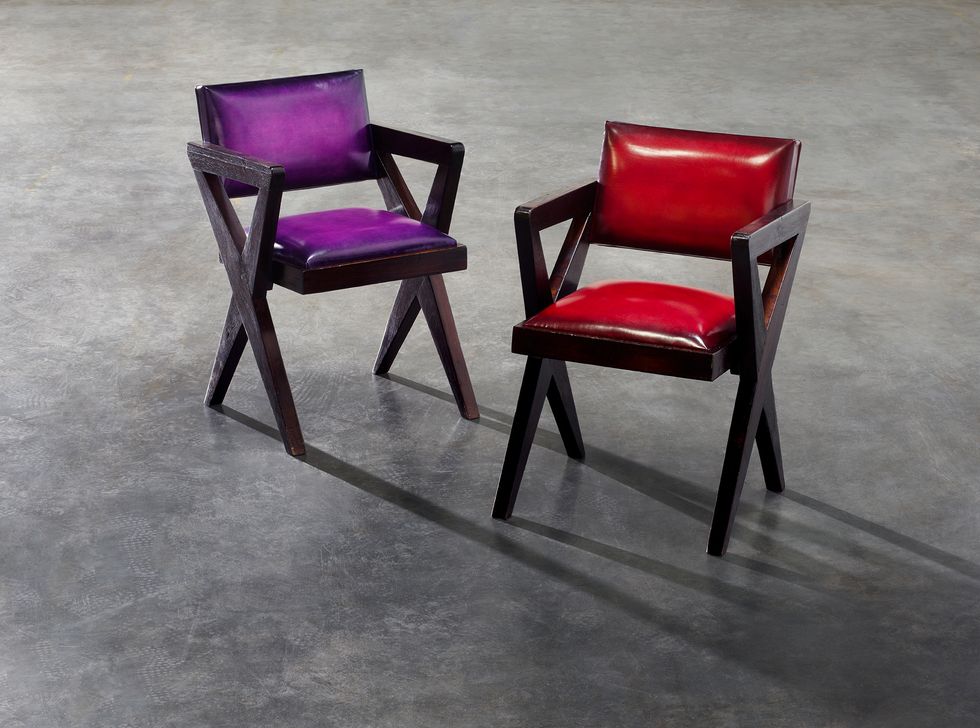 Berluti and Laffanour Galerie Downtown will showcase a small exclusive series of 17 original Pierre Jeanneret pieces. Created by the Swiss Architect in the 1950s, to furnish Chandigarh's Capitol Complex in India, these original pieces have been restored to conservation standards and upholstered with Berluti's emblematic Venezia leather. Berluti's Creative Director Kris Van Assche developed an entirely new palette of patinas for the series.
Dates: December 2nd - 8th
Location: Paradise Plaza, 151 NE 41st Street
Audemars Piguet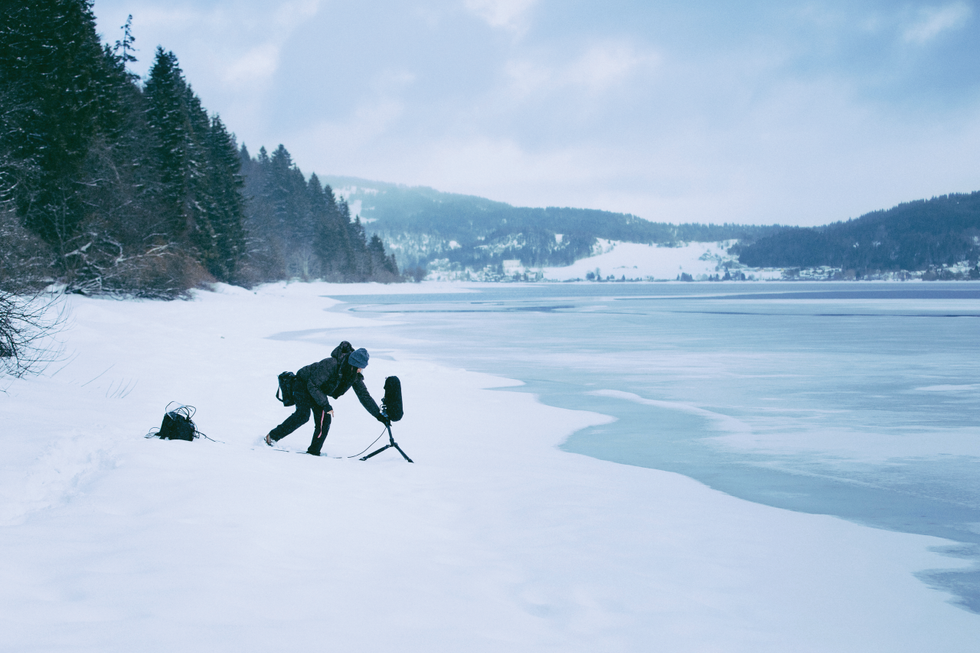 For the past few years, Audemars Piguet has been commissioning artists to create large-scale public installations which comment on global environmental issues. This year, they debut a sound installation by Norwegian artist Jana Winderen. "The Art of Listening: Under Water" will be on view — and on listen — at the Rotunda in Collins Park, where visitors can experience the sounds of ocean life and reflect upon how human activity affects what they're hearing.
Photos courtesy of brands